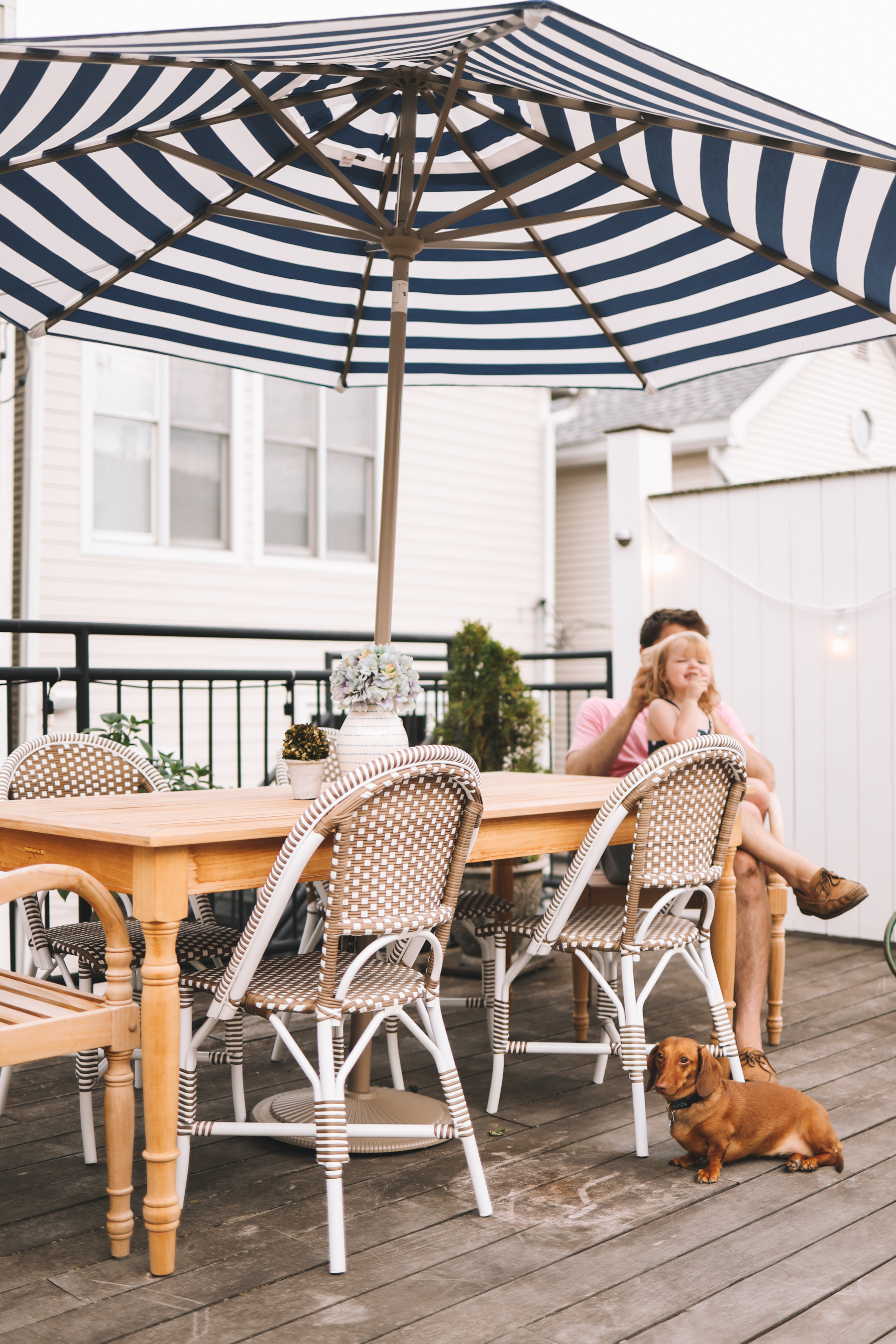 Ballard Designs Arm Chairs and Dining Table / Serena & Lily Outdoor Bistro Chairs c/o / Ballard Designs Striped Umbrella
The deck is coming along! In case you missed it, this is where we were with it in early June, and every week, we've made an update or two to improve the functionality and look of the space. I really love it so far, and because it's recently warmed up in Chicago, we've been using it multiple times per day! (SO HOT YESTERDAY.) We have lunch out there almost without fail, and try to do breakfast or dinner, too. Oh, and there's just nothing like having that after-dinner glass of wine on the deck with Mitch once we've put the girls down for the night. It's our little oasis in the middle of the bustling city.
But let's talk about some of the recent updates we've made to the deck, and how much of a difference they've made!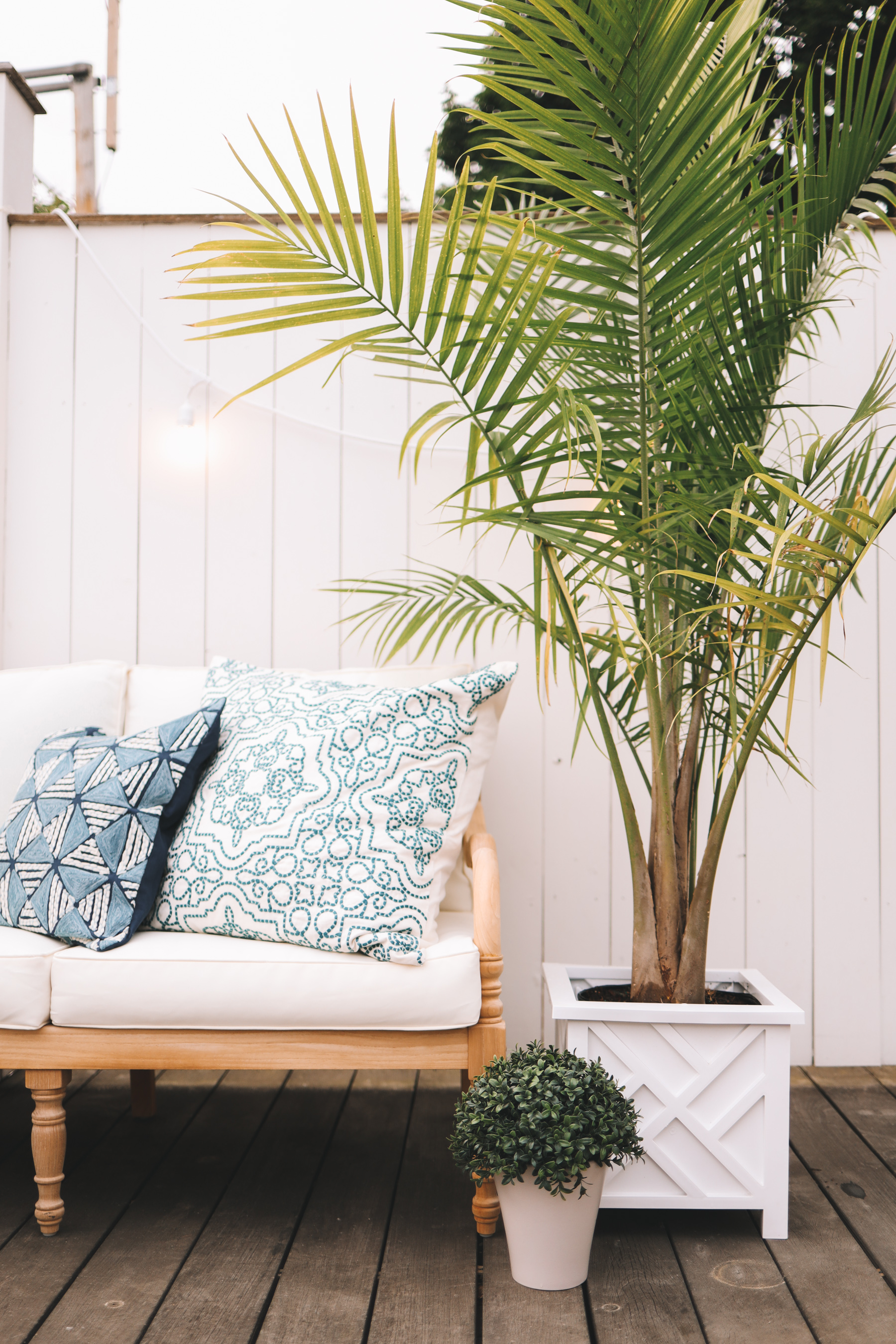 Ballard Designs Teak Sofas / Chippendale Planters
Plants
We ran to Old Town Gardens and Home Depot last week and grabbed a few palms to put in these super affordable plastic Chippendale planters I found online. I can't believe how much more homey they make the space! The cutest thing is that Mitch found tiny palms to put outside of Emma's playhouse and surprised us with them during a second trip to Home Depot. (More on the playhouse below.) The greenery makes such a big impact that I'm considering getting a planter box, too. Though maybe that's an idea for next year. 😉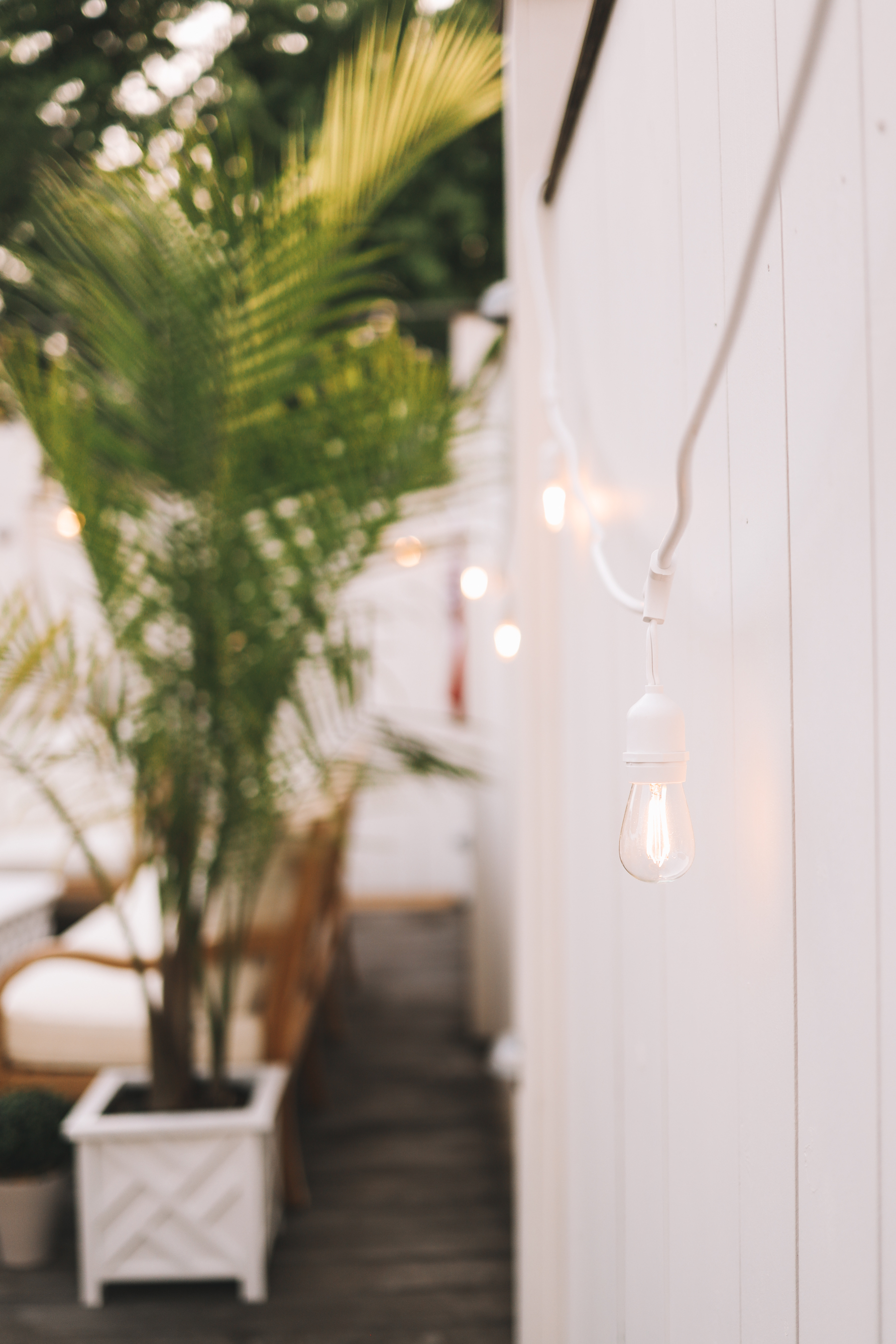 After doing a ton of research, we went with two strands of these outdoor string lights. The main thing here, according to Mitch, is to go with LED lights because A) they last forever and B) they remain cool to the touch, making them safer. (Especially with little kids around!) At the moment, we just have them draped over the posts, but we did buy hooks for them which we think will look a lot nicer once we get around to installing them. ;) These particular lights are dimable, so we won't inadvertently turn the backyard into a funhouse and annoy the heck out of our neighbors! But yeah: they're beautiful, and they make the space absolutely magical in the evening.
Serena & Lily sent us this beautiful outdoor bistro chairs, and I'm so in love. I have the indoor bistro chairs which I'm absolutely obsessed with, so I was thrilled to be able to get the same look on the deck, too. They wipe down and are surprisingly very, very comfy.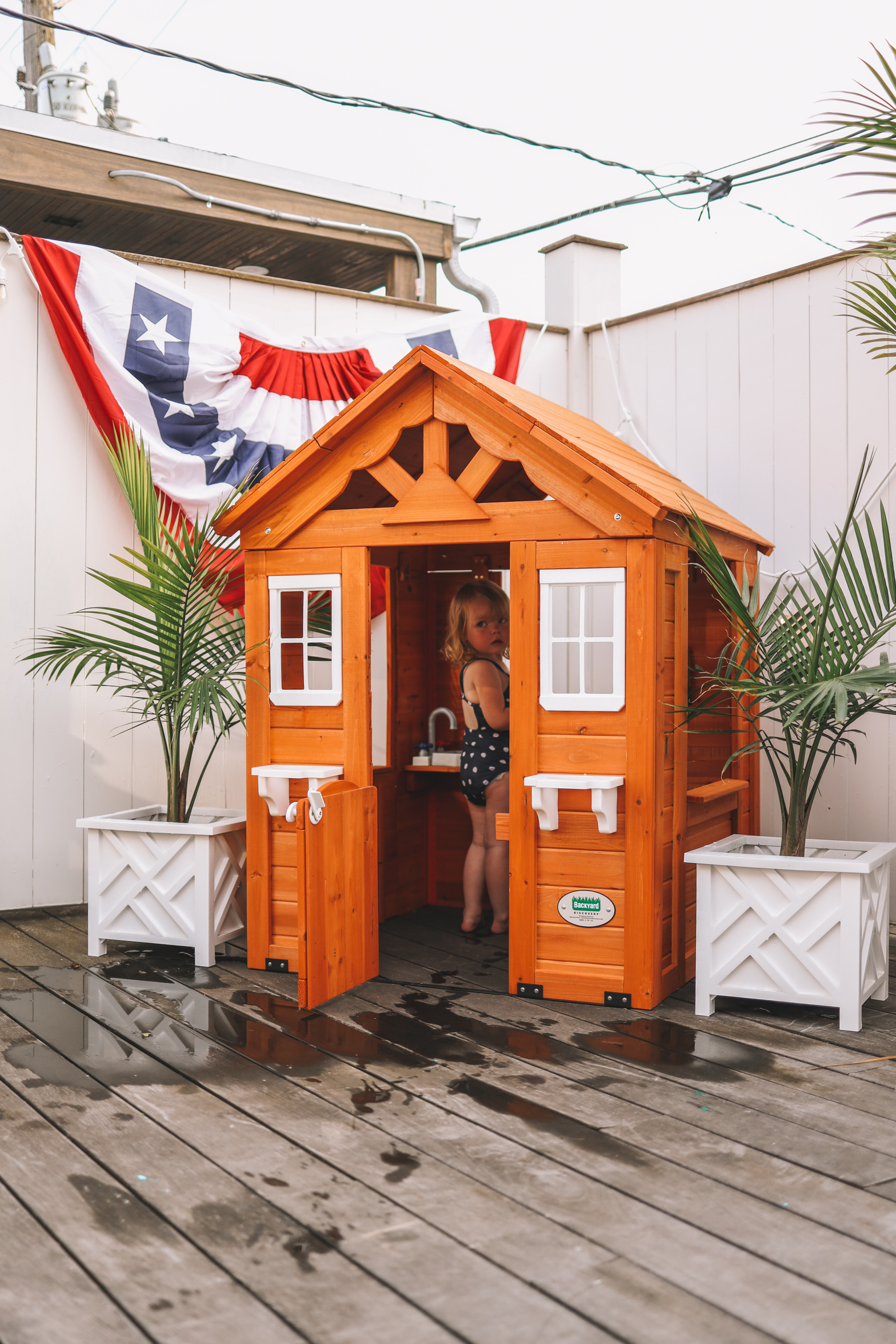 I found this thing–only $179 with Prime shipping!–while surfing Pinterest. It's. AMAZING. We had our handyman over to do some stuff that was out of our wheelhouse and convinced him to put the playhouse together, too… so I can't personally speak to what that's like, haha. But both he and the reviews say it's not horrible! (Normally, we totally would have tackled something like this on our own. Mitch did, after all, put all the deck furniture together! With an infant at home, though, we'd fallen behind on a lot, and needed some help on the house front. 🤗)
Anyway, it's been SUCH a big hit with Emma. Her #1 activity is make-believe, so this is simply perfect for her. It even comes with a mini kitchen inside! Now that the weather's warmed up, we're going to have some of her little friends over this weekend so they can go to town with it, and I can't wait to see that cuteness!
(Oh, and apparently you can PAINT the playhouse! There are tons of inspiration photos and tutorials on Pinterest, so definitely surf around if you're interested. My original plan was to do it immediately, but I'm kind of loving the dark wood against our white fence, so for now, this tired mom is going to opt for sleep over painting. But NEXT SUMMER, for sure! 😜)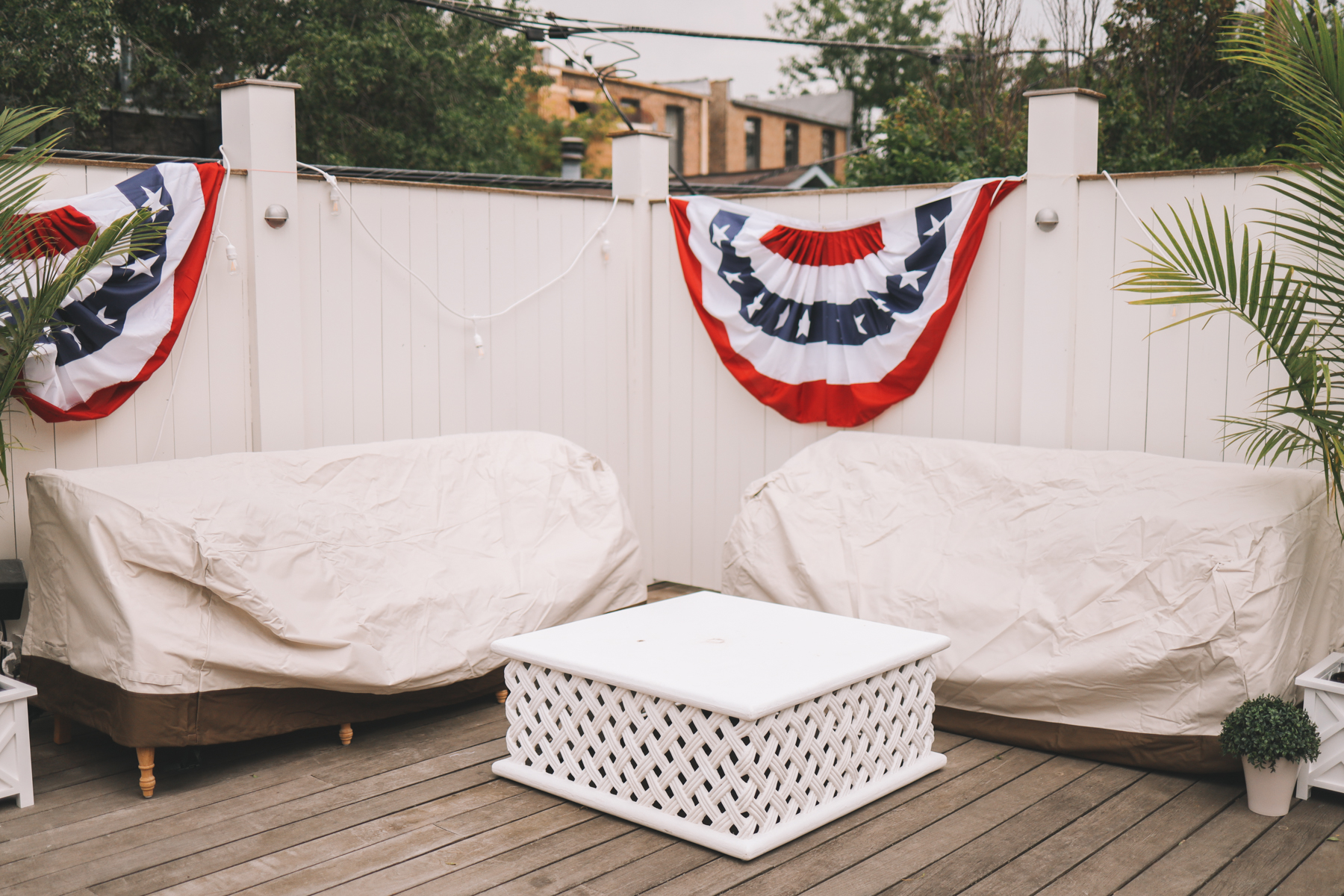 Until recently, all the cushions and pillows were living in Lucy's empty room, and we put them away every time we're done using the space. It wasn't ideal, haha. So many of you told us to go with covers instead of deck boxes as throwing the covers on is a lot easier than transporting all the cushions and pillows into the deck boxes every time. So that's what we did! (Thank you!) We LOVE the ones we found. So affordable and they're a perfect fit. Before we had them, we only took the cushions out for guests. With them, though, we use them every day! So much nicer.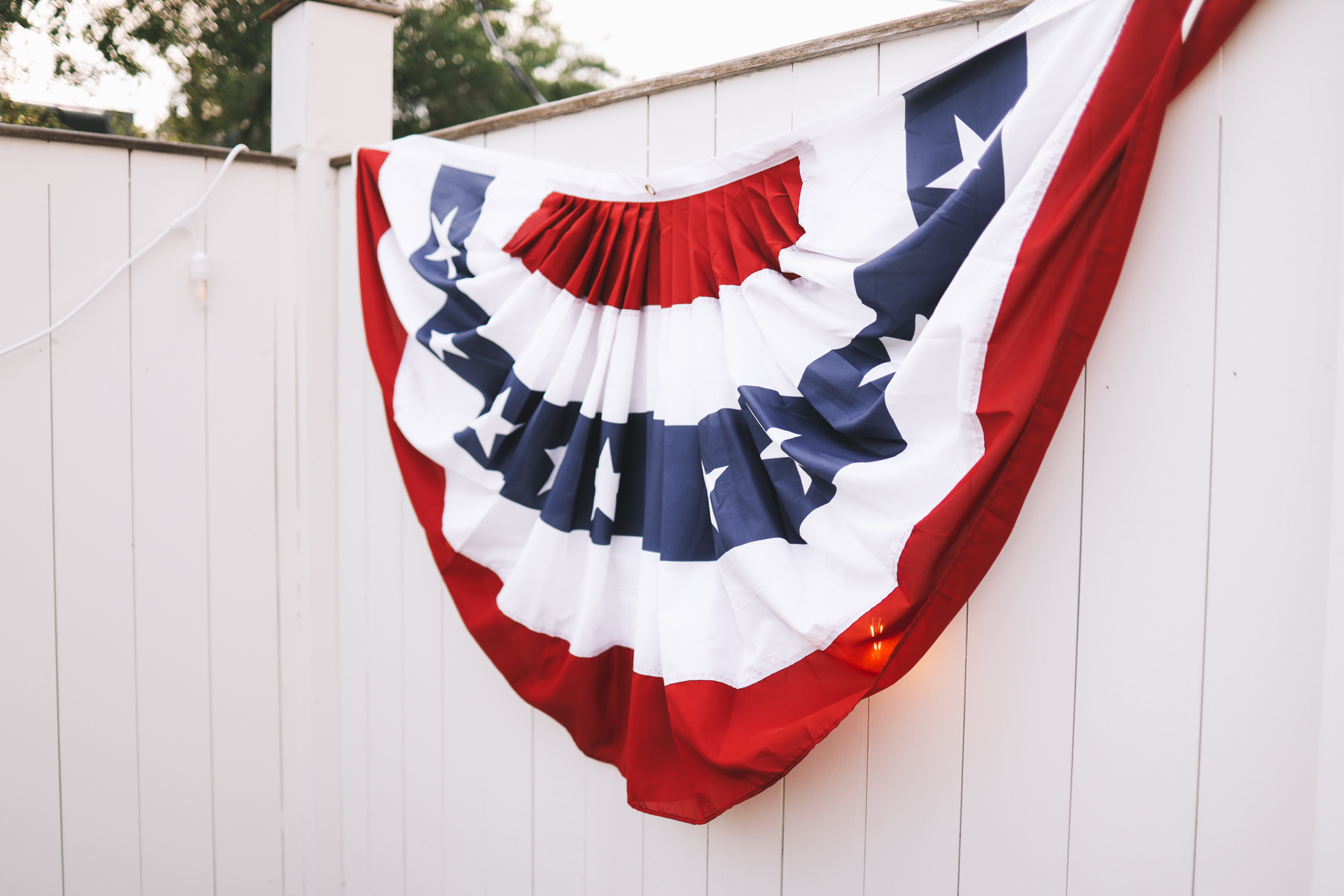 We found these on Amazon and decided to buy them because they were such a deal. I love how festive they make the space for the Fourth! They come pretty wrinkled, but once they get rained on, they look great.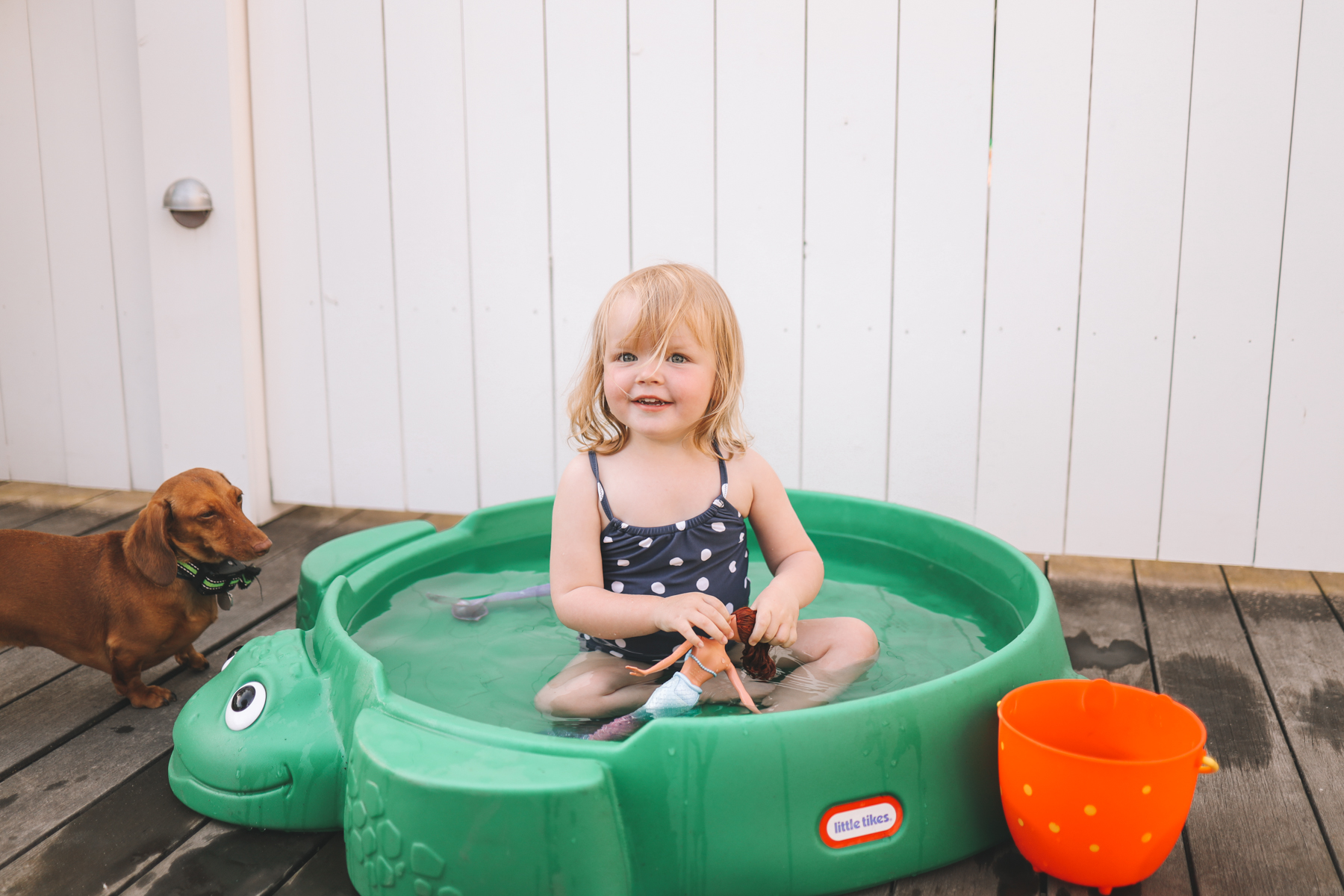 My parents gave Emma this sandbox/pool a year ago, but there was work being done on our backyard during the warmer months so we never got to set it out for her! She is in HEAVEN, guys. Yesterday it was almost in the 90s here–such a treat!–and Girlfriend could have stayed in there for hours.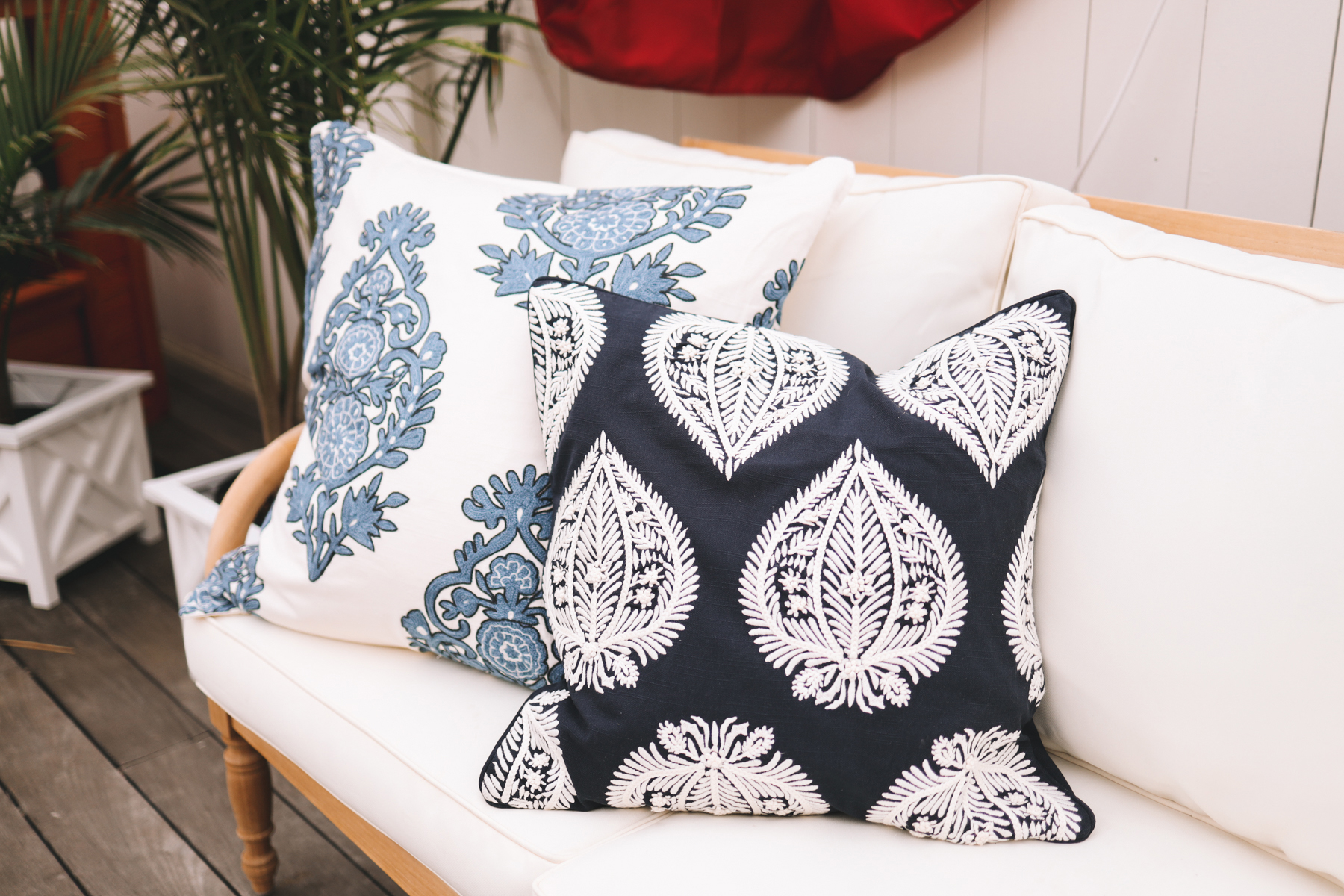 Pillows
Hang tight on this one! Doing a full blog post on our fabulous pillows tomorrow. :) Check back in then!
Next up
Speakers: This is Mitch's territory. I just asked him what his plan is, and his response was: "We're going with a Sonos amp that will live in the garage, and then I have to drill a hole in the garage and run speaker wire to the deck. And then I'll mount white outdoor speakers onto the fence. I'm also going to have to install a 'wifi mesh point' in the garage to make sure that the Sonos system can reach." (WHAT? Sounds great, though. 😂)
Grill: Mitch is in talks with Kira David Design about potentially running a gas line out there so we can have an easy grilling setup. Any recs on grills?! We have no idea what we're doing here. ;) Grilling newbies!
Pergola: There are bunch of very affordable ones that we found online, and we're thinking that this would be a lovely way to add more greenery, twinkle lights and perhaps even some lighting pendants to the deck! Of course, this won't be happening this summer, but could be a fun project for next.
Rug: Not sure about this. I LOVE the look, but I haven't had great luck with outdoor rugs in the past. Even though you can typically hose them off, I feel like they always look dirty and I'm always cleaning them. That said, they do add SO MUCH to a space. Any that you guys love? That could handle two little girls and a dog that's low to the ground? Many thanks!