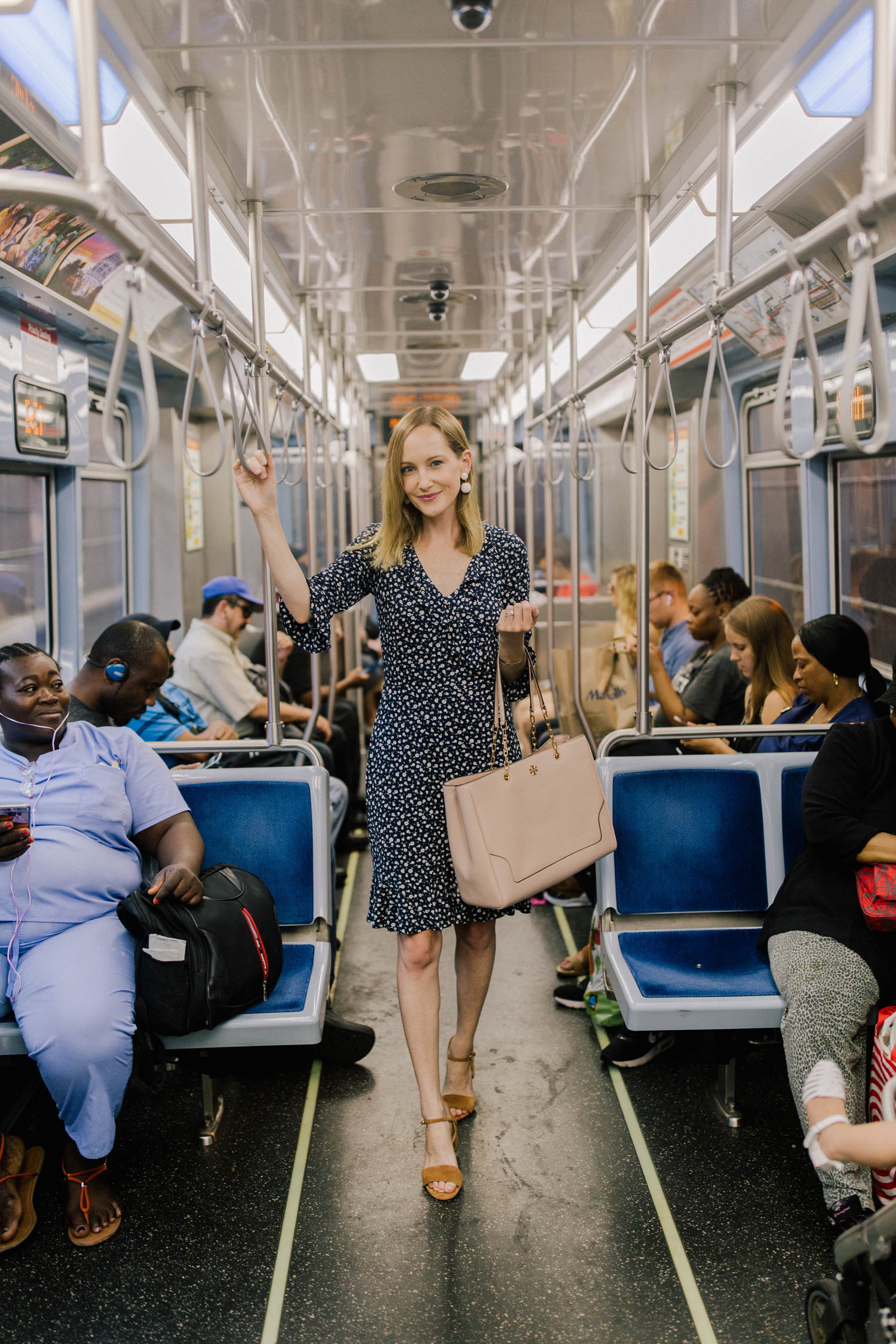 Tory Burch Marsden Tote (Here's the mini!) / Boden Dress (More sizes/colors here. And yes! I wore it in red recently on the blog here. This one looks super similar, btw.) / J.Crew Sandals (Also available here!) / Tuckernuck Earrings / Monica Vinader Bracelet / Similar Sunglasses
*Today's Question of the Day is in red at the end of this post. Answer to be entered to win $50 to shop the Nordstrom Anniversary Sale (which ends today!) OR the Tuckernuck Sale, since it's payable via Venmo or Paypal!*
Congrats to Rachel G. and Alyssa L. for winning the $50 and $250 prizes!
Wanted to take a moment to give the Tory Burch Marsden Tote (from the Nordstrom Anniversary Sale) the spotlight. Today's the last day you can buy it on sale, as prices go back up tomorrow. It also comes in a mini version, in case you're looking for something smaller!
Size: As much as I love clutches and crossbodies, my most-used bags are totes. The Marsden Tote isn't massive, but it holds a lot… and when I use it, I can get away with not carrying a baby bag, which is SO nice. The straps are perfect, as their leather uppers don't dig into my shoulders, and the length allows me to carry the bag comfortably even when it's stuffed to the max. I can can also unbutton the sides when I need extra space.
Quality: This is a beautiful bag. The leather is extremely soft, and the attention to detail is amazing–from the chainlink straps to the cutout design at the bottom. One question I get about the bag often is whether it's structured. I'd say that it's not a floppy bag; it doesn't topple over when I set it down… but it's not extremely structured, either. It's somewhere in between. You can see photos of it on the ground at my feet in this post.
Interior pockets: This is my favorite part of the bag. Scroll down to see how many organizational pockets it has. I'm that girl who can never find anything in her tote, and sometimes dumps the whole thing out of frustration when she can't find her keys, haha. LOVE that there's a place for everything in the Marsden!
Remember to answer the Question of the Day at the end of this post to be entered to win $50 to shop the Nordstrom Anniversary Sale (which ends today!) OR the Tuckernuck Sale!
Shop the post:
Tory Burch Marsden Tote (Here's the mini!) / Boden Dress (More sizes/colors here. And yes! I wore it in red recently on the blog here. This one looks super similar, btw.) / J.Crew Sandals (Also available here!) / Tuckernuck Earrings / Monica Vinader Bracelet / Similar Sunglasses
Answer the Question of the Day to be entered to win $50 to shop the Nordstrom Anniversary Sale OR the Tuckernuck Sale: What's something you always have in your bag?
Remember to leave your e-mail address in the following non-spammy format: kelly [at] kellyinthecity [dot] com.
Congrats to the winners thus far:
Lauren V.
Maggie P.
Kaitlin M.
Grace M.
Jeanne C.
Cindy G.
Nicole N.
Sophia K.
Alexandra N.
Grace L.
Holly S.
Diana C.
Libby M.
Bailey B.
Nicole M.
Lili P.
Alexandra M.
Jessica K.