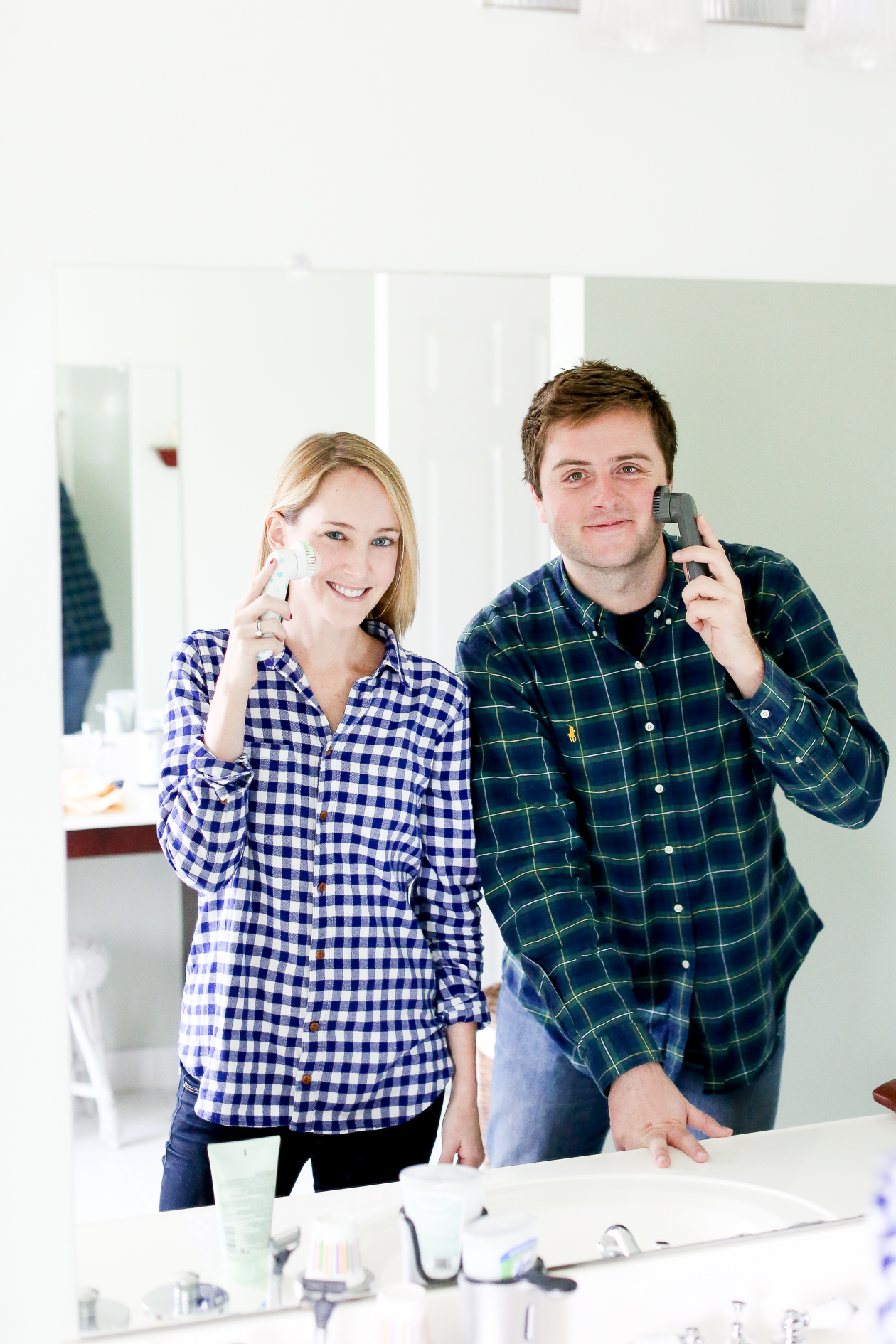 It's no secret that Mitch and I do a ton together. We have similar interests and hobbies, we share friends, we live in the same house, and then there's that little thing called marriage. ;) But until recently, skincare wasn't exactly a "together" activity.
Mostly because of me. I've mentioned this before on the blog, but I'm ridiculously self conscious about my "naked" skin. And have been, for a very long time. I've just always felt that without makeup, my freckles come out, my ruddy complexion takes over, my blemishes are unconcealed, and the bags under my eyes become extra-noticeable. In short, I look like a tired, sunburnt teenager, haha. And I don't like it!
Until about a month ago, I wouldn't let Mitch come into the bathroom if I didn't have makeup on.
I KNOW.
Absolutely crazy, considering we've been married for over two years now. But every girl has her hangups, right?
Needless to say, I was really excited when Clinique recently asked whether Mitch and I would like to try out a couple of the company's Sonic System Purifying Cleansing Brushes. (There's a men's version. So nice!) How could I say no to something that could potentially help me get over my biggest insecurity… and allow for husband and wife to get ready together?!
I'll admit that when we first received the brushes, Mitch used his in front of me, and I used mine in behind closed doors. But today, I'm happy to report that we can now use cleansing brushes together. Or, at least, we can be in the same room while mine's going. ;)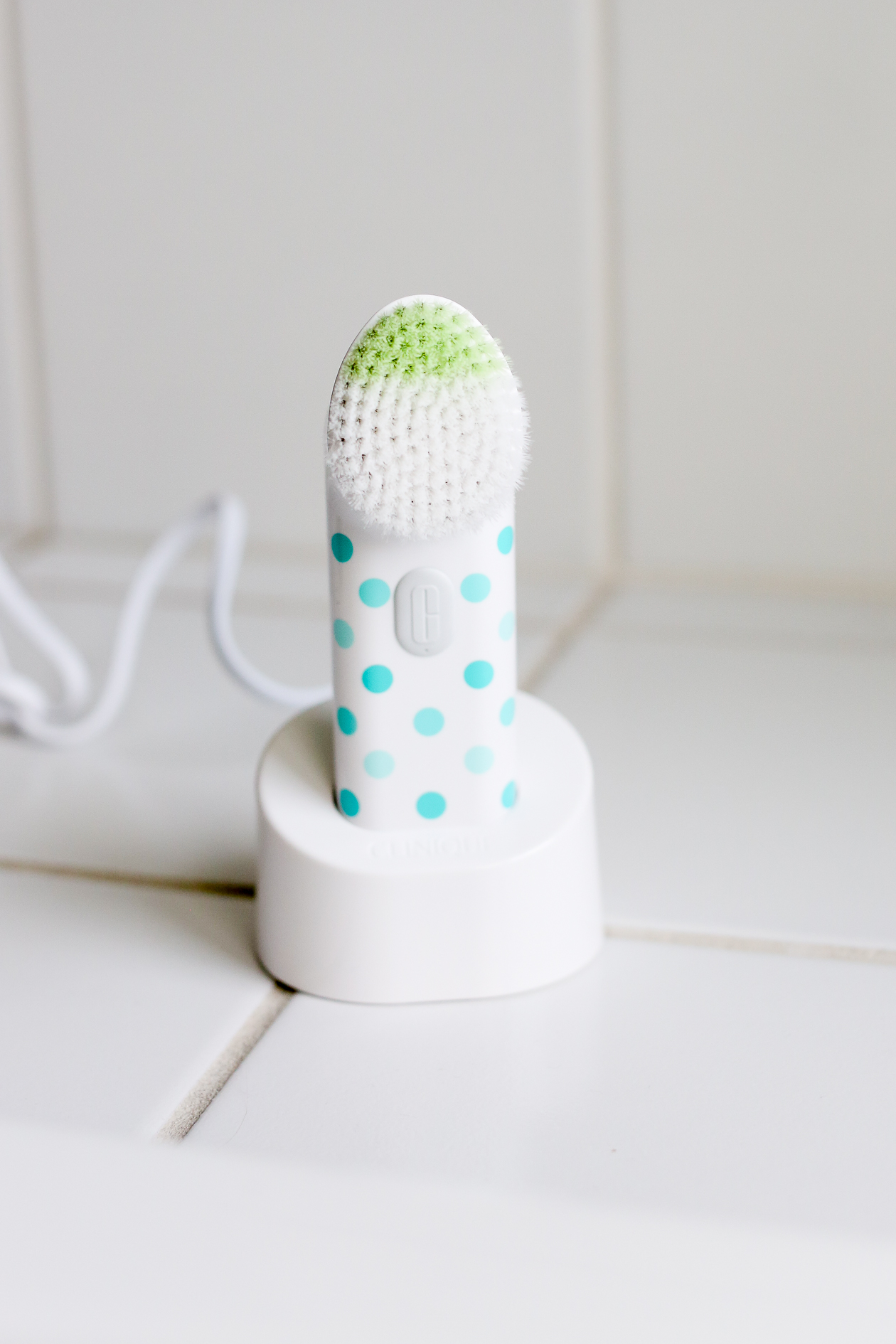 (Limited edition patterned version above)
So let's talk a little bit about the magic of the Clinique Sonic System Purifying Cleansing Brush, which, again, also comes in a men's version.
The waterproof brush, which features anti-microbial bristles, is designed to provide deep yet gentle cleansing for your skin. Its angled tip targets the t-zone as well as hard-to-reach areas, and it gently lifts the makeup, dirt and oil that normal washing may miss.
Using it is easy: remove your makeup; apply cleanser to the brush (Clinique recommends its Foaming Sonic Facial Wash, Acne Solutions Cleansing Gel or Charcoal Face Wash–if you're a dude); massage your cheeks in circular motion for 15 seconds using the white bristles; massage your t-zone in an up-and-down motion for 15 seconds using the green bristles; and then rinse, pat dry, exfoliate and moisturize. (And if you're wondering about the charcoal face wash, Mitch and I were a bit hesitant about it at first, too. But it's great! Its natural charcoal is designed to pull out dirt and excess oil that can clog pores, and it foams away impurities.)
Clinique recommends using the brush once per day, and using it for no more than 30 seconds. And just to make sure you don't overdue it, the brush shuts itself off after 30 seconds of use. (Anyone else the kind of person who keeps white strips on her teeth for longer than what's recommended? This automatic shut-off thing is perfect for me!)
The best part? As the brush is waterproof, you can totally use it in the shower! Oh, wait. This is pretty cool, too: You only have to dock it in its charging station every three months. I'm that girl whose phone is always at two percent, so I love this!
While Mitch and I have only been using our brushes for about a month now, we both agree that our skin feels softer than ever. Which is incredible, considering our skin really starts to take a beating when the weather turns. We also think that using the brush is pretty enjoyable. I mean, it's kind of like getting a little face massage every morning or night! Finally, I think my complexion looks a LOT more even. Which makes me much more confident.
Ready to give the Clinique Sonic System Purifying Cleansing Brush a spin? (See what I did there?) Order yours today! :)