Here are three spring outfits made up of products priced under $100.
Cozy Cardigan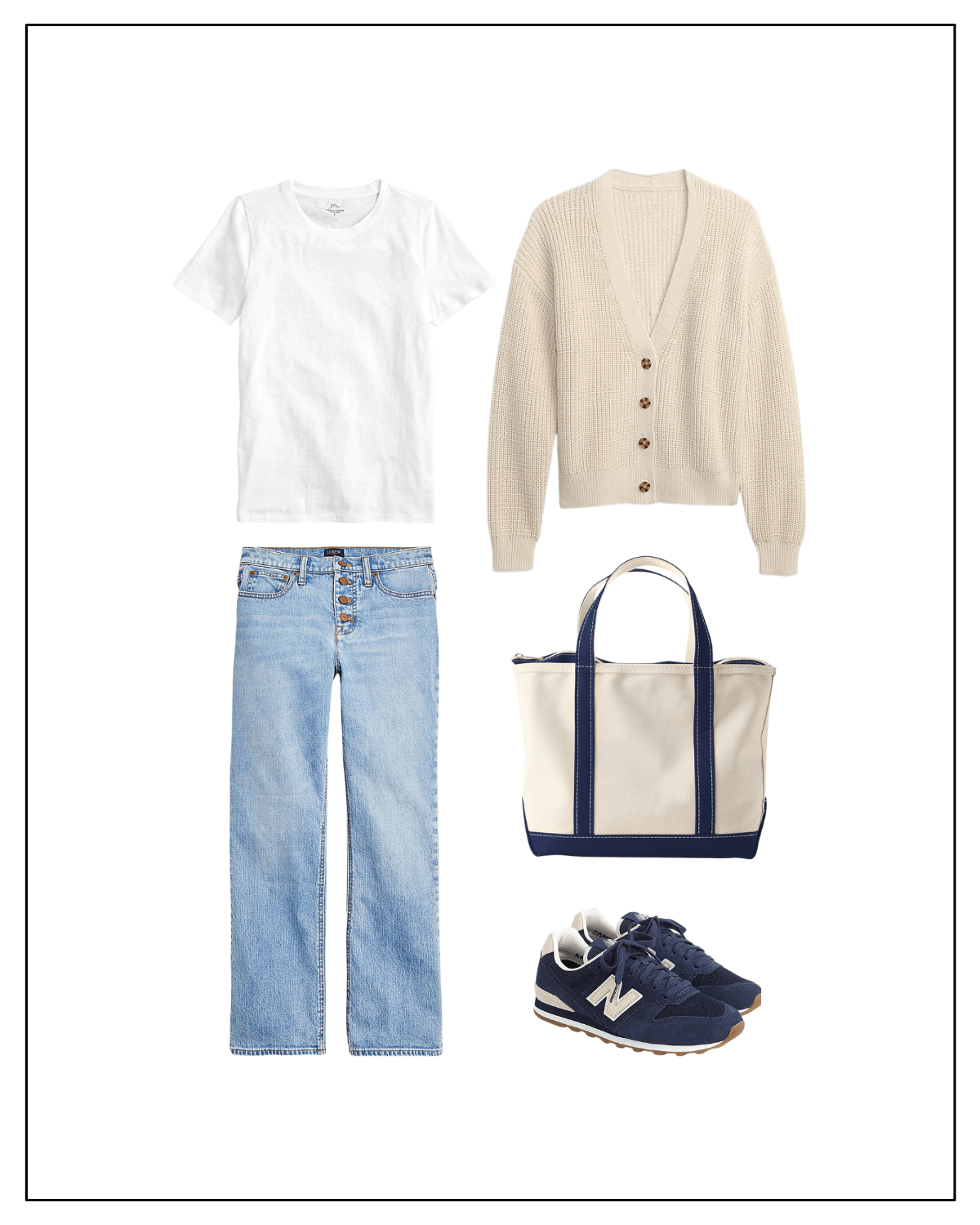 White Cotton Crewneck T-Shirt / Cropped Demi-Boot Jeans / Shaker-Stitch Cardigan Sweater / Navy Suede New Balance Sneakers / Canvas Tote Bag
I've been living in jeans and cozy sweaters lately. I love how this combo makes getting dressed in the mornings so simple, and it's incredibly comfortable to wear whether you're working from home, running errands, or spending a weekend at the park and getting lunch out afterward. This shaker-stitch cardigan comes down to under $40 after all the sales – such a good deal! Layer a short-sleeve tee underneath for some extra warmth, and pair it with cropped demi-boot jeans like these that are under $60. Slip on some sneakers; for something casual, wear these navy suede New Balance sneakers or Vejas for something more elevated, and grab a canvas tote bag if you're heading out the door.
A Touch of Stripes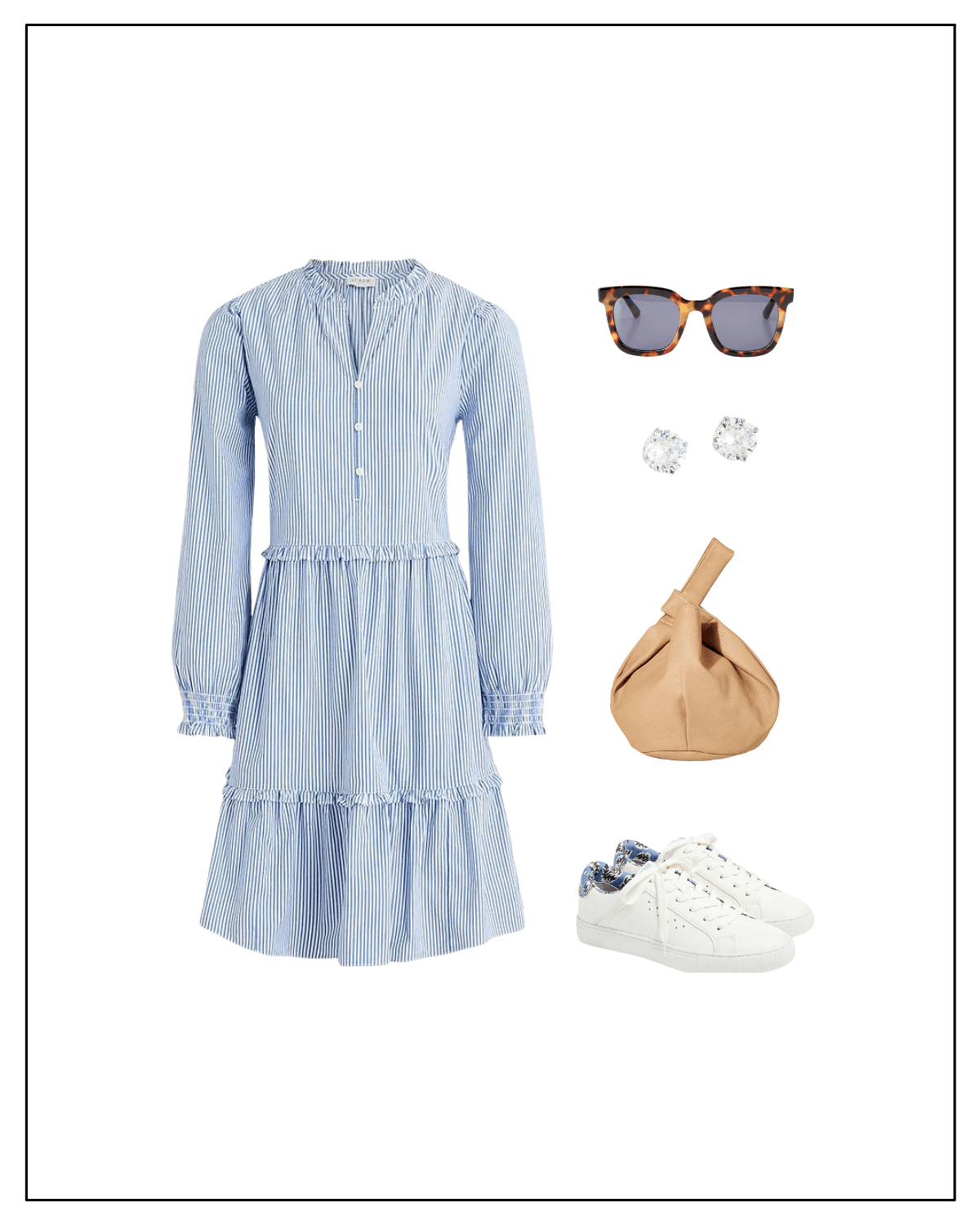 Striped Mini Dress with Ruffle Trim / Sunglasses / Cubic Zirconia Stud Earrings / Small Beige Tote Bag / White Lace-Up Sneakers
This striped shirt dress is such a versatile piece, and it's under $50. I love that I can dress it up or down. I styled it here with white leather sneakers, also under $50, but it looks cute with dressier sandals or even pumps. It's a great travel dress too, since you could wear it twice during a trip; one time casually and one time more formally. For a more casual outfit, accessorize with a pair of sunglasses, some stud earrings, and a leather bag. Trust me, this dress is such a great timeless basic for spring and summer.
Spring Date Night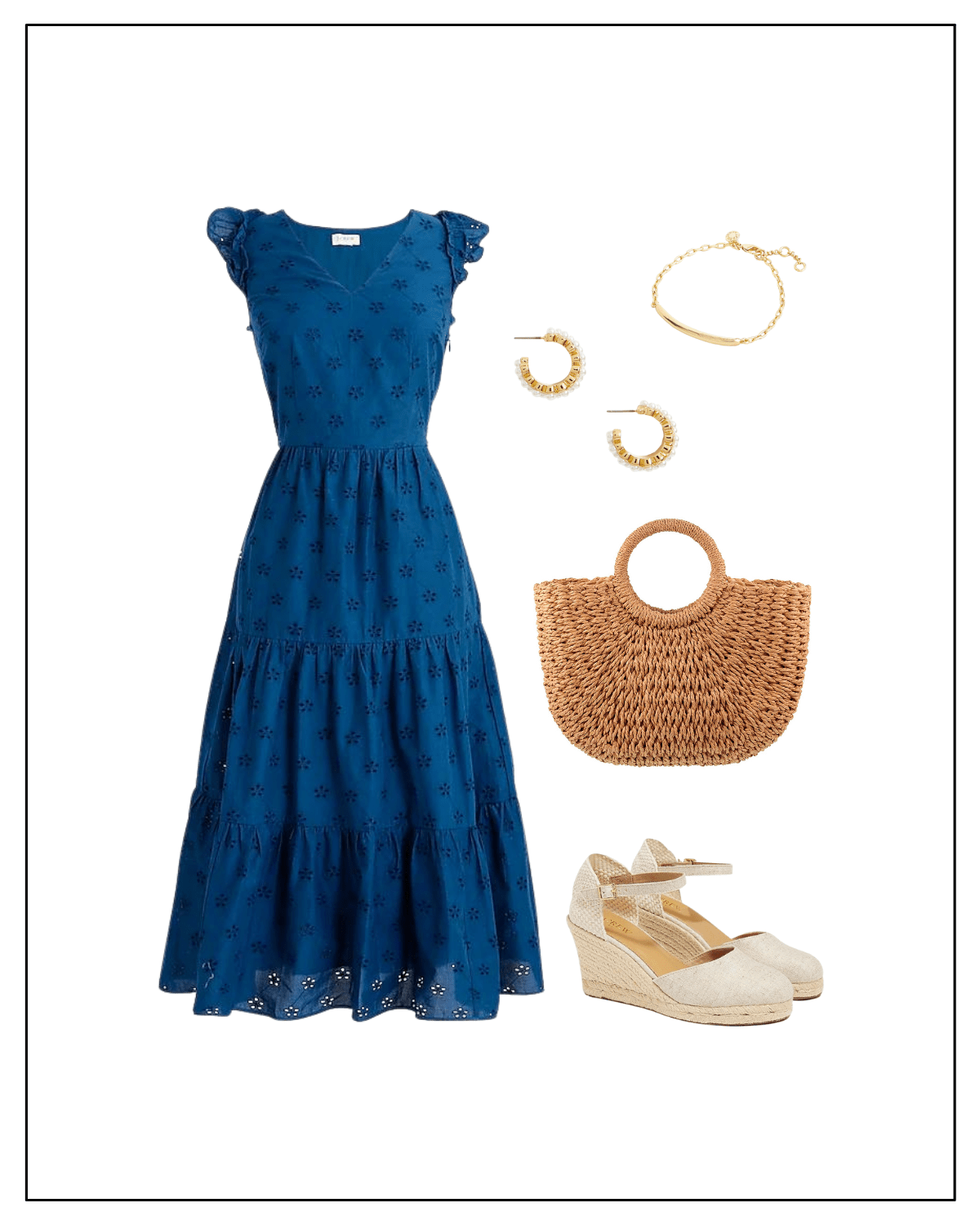 Navy Eyelet Midi Dress / Gold Bracelet / Pearl Hoop Earrings / Straw Tote Bag / Beige Espadrille Wedges
This cotton eyelet midi dress is the perfect spring date night dress under $65. A few things I love about this dress; it's lined, has pockets, and a beautiful tiered silhouette. It also comes in navy, black, and pink. If it's chilly outside, you could absolutely layer a white denim jacket, and it would still look lovely. Accessorize with pearl hoop earrings, a gold bracelet, and this straw tote bag which is under $30. All that's left is to put on a pair of beige espadrille wedges, under $65, and you're ready for the evening.