Love vs Design Customizable Peel-and-Stick Wallpaper / Desk / Chair / Newer Lamp / Hydrangea Plant / Speaker / Pinboard / Noodle Art / Wildflowers Canvas / Noodle/Gymnast Art (Just message her for custom orders!) / "Girls Rule" Pendant / Emma's Dog Painting / World Map Canvas / Solar System Art / British Bird Art
I love writing these posts. Grab a bunch of random recent photos from my phone, upload, and write about 'em. I think they show the very normal side of life, too. :)
Anyway, in the above pic, you can see the girls' new work station. It's technically in the room we originally designated for Emma, but she actually moved into Lucy's room several months ago! They're far happier together as roomies.
So this workspace will be used by both Larkin Ladies, whenever they need some quiet for homework or want to work on a project. Even Lucy has some "work" right now; she uses Khan Academy Kids! I've linked all the art above, but most of it is from Etsy, and I tried hard to find pieces that reflect the girls' educational interests. Right now, we're really into the solar system, identifying birds and flowers, gymnastics, geography and art—so I had a lot to work with.
Emma and Lucy shrieked when they came home to it. We still need to adorn the pinboard and decorate the desktop, but I love how it's turning out! Hopefully it's a space that will inspire them for years to come. :)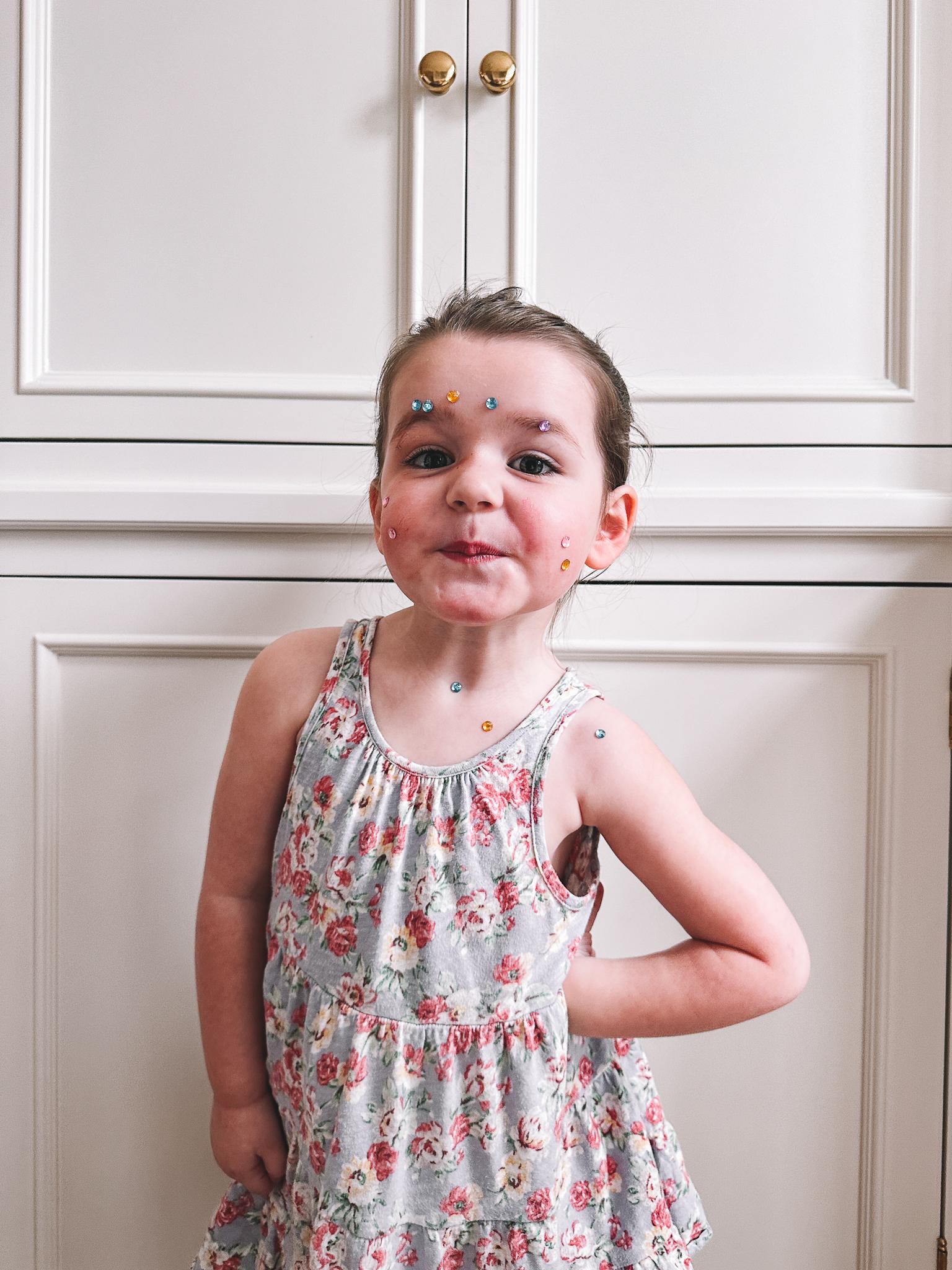 Inspired by Olivia Rodriguez, obviously. 😜 I died when I saw this. Lucy asked me to help her put on lipstick, but then locked herself in the bathroom and handled the rest. To be honest, I was wildly impressed. Like, Girlfriend looks GOOD. I could definitely see this becoming a thing with kids. Or adults. Who knows; I don't understand popular culture, haha. Either way, LUCY, I can feel it: You're a trendsetter!
Emma and Emma after cheering at the school basketball game! Seeing first-graders cheer is just the cutest thing. My favorite part is when they need to switch from offensive to defensive cheering; they tend to not pay attention to what's going on, and look utterly shocked when the ball changes hands. But there is nothing that brings this girl more joy than being on the cheer team, and she works so hard on all her routines and moves. I also just can't get enough of her in that uniform!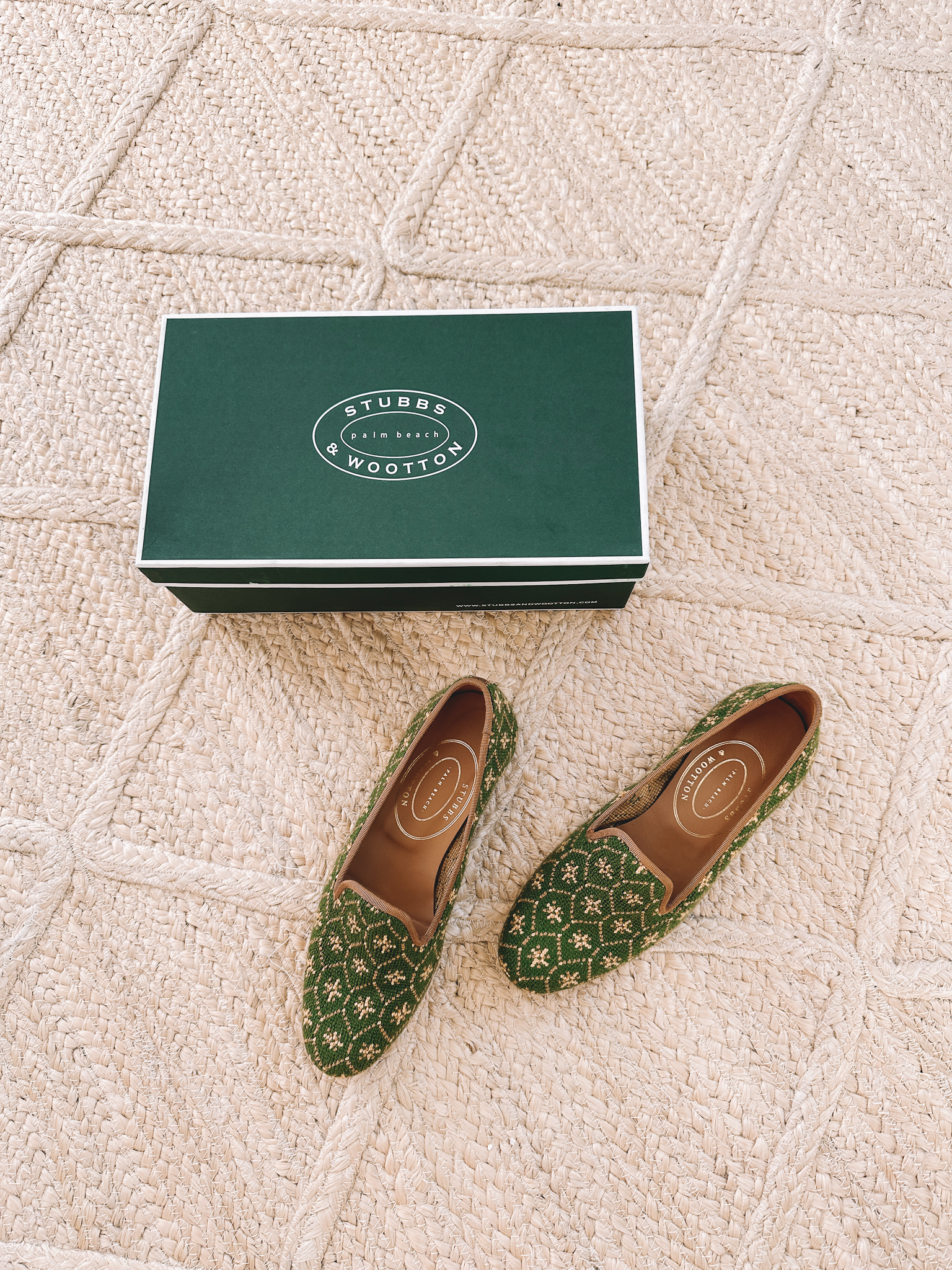 Stubbs and Wootton Loafers / Diamond Jute Rug
My first pair of Stubbs and Wootton loafers! Aren't they gorgeous? I love the woven detailing and how much they make an otherwise simple outfit. So excited to wear them out and about once the weather warms up! If you're interested in investing in your first pair, the brand is offering Kelly in the City readers 20 percent off with code "KELLYINTHECITY." Yay!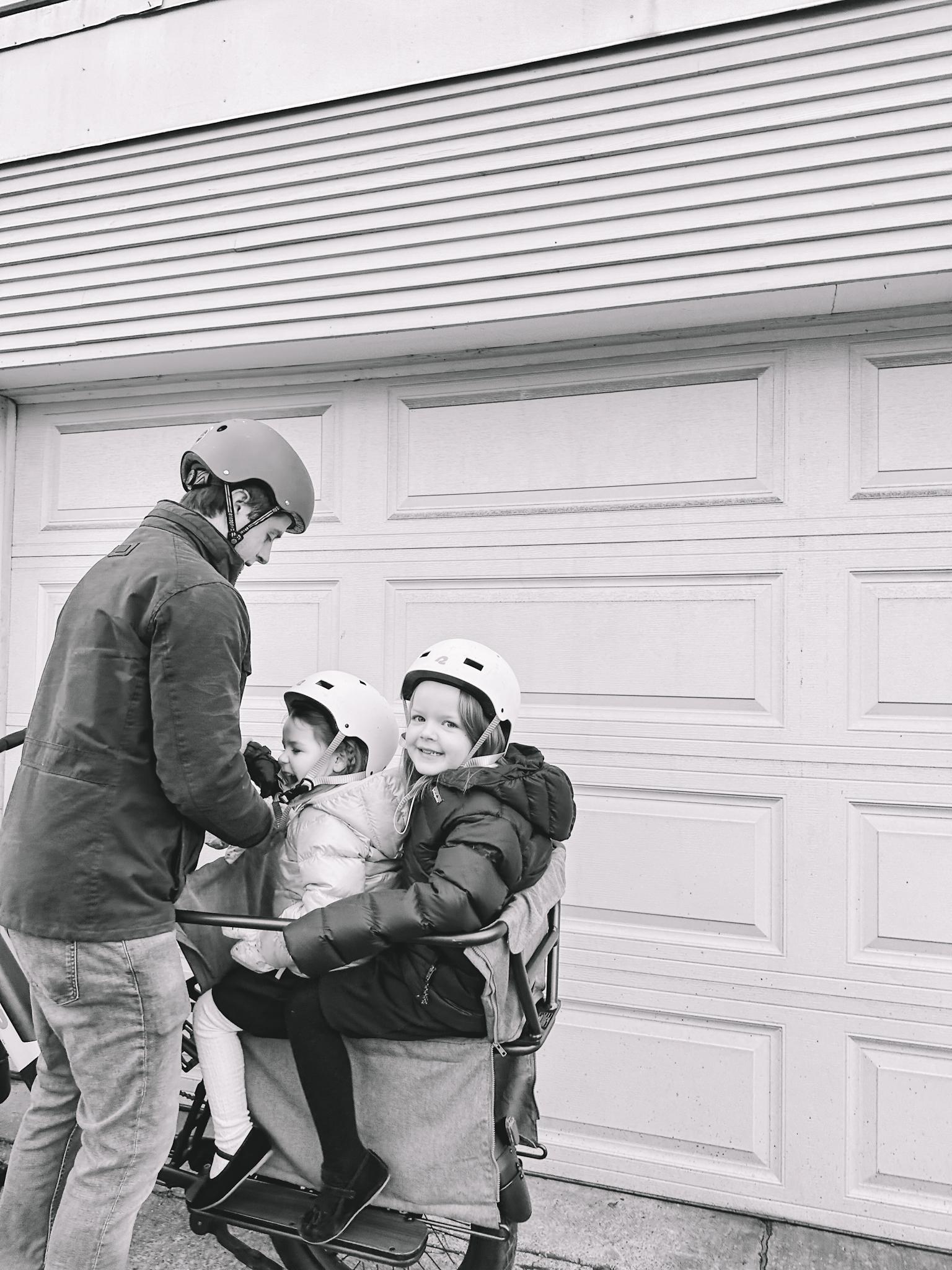 Our love for Radio Flyer continues. We've been blessed with the mildest winter this year in Chicago, and we've been lucky enough to be able to ride nearly every day to school. (The only times we don't ride is when it's raining, snowing or under 20 degrees.) It's improved our happiness so much. To be outside instead of stuck in a car, to laugh together instead of dealing with whining, to cut our commute in half—actually, probably more—you just can't beat it! I truly wish America was more like Scandinavia, haha.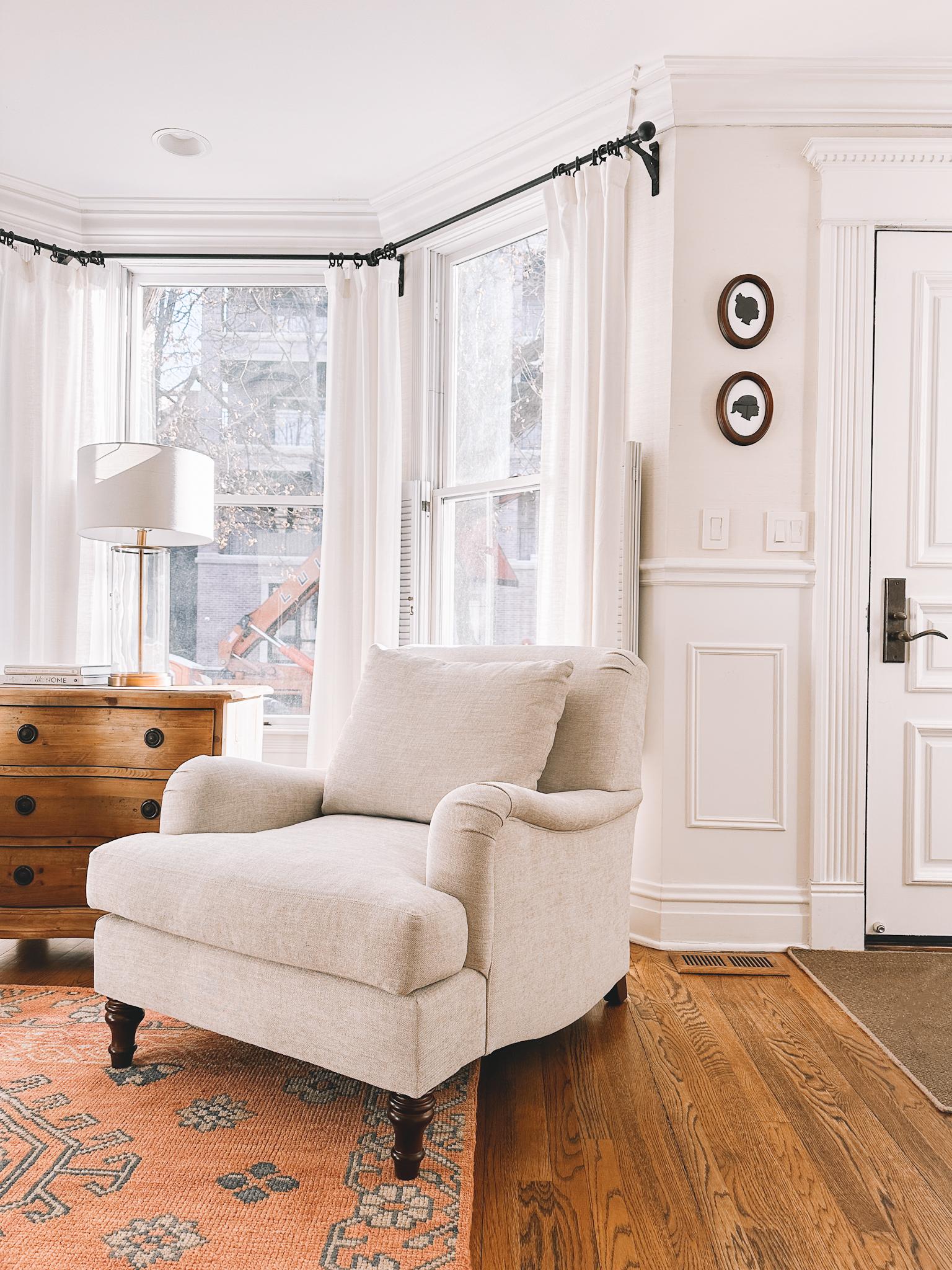 Girls' Silhouettes / Frames / Chairs / Rug / Chest of Drawers / Lamp / Curtains / Wallpaper
Okay, I've had these silhouettes hanging up on our wall for about a year now, and I never tire of them. I love that the girls' profiles are stuck in time—when they were five and two. I hope that years from now, when they come home from college, they still look at their silhouettes while they're leaving to go out with their friends or whatever… and smile, remembering their childhoods. ♥️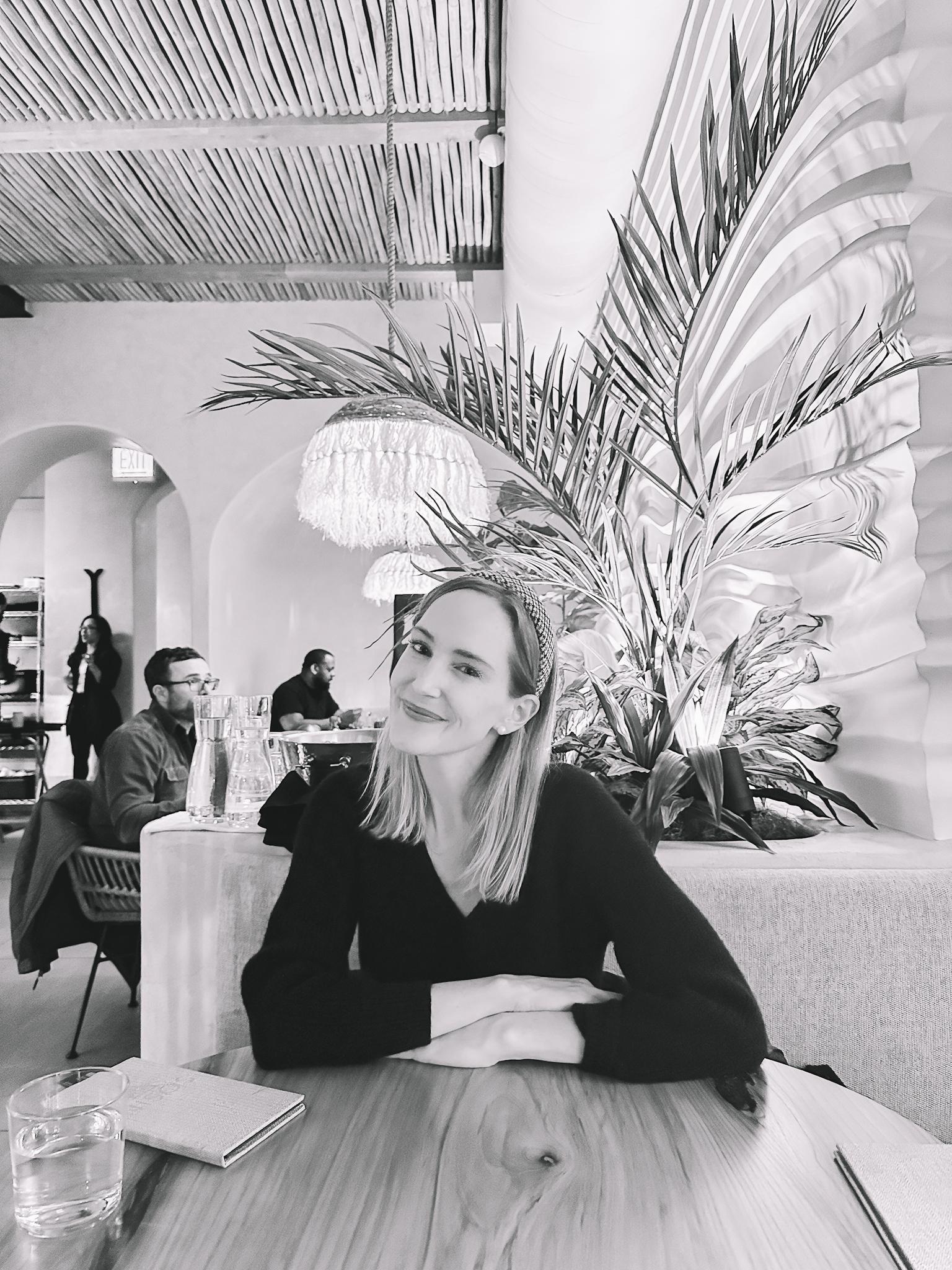 Oh, hello. I tend to not be in too many of my own iPhone photos since I'm the one taking them, but here I am! Mitch took this when we went out to dinner in the West Loop. We went to Nisos. It was stunningly beautiful, and the Mediterranean food was outstanding, too.
We've made a concerted effort to get out alone at least once a month over the last few years, and it's been so lovely. To be honest, we usually only miss the last hour before bedtime, but leaving the house without all the things usually on our minds when out and about with kids is just the nicest release. In my bag is my wallet, keys and lipstick… and that's it. Compare that to what I normally need to bring when going out with kids, and #omg. ;)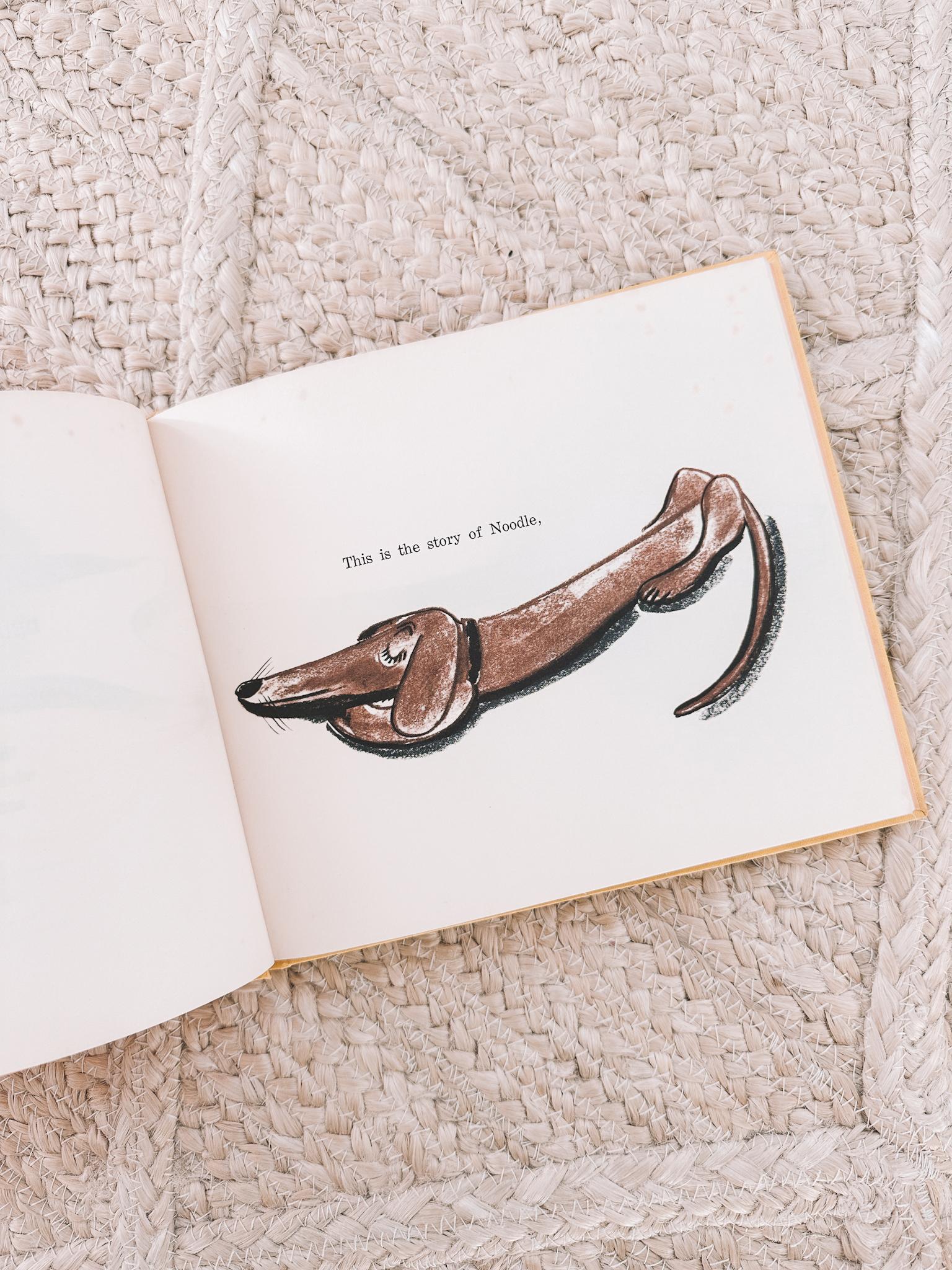 One of my best friends, Kira, recently mailed me this book. No note, no nothing—and I cracked up at that. 😆
Interestingly, we didn't find out about Ludwig Bemelmans' Noodle until years after we got our dachshund. (We named her "Noodle" because we met another Noodle while on vacation, and I fell in love with the name.) But the book has become treasured by our family, and it's very special that it's by Bemelmans—author and illustrator of Madeline!
Kira, I love you! Opening this felt like a big hug from you. :)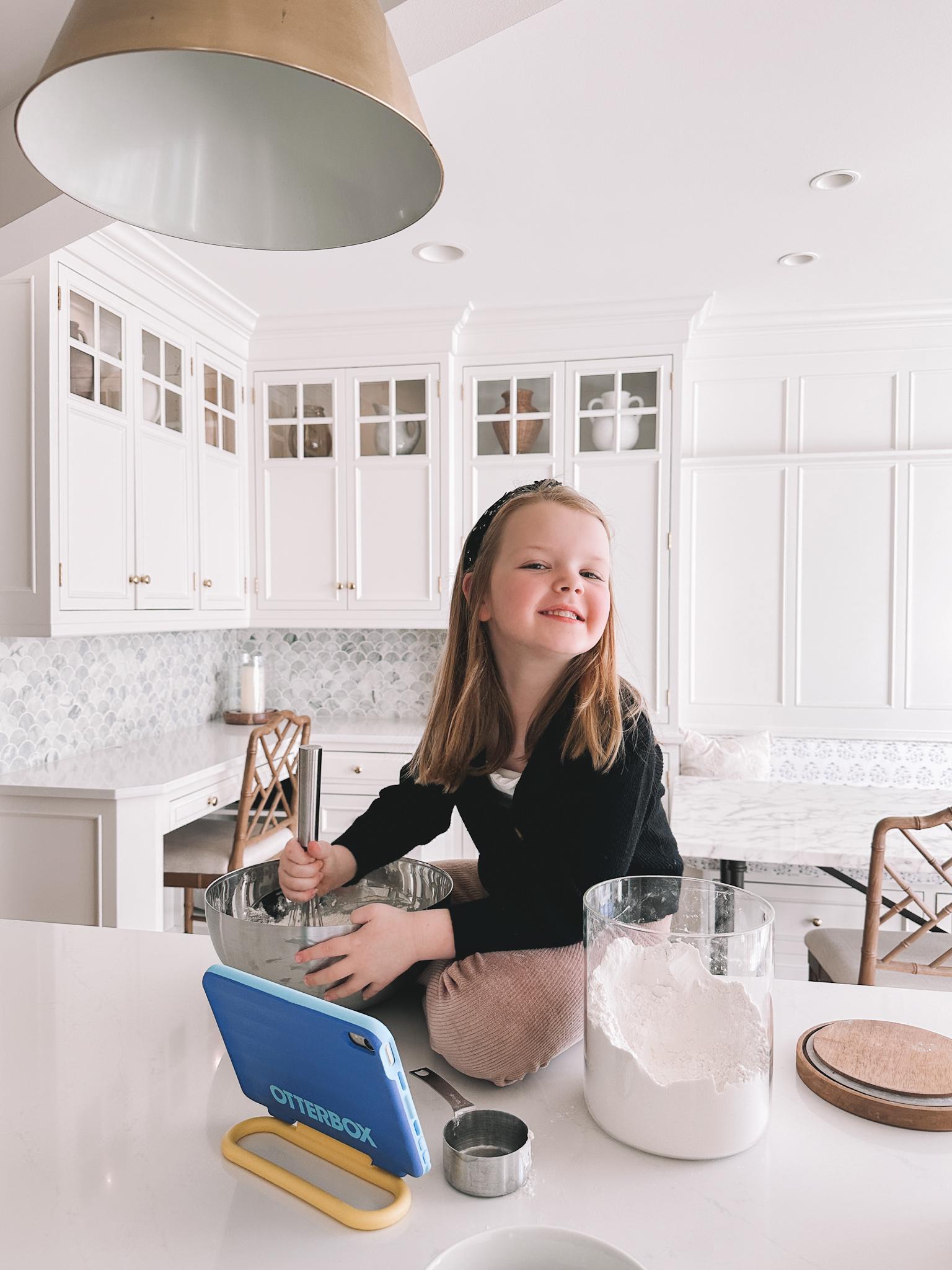 Chairs / Stools / Baking Containers / Marble Table / Hurricane Candle Holder / Vases: One, Two, Three, Four
Emma and I have fallen behind on actually posting to her YouTube channel, but we've definitely been making the videos. Her she is during one of her most recent ones; she actually did a video for Otterbox! She was so proud, and it came out great. Can't wait to share.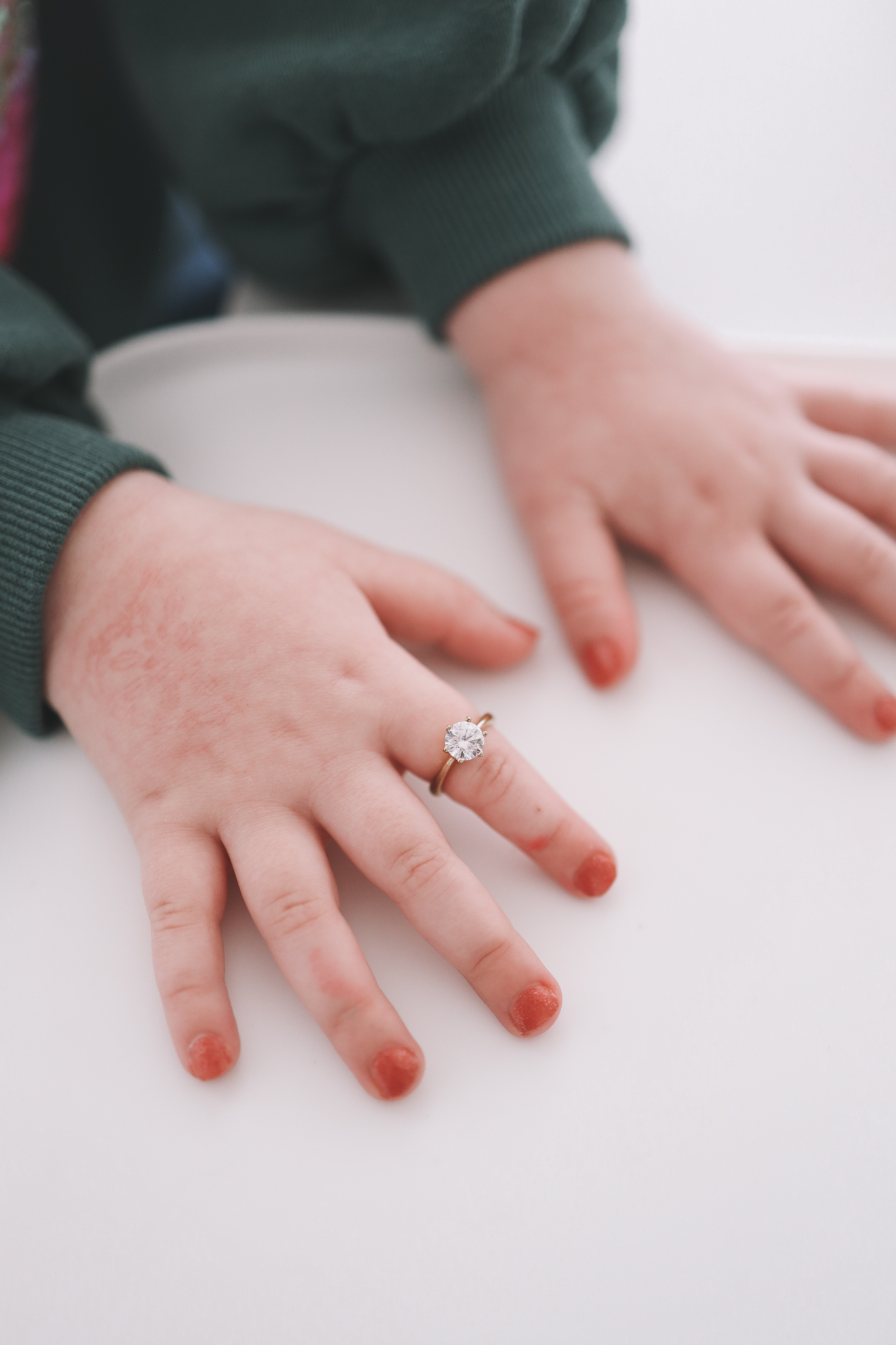 I love this shot of Lucy's diamond ring. It's the sweet little toddler fingers and her glittery painted nails. Btw: This is the same faux diamond ring that I wear! It's gorgeous, and doesn't seem to tarnish?! I'm obsessed. Highly recommend, especially because it's only $9.99 haha!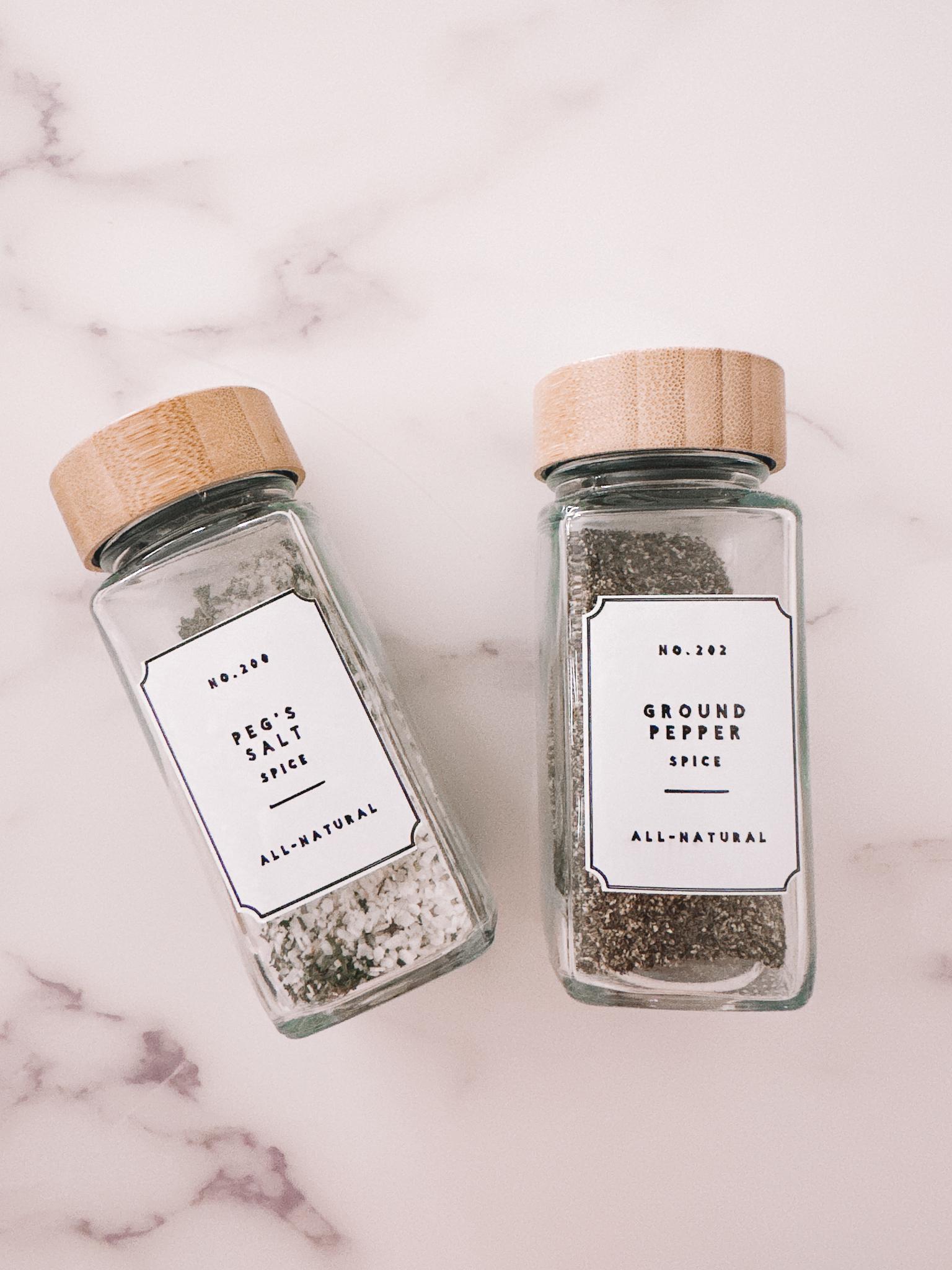 I've been making my own organizing labels! (If my dad were to read this, his reaction would be: "Kelly, there is something deeply wrong with you.") But they give me a sense of calm when I open my kitchen cabinet doors, and that's a feeling most moms do not get very often in high-traffic areas of our homes. ;) So I'll take what I can get! So yes: I made these for our spice containers with the Cricut Joy. The numbers are meaningless. They just make things look official, hahaha.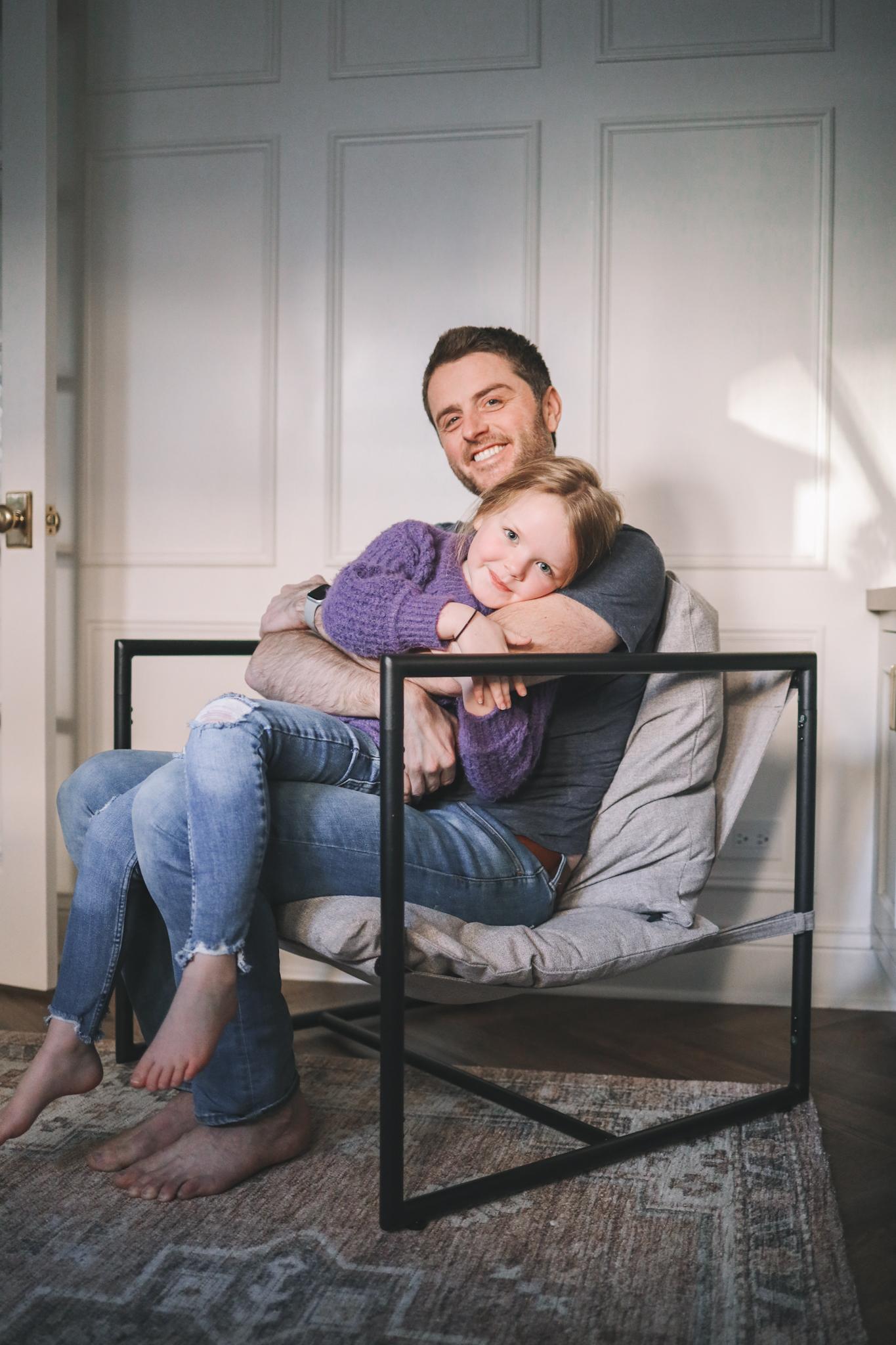 Mitch and Emma in his office. I took this just as the sun was setting and they were getting ready to play Nintendo Wii tennis. Which is SO much fun, btw. A really great family activity.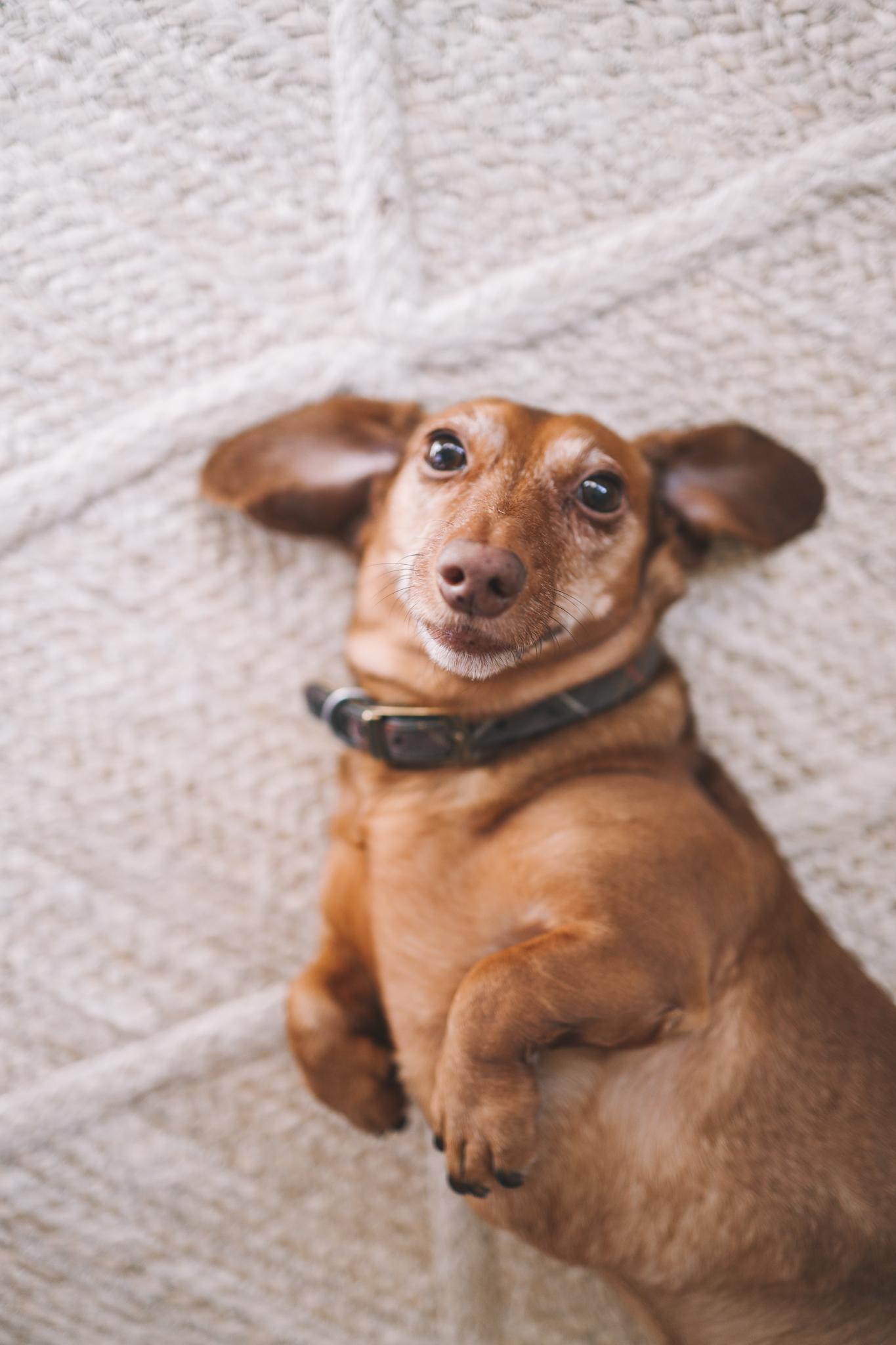 Oh hello there, Noods! She's under my feet as I type this. Not taking her on walks while her leg is recovering has been really sad, and I can't wait to get her back out there. Then again, it's been absolutely frigid here as of late, so not sure she's even be down. ;) Spring isn't really a thing in Chicago, haha, so I'm counting down the days until summer!
Lucy in her camel coat. She kills me. She's also wearing this adorable houndstooth dress from Abercrombie Kids. And I maintain that these are the best girls' Mary Janes ever. Luce, I would wear this.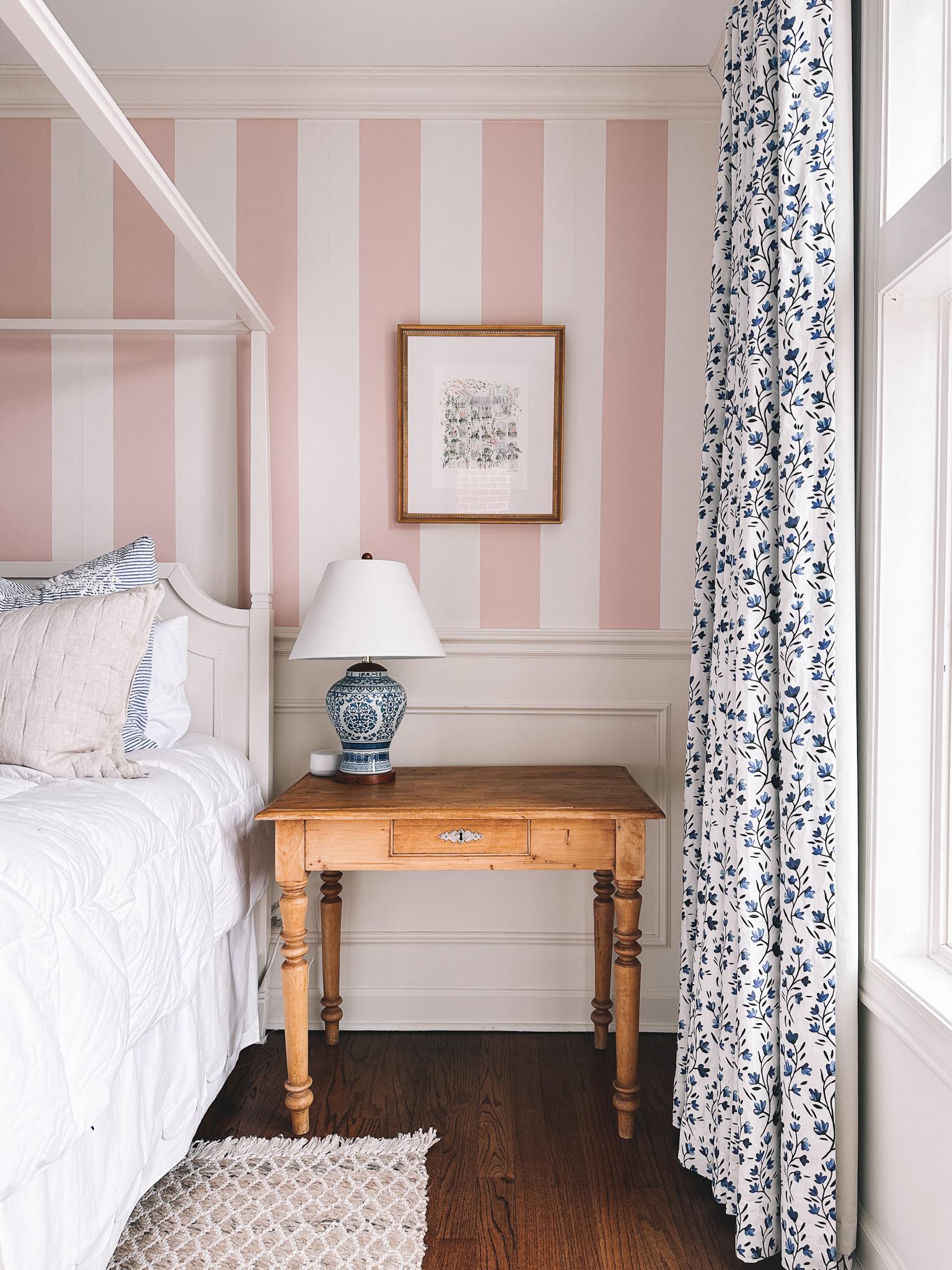 Similar Writing Desk (Love this one in white, too!) / Rug (Newer version) / Linen Quilt and Linen Shams / Seersucker Euro Shams / Wallpaper / Curtain Fabric / Canopy Bed / Framebridge Frame / Newer Chinoiserie Lamp / Duvet Insert / Noise Machine
Lucy's room got an update, too! I fell in love with this sweet vintage pine table, which I found from a Chicago seller, and knew it would be perfect next to Lucy's bed. I love how it makes the space pop!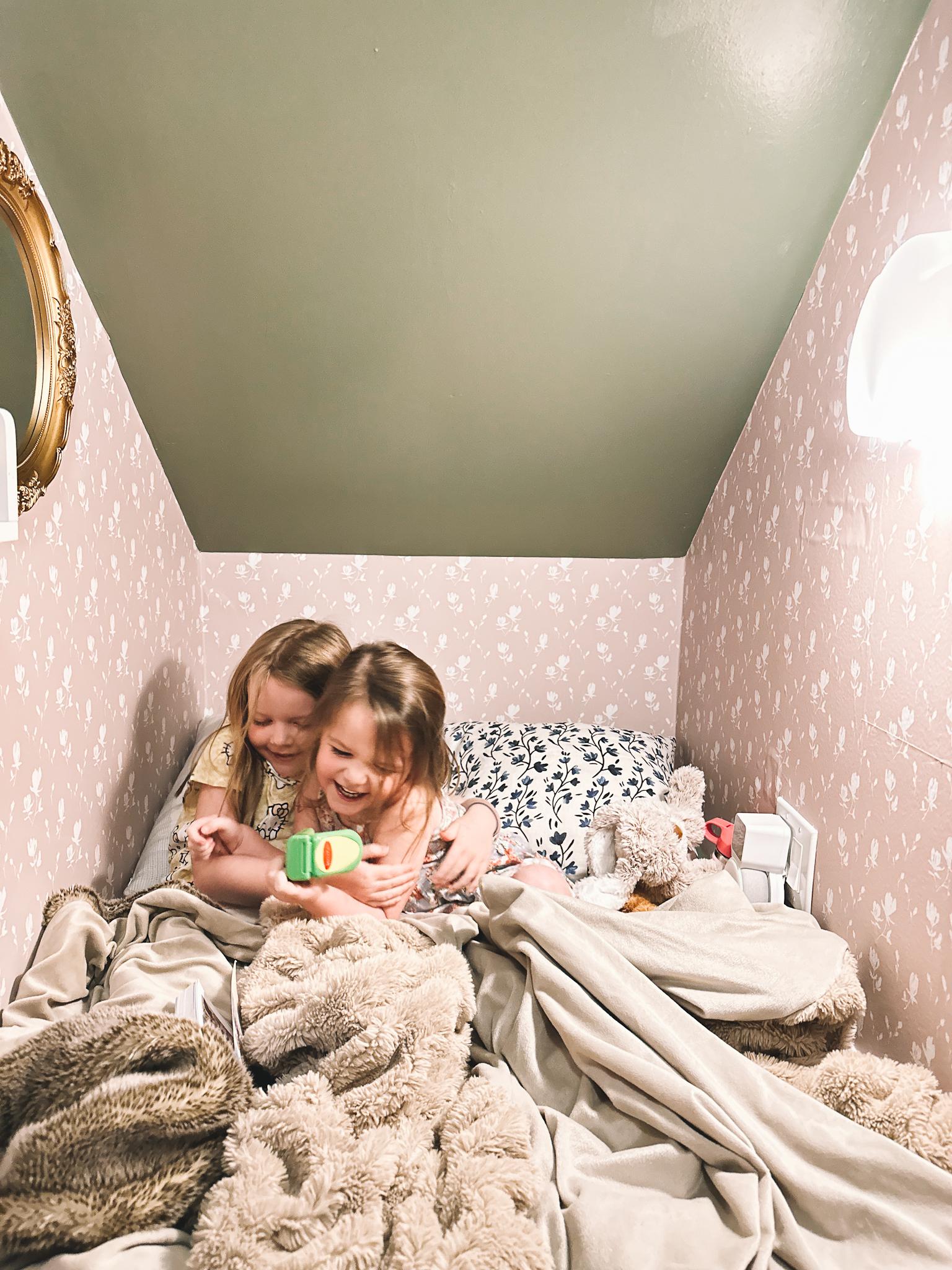 Sleepover in the secret hideout. We let the girls do it every weekend, and they have so much fun together. Such a bonding experience! Also reminds me of when I used to sleep in the closet in Vermont every Christmas. My aunt and uncle actually still call that closet "Kelly's Bedroom." I have to tell you, though: I had it best out of everyone in the house, haha. The air mattress fit perfectly with room for my suitcase, I had total privacy, and there was an overly active heating vent in there that made things so lovely for this Raynauds-inflicted gal. Good times!
This was challenging. The general idea is that you press the paper as far as you can to the window's edge, and then with the wallpaper smoother and an exact0-knife, cut along where you feel the edge. It's obviously not an exact science, but it wasn't impossible—just took some time. I did get better as I went, too! Next up is hanging the curtain rod back up.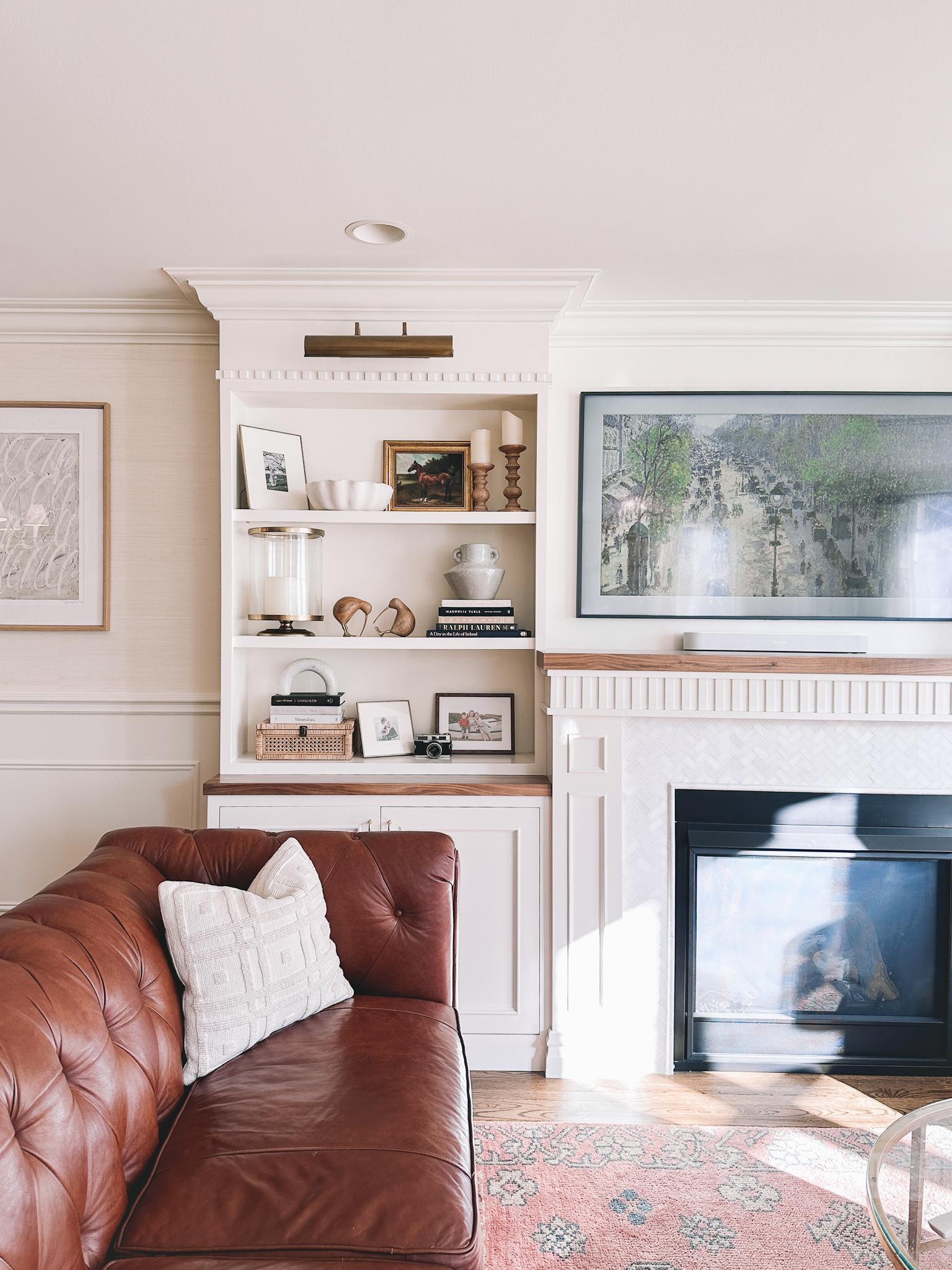 Coffee Table / Newer Target x McGee Pillow / Rug / Magic Scratch-Proof Sofa ("Steamboat Chestnut") / Ruffled Bowl / Wooden Candlestick Holders / Neutral Coffee Table Books / Frames / Vase / Kiwi Birds / Marble Arch / Frambridge Walnut Frame / Antique Camera / Cane Boxes / Brass Hurricane Candle Holders (Newer) / Picture Frame Light (Newer) / Wallpaper / Framed Horse Canvas
Less is more. I think a lot of times, we're tricked into thinking that our spaces need more to make them beautiful or cozy. This past year, though, I've been making a concerted effort to ask myself "what can I take away?" instead of "what can I add?" It's been awesome. Of course, I keep the things that bring us joy and that we actually use. But less has brought such a sense of calm and comfort.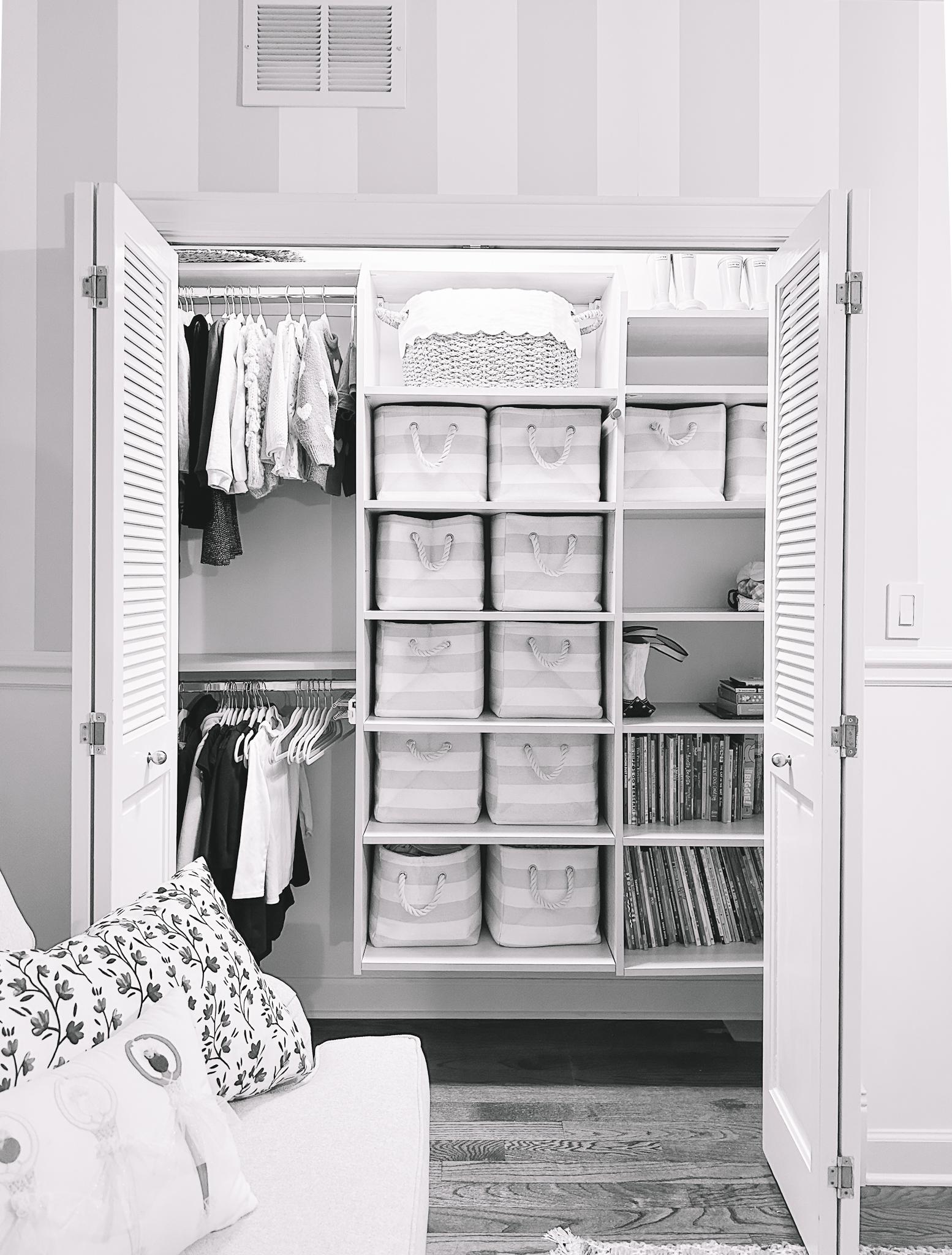 Striped Bins / Scalloped Basket / Velvet Hangers
Organizing progress: Lucy's closet!
This has been my toughest closet, as I have tried to hold on to as many hand-me-downs from Emma as humanly possible over the years. Now that the girls wear uniforms, though, I've realized that we don't need all of it. So I've been going through the bins and donating, donating, donating. Sometimes it's hard to let go of a piece—there are so many memories attached!—but I remind myself that for every cute dress, there's a cute pic of one of my daughters in said cute dress. And that's even better than the physical thing, in my opinion! Thank goodness for my strange profession. ;)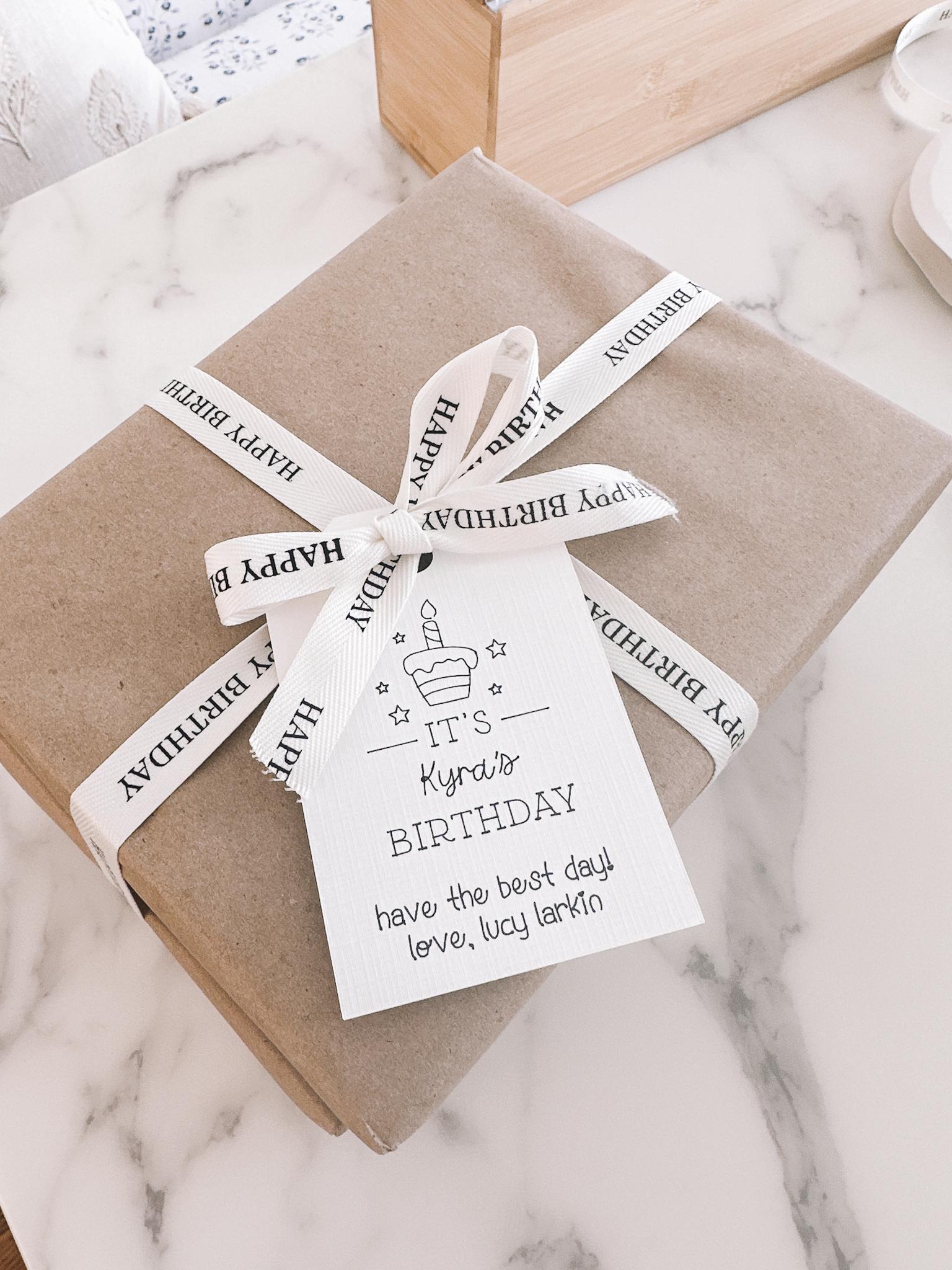 I've also been making my own gift tags with the Cricut Joy. I used this butcher paper, this pen, this cardstock and this ribbon to wrap this gift. :) Cricut Joy really does bring the joy.
PS: I simplified our wrapping situation and now only use butcher paper, with the exception of Santa gifts at Christmas. (Using butcher paper for that would likely raise some red flags, ha.) Something else I now do is that I immediately order and wrap gifts after RSVPing yes to a birthday party. It only takes a few minutes but is so helpful the day of. No one wants to frantically run to Target like a chicken with its head cut off before a party!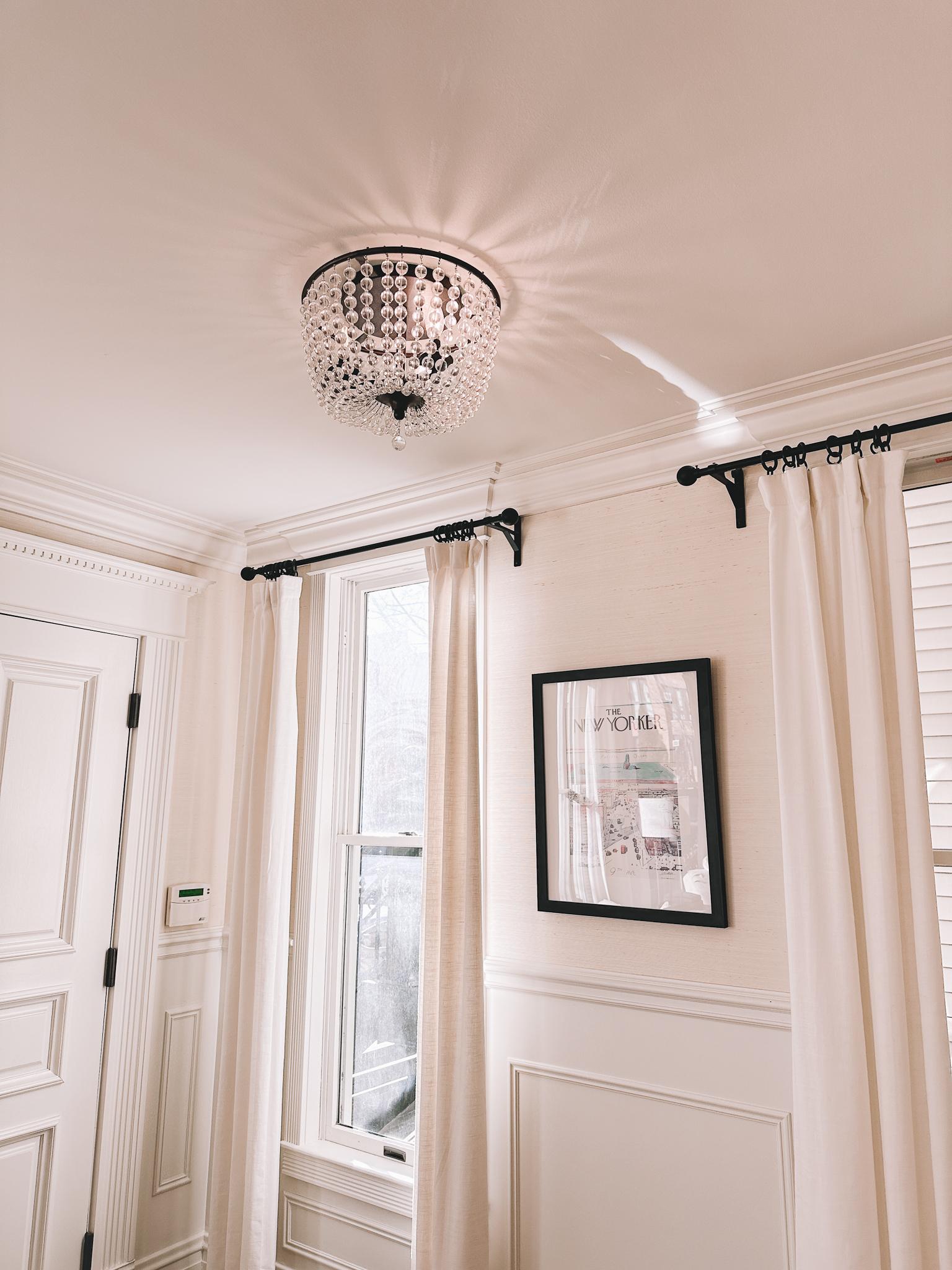 Wallpaper / Pottery Barn Linen Emery Curtains / Flush Mount Light (Newer. Try here, too!)
It's been over a year—maybe two years now?—that we've had our Pottery Barn Linen Emery Curtains, and I give them an A+. They're of the highest quality, and they make the living room look so much bigger and brighter. There are definitely places for patterned drapes in our home—Lucy's room, which gets a lot of light, for example—but I think I'm sold on creamy white curtains for downstairs forever. :)