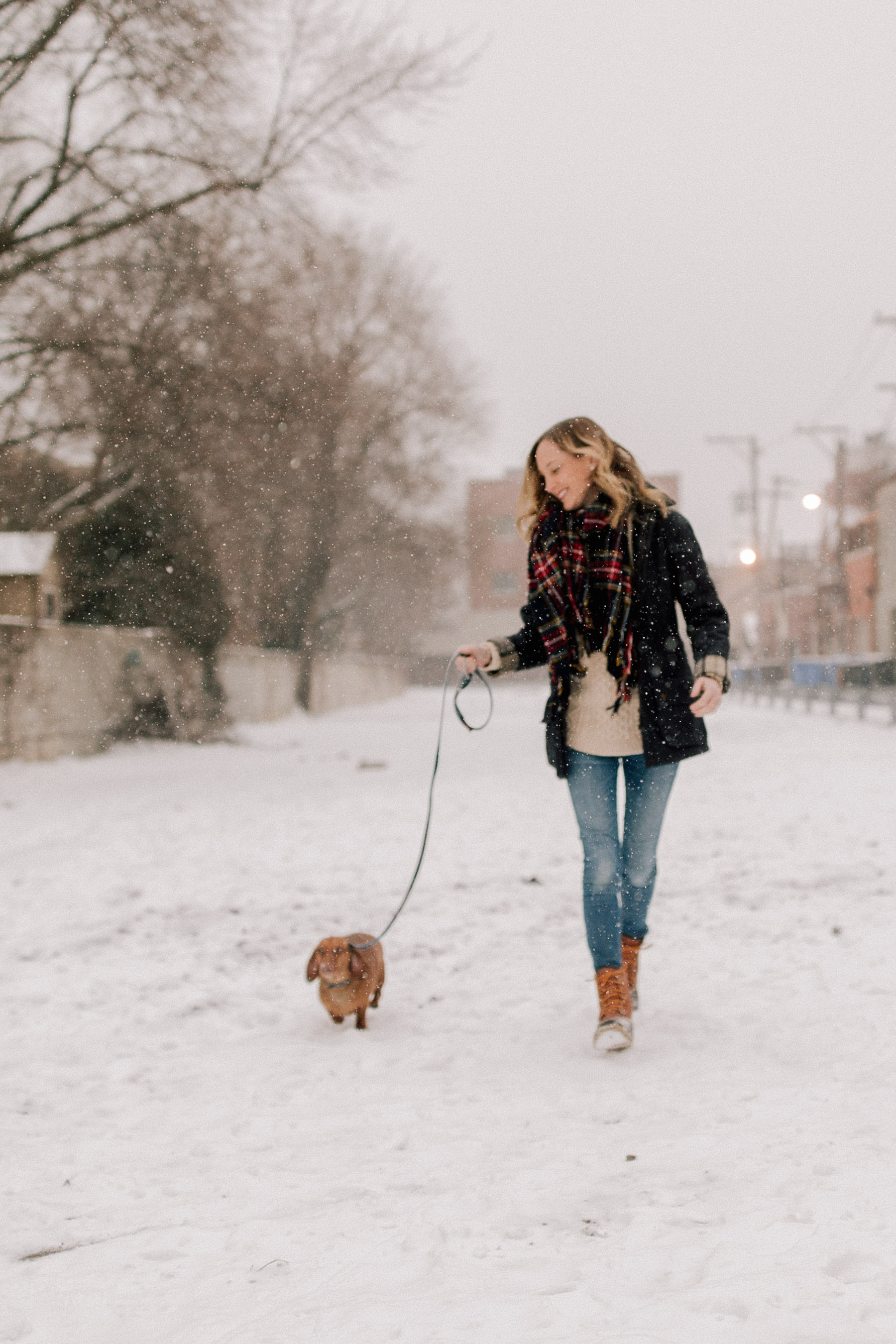 Tuckernuck Scarf (On sale! Use code "GROUNDHOG" to take an additional 30 to 50 percent off. Love a good plaid that can be worn throughout the winter. I also have this green one and love it.) / Barbour Quilted Beadnell (Also available here and here… and slightly different style here. And here's the regular Beadnell. And here. Sizing: I wear a U.S. 4 in Barbour.) / Rag & Bone Jeans / L.L.Bean Bean Boots (Sizing: I wear a size 7.5, and took these in a 7. They're shearling-line and SO SOFT!) / L.L.Bean Fisherman Sweater (Runs big! I'm wearing an XS here. Also love the navy striped fisherman sweater and the hooded version.) / Vineyard Vines Collar
Yesterday, Emma went off to "Camp Gammy."
(She's at her grandparents' house for a few days. 😉)
In the past, when we were drowning, we resisted asking for–or accepting–help. I don't know why, so I'm not even going to attempt to analyze that. This time, though, when my mother-in-law called and asked whether she could take Emma for a little while, we said yes. Actually, I think it was more of a "oh-my-gosh-thank-you-so-much-yes" kind of response. 😂
(Many thanks, Lisa. Many thanks!)
But it's hard. Despite how good these three days are going to be for our family–we'll catch up on everything we're behind on, I'll likely get over this bug I'm battling, Emma will get some quality time with her grandparents, and we'll have a work-free vacation next week as a result–I struggle with being away from our little girl. As I write this, the house feels empty.
I'm focusing on the positives, though. :) Wednesday night or Thursday morning will be here before I know it, and I really can't get over how much Mitch and I knocked off our to-do list yesterday. Feels AMAZING, and we even had time to eat a quick sushi dinner over an episode of "This is Us" and then take Noodle for a romp in the snow.
Which leads me to the topic of today's blog post:
Staples for Winter Dog Walks
Because seriously: if you don't have the right gear, it's pretty miserable. 😜
I've said it before and I'll say it again: best winter boots I own. Before the shearling-lined pair, I couldn't handle wearing duck boots during the winter. So cold! Now, though, these are the first boots I reach for, and I actually keep them by the front door for Noodle walks. They're cozy, comfy and super easy to get on, and they're waterproof. (Sizing: I normally wear a size 7.5 in shoes, and I took these boots in a 7. If you're between sizes, size down. If you're a full size, stick with that.)
Let me preface this with the fact that the Quilted Barbour Beadnell is not an appropriate everyday coat for Chicago winters. Again, I simply wear it on five- to 10-minute walks with Noodle because it's easy to throw on and gets the job done. I also love the giant pockets, which fit everything I need: keys, tennis ball, phone, doggy bags, gloves, whatever. :) And yes, the coat is a zillion times warmer than the original Beadnell because of that polarquilt lining, yet it features the same flattering slim cut. If my dreams ever comes true and I get to move to Charleston, this will be the only coat I own! (Btw: it's also available here and here… and slightly different style here. And here's the regular Beadnell. And here. Sizing: I wear a U.S. 4 in Barbour.)
I swear that the softer the jeans, the warmer they are. This pair by Rag & Bone is my first choice for Noodle walks. They're well made and don't stretch out during the day, but they're cozy and keep me warm when it's freezing. Yes, they're pricey, but I've had mine for several years now, and they hold up incredibly well. And I'd much rather buy one pair of quality jeans than multiple pairs of okay-ish jeans! (Sizing: TTS.)
This is by far the thickest and most rugged sweater I own, and I keep it in the coat closet instead of in my own closet, as I throw it over button-downs when I need to rush Noodle out the door. It's not itchy at all, which makes it a great sweater in my book, but be aware that it runs large. I normally like my sweaters on the larger side, but I'm wearing an XS in these photos, and it's definitely oversized. I'd recommend going down a size! I also love the navy striped fisherman sweater and the hooded version.
I'm just realizing now that I don't wear this scarf on the blog nearly enough, considering how often I wear it in day-to-day life. I'm obviously a huge fan of plaid, haha, but a good plaid that's acceptable after Christmas is kind of difficult to find. This scarf is navy and plaid and soft and oversized–yet not Christmassy. I've had it for a few years now, and it's FINALLY on sale! Use code "GROUNDHOG" to take an extra 30 to 50 percent off the sale price, too. Here are all my faves from the Tuckernuck sale.
Anything I missed that's perfect for a snowy walk with Noodle?
Shop the post:
Tuckernuck Scarf (On sale! Use code "GROUNDHOG" to take an additional 30 to 50 percent off. Love a good plaid that can be worn throughout the winter. I also have this green one and love it.) / Barbour Quilted Beadnell (Also available here and here… and slightly different style here. And here's the regular Beadnell. And here. Sizing: I wear a U.S. 4 in Barbour.) / Rag & Bone Jeans / L.L.Bean Bean Boots (Sizing: I wear a size 7.5, and took these in a 7. They're shearling-line and SO SOFT!) / L.L.Bean Fisherman Sweater (Runs big! I'm wearing an XS here. Also love the navy striped fisherman sweater and the hooded version.) / Vineyard Vines Collar