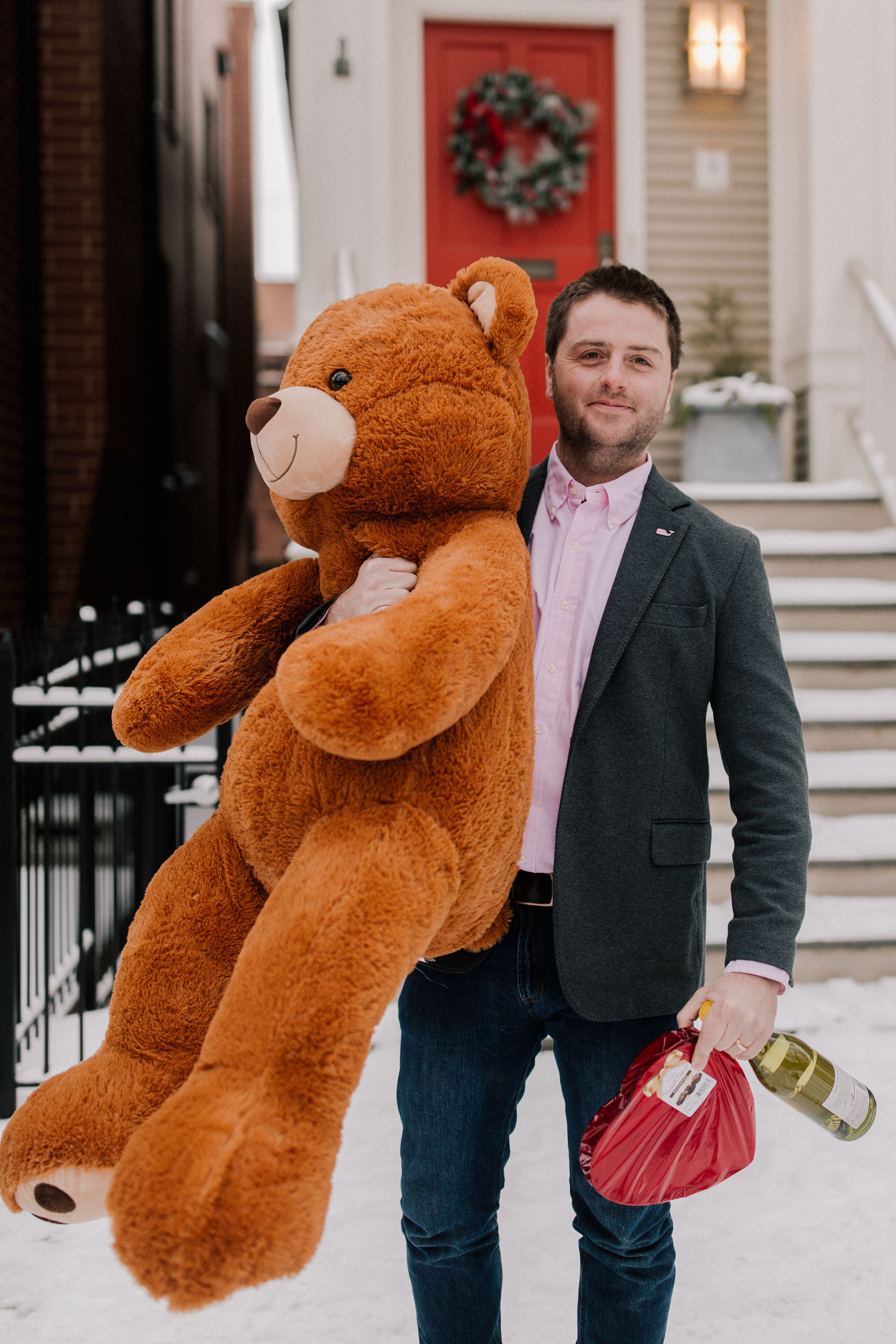 Ralph Lauren Pink Oxford (also check out this Vineyard Vines Pink Striped Oxford) / Vineyard Vines Knit Blazer / Giant Teddy Bear / LL Bean Boots
Mitch here!
Valentine's Day is a week away, people! And while it's almost certainly too late to get a decent table, you can still rescue the holiday and, with any hope, your relationship. (Kidding, kidding. 😉) Below you'll find 20 handpicked, Mitch-approved gifts that he'll actually love.
Don't screw this up.
And if you'd rather shop for yourself, take a look at Kelly's brand spankin' new Amazon Shop! Here you'll find a constantly updated list of Amazon fashion, home, baby and fun finds. You can find the link in the main menu of this site. I mean, you deserve a few Valentine's Day treats, too, right?
One / Two / Three / Four / Five / Six / Seven / Eight / Nine / Ten
1. Shinola Leather Football: Congratulations! The football season is finally over and you made it through. This thing will remind him that the next seven months of silence will pass quickly. Plus, it really wouldn't look too bad on a shelf, and you'll look pretty awesome when you "agree" to let him display it.
2. Leather Bonfire Candle: Let's be real. Sometimes, your guy stinks. Take a little walk with me, won't you? Head over to one of the little spaces he calls his own in your place. His closet? His room? Or maybe his office? Dude needs a bonfire candle bad. You don't need to light it; just shove it in there.
3. Apple AirPods: AirPods are the single greatest gift I've ever received. (Thanks, Kelly!) I have them with me at all times and sort of feel naked without them. Yes they look dorky, but having the ability to pop an AirPod in and crush a quick podcast or Taylor Swift Spotify sesh is a game-changer.
4. Homesick Books Candle: Remember books? Those heavy paper bricks that used to pile up all over the place? Book shopping was a legit Saturday afternoon activity only a few years ago. But if you're like me you gave all your books away back in the days of yearly moves and tiny city apartments, you don't have that awesome smell filling your home anymore. Luckily, though, Homesick makes a book-smelling candle that you can light and watch Netflix next to. Or, you know: read.
5. Etsy Valentine's Day Cards: Listen. The pharmacy does not have good cards. You're not going to find a pithy love statement of any worth at the grocery store, either. There's still time for an Etsy card, though. It's literally the least you could do.
6. Beard Tonic Sampler: It would appear that the beard renaissance is still in full effect, and there's a good shot your guy is sporting some kind of ridiculous looking–and honestly frightening–beard on his face. He needs to tame that thing with a beard tonic, and this sampler will give him a few options.
7. Shinola Leather Belt: It was recently pointed out to me by a certain blogger wife of mine that I've been wearing the same belt since the day we met. My belt has been around. (Get it?) And if you look at the wear marks from my skinny days until now, it tells an interesting story. Think about it. Your guy doesn't know that his belt is a piece of junk. No way, no how. Fix that! Double bonus if you replace his black belt, too.
8. Wallace & Barnes Wool Scarf: It has been a long, cold, deep, dark depressing winter and if your guy is anything like me his standard winter garb has taken a beating. I lost my scarf, I'm down to one glove and the little poof ball fell off my hat. Revitalize his winter look with a nice scarf because, let's be honest, this winter is far from over.
9. J. Crew Leather Shoehorn: A shoe horn would be a pretty bizarre gift–I won't lie. But hear me out. Until this point in my life, I've always jammed my feet in the shoe foot hole thing and stomped around for a few seconds until it all clicked. If things don't go as planned and I can't get my foot in, I'm likely to just walk around on the back of the shoe all day. You can save him from that fate with this thing.
10. Harry's Shave Set: While I might not be the best spokesman for a razor brand (as evidenced by the the photos in this post), Harry's is my go-to, and it's the clear winner in the recent internet startup shaving wars. If your guy is still buying his razor blades at the pharmacy, go with this Harry's Shave set.
Eleven / Twelve / Thirteen / Fourteen / Fifteen / Sixteen / Seventeen / Eighteen / Nineteen / Twenty
11. KJP New England Adventurer Watch: I'm not a sailor. My nautical skillset is limited to that of the mighty pontoon. I don't know a boom jib from a bulkhead. I don't even own white pants. But I do love the ocean. (Heck, I proposed to Kelly there and was even married on the Shore!) And KJP 's new Adventurer Watch, with all its little anchors and nautical flags, makes me feel less like a landlubber and more like a coxswain. And I think that's a good thing.
12. 36 Hours USA & Canada Coffee Table Book: I once spent 36 hours in Canada, and though I'm still legally not allowed to discuss details, I can say that I was smuggled across the border in the trunk of a Jeep Grand Cherokee. Let's move on.
13. Spotify Gift Card: This is the best gift on the list. If your guy is cheaping out on his music subscription and listening to those awful, repetitive, blaring siren ads between songs, you owe him this gift. Life pro tip: Sign up for the Spotify family membership to get five memberships for $15.
14. J. Crew NYC Pennant: Chicago has a chip on its shoulder when it comes to New York. Chicago is this world-class, accessible, hard-working midwestern city. It's a GREAT city, and I love it. But, I mean, they don't sell Chicago pennants at J. Crew.
15. Red Wing Blacksmith Vibram Boots: This is the kind of boot he needs if he lives north of the Mason-Dixon Line and needs to go outside between now and Memorial Day. Red Wing has a reputation as being a buy-it-for-life kind of boot, which might help when you see the price tag.
16. Britt Ford Custom Street Map: Britt Ford is an artistic mapmaker from Hoboken. Her stuff is gorgeous and while you can choose from any number of her designs, I'm thinking a custom Britt Ford map is maybe the perfect Valentine's Day gift. Screenshot your Google Maps selection, choose the size and colors, and Britt will have a gorgeous custom framed map to you in no time. We hung our Britt Ford map of Lincoln Park over our bed, and it's perfect.
17. How to Stay Alive in the Woods Book: It is a tough world out there for manly men these days. I should know; I write professionally for a fashion blog. Stoke your guy's manhood–sorry, that sounds dirty–with this book, which looks great on a coffee table or on a nightstand. You can apparently even read it!
18. KJP J. Dean Sweater: I'm rocking a full-time sweater outfit rotation these days, and with its stripes, navy color, long sleeves and perfectly circular neck hole, this KJP sweater has it all.
19. Maxwell Scott Calvino Laptop Bag: Seven of the 20 items on this list are made of brown leather. And while I admit that I may be a tad leather-obsessed, it shouldn't detract from how incredibly nice this bag is. It fits a 15″ laptop perfectly with plenty of space for all the other weird junk guys carry to work. This is the kind of bag he'll use for the rest of his life. Mine made an appearance here.
20. Uncommon Goods Scratch Map: Celebrating a holiday on February 14th has a few inherent limitations. This year, you could break the mold and give him something unbound from the climatic limitations of your region.
Book a surprise trip.
Buy this Uncommon Goods Scratch Map.
Scratch off the location of the trip.
Win Valentine's Day.
Mitch. Out!
SaveSave