It's taken us a long, long time to develop a solid evening routine. I don't know if you can relate, but last year, Mitch and I tried to accomplish way too much during "after hours," and thus we found ourselves ruining most nights. In 2018, though, we've been so much better about sticking to a routine so that we actually look forward to and enjoy 'em. Of course, the best laid plans… but for the most part, evenings in the Larkin Household are pretty fabulous.
So we thought we'd walk you through what a typical night looks like! Here we go:

Fair Isle Sweater / Faux Leather Leggings / Emma's Loafers (And have you seen these?!) / Ginger Jars (Some of the best deals I've found are on Amazon!)
Dinner
We ate out very often during the months of November and December while the kitchen was under construction. (Sorry that we haven't posted a full reveal yet; still waiting on the new appliances to arrive!) It was fun, but toward the end, it got a little old. Now that we have the kitchen back, our preference is eating at home.
Emma is a picky eater–like mother, like daughter–so we've been trying to expand her horizons and get her to eat what we're eating. While it's been a slow process, we've made quite a bit of progress over the last few months!
I should also mention that we basically have to hose down the kitchen table–and ourselves–after dinner. Eating with a toddler is messy, haha. Little silicone plates like this have helped, as have catch-all bibs like this. Still, it's kind of a disaster, and let's just say that Noodle has gained some weight from the "dinner storm," as we like to call it.
Bath time
Bath time is the obvious next stop in this nighttime routine story. 😜 It's so necessary, but it's also so much fun. Emma loves baths, and she shrieks and runs into the bathroom whenever we tell her it's time for one. Noodle loves it, too… and she's somehow jumped into the tub more times than I'd like to admit.
Also, can we talk about the cuteness that is Emma's shark towel?! My brother gave it to us when she was first born, so I can't find the exact one anymore. But here's a super similar one!
Neutrogena Makeup Remover Cleansing Towelettes (Use the code "20BEAUTYDEAL" to receive 20 percent off.) / Similar PJs / Initial Necklace
Get ready for bed
Next up is pajamas. Mitch "doesn't believe in pajamas"–whatever that means, and prefers workout clothing. So I decided to skip photos of thaaat. 😂 After we get Emma into her PJs, though, I usually sneak away for a couple of minutes to climb into mine and take off my makeup.
Fun fact? I used to not let Mitch see me without makeup on. What?! I was really self conscious about my skin, but yes: kind of crazy. I've come a long way, though, and I now spend at least half the day completely without makeup. And can I tell you that I think my skin looks so much better than it did compared to the days when I left it on for most of the day?! I wonder why… 😉
Anyway, I've been using Neutrogena's Makeup Remover Cleansing Towelettes at night, and I love them. A few years ago, Jess wrote a beauty post about how important it is to use cleansing towelettes before washing your face, and it really stuck with me. Honestly, I'd simply never thought about it before. But she had some amazing insight: "Think about it this way: would you mix your foundation with your face wash and then scrub it all over your face? That's essentially what's happening when you don't remove your makeup first. Your (day-old) makeup mixes with your face wash, and then it seeps into your pores. Common sense, yet mind-blowing, right?"
Yes, Jessica. And SO GROSS.
These alcohol-free, allergy-tested towelettes are pretty awesome, though. They erase 99.3 of your makeup–even waterproof mascara. They're gentle and soft, and they don't irritate my skin. While I do usually use a face wash after I'm done with them, you can get by with just using the towelettes, which is pretty incredible. So if you're stuck without a sink, for example–which happens to me often while traveling and staying in crowded houses–towelettes to the rescue! Oh, and they're safe for sensitive eyes and contact-wearers. They're also a major time-saver. Back when I only used face wash, it took me a while to get my makeup off. Now I'm done in only a couple of minutes!
Btw: the towelettes were recently included in Allure's famous Best of Beauty awards. (You can find detailed Allure reviews for the winning Neutrogena products here!) Did you catch my last post on Neutrogena's Hydro Boost Hydrating Tint?
Note: Use the code "20BEAUTYDEAL" to receive 20 percent off!
"Hot Dog Cold Dog" / Similar PJs / Bunny Slippers / Initial Necklace / Favorite Bunny / Pink Gingham Rug
Storytime & bedtime for Emma
When we were pregnant, Doug and Emily told us that they'd found setting up "bedtime signals" to be extremely important. For example: first we take a bath, then we go into the nursery, then we put on our PJs, then we read a book, then we sing a song, then we hug and say our "goodnights," and then we get into the crib. Do it enough times, and there are far fewer fits.
Of course, this doesn't always work. Once in a while, Emma will be overtired… or sick, and we have a particularly rough go of bedtime. But for the most part, Emma is happy to climb into her bed at night–mostly because she feels like she hasn't missed out on anything, I think. Skip one thing, though? Tears. (Thank you, Emily and Doug! You're amazing!)
Anyway, this is such a special time for our family, and I'm grateful that the three of us always gather for it. Btw: our favorite book right now is "Hot Dog Cold Dog." Can you guess why? ;)
Big Stitch Throw (FYI: It's very small! We use it for decorative purposes only.)
Work
Mitch and I live nonconventional lives at this point in time. We work for two hours in the morning during daycare, two hours in the afternoon during nap time, two hours after nap time while Emma is back in daycare, and then two hours after she goes to bed.
I'd love to cut out those last two hours, but without them, we only work six hours–and those six hours are considerably disjointed since there's a lot of stop and go. So yes, we have to work in the evenings, but Mitch and I both feel incredibly lucky that we get to spend so much time with Emma during the day, so we happily do it. :) We also love running businesses together, and have done this in some shape or form since we first got together! We open our laptops, have a glass of wine, and chat while we work. It's really not that bad. ☺
Similar Loafers Here, Here and Here
Television
I'll admit that I totally forgot to take a photo of this when we shot all the artwork for this post, so here we are watching TV in our loafers, haha. But usually we're in slippers.
One of Mitch's goals for 2018 was to watch more TV, and it made my list, too. I can't say that we watch a show every night, but we do watch a show most nights, and I can't believe how much more relaxed I feel when we do! One thing, though, that I've learned about myself through our newfound love for TV: I can only watch happy shows. If the particular "This is Us" episode is a tear-jerker, I need to watch another one in the hopes that it's happier. Sad shows = sad Kellys, and that's no way to go to bed.
(Did I ever tell you guys about the time I watched "P.S. I Love You" and had to skip a graduate school class because I couldn't stop crying? #goodtimes)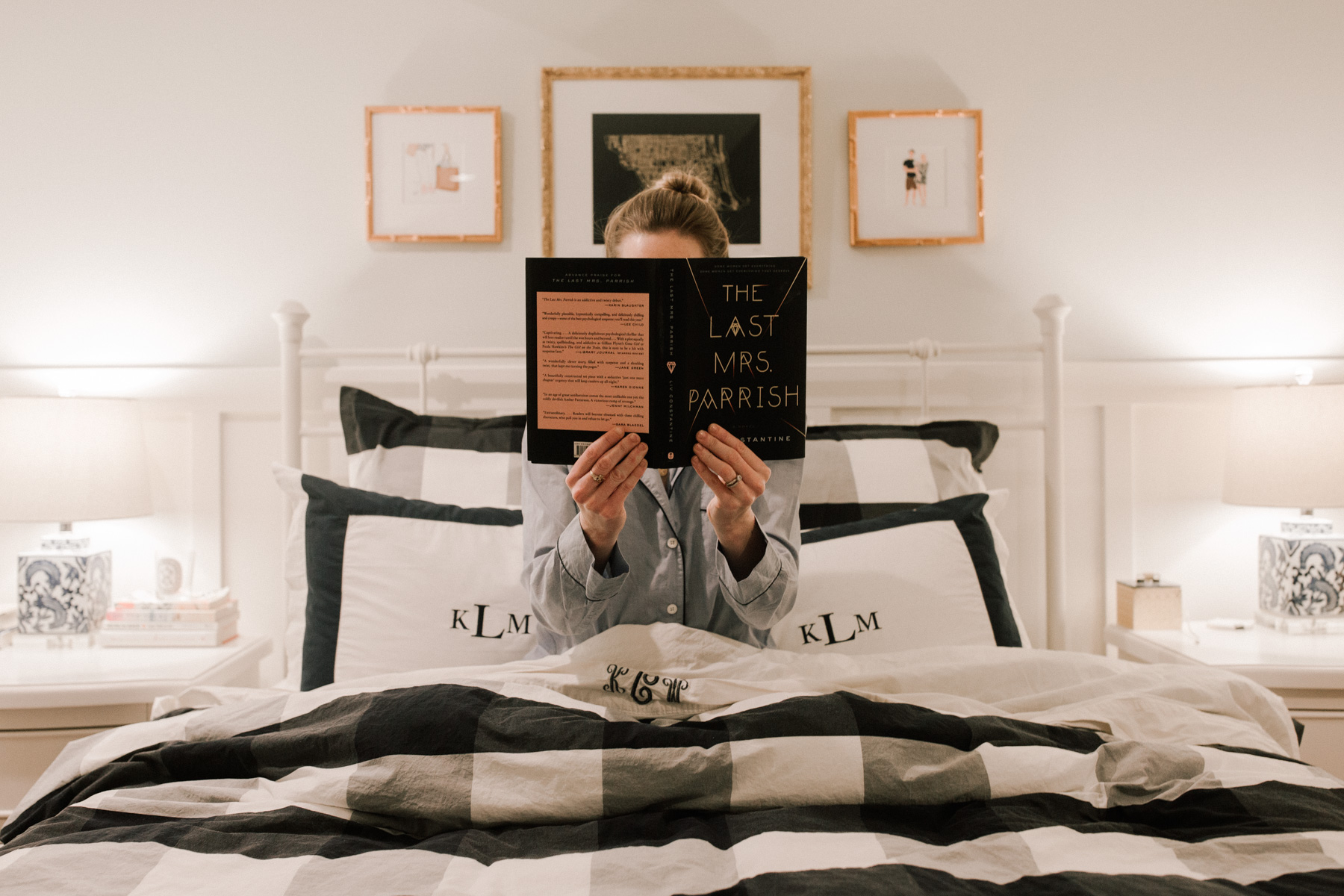 "The Last Mrs. Parrish" / Similar Gingham Duvet Cover / Similar Lamps
Books & lights out
This is something else that's made a big difference in our nighttime routine! We've been reading for 15 to 20 minutes before bed, and it's been a great way to wind down before closing our eyes. Last month, I read "The Last Mrs. Parrish," and this month, I'm reading "The Swans of Fifth Avenue."
Back in my 20s when I had more free time, I used to go through books like water. There was always one in my tote, and I often missed my subway stop because I was was lost in a story. Life is a little crazier now, and I'm proud of myself if I can get through one book a month. But that's okay! Reading is not a competition, and it's not something to feel guilty about. It's something that's good for the mind and soul… and this busy mom is grateful for her 15 or 20 minutes every day. ❤
What does your nighttime routine look like? Would love to hear what you love!
This post was sponsored by Neutrogena and Amazon, but all opinions are my own. As always, thank you so much for supporting the partnerships that keep Kelly in the City up and running!