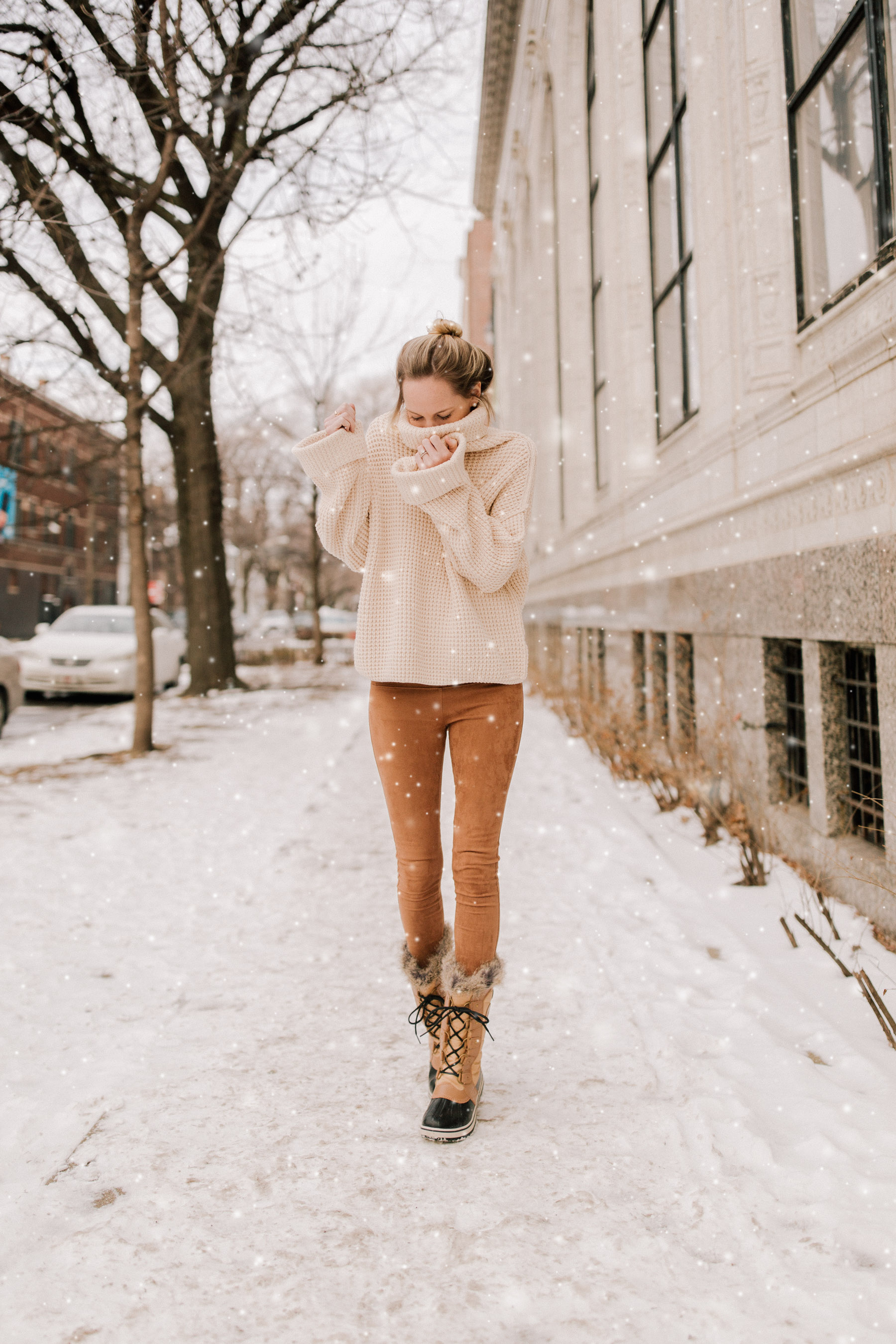 Free People Park City Pullover Sweater (You can also find it at Macy's, Free People, Zappos, and YOOX. And love this similar one that Free People just came out with!) / Suede Leggings (Bow version here.) / Sorel Boots (Also here and here in more sizes. They run small; go up a half size.)
And did you see that there were tons of new styles added to the Lilly Pulitzer After Party Sale?! Here are my faves!
I've had a bit of a rocky start to 2018. I always envision myself stepping into the new year with a fresh perspective and a zest for life, but after the holidays, I came home to a messy house and subzero temperatures… and I was battling a couple of illnesses and some extreme exhaustion. The opposite of what I was going for, really. 😂 The best I could do was climb under the covers and stay there for a while. But I've finally emerged–albeit somewhat frazzled and wearing a LOT of layers–and I'm starting to get excited about 2018.
I sat down yesterday and wrote out my goals for the new year. (Mitch had me beat by a long shot, haha!) Seems like such a silly thing, but in years past, it's been so helpful in terms of getting myself back on track and re-igniting a sense of excitement and motivation, so I figured I'd give it a go! Before I start, though, I thought I'd mention a few things about what I'm wearing in the above photo. :)

Sweater: I can't believe it's taken me this long to get this number up on the blog, but next to this sweater from Tuckernuck and this ah-mah-zing striped one, it's definitely my favorite right now. It's 100-percent itch-free, and it's perfectly oversized and hangs in the most flattering way. (I'm wearing an XS here, for reference.) The sweater is a bit hard to find in stock, but it's currently available at Macy's, Free People, Zappos, and YOOX. And if you can't find it in your size, I love this similar one that Free People just came out with. Leggings: GAH! I can't say enough about my suede leggings. I was on a hunt for the perfect pair this past fall, and it took me a long time to find 'em. Again, they sell out pretty quickly, but I adore the bow version, and I think this similar pair is really cute! (Sizing for reference: XS.) Boots: I finally replaced my Sorel boots this year, as I'd had my first pair since 2006. (Available here and here in more sizes.) Love how cute my new ones look with everyday outfits, and they're extremely warm. (-5 degree weather is the norm these days in Chicago, and my toes have remained toasty!) I'd recommend going up a half size as they run small.
Okay! Here are those goals:
Goals for 2018:
Be a great mom & wife
Like Mitch mentioned in his post, we're all spread too thin. But I always want to remember that Wife and Mom are my two most important jobs. While it's easy to get caught up in the chaos of everyday life, I'm so happy that we have breakfast, lunch and dinner together every day; that we play and laugh and have fun; and that we litter our days with "I love yous."  I want to do more of that, and find more ways to show Mitch and Emma that I adore them. It's the little things, and family first.
Celebrate success
I'm hard on myself. I'm quick to think about everything I could have done, but I often fail to remember the cool stuff I've accomplished and the ideas I've implemented. I can't do it all; I make decisions throughout the day on what to spend my time on, and I need to trust that those decisions are good ones. :) When my head hits the pillow at night, I just want to go to sleep feeling proud of myself, and I do think I have a lot to be proud of.
Value free time
This is something that Mitch and I have always struggled with. Since the beginning of "us," we've busied ourselves with projects and challenges and launching businesses. We love it! Since we arrived back from the holidays, though, we've both made a concerted effort to step away from all that on a regular basis. Mitch has been playing guitar, I've been reading, and we've both been sitting down to watch a show together at night. (Baby steps!) We've also been making a point of going food shopping together and making kid-friendly (and indoor) family plans around Chicago. (We're taking Emma to a museum on Friday, and to a play place with Emily and Doug this weekend!) Plans for the future? Get a babysitter and go out "big" in the city with each other once per month.
Reconnect with friends
My fall and holiday seasons were pretty crazy for a variety of work-related and personal reasons, and this took a toll on my friendships. I'm sad about it. I'm not great about balancing motherhood, my marriage, my business, my family, self care, and my friendships… and it often feels that no matter what, I'm failing in one category. Amidst the craziness of 2017, I fell out of touch with so many friends I love so much back on the East Coast and elsewhere in the country and world… and I'm determined to reconnect. I LOVE YOU GUYS.
Embrace my creativity
In a perfect world, I'd be working on playing guitar in coffee shops, writing a New York Times bestseller, or teaching photography classes. I'm not selling myself short on accomplishing these things; I just have bigger and more important stuff going on right now, and I know it's just not going to happen. But I'd like to embrace these passions in different ways this year. I'm lucky to have this blog as an outlet, so I want to:
Do more thoughtful storytelling through both writing and photos. (Which means going on more adventures, even if they're just in Chicago.)
Play more. This actually has nothing to do with the blog, haha, but the guitar makes me happy, and it makes Emma happy, too! I played a lot toward the end of 2017, and I just want to continue that. :)
Challenge myself with photography. Last year, I really dedicated myself to spending an hour or two every day with my camera (and with various resources), and I learned SO much. This year, I'm determined to keep that going, and make some big advances. I also want to stop being so staged. Up until now, I've been so focused on "getting it right in-camera" and understanding how to edit that I don't think I placed enough importance on subject matter. I want to find a balance and do some cool things!
Life simply
First and foremost, I want to de-clutter. Doesn't everyone?! But we live in a tiny house in the city, and we've learned that when we have fewer possessions, we're happier. We've already purged a lot this past week, and it feels great! I'd love to focus on one "project" per week. For example, right now we've been working on the kitchen. These things have been a godsend. Next week? The master bathroom. I'd also like to cut out some stuff from my personal routine. I'm kind of done with spending hours–and hundreds of dollars–and the salon, for example. So I'm going darker so I don't have to sacrifice $ and time with my fam. Finally, I don't want to overdo it with plans and obligations. These early years of parenthood are sacred; I want to enjoy them. No overbooking, and not too many dates on the calendar so we can live in the moment and have free Saturdays and Sundays.
Travel
This is a big one! Travel–and getting out of Chicago when it's horribly cold–is something I LOVE doing. I do, however, want to make a change to how we do it. Over the last year, Mitch and I have figured out that traveling and working at the same time don't mix. I'm proud of us for coming to that realization! Now t's about implementing that: all work needs to be completed ahead of time so we can actually enjoy our trips. :) Oh, and I want to live somewhere else for a month. I talked about this last year, but I think we're finally ready. And I think it's going to be London.
What are your goals for 2018?
Current Sweater Obsessions:

And did you see that there were tons of new styles added to the Lilly Pulitzer After Party Sale?! Here are my faves!
SaveSave