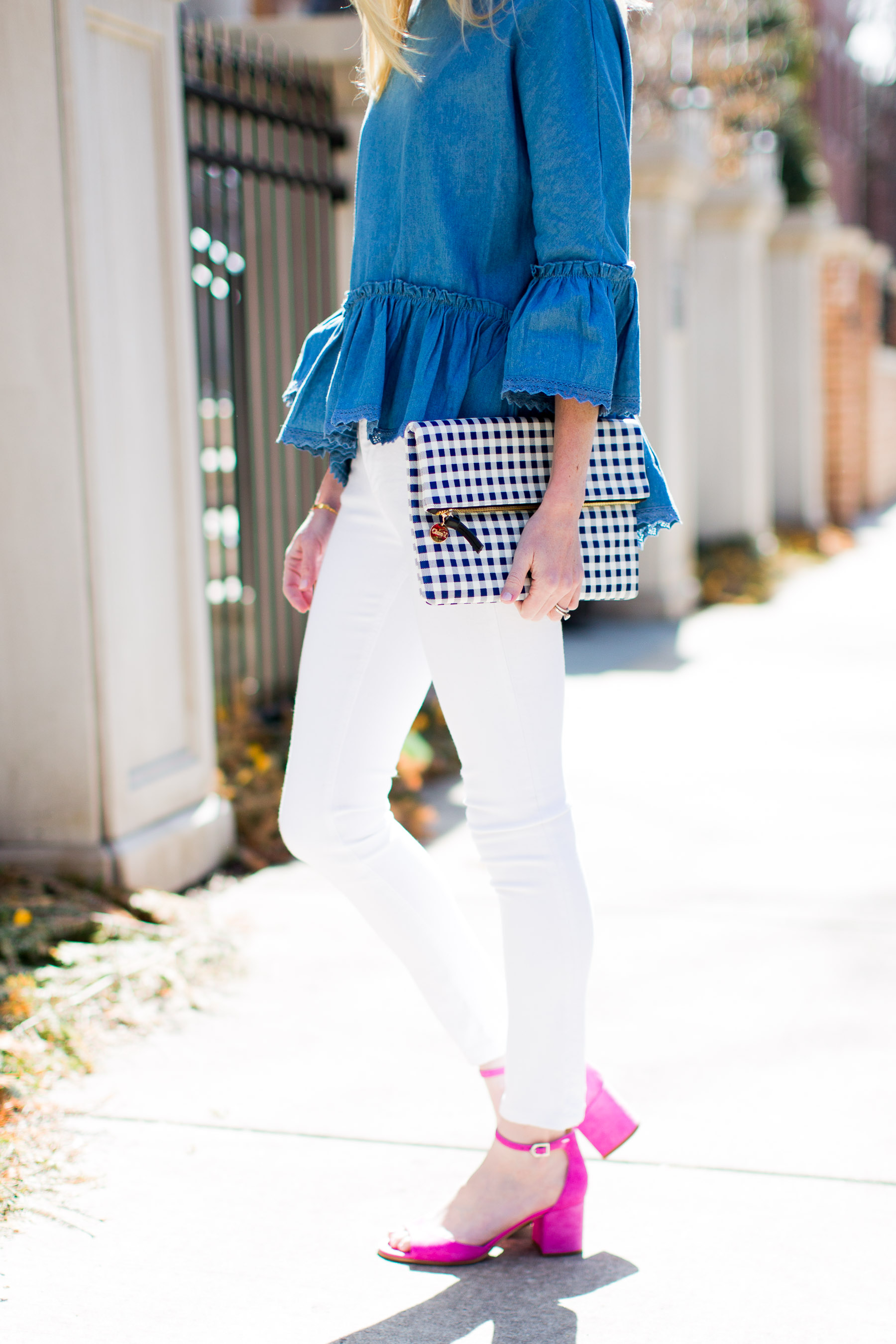 Ruffled Chambray Top (On sale today and ships free!) / Rag & Bone Jeans (Best white jeans ever. This is my favorite pair of regular jeans, and this bow pair is killing me.) / Pink Sandals (Another option here, and the higher version here. And here's the same sandal in jute, tan, and navy.) / Gingham Clutch / Monica Vinader Bracelet c/o
WHOA, snow. Looking at these photos, it's hard to believe that I was walking around sans coat less than a week ago. The snow is falling, though, and Noodle is lovin' it. But a quick note before I start babbling to you: my top, which I'm obsessed with, is on sale today and it ships free! Isn't it the cutest spin on the classic chambray shirt?
In other news, I just got back from Kentucky! Jess, Blair and I road-tripped it to Shaheen's hometown for her baby shower, and it was such a wonderful time. Of course, I terrified my poor friends with my driving skills… but in my defense, I've driven a total of like two months consecutively in my entire life. Always knew I belonged on the subway and not behind the wheel. ;)
Anyway, I'll be posting more on that soon. But Emma just started teething, and I haven't been getting a lot of sleep because of it. So for now, here are some cheery springtime photos before winter returned to Chicago. And a few notes on what I'm wearing:
Jeans: Comfiest white jeans ever. They're an investment for sure, but they're worth it. (And you guys know how much I love Rag & Bone jeans. Did you read this recent post on my obsession?) They don't stretch out and they're crazy soft. And weirdly, I don't stain them. Which, as a new mom, is nothing short of a miracle.
Gingham clutch: I am SUCH a huge fan of Clare V. clutches–especially the new gingham clutch. I have this leopard one, and it's my go-to bag for going out. This gingham, one, though, is going to give the leopard one a run for its money. ;)
Pink sandals: When I saw these, I knew they were meant to be. I mean, they're going to go with every single blue top I own this summer and spring… so, again, worth it. (And they're comfy!) Steve Madden also makes a similar pair, which I hear is great! And here's the higher version of the Sam Edelman pair. Oh! And here's the same sandal in jute, tan, and navy.
Chambray ruffled top: On sale today and ships free. It's also from English Factory, one of my favorite companies. Below are some of my favorites from the designer!

Happy new week, guys! <3
Shop the post:
Ruffled Chambray Top (On sale today and ships free!) / Rag & Bone Jeans (Best white jeans ever. This is my favorite pair of regular jeans, and this bow pair is killing me.) / Pink Sandals (Another option here, and the higher version here. And here's the same sandal in jute, tan, and navy.) / Gingham Clutch / Monica Vinader Bracelet c/o