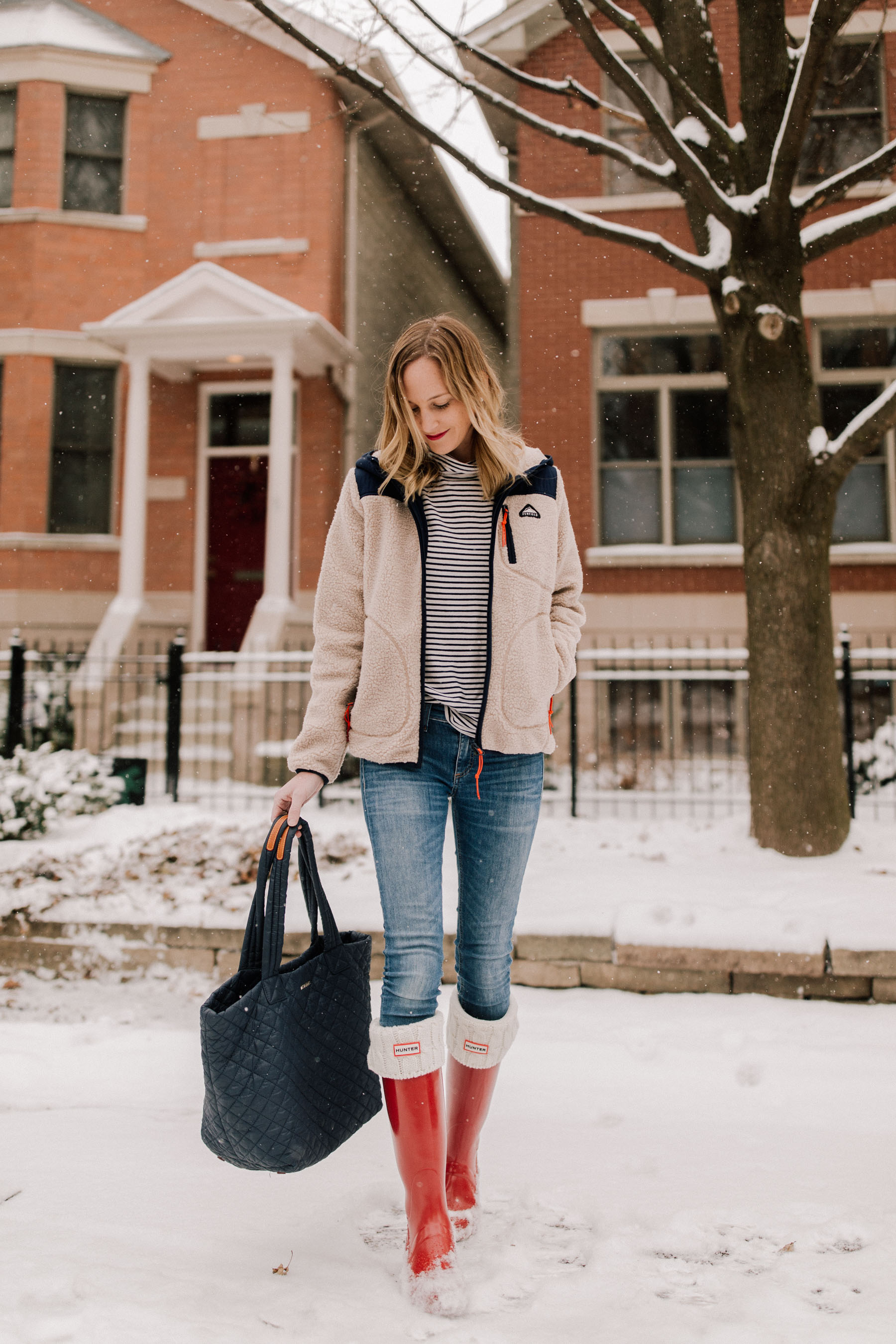 Hydro Boost Hydrating Tint (Use the code "20BEAUTYDEAL" to receive 20 percent off.) / Boots and Boot Socks / Fleece Jacket / Tote / Jeans
As I mentioned recently, our little family is headed down to Naples, Florida at the end of February! Knowing that this trip is on the horizon is definitely helping us to get through these insanely cold and snowy days here in Chicago, and I have to admit that I'm already planning my outfits, haha. Dresses and t-shirts and sandals. Hard to believe I'll be wearing them soon, but I want to pack appropriately this time around. Remember New Orleans? I failed to look up the weather ahead of time. I ended up wearing loafers on an 80-degree day. 🙈 Never again!
I'll be sharing those outfits soon, but I'm excited to be teaming up with Neutrogena and Amazon to talk about what skincare products will be in my suitcase. I'm going to be focusing on three–spread out over different blog posts–and today's product is Neutrogena's Hydro Boost Hydrating Tint.
A little background: When I was a teenager, I had oily skin. And I think I never got over that experience; I remember constantly worrying about shine, and washing my face midday in the girls' room to combat it. (Spoiler: Didn't work.) But flash forward many, many years (😂), and my skin is totally different. It's taken me a while to realize that I do not, in fact, have oily skin anymore. That it's quite the opposite, actually. It's dry–especially this time of year.
Last winter, I used a heavy foundation in the hopes of looking less vampire-ish. It dried my skin out to the point of flaking. (Yuck.) But when things got cold this year, Amazon sent me Neutrogena's Hydro Boost Hydrating Tint, and I gave it a try. I'd heard of it before, as it was recently included in Allure's famous Best of Beauty awards. (You can find detailed Allure reviews for the winning Neutrogena products here.) And I remembered that its formula is supposed to be better for your skin than wearing no foundation at all.
I've been using it for a little over two months now, and I'm impressed. For about a third of what my old foundation cost, the Hydro Boost tint does an insanely good job, and I love that I'm helping–not hurting–my skin by wearing it. (That's the hyaluronic acid working its magic!) I haven't experienced any flaking since making the change, and my skin doesn't hurt when I smile like it used to in January. ;)
While it provides great coverage for a tint, it gives me a more natural look. Which is something I'm obviously going for these days! I know I haven't really addressed it at length, but I'm trying to simplify my beauty regimen. Which is why I decided to go darker with my hair. I'm also planning to only do my nails for trips and special occasions. More on that soon.
I also love that I don't need to do touchups when I'm wearing the tint. Normally, my skin starts looking a little drab sometime around 2 or 3 p.m. when I'm wearing regular foundation. The Hydro Boost Hydrating Tint, though, actually gets me from morning to night, and the importance of that can't be understated when you have an active toddler running around.
Oh! And it's applied with a little brush, which is far less messy than the traditional pour-it-into-your-hand-and-get-it-everywhere approach. Because of the applicator, I use just what I need and no more.
Btw: I tried a bunch of different shades, and the color I went with is "Natural Ivory." It matches my skin color but has a very subtle pinkish tint that gives a little life to my skin when I'm at my palest!
Want to give it a try? Use the code "20BEAUTYDEAL" to receive 20 percent off your Hydro Boost Hydrating Tint order!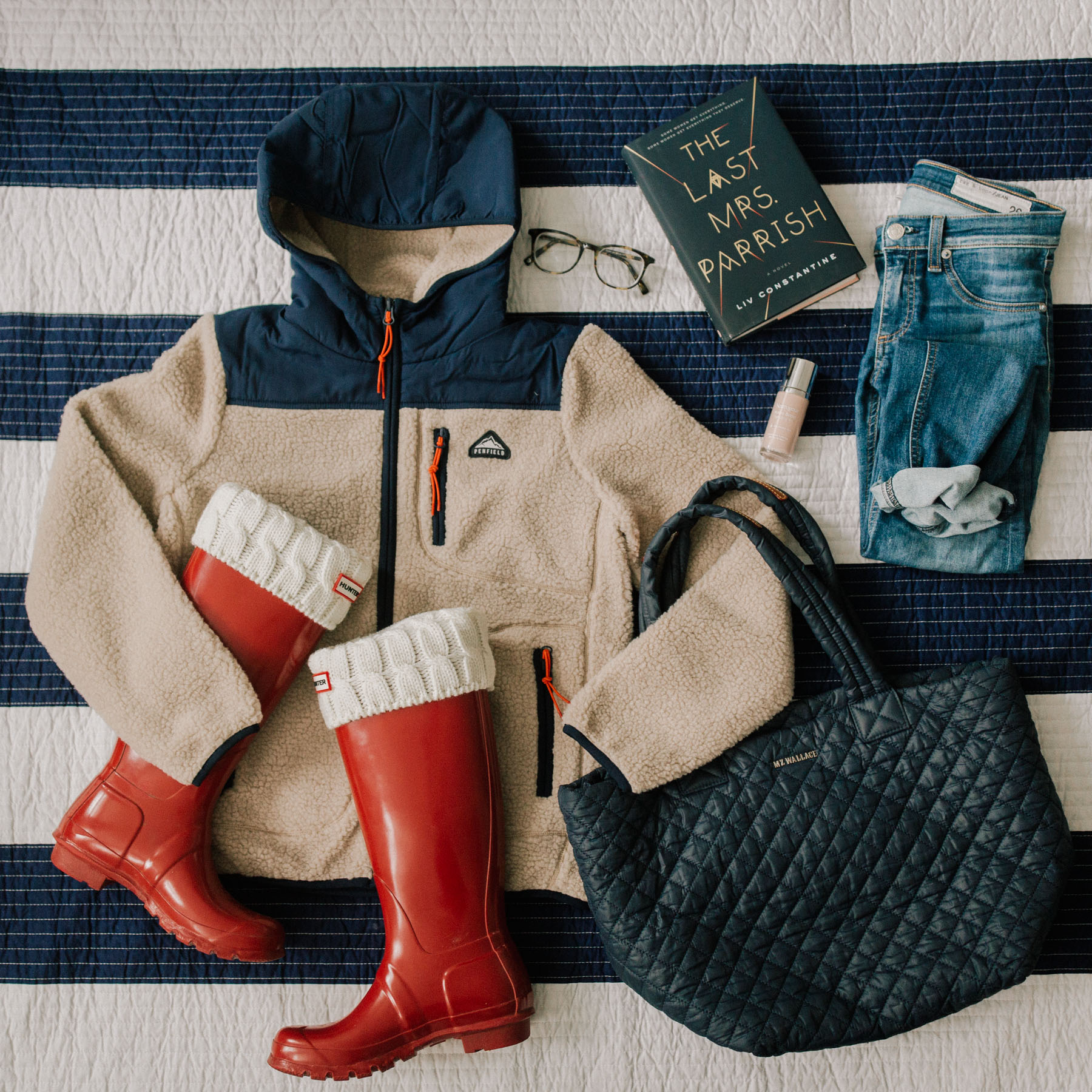 Hydro Boost Hydrating Tint (Use the code "20BEAUTYDEAL" to receive 20 percent off.) / Boots and Boot Socks / Book / Fleece Jacket / Tote / Jeans
Obviously, the above outfit isn't what I'll be wearing in Florida. But it might be what I wear to the airport. 😉 And without a doubt, the Hydro Boost Hydrating Tint is coming with me.
This post was sponsored by Neutrogena and Amazon, but all opinions are my own. As always, thank you so much for supporting the partnerships that keep Kelly in the City up and running!
SaveSave