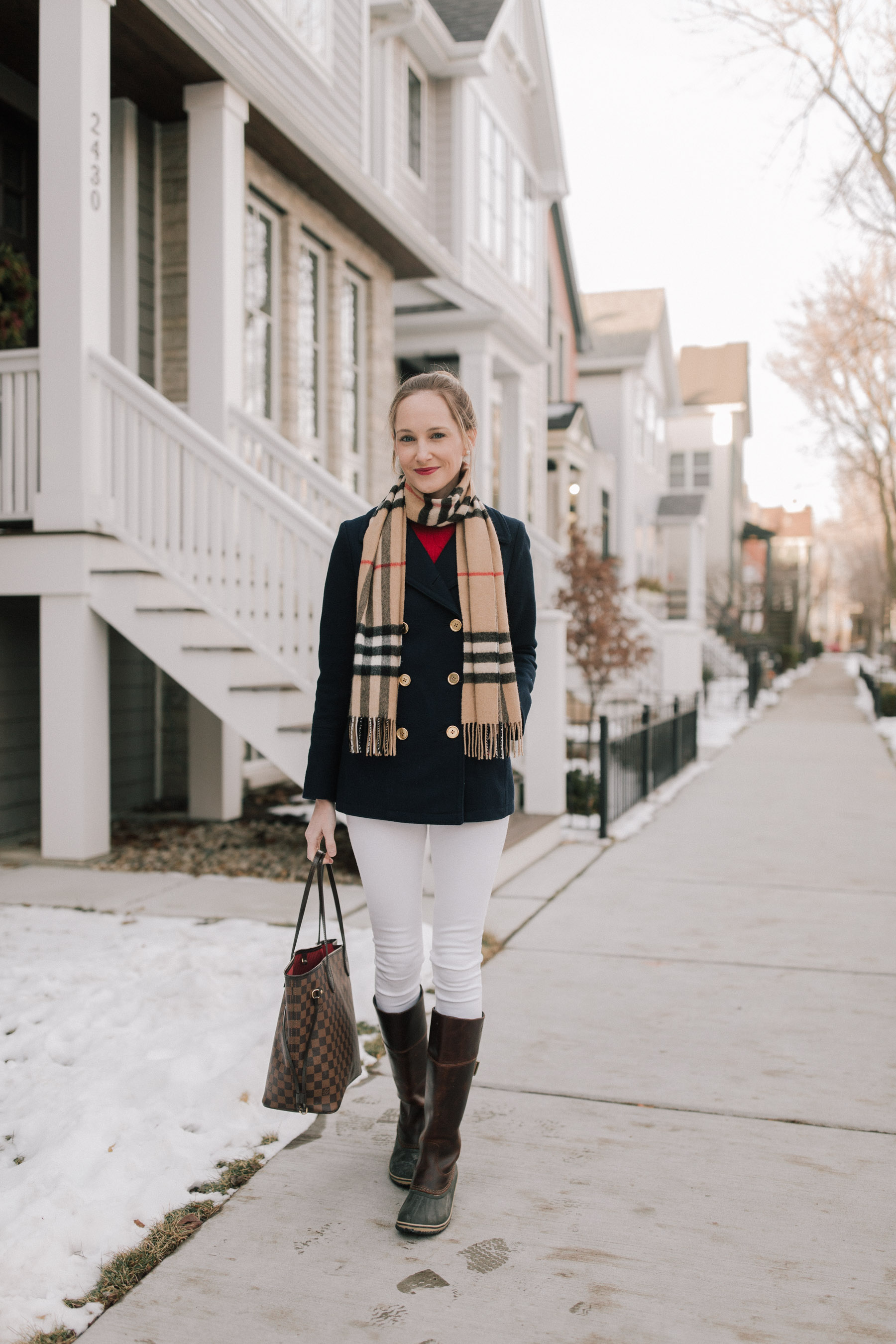 Navy Pea Coat / White Skinny Jeans / Louis Vuitton / Burberry Scarf (Far more affordable snood version here! Fits adults with NO problem!) / Cashmere Sweater (Also a huge fan of this one, which is on sale.) / Sorel Boots (Also available here. Have these, too, and love them!)
Happy Sunday! We have Mitch's family up right now, so keeping today's post short and sweet. But I am talking about five amazing duffle and pea coats that'll help get you through winter. Because we still have quite a few cold months left, and doesn't it seem like everything is out of stock?!
Here we go:
This one comes in and out of stock pretty often, as there are frequent returns. It's SUCH a good one, though, and worth looking out for! It's actually the classic pea coat from 2008, which J.Crew brought back this year, and I was so excited to see it return. My advice is to go a size up, as I found it to run a little tight in the shoulders. I'm wearing a 0 here, but I wish I had the 2!
DYING. This one is perfect in camel. And as we all know, a good camel coat is hard to find this time of year. ;) Sizing advice: go down! L.L.Bean typically runs large.
This is a favorite! Not sure if you remember me blogging about this coat like every other day this past fall, haha, but it's under $38 (you heard that correctly!) and it's surprisingly warm considering how lightweight it is. Disclaimer: this is NOT appropriate for a Chicago winter. Great for the fall or spring here, and wonderful for winter in a warmer climate.
This one is on the pricier side, but it's on sale and it's a coat you'll have for life, as Fleurette is well known for its outstanding quality. AND it's available in all sizes.
SO CUTE IN RED, and it was just restocked! Coming to a blog near you soon. ;) I went with a small, in case you're wondering about sizing!
Shop the post:
Navy Pea Coat / White Skinny Jeans / Louis Vuitton / Burberry Scarf (Far more affordable snood version here! Fits adults with NO problem!) / Cashmere Sweater (Also a huge fan of this one, which is on sale.) / Sorel Boots (Also available here. Have these, too, and love them!)