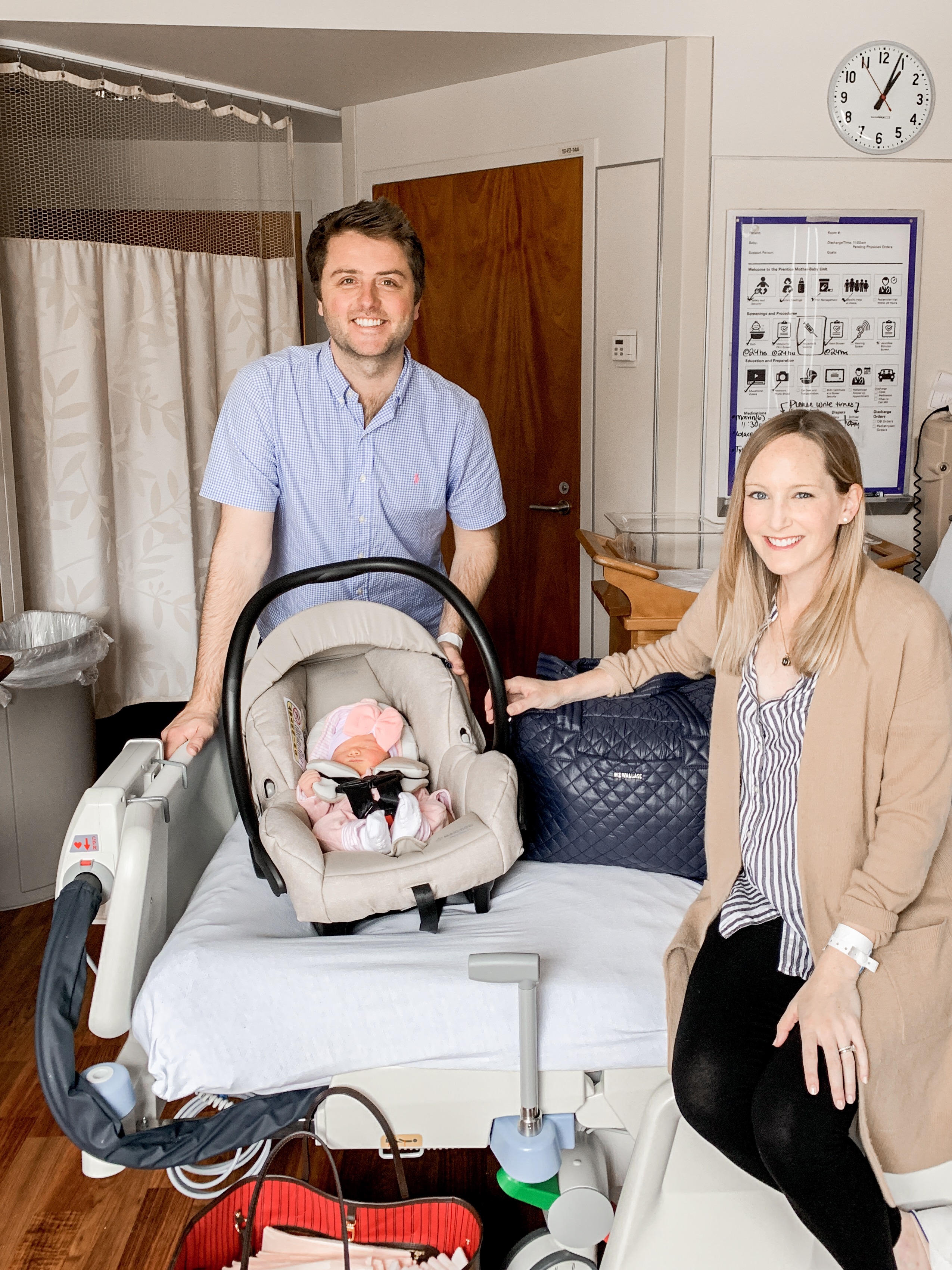 Before this month gets away from me, I wanted to publish a post about what I packed in my maternity hospital bag. :) To preface things, though, I packed my bag in five minutes because my water unexpectedly broke 10 days before my due date, only a couple of hours after we finished moving. (I know that 10 days early isn't ridiculously uncommon, but Emma came a full week late, so we really thought we had a lot more time! Learn from me and pack your bag far in advance. 😉) So yeah! This is a minimalist's guide, so to speak.
The first time, I definitely overpacked, and I didn't use half of what was in my enormous bag. But with Lucy, I only brought the "essentials," if you will, and my experience was just as lovely as it was when I had Emma (and one zillion things with me). I honestly didn't wish for anything more!
So if you're overwhelmed by the massive "what to bring" lists floating around on the internet, know that you don't need everything. Honestly, you could go without most of what I list below and be totally fine, too. You'd be surprised by how much the hospital has there for you, and remember: drug stores are everywhere. If need be, someone can likely run out for you!
(Btw: Still working on Lucy's delivery story, but you can expect that soon!)
Okay! Here's what was in my bag:
Maternity Hospital Bag
Maternity Hospital bag: The bag itself comes from Lucy. It's Lucy and it's an awesome choice for a three-day stay. It fit everything I needed and I loved that it was machine-washable for when I returned home. (Don't think MZ Wallace advertises this, but I always throw their bags in the laundry and they come out looking brand new!)
Tote bag for extras: Typically, the hospital gives you quite a bit of "goodies" upon leaving, from pads and mesh underwear (savior!) to diapers and swaddle blankets. And friends and family often come bearing gifts. I brought along an extra tote for this reason since I couldn't fit it all in my bag last time!
ID and insurance card: Incredibly important and I honestly can't believe I remembered it given the craziness of the night. But this is likely the first thing you'll be asked for, so don't leave home without it!
Mints: Eating and drinking is usually prohibited while in labor, but I was allowed ice chips and mints, which was lovely because it helped alleviate dry mouth and generally made me feel better. Your hospital might not allow mints, but might as well bring 'em just in case!

Loose-fitting button-down shirts: I brought along a button-down maternity top and then also a couple of regular button-down shirts in larger sizes. Because there were so many people–family and friends included–coming in and out of the room and I was nursing, the buttons were imperative! Above are my absolute favorite button-downs; they're knit and SO cozy. They're not technically nursing shirts, but they work really well for it, and they're very flattering for postpartum bellies! Couldn't live without mine. I have them in sizes medium and large, but since they're fitted, they look nice and neat… and I wear them when I'm not nursing, too! LOVE. (Btw: Ralph Lauren is offering 30 percent off sale styles right now with code "MEMDAY," so this is a great time to pounce on some treats.)

Cozy cardigan or robe: My room wasn't the warmest, so my long cardigan came in very handy. Heck, I think I slept in it every night. I HIGHLY recommend investing in Lucy. The brand carries the softest and coziest stuff I've ever touched, and they really ARE a dream. ;) I'd recommend a darker color so you don't have to worry about stains! Faves above.
Cozy socks: Also a must for me. The hospital will likely have these in case you forget them, but I LOVE these socks from Barefoot Dreams! I just scrouch 'em down and they look really cute.

Cozy pajamas: I changed out of the hospital gown as quickly as I could this time around in favor of J.Crew's Dreamy Pajamas, which I swear by. (Here's why.) They're super lightweight PJs that both cool and warm depending on what you need. They're also very stretchy and flattering, which is great for postpartum, and they feature a button-down top, which is great for nursing! I would recommend going just one size up from your normal size. Having these PJs was a godsend for when our first visitors arrived. I wasn't ready for real clothes yet, but I also didn't want to be in the hospital gown, which can be a bit revealing (especially in the back)!
Flip flops: These were a must for showering. My favorite flip flops are by Reef, but any old pair will do.
Target nursing bras: Listen, you can spend a TON on nursing bras… or you can spend $16.99 and get ones that are JUST as good. Out of all the ones I've tried, the $16.99 Target ones are my favorites! This wire-free bra is what I wear most days… and this is the best nursing bra that doubles as a sleeping bra. Just get both. You're welcome, haha. (Sizing: I'd go up two to three sizes. I'm normally a 34A and went with a 34C. They're perfect!)
Ladies' stuff: Warning. this is the yucky section. Sorry! And a little disclaimer: the hospital will likely have/give you all these products to take home, so don't buy YET. I'd simply add everything to my Amazon cart just in case! Oh, Prime shipping. You're wonderful.
Rothy's slip-on sneakers: I opted for my slip-on sneakers instead of my slippers so I wouldn't have to pack both, but either work! Nice for walking the halls, and also for arriving/going home in.
Toiletries:
Hair ties
Brush
Shampoo and conditioner
Face wash and lotion
Soap
Razor
Toothbrush and toothpaste
Deodorant
Glasses, contacts case and solution
Basic makeup: I got some grief when I said I was bringing makeup to the hospital when I had Emma, but NO REGRETS. 😂 I didn't get very much sleep on account of moving and then going into labor, and let's just say I needed the extra help when guests started to arrive. (And also when the hospital photographer arrived.) I used tinted moisturizer, blush, concealer for under my eyes, and mascara. Boom! Went from looking like a White Walker to a human.
Hair dryer: Not for the sake of vanity but for the sake of WARMTH. (Though most hospital rooms have them in there for you.)
Ear plugs: In case your husband snores and you haven't slept in days… ;)
Two extra-long iPhone chargers: The hospital bed is often far away from the wall or socket. Ten-footers are the way to go! Mitch forgets his charger wherever we go, so I always bring along an extra for him, too.
Pen: I found this at the bottom of my tote, but it was nice to have. So much paperwork, and for some reason, no one ever brought a pen along with said paperwork. 🤔
Pacifiers: The pacifier thing is somewhat debated, as there's a belief that there might be nipple confusion if introduce too early. So keep this in mind! But we've always had GREAT success with pacifiers in the early days (and nights), and our doctors okayed it. But talk to your doctor first, of course.
Wipes: Our hospital only had dry wipes that you have to wet with water… and we didn't love those when Lucy was screaming her head off. I can't take credit for remembering this, though; I just always travel with wipes since I now have a toddler. ;)
Baby nail clippers: Hospitals usually don't have nail clippers available, but babies can come out with pretty long nails and can end up scratching themselves. This is our favorite safety clipper. We've been using it on Emma for 2.5 years!
Velcro swaddles: Not 100-percent necessary, but the baby can't kick out of this swaddle, meaning more sleep for Mom and Dad. While it's nothing fancy, I highly recommend it! (There are tons of them out there. I just liked these because they were pretty, haha.)
Big sibling gift: This made SUCH a big difference when we introduced Emma to Lucy! Lucy gave Emma an "Anna" doll and an "Elsa" doll and she FREAKED! Emma gave Lucy a small stuffed animal, too, which was adorable.
Pretty robe for photos: We decided to have photos taken by the hospital photographer because we loved the ones taken when we had Emma. I know I probably could have done it myself. But I was honestly in no shape to do that and probably wouldn't have! I wore this robe, and I love how the pics turned out! I look exhausted–which I should–but I'll treasure them forever.
Nice shirt for Mitch for photos: Because the previous time, he brought a shirt that was literally in tatters. 😂
"Going home" outfit: I wore leggings, a button-down, a cardigan and my Rothy's sneakers. I had planned on wearing this very, very comfortable dress–perfect for going home!–but it was SO COLD, so I skipped it. No matter!
"Going home" outfit for baby: My mom ran out and got Lucy something since I dropped the ball on planning for a freezing departure day. (It had been 75 degrees the day before and was 40 degrees the day of! Oh, Chicago.) Either way, I'd pack a little outfit along with a hat, socks and mittens so the baby doesn't scratch his or her skin.
What did you pack in your maternity hospital bag? Anything that made you feel more comfortable while you were there? Please share in the comments below so our pregnant readers can benefit! Thank you so much!