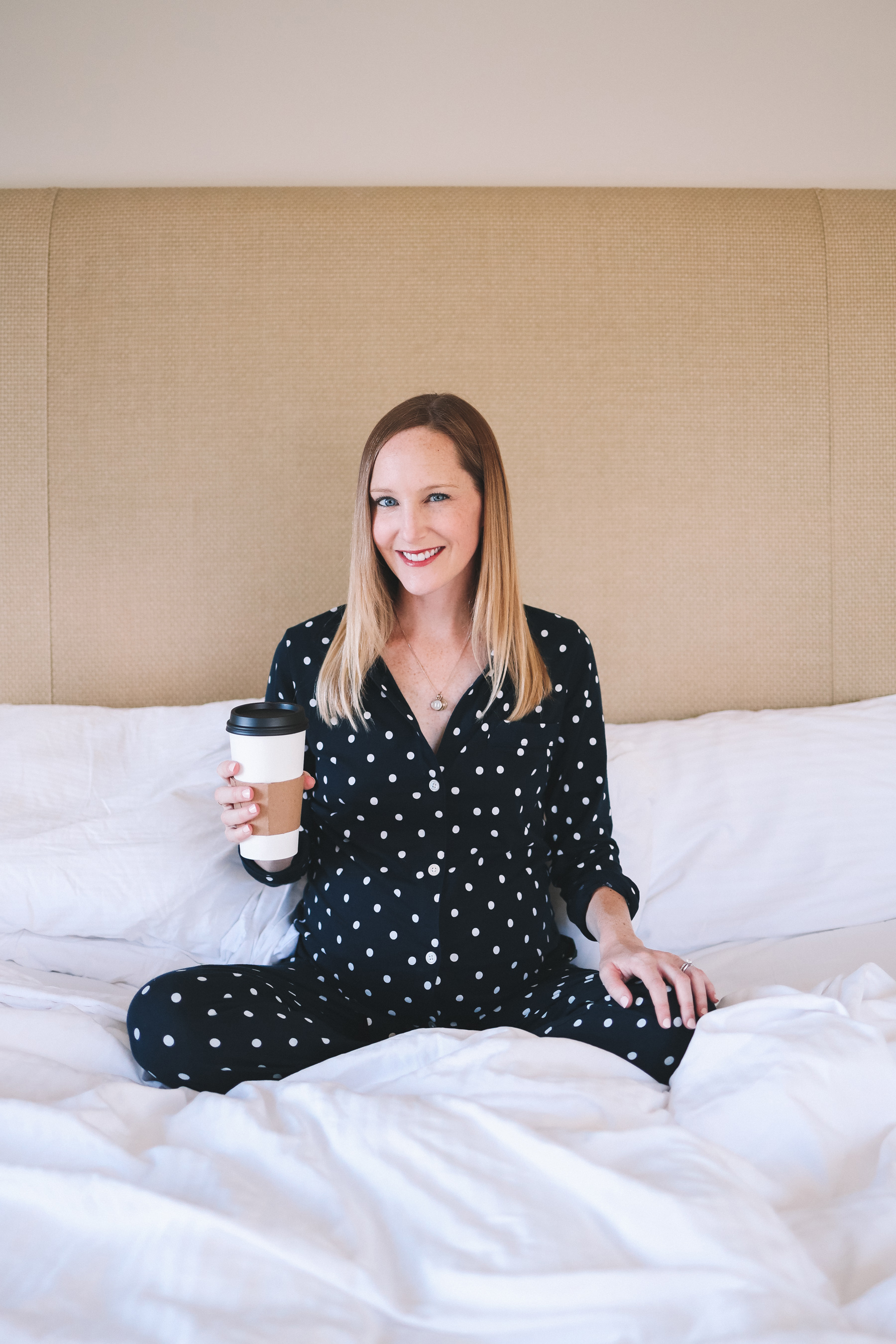 J.Crew Dreamy Pajamas (The navy polka dots and navy stripes are my fave.) / Mark & Graham Initial Necklace (Makes for the best Mother's Day gift!)
If you haven't heard about J.Crew's Dreamy Pajama line, you're missing out. It's completely changed how I approach bedtime, and has truly made me happier and more relaxed.
When Mitch and I started our KonMari challenge—which, btw, we still owe you a few posts on!–I got rid of all my "sleeping clothing" with the exception of my Dreamy Pajamas. (You can read about how cleaning out my closet went here. I got rid of SO MUCH!) Out went the old "sleep" t-shirts and bottoms… and I kept only a couple of (matching) PJ sets. At first, I thought to myself, "This is very much something my mother would do." But then I realized that my mom has been right all along. Matching PJ sets are where it's AT. (Why? Keep reading. 😂)
Why matching PJ sets have changed the way I approach bedtime
I'm someone who has a hard time turning in. There's just always something additional I could be doing, from work and cleaning to watching that extra TV show and chatting with my husband for another hour. These days, though, I try my best to put my pajama set on around 10 p.m., and this signals "bedtime" for me. (Omg. I just re-read that sentence and I sound ridiculous, haha. But it's true!) I subconsciously start to slow down, and find myself wanting to climb under the covers, and read my one chapter. For some reason, my old t-shirts and bottoms just didn't do that for me!
They're so unbelievably soft and comfortable. They ae stretchy, too, but they don't stretch out or get all twisted up when I sleep.
They're COZY. I'm not sure how they accomplish this, but they keep me warm in the winter and keep me cool in the summer. If you're someone who needs to feel cozy no matter what time of the year yet also don't want to overheat, these are for you!
They're wrinkle-resistant. I've long loved the look of J.Crew's classic "Vintage Pajamas" but they wrinkle so badly (and completely lack that cozy feeling) that I got rid of them this year. The Dreamy Pajamas, on the other hand, look great straight out of the dryer. And yes! I dry them! No shrinkage.
They're flattering. They fall really nicely! I feel cute when I wear them. So much cuter than I used to feel in my old field hockey t-shirt, haha. (RIP. Go Irish!)
The sizing is consistent. I would say that they run slightly large since they're stretchy, but I ordered my normal size (XS), and I think they're perfect. (Most people don't like sleeping in super fitted PJs, right?!) I'd recommend ordering your normal size so you're comfy.
They work for pregnant women, too. I was fully prepared to buy a pair a couple of sizes larger for this pregnancy because I knew I wouldn't be able to survive without without 'em, but I'm six weeks out from having this baby, and mine are still working for me! (And my belly is BIG.) I just wear the pants below the bump. As for the top, it's getting tighter by the day, as you can see from these photos. But no skin showing yet. Magic! (Though, yes, I would very much like a size or two up at this point.)

You can check out the whole line of J.Crew Dreamy Pajamas here, but they're also in the clickable widget above. My favorites are the navy polka dots and navy stripes! Btw: I also wear the Dreamy Jogger Pants during the day, and love them for travel. Paired with my favorite (super soft) chambray shirt, they look amazing.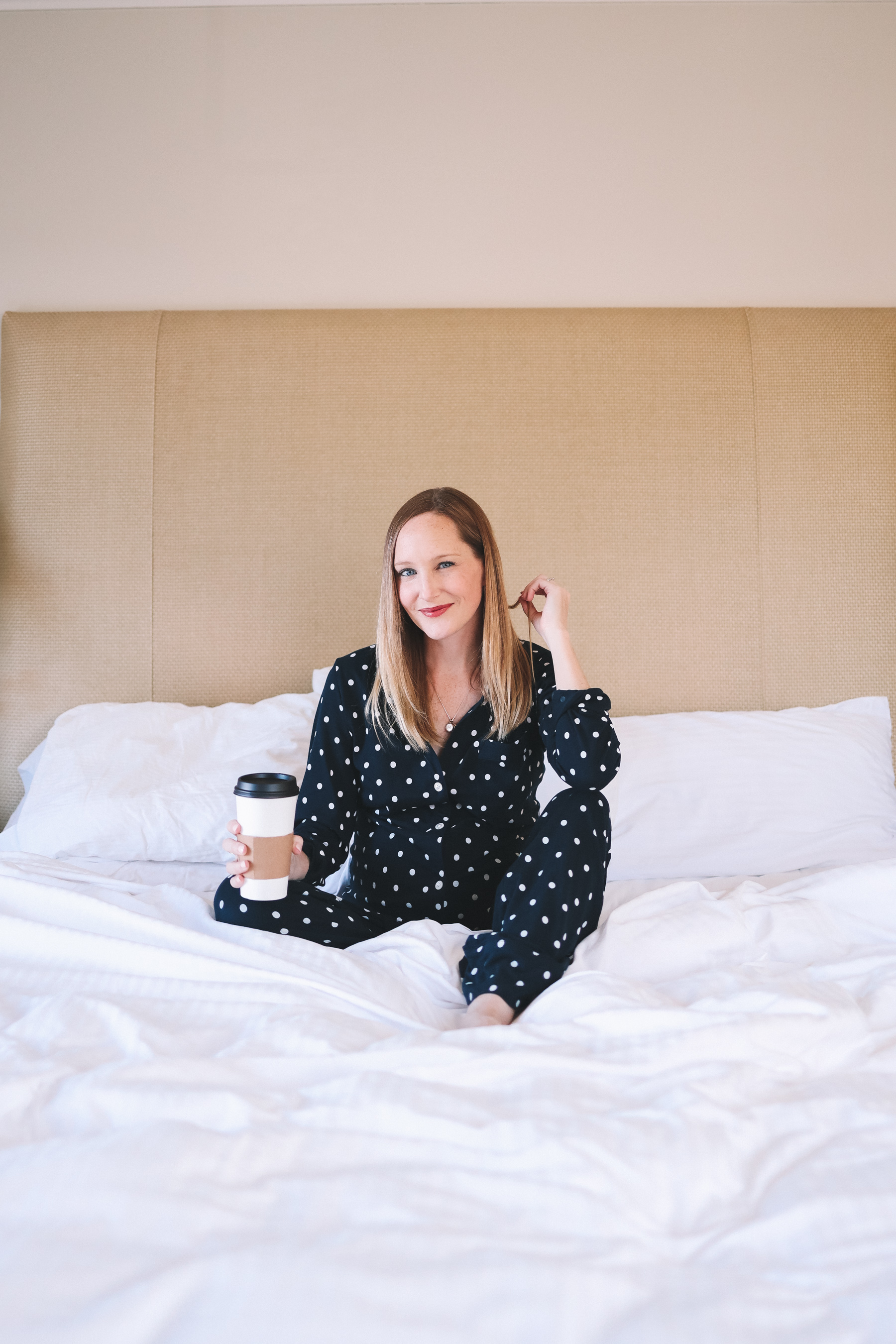 Shop the post:
J.Crew Dreamy Pajamas (The navy polka dots and navy stripes are my fave.) / Mark & Graham Initial Necklace (Makes for the best Mother's Day gift!)