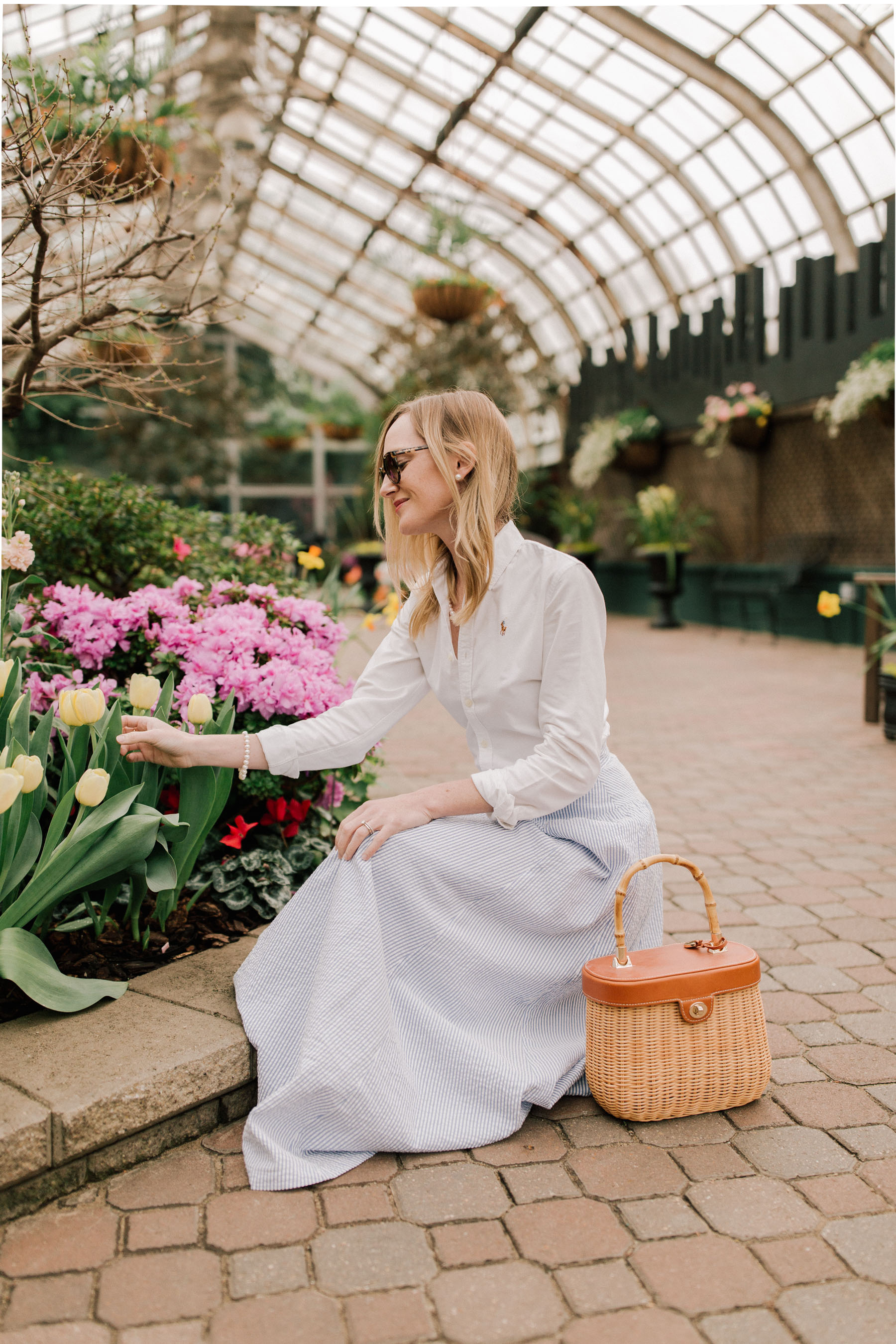 Shane Co. Freshwater Pearl Necklace and Bracelet c/o / J.Crew Seersucker Skirt (Old, but Lauren James carries a lot of great seersucker options! Also love this shorter one, this ruffled one, and this longer one!) / J.McLaughlin Sandals and Bag c/o / Ralph Lauren Shirt / Similar Sunglasses
At this point, hopefully you've caught Post #1, Post #2 and/or Post #3–all "pearls and stripes" outfits. But at long last, this is my fourth and final look, meant to get you excited for spring. (Who knows? Maybe it'll arrive in Chicago this year. Or not. 😂) It's been a trying winter, and I'm ready to shed the puffer in favor of outfits like this one. :)
First, let's talk about this seersucker skirt. Without a doubt, it's my favorite. It's crazy comfortable and it makes SUCH the statement, yet it's somehow relatively casual and can be dressed up or down. (My go-to way to wear it is actually with a simple white t-shirt!) I love it so much that when I accidentally mistook it for bedding and dried it on full heat (thus shrinking it), I went out and bought another one. (Btw, Kira, you're getting the super tiny one soon, haha!) But yes: long story short, it's been everywhere with me–including on top of a mountain in Denver!–and I can't wait to break it out again this season.
I paired the skirt with an easy, classic Ralph Lauren shirt and a single strand of pearls from Shane Co. If you've ever wondered what to wear with button-downs because the collars hide most necklaces, this is the piece for you! The necklace is meant to be worn behind the shirt, and it peeks out from behind, adding a ton of class to that simple shirt. My cousin's adorably preppy gf wears a single strand of pearls with nearly all her outfits and I adore it. So this look is inspired by her. (Thanks, Sarah!)
Anyway, I loved both #30daysofplaid and this challenge, and I'm wondering what you think about kicking off another challenge in the near future. Maybe #30daysofstripes? #30daysofgingham? 🙈 Thanks so much, guys, and hope you have a wonderful weekend!
Shop the post:
Shane Co. Freshwater Pearl Necklace and Bracelet c/o / J.Crew Seersucker Skirt (Old, but Lauren James carries a lot of great seersucker options! Also love this shorter one, this ruffled one, and this longer one!) / J.McLaughlin Sandals and Bag c/o / Ralph Lauren Shirt / Similar Sunglasses
This post is a continuation of a collaboration with Shane Co. Thank you so much for following along!
SaveSave