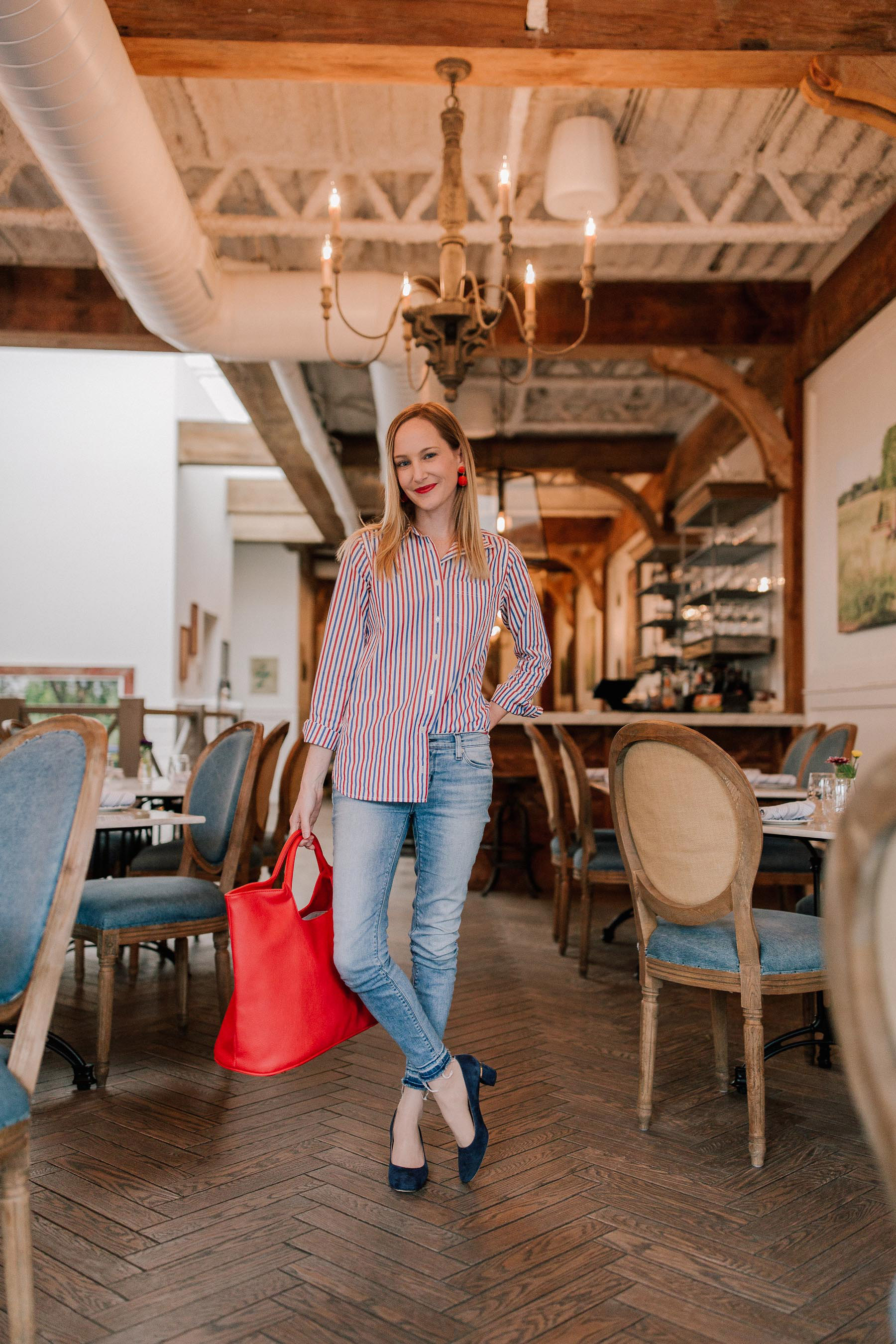 Boyfriend Shirt (Also available here.) / Hudson Jeans (This pair, this pair, and this pair are similar.) / Tuckernuck Tote and Earrings c/o / Kate Spade Pumps
Some randomness for you today before we get to this week's online shopping list:
Yesterday was awesome.
We took Wednesday to get back into the swing of things; the cleaning lady came, we did a couple of two-hour daycare sessions to try to get the blog and Mitch's business back into working order, and we went food shopping. But yesterday?! We worked in the morning and early afternoon, and then later played hooky with Shaheen, Trevor and Zain. We took the babies to "Tunes with Tim" at Monica and Andy on Halsted Street in Lincoln Park, and then grabbed dinner at Blue Door Farm Stand a few doors down. Emma and Zain were SO cute. Yes, it took Emma a while to warm up to the whole music class thing, but I think it was because we interrupted her nap in order to make the 4:14 class, haha. So glad we went, though. By the end, she was jammin' with her tambourine like the rest of the kids… and fighting with Zain over snacks, per usual. ;) Oh! I should mention that Blue Door is one of the most beautiful restaurants in LP, and then next time you're in town, you need to go. (It's where the above photo was taken yesterday, and where we shot this blog post last year!) Anyway, SUCH an amazing day. I know I keep saying this, but it's so great to be back in Chicago. We have a lot of friends to catch up with, but I think that's a good problem to have. Feeling very lucky right now!
We have zero plans for this weekend, and I'm like, "Whaaaaat?!"
It's going to be SO NICE. I can't remember the last time we had a couple of days to just be, and I'm looking forward to hiding from the cold with my little family, doing a whole lot of nothing, and maybe making last-minute plans so we don't feel confined by plans made ahead of time. (Does that make sense? Am I a lunatic or does having plans on the weekend stress anyone else out? I love having a completely empty schedule, and then either sending or getting texts along the lines of "Hey! What are you doing in an hour? Want to go to _______ with us?!" The BEST.)
We're going to a GALA.
We're attending the Rita Hayworth Gala (which supports the Alzheimer's Association) on May 12th, and I can hardly wait. A few years ago, we attended the Snow Ball with Jess and Neal (to support the Robert & Ann H. Lurie Children's Hospital of Chicago), and we had so much fun. I feel like Chicago has the most amazing charity events, and they're such a great way to support phenomenal causes and make new friends. Excited to attend the gala, and hope to see you there! (Haven't started looking for dresses yet, but I'm looking for something long and navy. Surprise, surprise, haha. Let me know if you've seen anything fabulous!)
We're also taking Emma to Disney Junior Live on May 5th.
Wooooo! As it turns out, I love organized children's events, haha. It's just so much fun watching Emma take it all in, interact with other kids, and grow from the experiences. And I love that these little things get us out of the house during the winter. (Yes, I know the event is in May, but listen: it's April and it's snowing outside, so who knows what May is going to look like!) Seriously, though. If you hear of any cool ones in the Chicago area over the next couple of months, we'd LOVE to know about them!
I JUST BOUGHT A NEW GUITAR and it arrives tomorrow! 
I've had my current one since I was 15, and it's seen better days. (College wasn't good to it.) Because it's in such bad shape, I rarely pick it up anymore, and I recently realized that I've been daydreaming about a new one for the better part of the last year. (Whenever I do pick it up, Emma gets so excited!) So I finally sat down and ordered a new one. Trevor basically picked it out for me, and I'm crazy excited. (Have I ever mentioned that Trevor is insane on the guitar? He once played "Just to the Next to Be with You" when Emma was teeny-tiny, and I started tearing up. It was awkward for everyone, haha.) Anyway, this is it. I can't believe I'm going to own a TAYLOR guitar. It's a mini one, which explains the phenomenal price… but I'm really excited about the smaller size. I can just barely get by on the guitar (I know like 10 chords and that's it) so my hope is that the size actually helps. Eeeeeee!
I'm getting cold feet with our office project.
I guess I'm just a little overwhelmed. I desperately want a beautiful desk, but the room is tiny, and I don't want the desk to overwhelm it. GAH. I obviously need to talk to Kira about this, as she'll know what to do. I've included some of the desks I like below, but if you've found any others that look similar, I'd love to see them. I'm looking for a white one with a TON of storage space… and preferably a back that hides all wires because that's a pet peeve. ;)
On to this week's Recent Finds!
Recent Finds, 4/6
SaveSave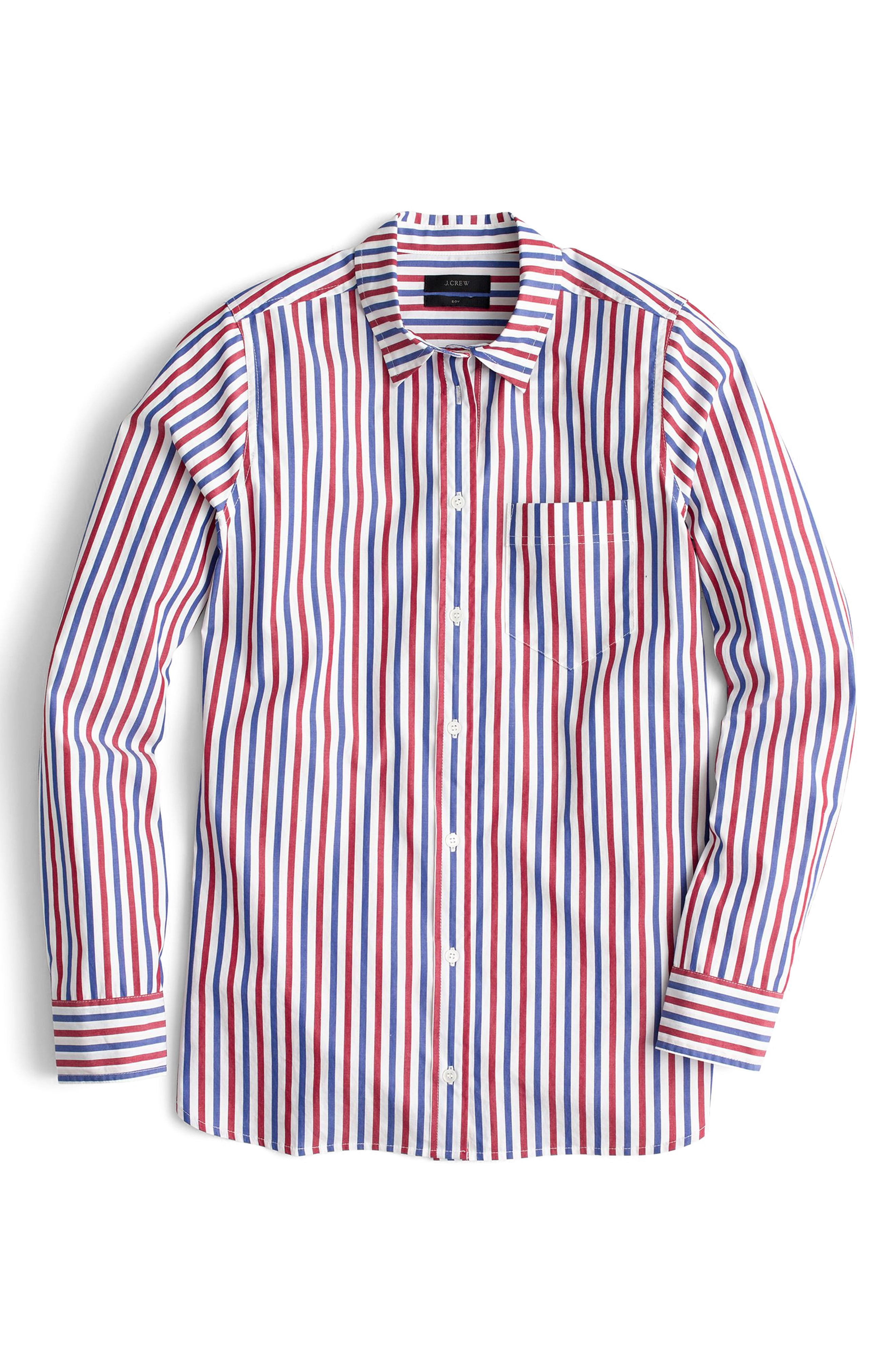 It was love at first site when I saw this shirt. I've worn it constantly over the last month while traveling but it somehow hasn't made it onto the blog yet. Isn't it the cutest?! Jess has it, too! It's also available here.