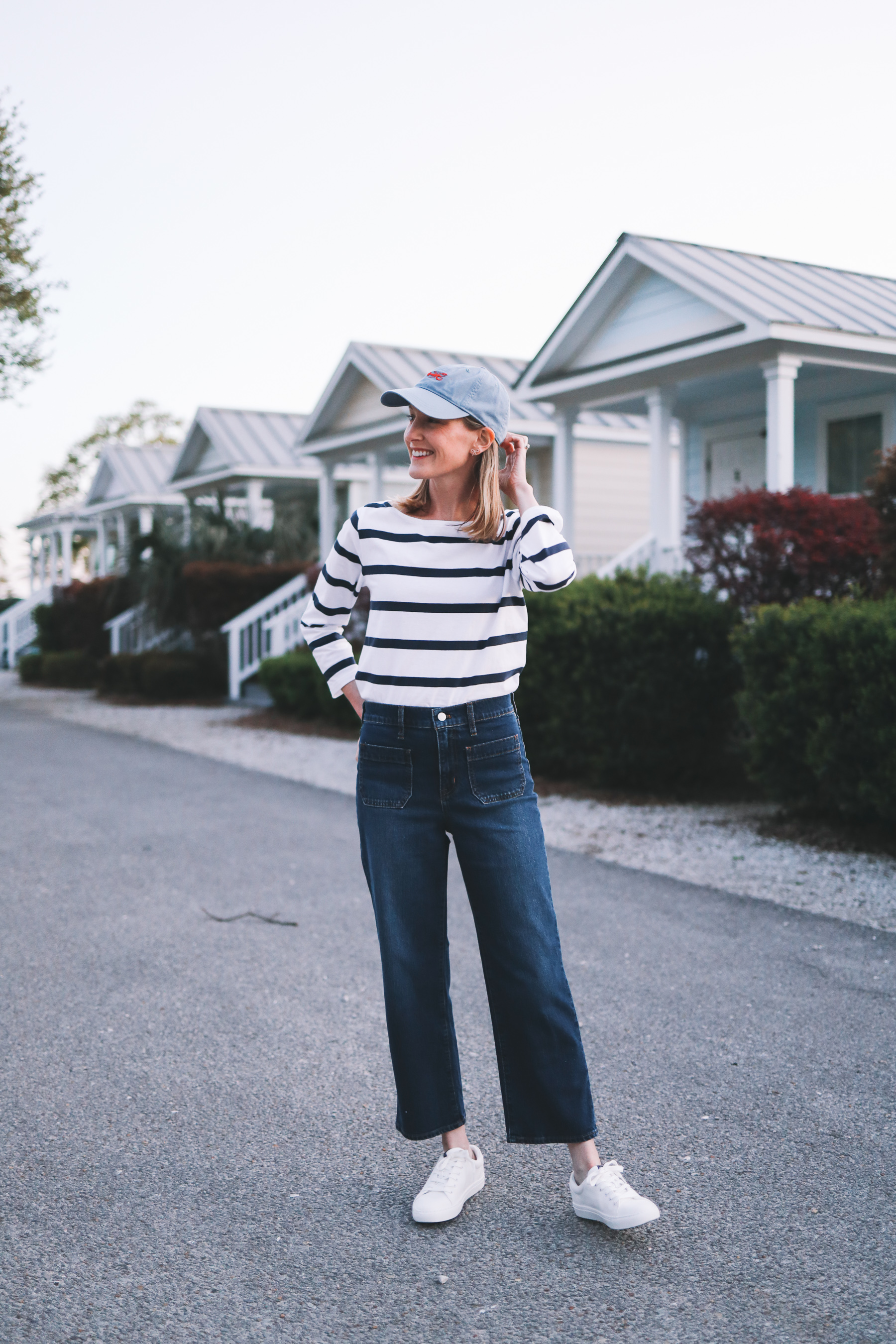 Wide-Leg Jeans / Striped Boatneck Top / White Sneakers / Lobster Hat / Pearl Bow Earrings (So lightweight!) / Mitch's Striped Pullover, Shorts and Sneakers
I loved this very simple outfit while down in Mississippi. I wore it on our last night out to an outdoor seafood restaurant a quick walk from our house. We had the kids in tow, of course, but since it was Friday night, it kind of felt like date night, too! ;)
The details:
Wide-Leg Jeans: These are GREAT. I love the lines. It's funny—whereas I used to think that skinny jeans were the fancier look, I now think wide-leg and demi-boot jeans make me look so much more put-together. This pair is fitted around the hip, so you don't end up looking sloppy, and it has lycra in it for comfort. Runs TTS. Highly recommend! (If you like this style, check out the railroad jeans, too. Really cute and very soft and comfy.)
Striped Boatneck Top: Another awesome find! Soft and perfectly loose-fitting. I'm wearing a small here and probably should have sized down to an XS, but I was planning on tucking it in anyway. I normally wear this striped shirt from "regular" J.Crew, but this one is such a nice spin on the original!
White Sneakers: Everyone needs a solid pair of white kicks for spring/summer! Honestly, I'm in sneakers nearly every day right now. These are padded and comfy. I went down a half size, if that's helpful.
Lobster Hat: We spent a lot of time eating seafood in Mississippi, so this hat seemed appropriate! Love the chambray blue color.
Pearl Bow Earrings: SO LIGHTWEIGHT. A few weeks ago, I ditched my pearl earrings—which I've been wearing for years—in favor of these because they're so adorable. They also weigh nothing and don't irritate my sensitive ears. And I can't believe the price. A+!
Shop the post:
Wide-Leg Jeans / Striped Boatneck Top / White Sneakers / Lobster Hat / Pearl Bow Earrings (So lightweight!) / Mitch's Striped Pullover, Shorts and Sneakers