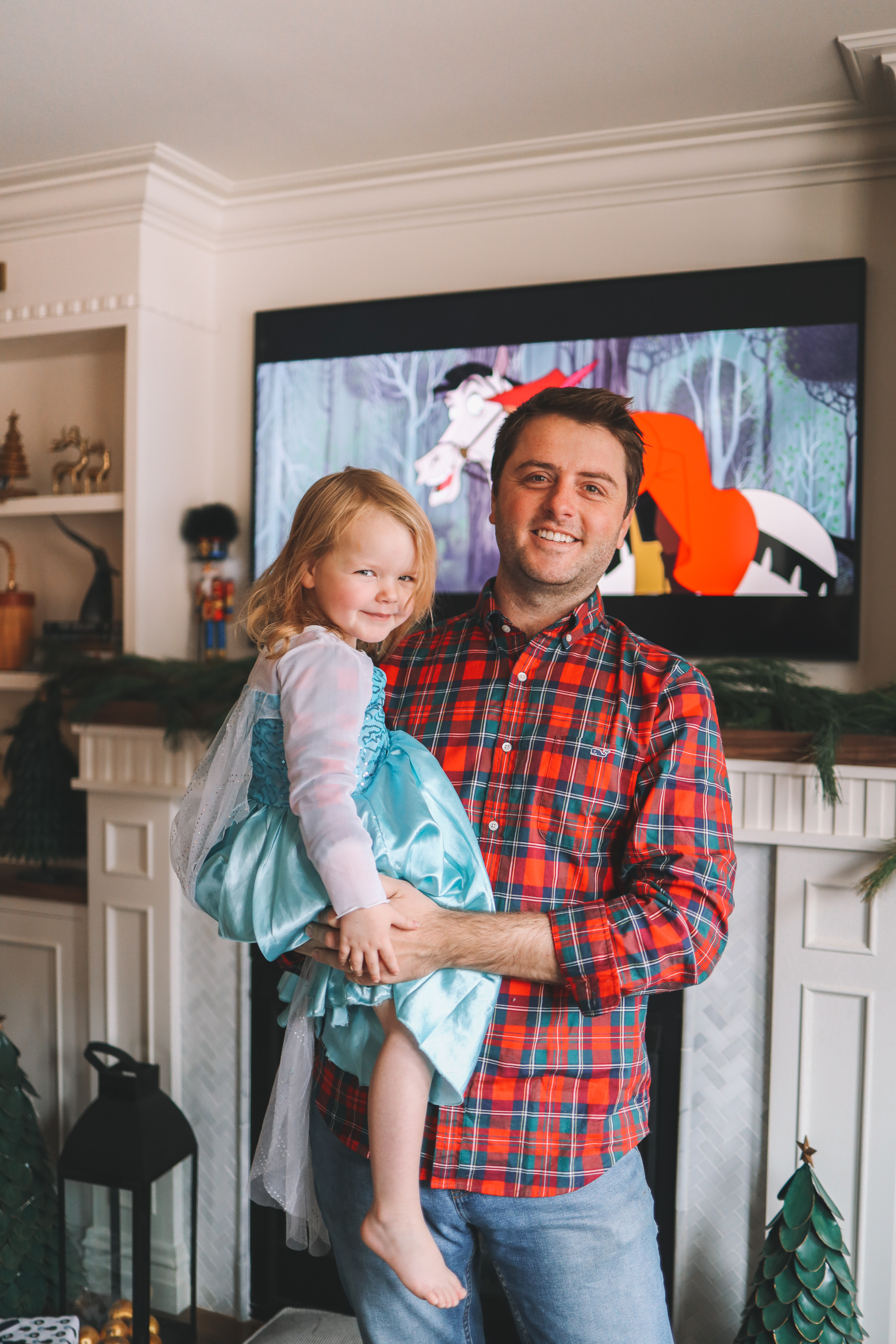 In collaboration with Disney+ and ShopStyle; all opinions are my own. As always, thank you so much for supporting the partnerships that keep Kelly in the City up and running!
Mitch here!
Dispatches from the fifth hour of today's Frozen marathon. The gates are open, the fjord is frozen solid, and I guess I just need to let it go. I'm a dude living with four women, and from here on out you might as well forward my mail to Arendelle. But I really shouldn't complain. 😉 We spent the last six months without a functioning television because we were waiting for a wall unit to be installed. And for those of you keeping track, this means that until this point, we did the whole infant thing–late nights and early mornings, and all–with no TV. (Worst. Idea. Ever. 😂)
But we're back, and as luck would have it, construction on our family room was completed the exact same week as the Disney+ launch. If you've been living under a rock (or, like some kind of fool, without a TV), Disney+ is a miracle in the form of a new streaming service. For $6.99 per month, we now have access to over 500 movies and 7,500 hours of television. That includes hundreds of the classic Disney movies and TV shows, as well as Pixar, Star Wars, Marvel, and National Geographic.
It is baffling what an incredible value $6.99 per month is for this service. We spend at least $6.99 per DAY on paper towels alone! Comparing the entertainment world that Emma and Lucy are growing up with to the one I had as a kid is just silly. In my day, they charged $6.99 per night at the movie rental store that I had to ride my bike to in the middle of the winter uphill both ways. And if I was too lazy for that, I'd have to watch the scrolling TV Guide Channel for an hour before I realized that nothing was on… and then I'd voluntarily watch infomercials until the middle of the night. One of the best nights of my youth was when some buddies and I called a shopping channel and got on air acting like I was interested in buying a necklace. That's how boring TV was back then.
But Emma and Lucy get Disney+, and I can tell you that it's truly changed our lives. Before Disney+, making dinner was really tough. Emma would tear the kitchen apart, littering it with toys and crafts, and she constantly asked for someone to play with her. And while we place a ton of importance on playing with our little girl, we also needed some help with fostering a love of independent play in her–so the family didn't starve. Disney+ is kind of single-handedly responsible for doing that! We turn it on, and Emma happily plays with her toys–often including her sister, too!–while singing along to one of the many classic princess movies she selects. Her current favorites are Snow White, Sleeping Beauty and Cinderella. Of course, Frozen is the undisputed champ, and as you know, we keep her Elsa costume at the ready whenever the mood hits.
It's also worth mentioning that Disney+ is ad-free. Have you ever paid attention to the kinds of ads that show up on other streaming platforms or on cable TV? I'm not a conspiracy theorist or anything but those ads seem to be brainwashing our children and they need to be stopped. (Suddenly Emma wants LOL Surprise dolls. Wonder how THAT happened.) So I'm very happy that Disney+ gives us a better option. And, even better, the Disney+ mobile apps allow for local downloading so you can watch when away from wifi. (This is going to be a huge help during our holiday travels!)
I can't believe I've gone this far into the post without mentioning how much Kelly and I missed having a TV in our lives, too. As a millennial parent, I'm not afraid to say that I value my time with the TV. Life is stressful and complicated and I think it's important to reserve time away from the chaos of parenting and the burdens of adulthood to let my mind relax and enjoy some quality storytelling. Reserving time for movies and shows gives me an opportunity to experience great writing, cinematography and characters. It challenges me, offers new perspectives and helps me break out of my mundane routine once a day. I missed it… and I'm glad it's back in my life!
Follow this link for a free 7 day Disney+ trial. And on that note, I'm going to sign off so I can go watch another episode of The Mandalorian. And, as always…
Mitch. OUT!