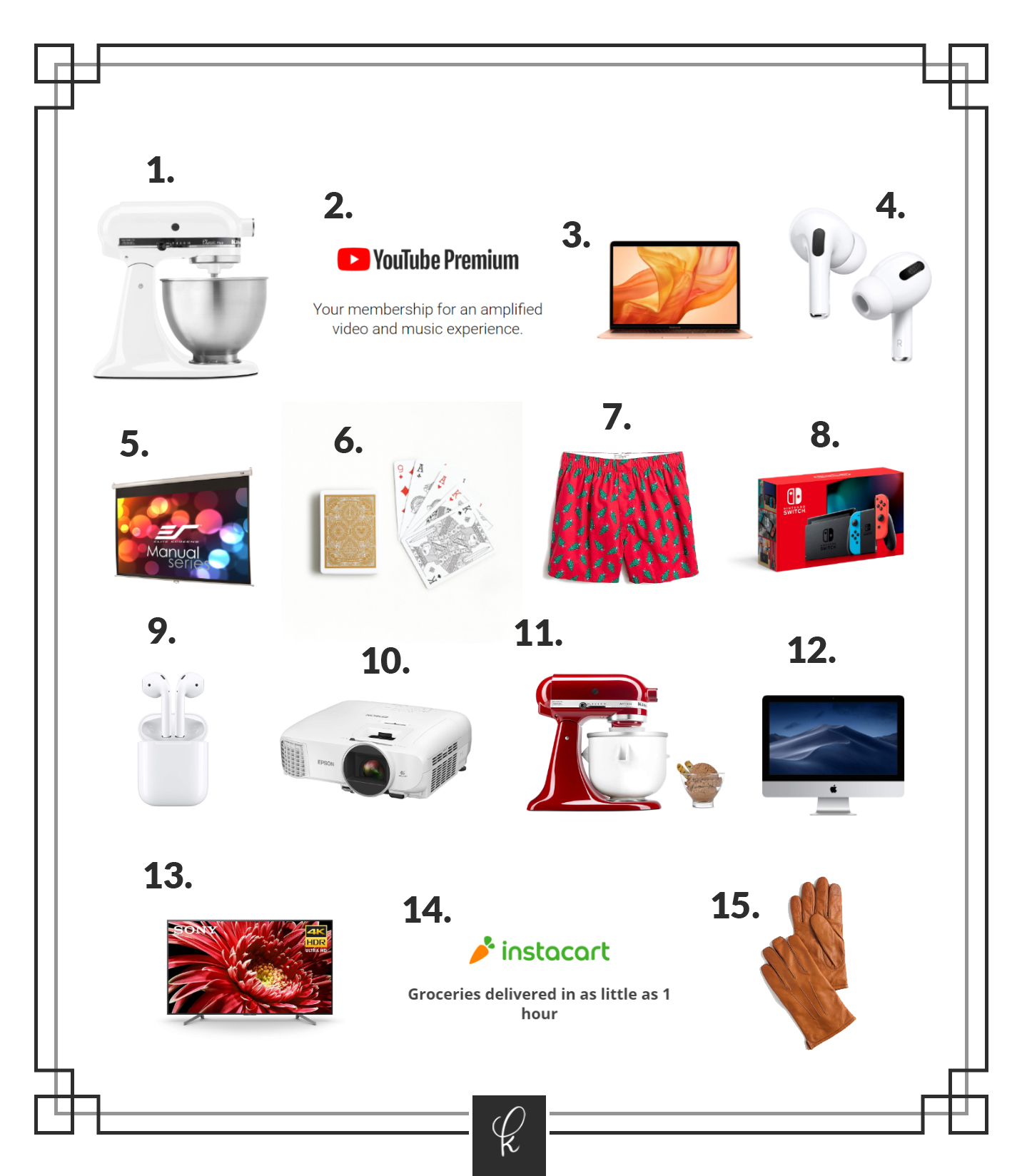 One / Two / Three / Four / Five / Six / Seven / Eight / Nine / Ten / Eleven / Twelve / Thirteen / Fourteen / Fifteen

Mitch here!
My "love language" is gifts which, frankly, puts me in quite a predicament this time of year. I need to simultaneously prove my love to everyone on my list while also reaffirming my standing in those relationships vis-a-vis the gifts I receive. It's exhausting!
The older I get, the more I realize that I'm not qualified to buy anyone anything, let alone a meaningful gift. I can barely get through the grocery list without screwing something up. My mom had this all figured out and to this day, she gives me themed boxers for each holiday and the simplicity and practicality of such a tradition is only just now dawning on me. Nice move, Mom!
But never mind all that. Below I've pulled together 10 cool, thoughtful and meaningful gifts that'll help you win the holidays and then coast into the most depressing part of the year unscathed. Enjoy!
Mitch's 'Interesting Stuff' Gift Guide
Date Night Package: This idea stems from the fact that planning a date night takes about 100x more effort than I'd ever anticipated. I'm talking schedule syncing, babysitter texting, mood anticipating, restaurant reservation forgetting, and finding an overly hyped and simultaneously underwhelming event to make the whole thing worthwhile. I'm often so exhausted and anxious by the time we get out the door that I'd rather just stay home. So for this gift, just do all the planning, make the reservation, draw up a hokey fake ticket and wrap up an empty box because Admit One to Date Night is all you need.
Stand Mixer: Now that our kitchen renovation is coming to a close, I feel compelled to get a stand mixer. I mean, sure, I could just mix things up with a spoon or whisk, but there's joy in the total impracticality of owning a 300-pound professional mixing device. It's all about flexing in the kitchen. Look at me, I have an empty cabinet and I'm not afraid to waste it!
Honorable mention: Stand Mixer Ice Cream Attachment: Our local ice cream shoppe charges $6 for a single scoop in a kids cone and at that rate, I'd pay for this ice cream attachment in about three days.
YouTube Premium: You watch YouTube. I watch YouTube. Simply put, we all watch YouTube. And we all hate the eerily spot-on, often un-skippable ads that pop up and remind me exactly how much time I've been wasting instead of writing my holiday gift guide… Oh crap! I need to get back to work.
Anyway, YouTube Premium is a thing and it's a freaking fantastic gift idea if your recipient is a millennially aged human being.
Honorable mention: Spotify Premium, Vibe Spotify Music Player, Amazon Prime, Netflix or HBO Now.
$900 MacBook Air: Here's a marriage pro tip for you. If you gift your spouse something they'd otherwise buy for themselves, you 1: Get all the credit 2: Put out less effort and 3: Save money by not buying another much worse gift that she doesn't even want.
And the all-time best "shared-bank account" gift is this heavily discounted, top-of-the-line MacBook Air. At press time, Kelly hasn't bought one for herself yet, so I'm in the clear.
Honorable Mention: This $1100 iMac which Kelly should buy for me. (Wink.)
AirPods Pro: I gave Kelly a nice pair of headphones for her birthday. I got a great price for them online and, wait for it, they were totally counterfeit. Luckily, she didn't really want the gift, so it didn't matter… but still! Crazy stuff right? Anyways, Apple AirPods are the best thing I've ever owned, and the new ones are almost assuredly the hottest gift of the season. Amazon has them in stock now!
Projector and Screen: I don't know who you're buying for this holiday season, but I'm willing to bet that their TV is too small. And while 85″ sets aren't as expensive as they used to be, not all of us have the luxury of cutting a hole in the side of the house to fit one in.
But with this projector and this screen, I'll soon have the equivalent of a 135″ TV in my family room. I just won't have the time to watch it.
Playing Cards: Did you know that shuffling a deck of cards allows for so many combinations of card order that it's likely that no two shuffles have or ever will result in the same sequence of cards? This is EXACTLY the kind of mundane trivia I'd be boring my friends and family with if I had the time to play cards.
Kelly and I dream of game nights where we have friends over and get weirdly competitive with each other. We actually got a backgammon set from Mark & Graham the other day and we went crazy dreaming of where to put it and shopping for a game room table until we realized that Emma would likely steal the game and lose all the pieces by the end of the week. But some day we will be Game Night People, people!
Nintendo Switch: If Kid Mitch knew that Old Man Mitch could have any video game in the world yet chooses to have none of them, how would he react? Gaming was a big deal to Kid Mitch, and I'm low key hoping that a slightly older Emma and Lucy will bring back my gaming ways. A question for you parents out there: Will my daughters play video games with me? Does anyone have experience with this? Comment the word "Yes" in the comment section below.
Instacart Privileges: Instacart is one of those venture capital-backed miracles that shouldn't exist, but somehow does and surprisingly works as advertised. For the uninitiated, Instacart is an app on your phone. What you do is you open the app, touch a couple buttons and then groceries show up at your door a few hours later.
I know! It's bonkers.
I'm an Instacart evangelist now, and I've seen my friends slowly take the plunge. Which is where the gifting angle comes in. You could give your partner guilt-free Instacart privileges for a year. That's the gift! Just take all that shopping burden off their shoulders and go watch TV together or something.
The perfect leather gloves: It doesn't take Johnnie Cochran to prove the value of a good pair of leather gloves. Kelly just informed me that I've had leather gloves on my Christmas list for four years in a row and that I have a drawer in the closet full of the leather gloves of Christmas past. But I stand by the selection! This year, to save me from tears, I'm looking for some gloves special.
Mitch. OUT!