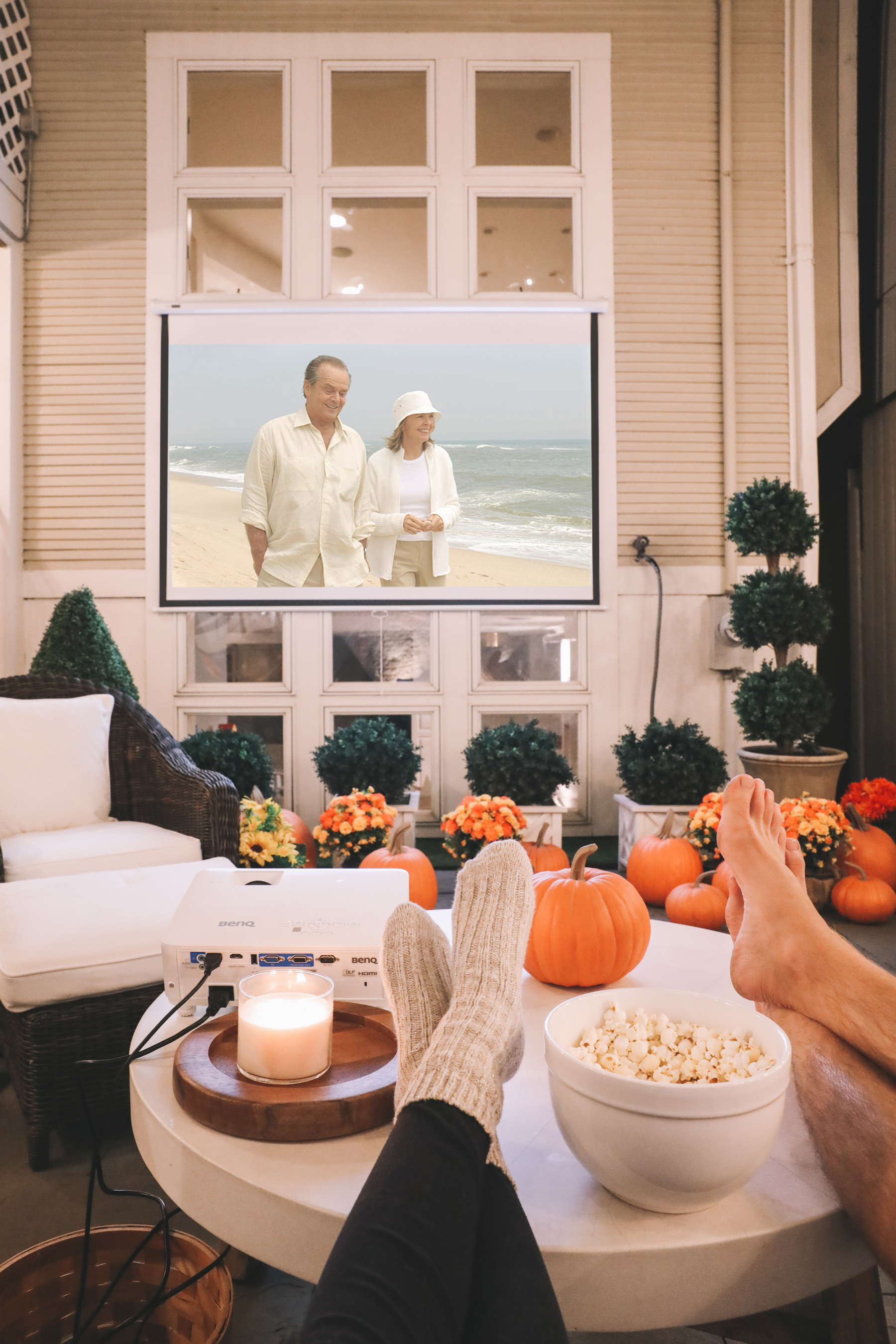 Mitch here!
Grab your popcorn, pour a soda, silence your cell phones and put your feet up… because we did it! The outdoor movie theater is finally a reality and I didn't even break anything while putting it all together. Kill the string lights because outdoor movie nights, here we come.
Just in time for football season, or more realistically "Peppa Pig" season, we have an outdoor movie theater and I couldn't be more excited. I fully realize that I have roughly six weeks of weather left to enjoy this little setup, but hey, give me credit for figuring out how to project a movie onto my house. A handy guy I am not. 😉
We teamed up with eBay and their suite of certified refurbished products to pull the project off, and came in significantly below the normal budget for something like this. I'm a big fan of buying refurbished electronics as they typically undergo higher levels of quality control and inspection from the manufacturer and therefore often have lower defect rates than their newer counterparts. Better yet, eBay's certified refurbished products ship directly from the manufacturer and always come with a free extended two-year warranty.

How To Make An Outdoor Movie Theatre
The plan
I laid out the project in this post. To summarize, the plan was to create a simple outdoor theater that followed three simple rules:
1. The whole project should cost less than $1,000.
2. The process of turning a movie on should be simple enough for my family to do on their own.
3. I do all the work myself, without the help of handymen or contractors.
And I'm happy to report that I succeeded on all three fronts! Honestly, I'm a little surprised the plan worked as well as it did. Go me. 😜 But still, no matter what your outdoor space looks like, setting up your outdoor cinema doesn't have to be hard. Stick around, and I'll walk you through it!
Best Outdoor Movie Projector
I chose the BenQ TH585 portable projector due to its great reviews and extremely discounted price via the eBay certified refurbished program. BenQ is a brand I was unfamiliar with, but I took a deep dive and found that it's one of the best value projector brands around.
My DIY backyard movie theater location posed some unique challenges for a projector. Ambient light was obviously a major problem, and the projector would need to be able to throw an image across the patio and illuminate the screen during the twilight hours. It also needed a software "keystone" function to warp the image to accommodate for weird angles. Something nice is that since we planned to stream content over WiFi, a less expensive 1080p screen resolution was in order. (WiFi limits the quality of image no matter what, so there was no sense in buying something pricier!) 1080p projectors are much cheaper and this decision helped me stay within budget. Anyway, the BenQ Th585 was and is the perfect fit for what we needed.

Retractable Movie Screen
I chose the Vivohome 120″ Retractable Screen because it's large enough for a proper movie experience, robust enough to endure a little outdoor weather, and easy enough for the family to use without my help. The plan here is to leave the outdoor projector screen up for the late spring, summer and fall—and then to store it away in the garage in the winter. I did some research on these screens and while they're suitable for the outdoors, though, in case you really want to leave it out year-round. (We live in Chicago, though, so we tend to bring stuff in during the really cold months.)
You can pay up for the brightest, most audio transparent, and the most automatically retractible outdoor screen in the world if you want to. But I really felt that it wasn't necessary! The Vivohome is great for occasional use and affordable enough to replace every few years (if even necessary). You could replace this outdoor movie screen multiple times and still come under what those top-of-the-line screens cost!
We need to talk about installation next. Screwing something into the house is always nerve-racking, so I spent about four hours researching the proper way to do it. The answer was vinyl coated, stainless steel cup hooks sealed with this stuff to keep the water out. And it worked perfectly!
Outdoor Movie Accessories
Apple TV: I'm one of those Apple fanatic guys, so I splurged and bought an Apple TV instead of one of the Roku or Fire streaming Stick devices. I like the Apple TV because it seamlessly works with my iPhone as a remote. Basically like a streaming device in itself. (Very necessary; my kids are remote control-losing machines.) The Apple TV also has the ability to output sound over WiFi to Sonos devices which simplifies my setup a bit. Aka, no HDMI cable.
Amp: eBay is the perfect place to find pre-loved Sonos equipment and I'm very excited to report that I got this Connect: Amp for less than I've ever paid for a Sonos Amp in the past. It was a big day for me. The Connect: Amp is the device that receives sound from the Apple TV and powers that sound through the outdoor speakers. It also wirelessly connects to all the other Sonos devices I have so I can totally blast the neighborhood with movie sounds if I need to. (Jokes. Also, we're very good friends with all our neighbors and somehow the walls on our deck/patio mute the sound. Crazy! Very lucky in both departments.)
Outdoor Speakers: I'm a big fan of the Polk Audio Atrium 4 Outdoor Speakers because they're affordable, not offensive looking, and easy to set up. I used them up on our deck! Down on the patio, we use a Sonos Move or Sonos Roam, both of which are Bluetooth speakers. Not this night, I

wirelessly paired the Apple TV to a Sonos Move speaker via Bluetooth. The Sonos Move is rechargeable so it works truly wirelessly and it was great to keep extension cords to a minimum.
Okay, enough chatter. If you need me, I'll be on the patio watching a movie! 🍿
This post is sponsored by eBay; all opinions are my own. As always, thank you so, so much for supporting the partnerships that keep Kelly in the City up and running!