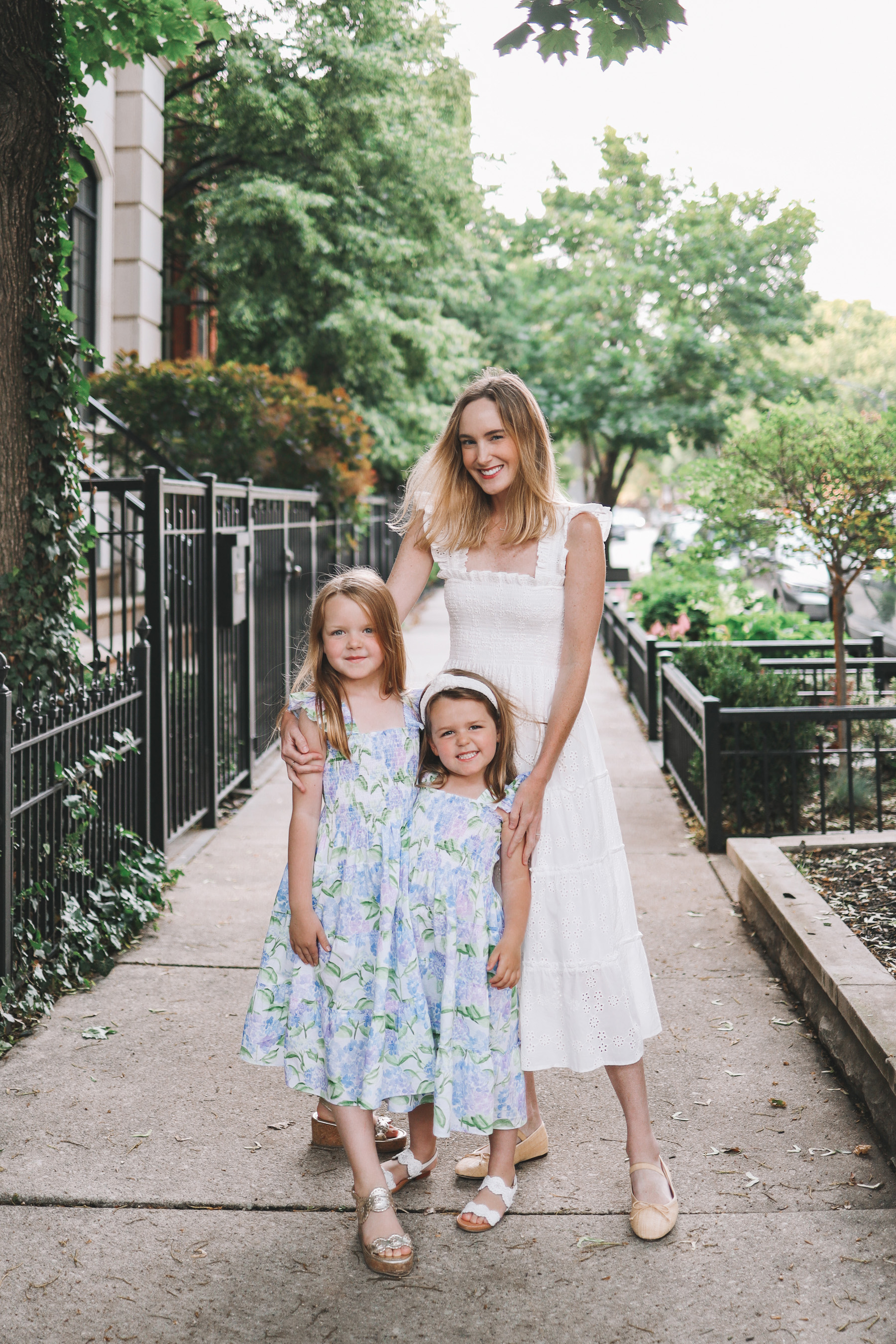 Hill House Eyelet Nap Dress (And I just ordered the hydrangea skirt!) / Hill House Tiny Girls' Nap Dress (Teen size here; adult size here; short adult size here!) / Hill House Artemis Dress
It's about time I reviewed the famous Hill House Nap Dress on the site!
Nantucket is very special to me, as so many family members have resided on the island over the years. It's where I introduced Mitch to them, where I brought Emma as a baby, and where both my girls were flower girls in Sammy's wedding. 💕 So to wear Hill House (which has a storefront on ACK) with my daughters makes my heart swell… especially since their dresses feature a Nantucket-inspired hydrangea print!

The Nap Dress is has a following. I've owned a few over the years! The idea is not that you should actually nap in them; it's that they're so comfortable that you could nap in them. Yet they're stunning, and can be dressed up or down. I pair mine with sandals, heels and sneakers alike. The eyelet Nap Dress, however, is my favorite of all time. It's such a classic style, and the fabric is incredibly soft. (Note: I find that the dress runs TTS, but if you're in between sizes, go down. The smocking makes it very forgiving!)
Because I loved my Hill House dresses so much, I actually bought Emma and Lucy Tiny Nap Dresses last year. They loved them! And when we opened up their new hydrangea ones, they both exclaimed, "Mommy's favorite flowers!"
Note: I would recommend sizing up on the Tiny Nap Dresses. I actually went two sizes up since the girls grow so quickly, and I knew my heart would break if they couldn't wear the hydrangea dresses again next year. For kids, the smocking prevents larger sizes from falling down. For example, Lucy (age 4) is wearing a 7/8 and Emma (almost 7) is wearing an 11/12 here—but the dresses look awesome on them. Next year, the fit won't change; they'll just be shorter!
Even more amazing is that Hill House has a ton of additional styles available in both eyelet and the hydrangea print right now! I've linked our favorites above, but I do need to admit that I already ordered the hydrangea skirt. 😉
Also, third to last pic. It's our 2023 holiday card photo, right?! ♥️
Shop the post:
This post is sponsored by Hill House; all opinions are my own. Thank you so much for supporting the partnerships that keep Kelly in the City up and running!
Hill House Eyelet Nap Dress (And I just ordered the hydrangea skirt!) / Hill House Girls' Nap Dress (Teen size here; adult size here; short adult size here!) / Hill House Artemis Dress