Guys, I'm feeling all kinds of inspired over here right now. 😂 I really struggled to keep my head above water with this site over the last month, and it feels so good to have more time to spend on it! I figure there's no better way to get back into it than starting off with a "Life Lately" post, as it's been a while since I shared some behind-the-scenes stuff. (Here are all the Life Lately posts, btw!)
I'm just pulling pics off my phone (and a few randoms from my camera) for this one. Should be fun. Here we go!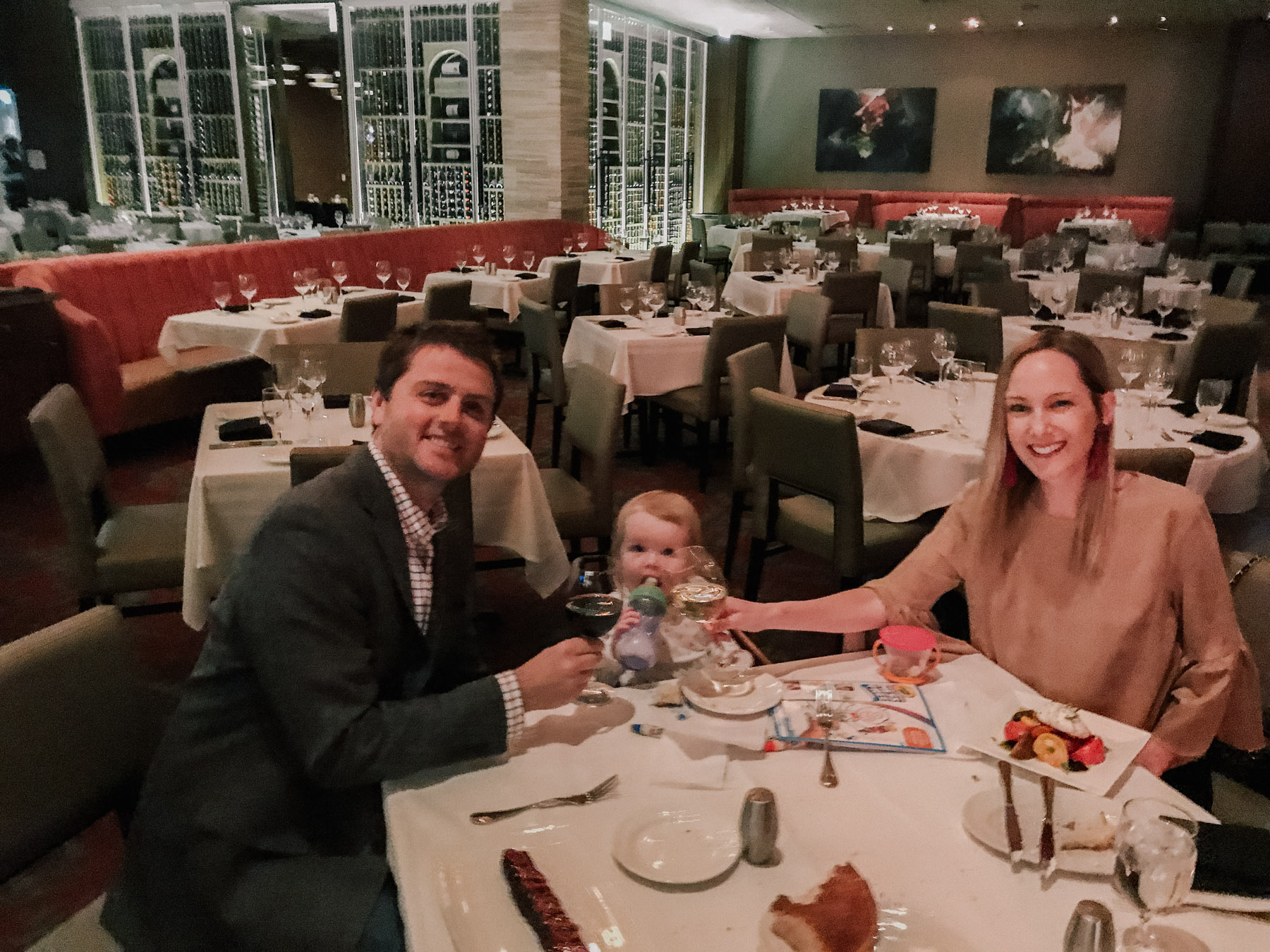 Tuckernuck Suede Top (SO beautiful! A must-buy!) / Lisi Lerch Earrings both c/o
Before we embarked on our crazy month of travel, Del Frisco's on Oak Street in Chicago invited us to a family dinner. We went on a Monday night so we almost had the place to ourselves. It was truly magical! I was really sad about leaving Emma for so long, and this was the perfect way to get some much-needed togetherness in!
The staff gave us a tour of the restaurant, and Emma had the time of her life running around. SO CUTE, and I can't wait to go back. It's definitely a "happy memory" place for us now. :)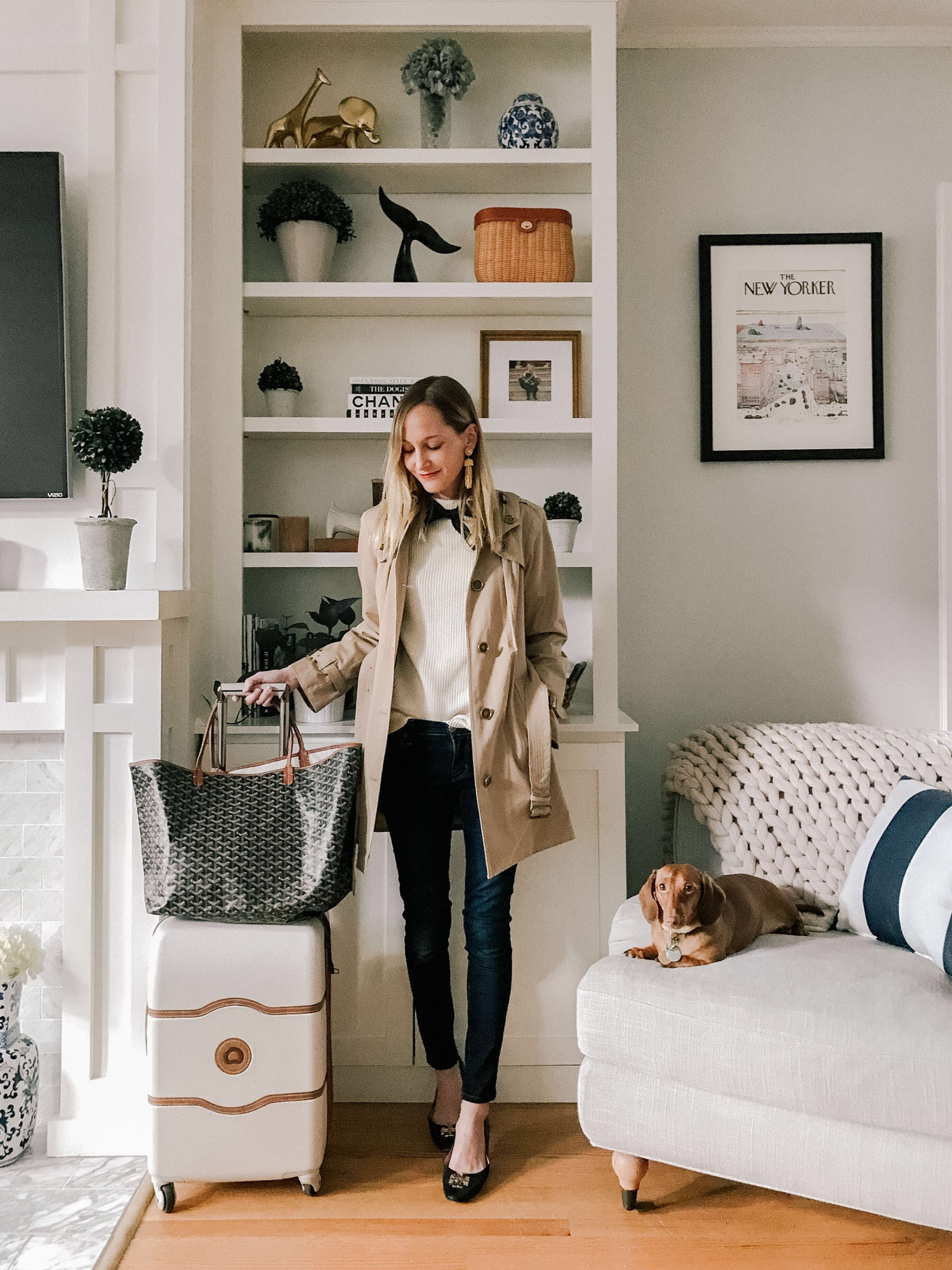 Suitcase / Goyard Tote / Lined Trench Coat (Double breasted version here, which also comes in a light pink!) / Jeans / Bow Sweater / Similar Burch Flats (Love the new pumps, too!) / Lisi Lerch Earrings c/o
A couple of days later, we dropped Emma off at my in-laws, and then headed off to the airport to catch a flight to New York to see my cousin and maid of honor, Annie. :) She'd recently finished up chemotherapy and radiation, and we were having a big family dinner and then a huge pub crawl around the Lower East Side to celebrate! I spoke more about all that here, but what a year. Love you, Annie. You're an inspiration, and your outlook throughout it all has made a lifelong impact on me. <3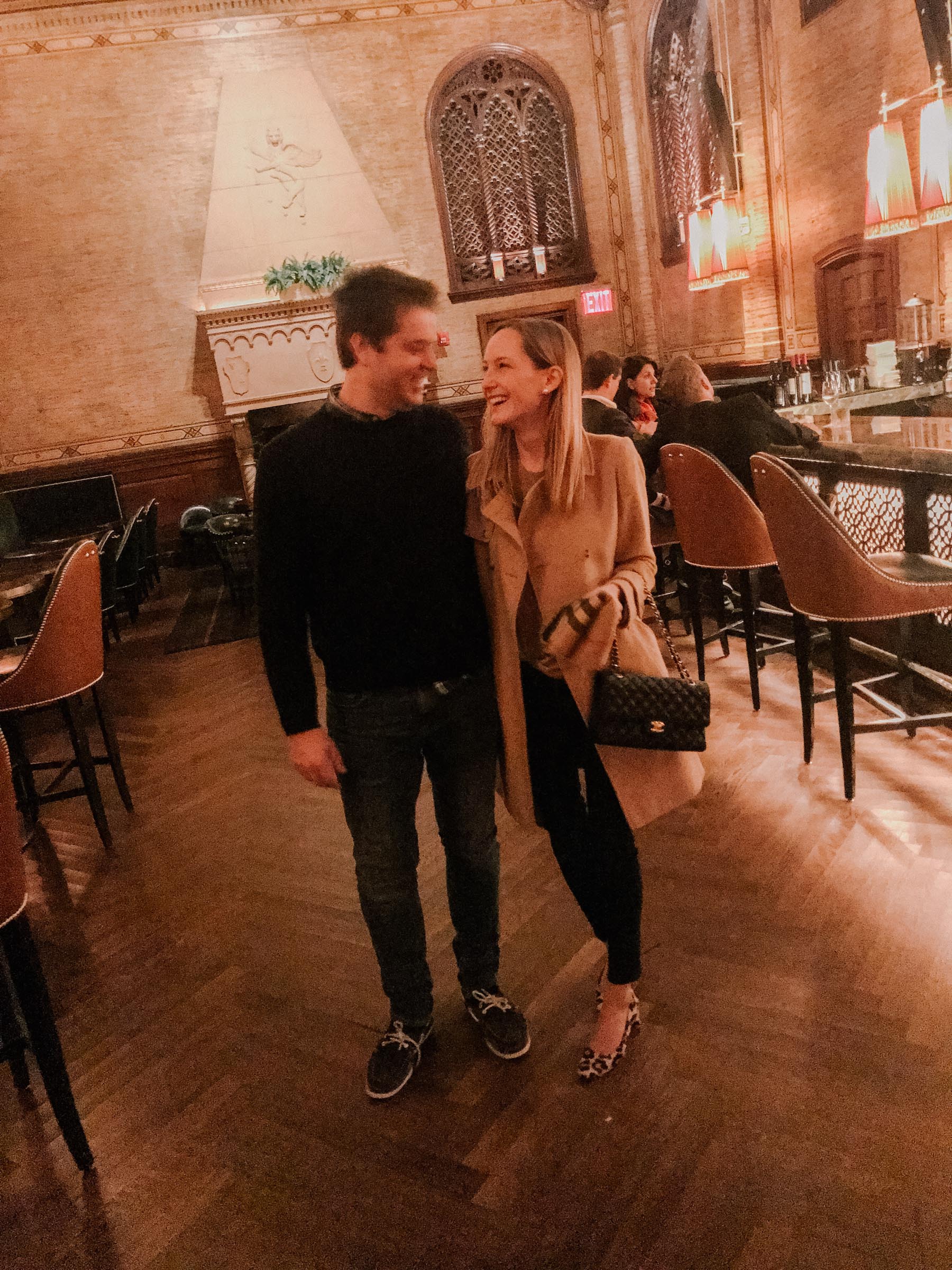 I'm wearing a wool trench coat here (though this is the springtime version), but this is my current obsession: Lined Trench Coat (Double breasted version here, which also comes in a light pink!) / Kate Spade Leopard Pumps (Also here.) / Jeans / J.Crew Cashmere Sweater (Also love the striped version which is one sale!) / Burberry Scarf (And here's the kids' version, which totally fits adults and is a fraction of the cost!) / Chanel Bag
Mitch and I landed late Thursday night, but since we didn't have a baby with us, we decided to do it up and go out. We went to the Campbell Apartment, which you can read about here. It's always been a favorite; it's a bar within an old apartment–owned by a railroad executive and rented by a Vanderbilt for years–inside Grand Central Station. When I lived in New York, it looked pretty different… it's been closed, renovated and reopened. But it remains a very special, tucked away place, and I adore going there. (You might recognize it from Gossip Girl. It's where Serena and Nate… ahem. Haha.)
Anyway, we had the BEST time. Felt like we were in our 20s again!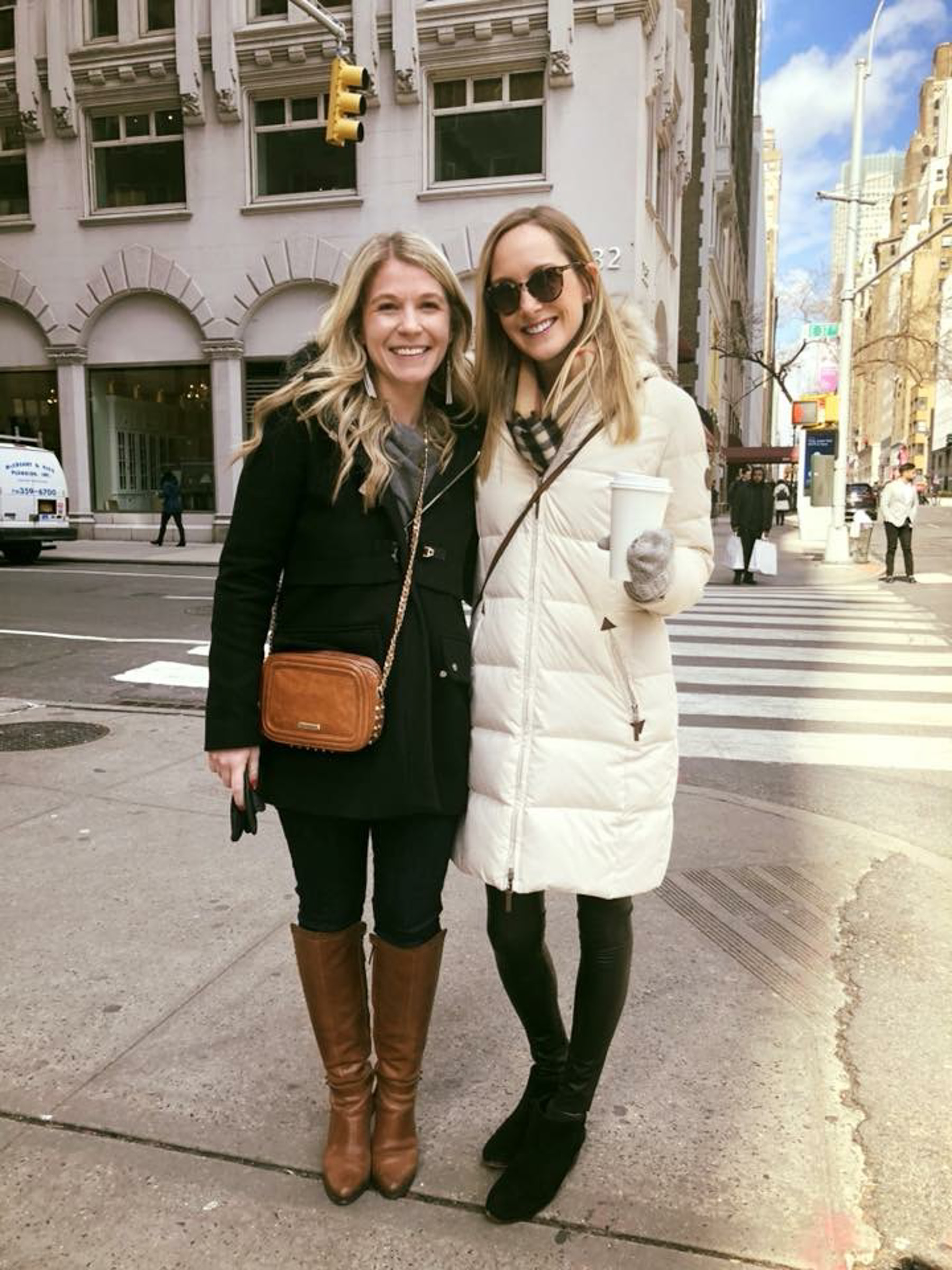 Booties / Burberry Scarf (And here's the kids' version, which totally fits adults and is a fraction of the cost!) / Leather Leggings / Ralph Lauren Puffer
The following morning, we decided to kill time and take a walk down to the Meatpacking District. On the way, we met Sam, a reader. She was the sweetest, and totally made my day! We had to take a photo to send to her BFF. ;) You're wonderful, Sam! So lovely meeting you… and next time I'm in NYC, let's meet up! Also let's trade hair.
We then headed down to Hudson Yards to see the progress on the construction. But it was horribly cold, and we quickly hurried down the Highline to the Standard Biergarten in the Meatpacking District, which is heated and makes you feel like you're outside. I'll admit that we were a little bummed that we had to cut our walk short, but we had a great time hanging until my dad got off work and my mom and brother made their way into the city.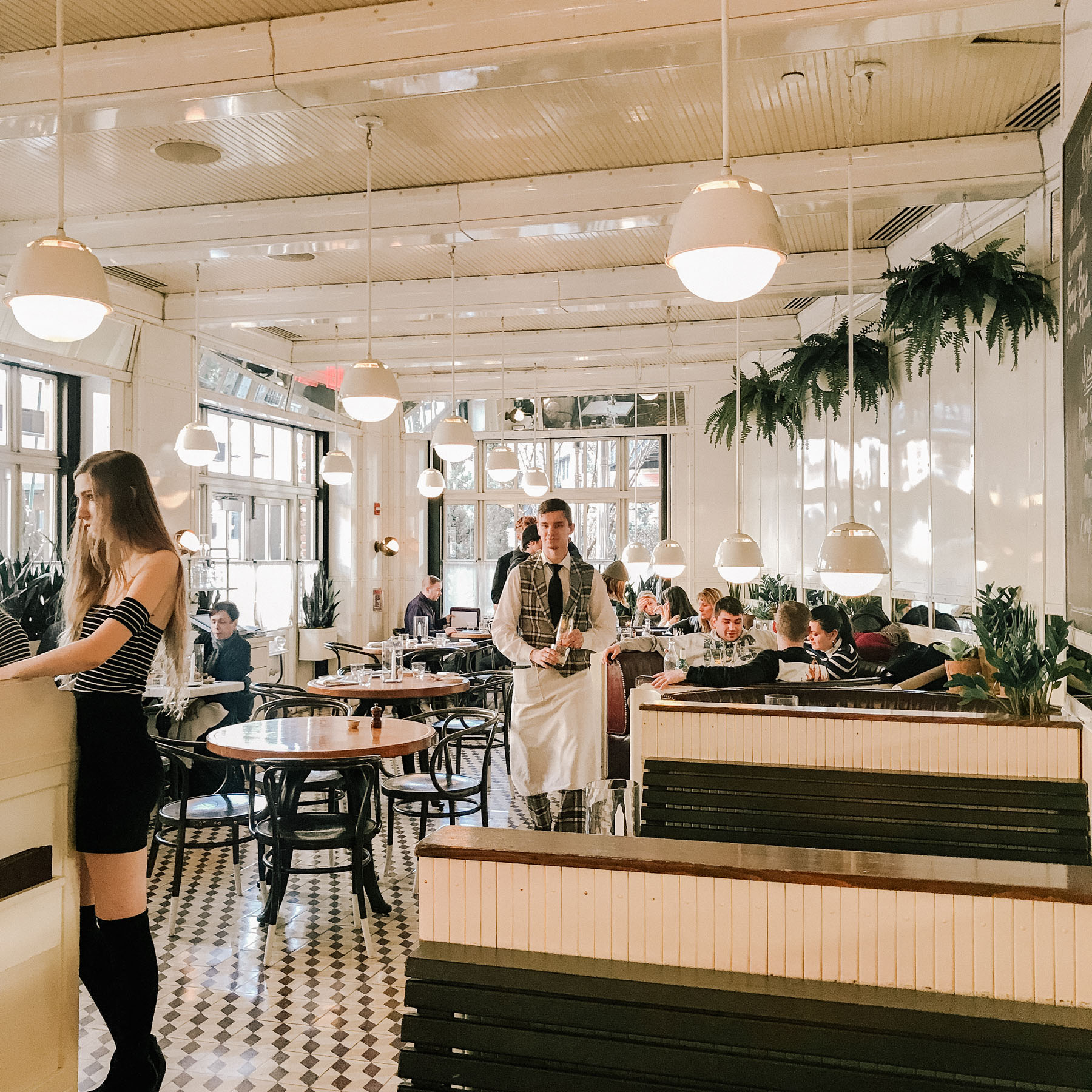 The cafe is the cutest, too!
Charles Henry Jumpsuit (Such a classic! It's on sale, too.) / Burberry Scarf (And here's the kids' version, which totally fits adults and is a fraction of the cost!) / Kate Spade Leopard Pumps (Also here.) / Chanel Bag
Around 5 p.m., we met my family at my dad's club, where we usually stay. (Sometimes we stay with Shawn, Mitch's best friend, who lives in Stuyvesant Town, where we used to live. But he was out of town and we really wanted to be with everyone!) We caught up over drinks, and then we headed off to the Upper East Side for the big family dinner.
SO FUN. Sadly, I totally forgot to take photos. Guess I was having a bit too much fun. ;) But it was such a wonderful night; family members came from near and far to celebrate, and I kept tearing up!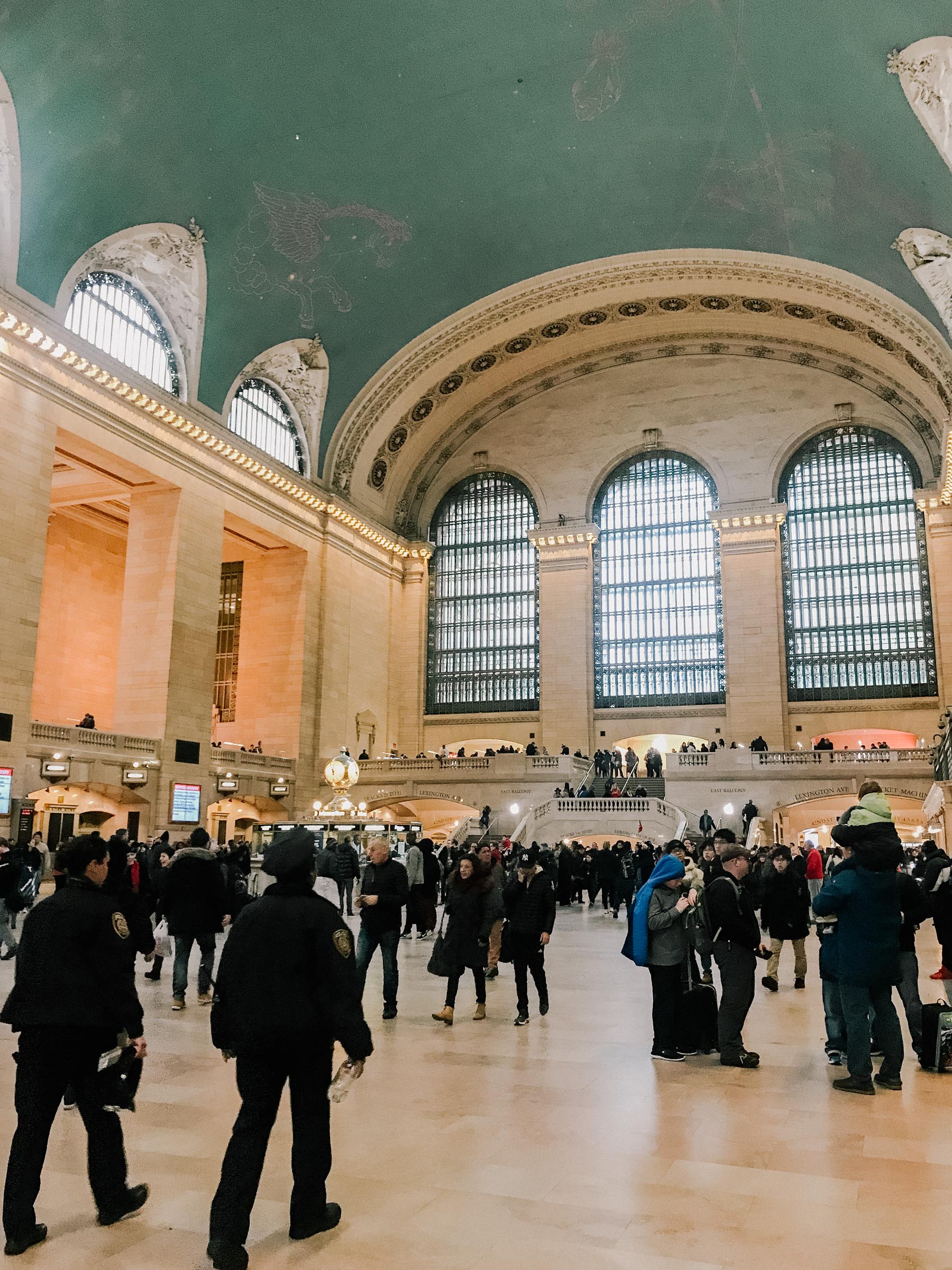 Saturday morning, we headed downtown for the pub crawl.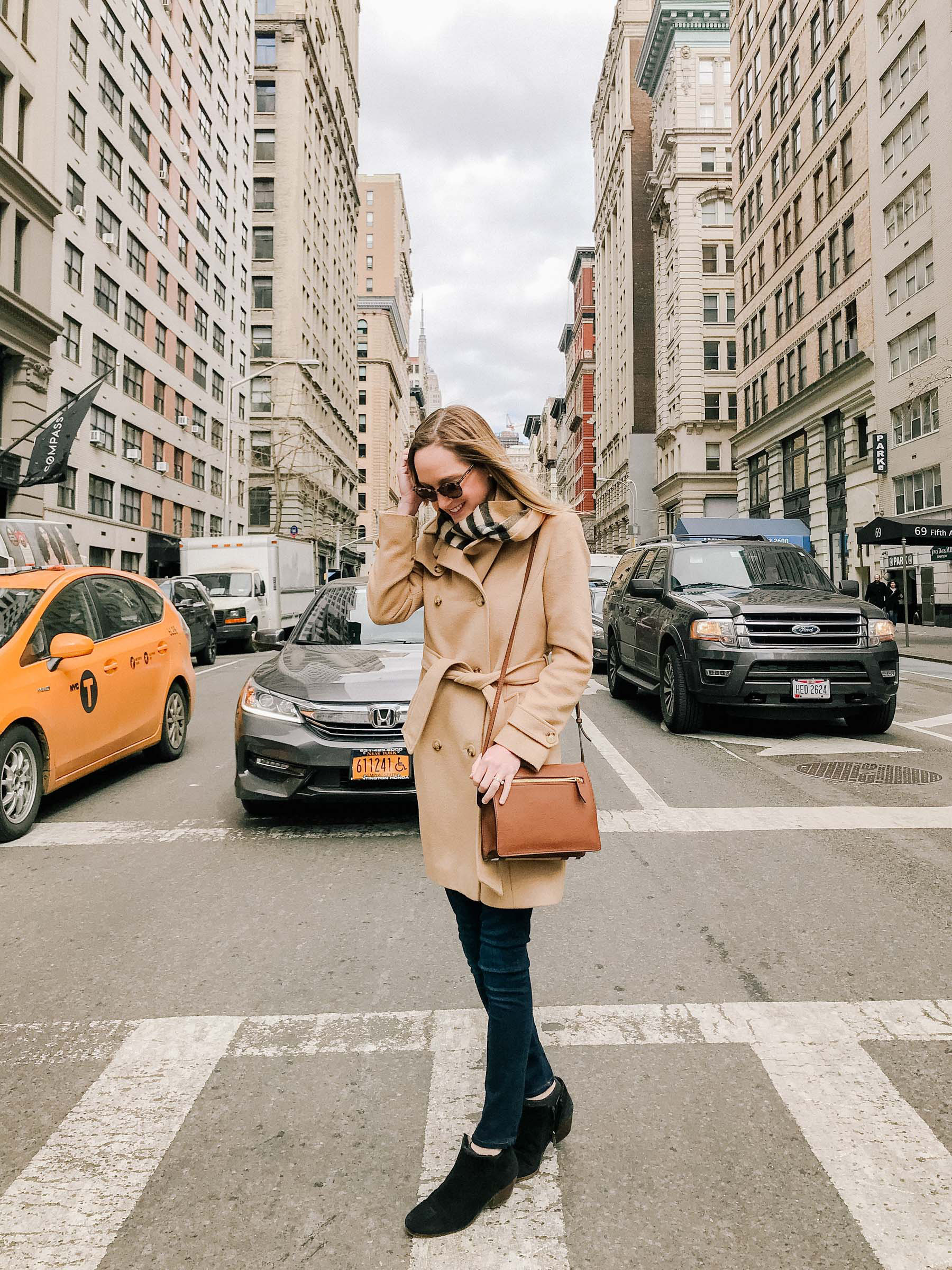 Burberry Bag / I'm wearing a wool trench coat here (though this is the springtime version), but this is my current obsession: Lined Trench Coat (Double breasted version here, which also comes in a light pink!) / Jeans / Booties / Burberry Scarf (And here's the kids' version, which totally fits adults and is a fraction of the cost!)
Yet again, FREEZING. Thankfully, we were only outside for about 15 minutes, but yikes!
J.Crew Sweater Blazer (Also here!) — Seriously goes with everything, and I wear it constantly because it's so cozy! Incredibly well made. Just size down, as it's pretty big. I normally wear a size XS and went down to an XXS and it's still roomy. / Burberry Scarf (And here's the kids' version, which totally fits adults and is a fraction of the cost!)
"Swigs & Wigs" was a huge success. I couldn't believe how many people came from all over the country to celebrate Annie. The above photos don't do the event justice; people in wigs were everywhere! It was so great to chat with some of Annie's childhood friends I hadn't seen in ages, and meet some of her newer city pals. So much support and love!
Later that night, Mitch and I had dinner with Katie, my childhood best friend, which was awesome… and then we headed over to Annie's apartment to hang out a little more. We arrived home well past midnight which we were REALLY proud about, haha! All in all, a fantastic day.
I won't lie: Sunday was a bit of a struggle because of Saturday's bar crawl. But Mitch and I made the most of it, and spent a big chunk of the day in Central Park. We also had coffee at the Plaza, which was a highlight! (I grew up adoring Eloise, and when I was a child, I had tea there a couple of times. Happy memories, for sure! Even though I hated tea, haha.)
We also ran some errands. I stopped by Vineyard Vines to pick up some last-minute stuff for my trip, and we bought new Sperrys because I somehow lost mine. (How that happened, I'm not sure, but alas. Still have no idea where I left them.)
I went to bed SUPER late because ironing and packing (and getting the blog in order) took far longer than I'd expected. Isn't that how it always goes?
I left the Union League Club the next morning at 5 a.m., which hurt. But I was so excited!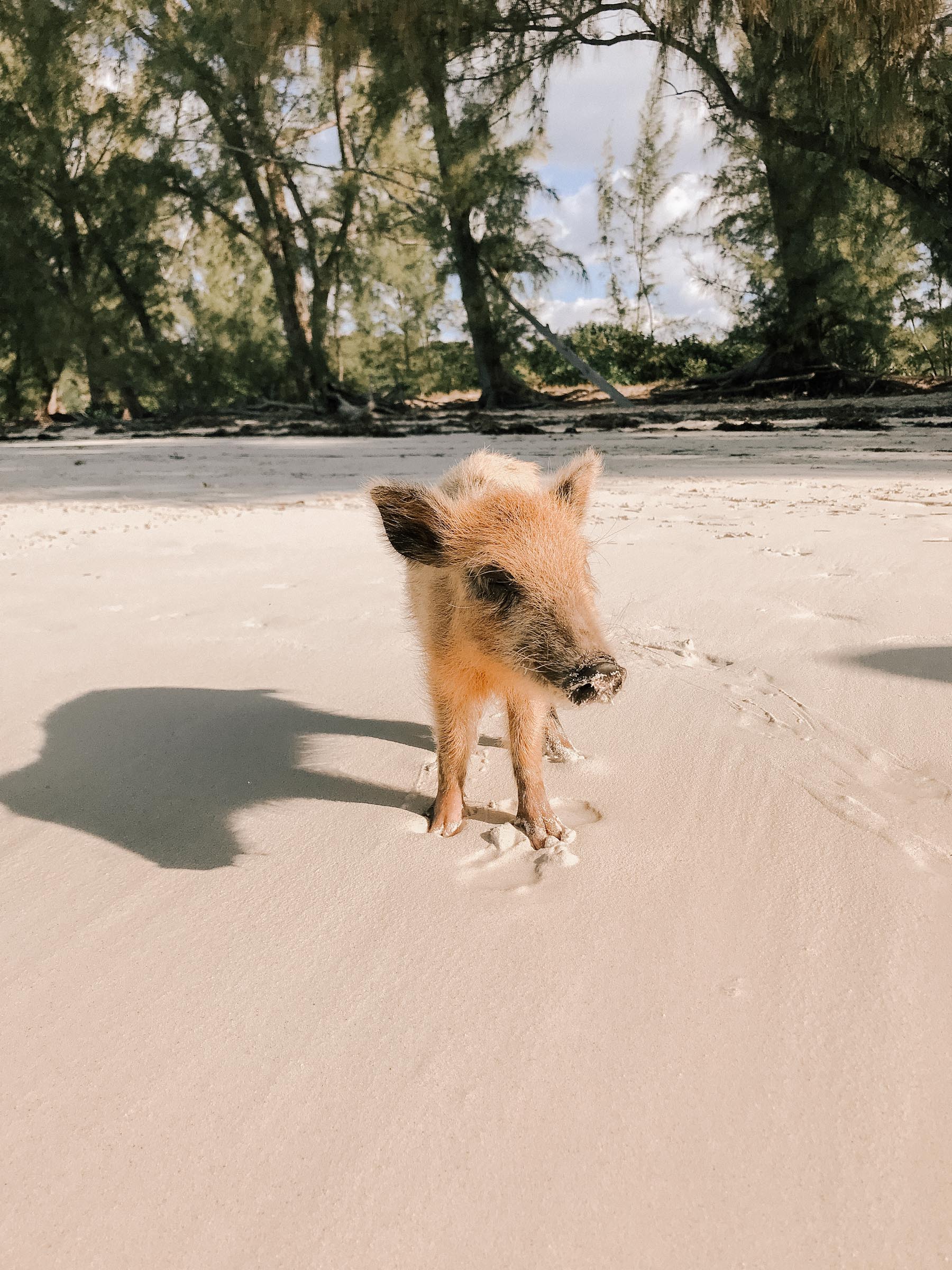 You can read all about my trip to the Abacos here! Trip of a lifetime.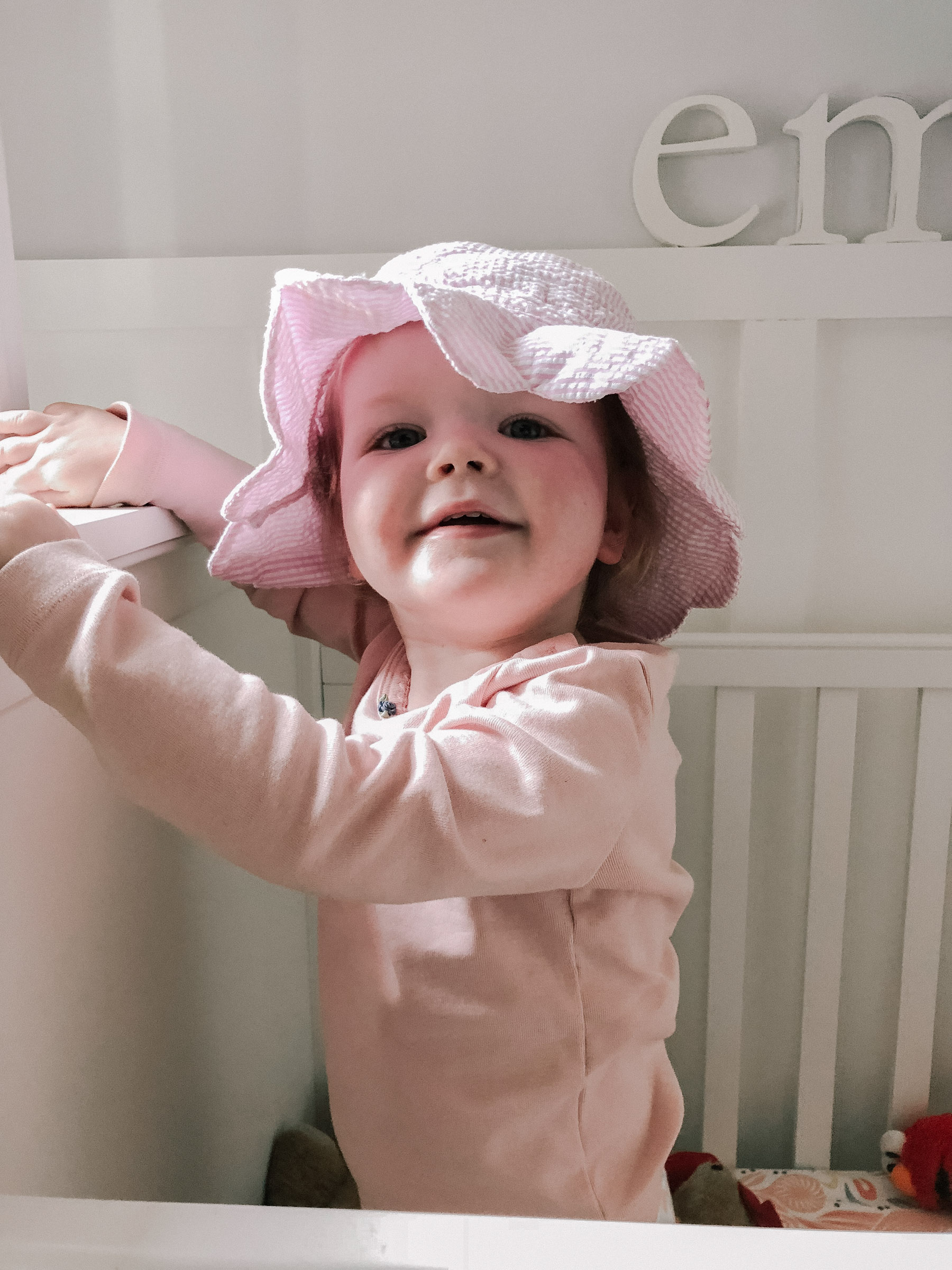 I can't even tell you how amazing it was coming home to Mitch and Emma. I cried. I actually made such a scene that our neighbors came over to see if everything was okay. So embarrassing! But goodness; I was beyond happy to see them! I'd missed them so much.
That said, I'm proud of myself for going on the VV trip. When I first received the invitation, I told Mitch I couldn't do it. I couldn't be apart from Emma for that long. But I did it, and my daughter didn't forget me like I thought she would. ;) I actually got a huge hug when I returned, and life returned to normal. I'll admit that I'm very attached, and the vacation was probably a good thing for me. And I had SO much fun–and made lifelong friends! (Again, you can read about it here.) Unbelievably glad I said yes.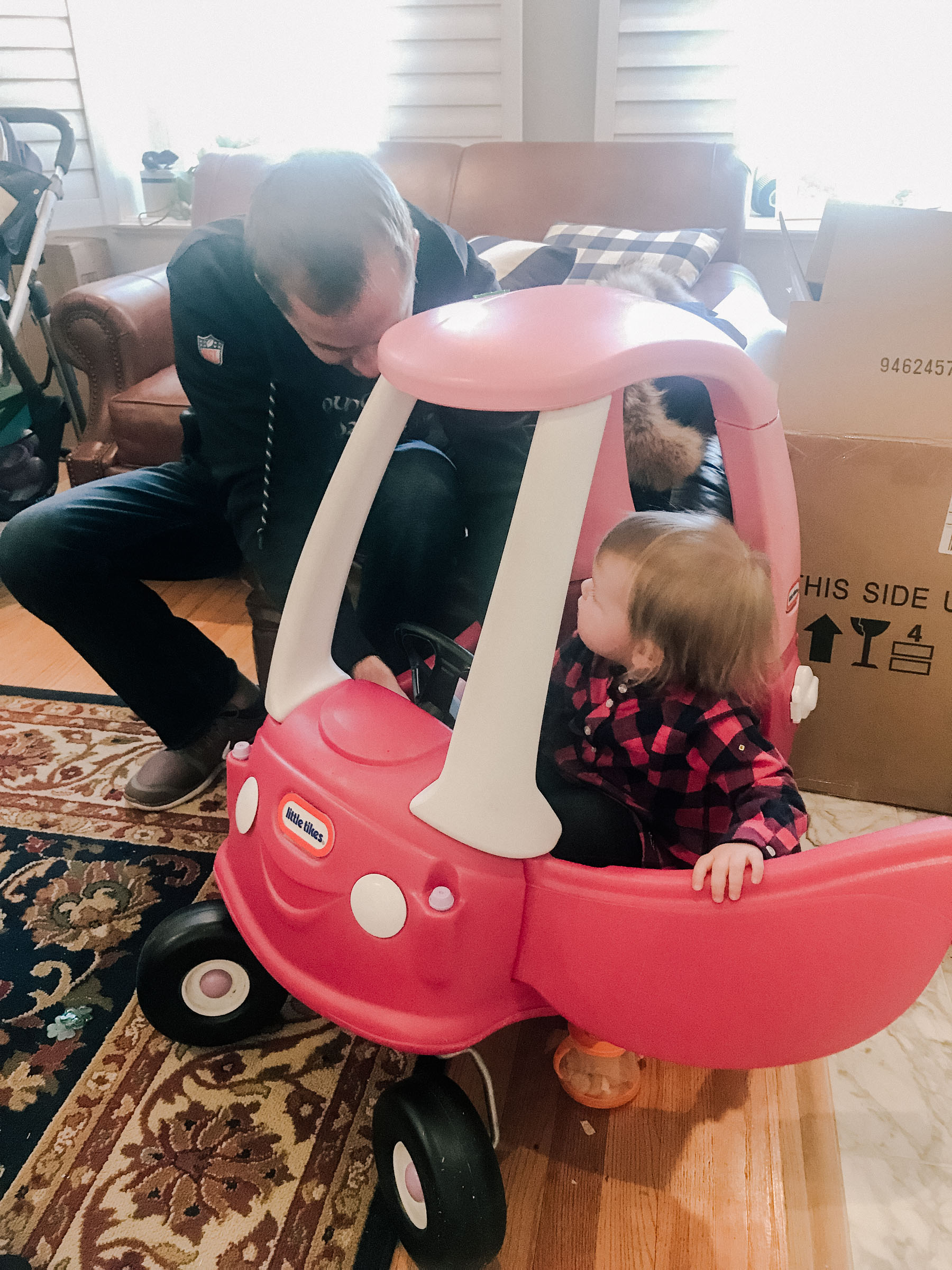 My brother also arrived in Chicago that night, and he stayed with us that weekend while attending a bachelor party for one of his best friends from college. (My whole family is flying out for the wedding in a couple of weeks. Can't wait!) I loved spending time with him, and seeing him with Emma. Let's just say Patrick is going to be a GREAT dad one day. When we drove him to the airport and he got out of the car, Emma sobbed for a solid 15 minutes. The cutest. (But also so sad, haha.)
After dropping Patrick off at the airport, we almost immediately got on a flight ourselves. We headed off to Seattle, to meet with Facebook and speak on a panel. I was definitely nervous about it, as I'm not a great public speaker. (Ironic considering I was a teaching for so long.) But Mitch and Emma were accompanying me, as so much of our content is family-related… so I was also pumped!
The flight was okay. I was exhausted; I kept falling asleep and Emma would NOT fall asleep. ;) At one point, a stewardess came over and gave me a mini bottle of wine because I "looked like I needed it." But we made it through! And when we got to the hotel, I promptly passed out which was fantastic.
Drapey Pull-On Pants (Under $35 today, and the best dress pants EVER! They run totally TTS.) / Scalloped Tee (I've been wearing this with everything.) / Super Warm Trench Coat with Quilted Liner (Love the double version, which comes in PINK, too! It has a quilted liner as well.) / MZ Wallace Tote (Black here.) / $85 Kate Spade Pumps! (Here's the bow version.) / Mitch's Sperrys, Vineyard Vines Blazer & Performance Shirt c/o / Emma's Lacoste Dress / UppaBaby Stroller / Emma's Gingham Leggings
What a day. I loved seeing the offices and meeting with some of the people behind the magic of Facebook and Instagram. It's such a special place to work! (The cafeterias alone are jaw-dropping, haha.)  I also really enjoyed providing some input into future developments, and representing influencers in those discussions. (A pinch-me moment, for sure, and being there was humbling.) While I can't divulge exactly what's in the pipeline, it's safe to say that Facebook has a LOT of cool stuff up its sleeve!
Also: Emma sat on the panel. It was SO funny. At one point, we had to take her out, but she almost made it through the whole thing! They gave her a Facebook fox and a bunch of other treats for being so good.
Ralph Lauren Sweater (On sale!)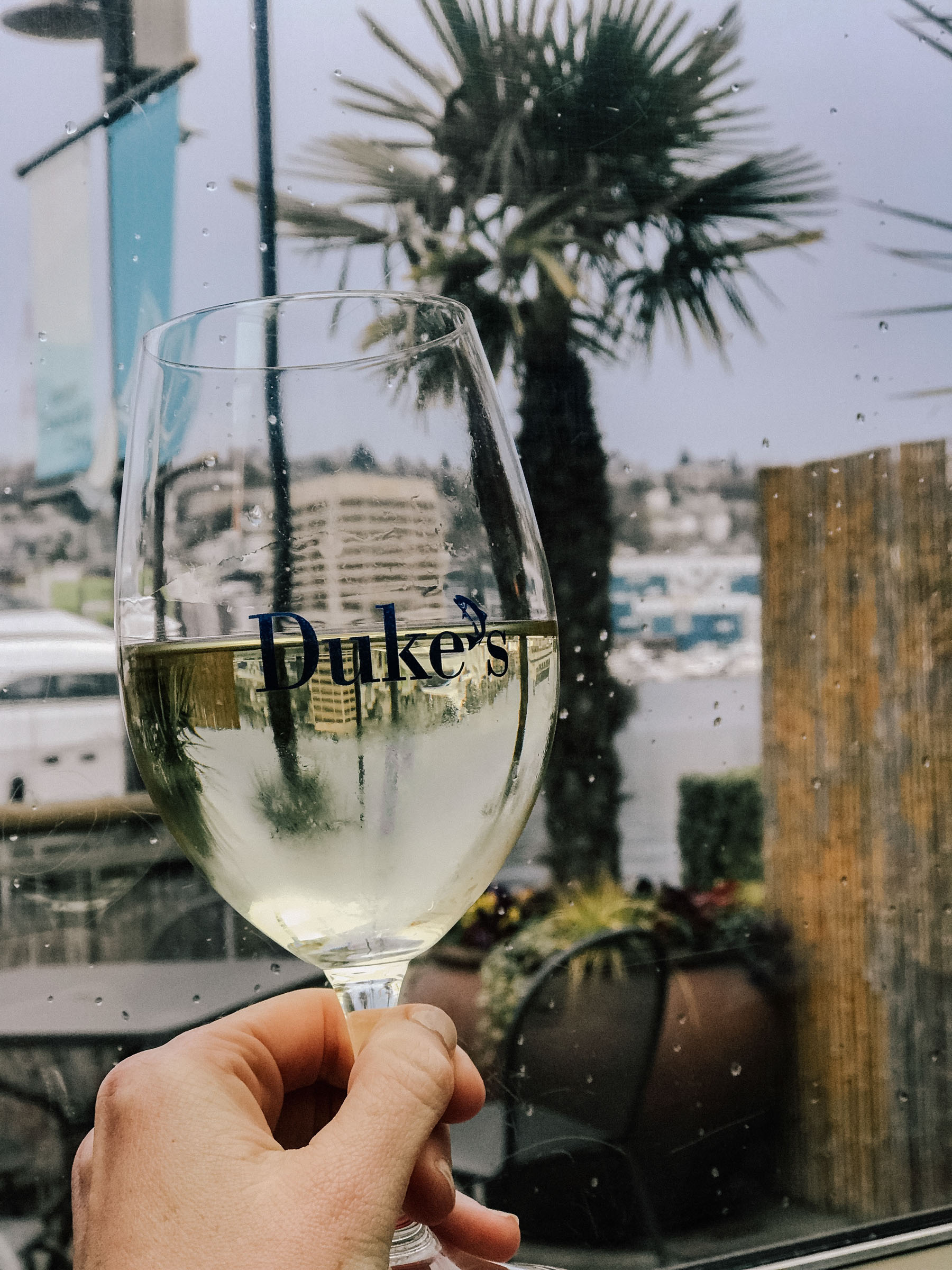 We stayed in Seattle an extra day so we could explore some of the city. We had GREAT weather; it didn't rain until 5 p.m. that day, which gave us a ton of time to walk around! My favorite, as touristy as this is, was Pike Place Market. I loved that it was right on the water, and that there was so much to see and do. We had clam chowder and doughnuts, which was great, and a TON of coffee. (Seattle coffee is just as good as they say!) But I also loved Duke's, which is a seafood restaurant right on Lake Union, where Sleepless in Seattle was filmed. We just had the best time. Emma was in great spirits, the views were amazing, and our waitress was so much fun. :)
We stayed in South Lake Union, because that's where the Facebook offices are. Very cool to see how "techy" the neighborhood has become because of the Facebook and Amazon presence. Such a different world! And Segways everywhere!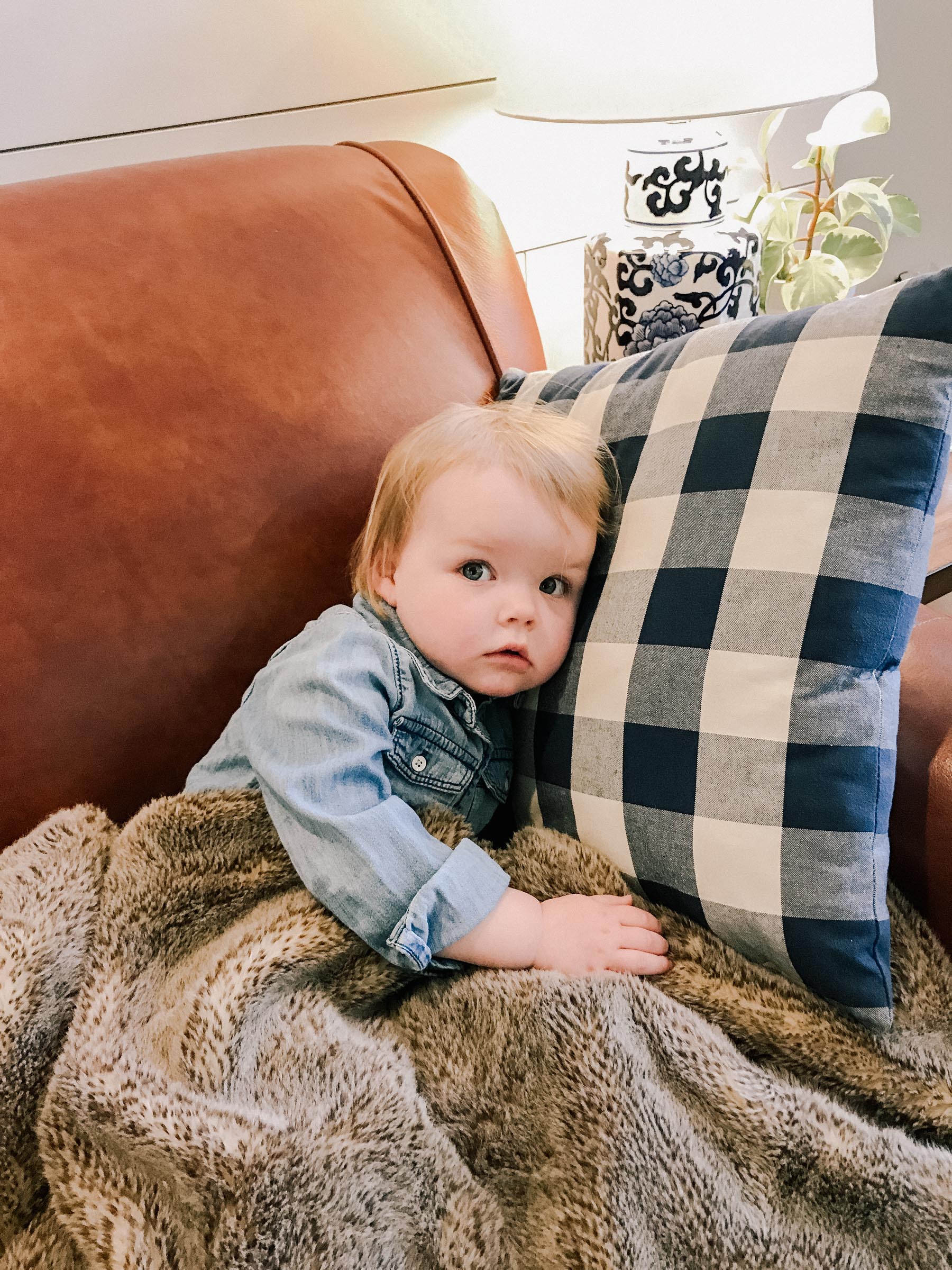 When we came home, everyone was exhausted.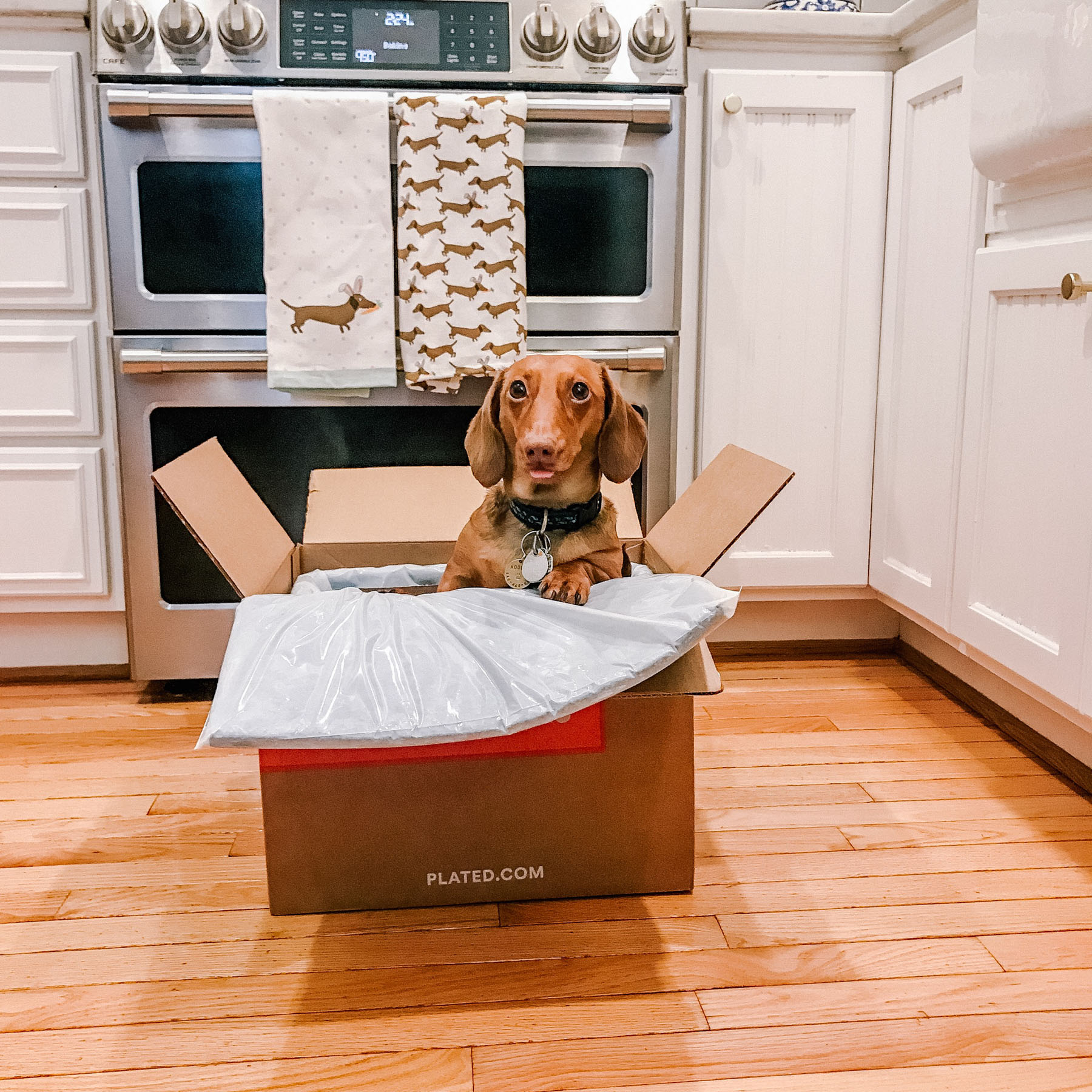 We love Plated! — Use code "KELLYINTHECITY20" to take $20 off your first three orders.
We tried as hard as we could to get projects done that had been piling up during the New York, Abacos and Seattle trips so that we could make a flight back home to spend a week with my parents for Easter, but we just couldn't do it. In the end, we decided to do what was best for our little family, and push the trip back a few days. We cancelled our flights, got some sleep, and completed as much work done as we could. And then we drove to the East Coast! (BAH.)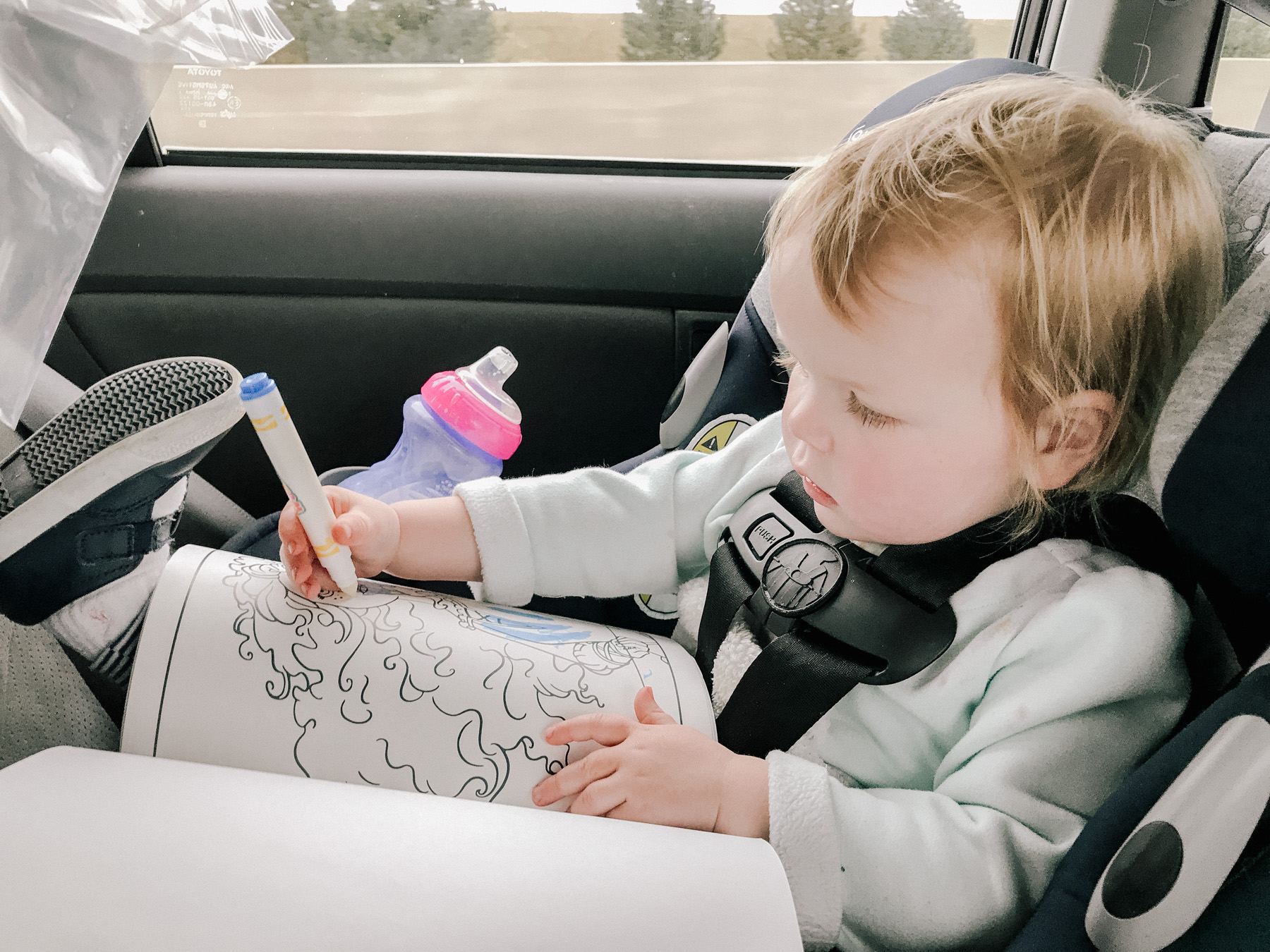 Emma was SUCH a trooper. Honestly, the little girl deserves a medal. I brought a ton of activities for her, and I sat in the backseat for about half the time. But she's an all-star.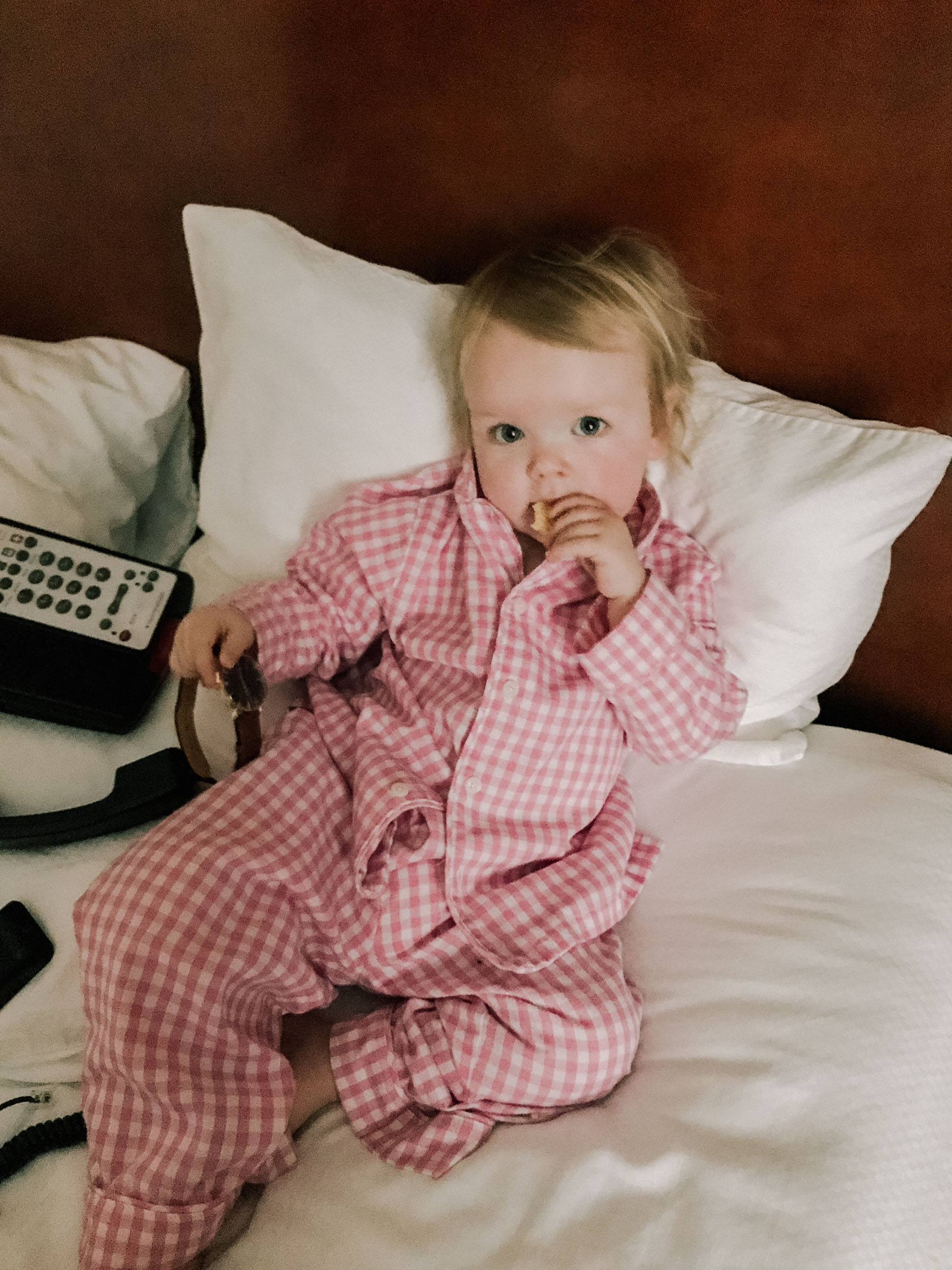 We stayed overnight at a crumby hotel somewhere in western Pennsylvania, but it was pretty perfect for us, since they were dog-friendly and had spacious rooms. We got a pizza, watched a movie, and then put Emma to sleep in the bathroom in her crib. ;)
The following day's drive was a little tougher, but it felt SO GOOD to arrive at my parents' Shore house in Ocean City, New Jersey! I think the above photos represent that well. ;)
Friday was rainy but WARM, which was lovely. When the drizzle let up, we'd run out to the beach to run around with Emma and Noodle. But we also spent a good amount of time drinking coffee and relaxing. It was so nice to catch up with Grammie, who came down with my parents the previous night!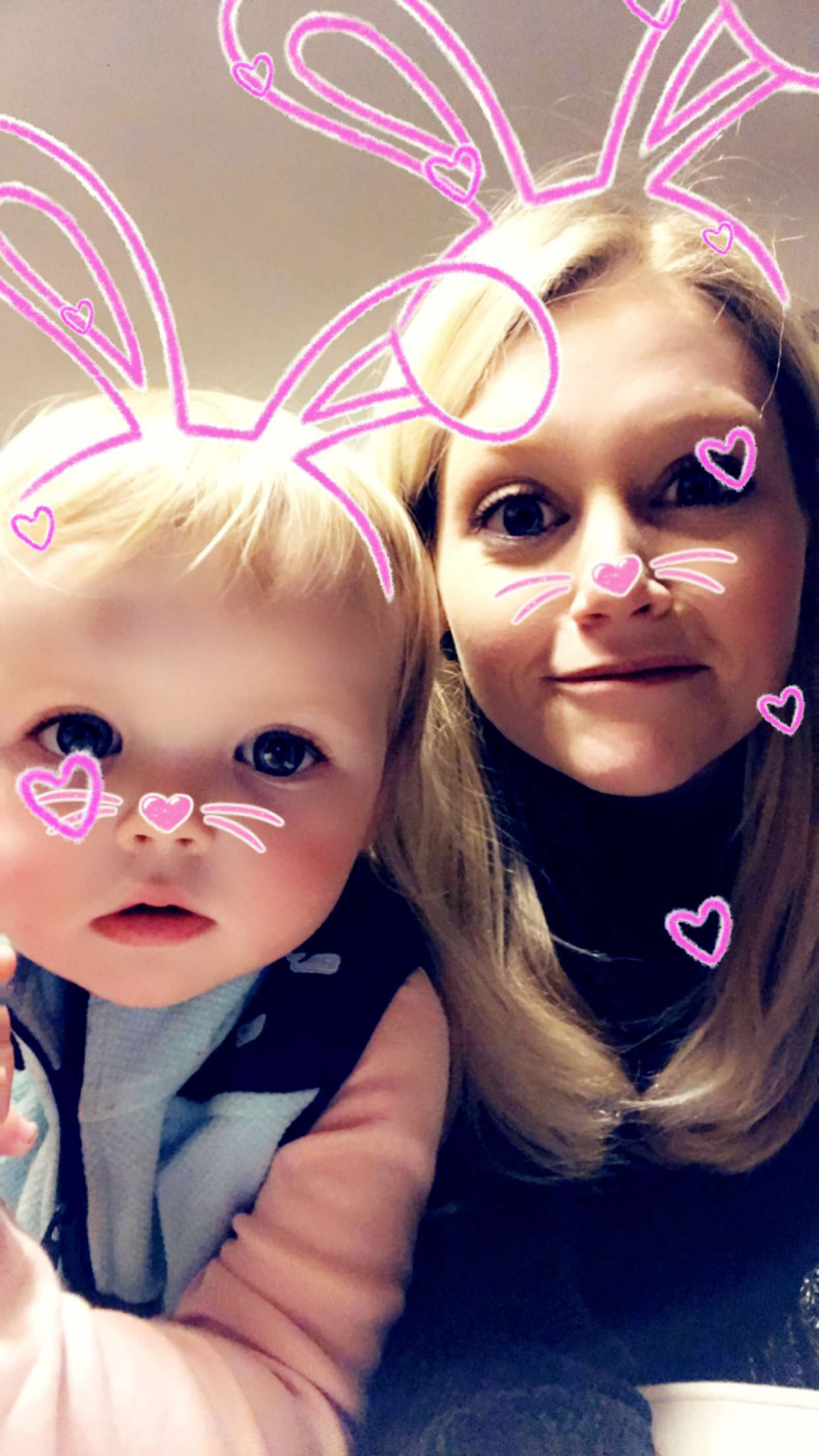 Later that night, my aunt, uncle, cousins and brother arrived! There's simply nothing like holidays with my cousins, and there's also nothing like a Jersey Shore house full of family. We got take-in and stayed up late laughing. I documented some of it on Instagram Stories, but I guess I forgot to take very many photos. Thanks for the above pic, Sammy! Haha!
Sperrys / Barbour Coat / MZ Wallace Tote / Molly's Dog Bed / PB Rattan Chair / Striped Pillows / Dad's Vineyard Vine's Shep Shirt / Emma's Vineyard Vines Vest / Navy Couch / Emma's Lilly Pulitzer Pullover / Emma's Burberry Jacket
Saturday was great. It was chilly but sunny, and we had breakfast at Uncle Bill's Pancake House and then headed to the boardwalk so Emma could take part in the Ocean City Easter Egg Hunt. It was CRAZY. I couldn't even guess how many toddlers showed up! Emma told me she wanted to find "TWO" eggs, as two is her favorite number. ;) But girlfriend scored five! So proud.
We also had ice cream and crab fries. Because you know.
We had a big Easter dinner that night back at my parents' house, and it couldn't have gone better. After dinner, we played games and ate way too many cupcakes. Oh, yeah: and a chick fell into my wine glass.
On Sunday, we went to mass and then had a little Easter celebration back at the house. I went slightly overboard with Emma's Easter basket and gifts, as did the rest of the family. ;) Oops! First grandchild, so that'll happen, I suppose. But she loved it!
And a huge thanks goes out to my aunt and uncle for bringing NYC bagels. Month MADE, guys.
Definitely hard to say goodbye to everyone, but looking forward to seeing my cousin and her boyfriend in Chicago in May! (Fingers crossed that it works out!)
Emma's Burberry Jacket, Nautical Top, Ralph Lauren Leggings & Similar Mary Jane Sneakers
Everyone left mid-day, but Mitch and I stayed back with Emma so she could nap. When she woke up, we took her down to the beach so she could get some fresh air. She's such a beach baby. Can't wait to get her back to OC for the Fourth of July!
Also, Mitch took the above photos with his iPhone. Aren't they stunning?! Can't believe how great "portrait mode" can be.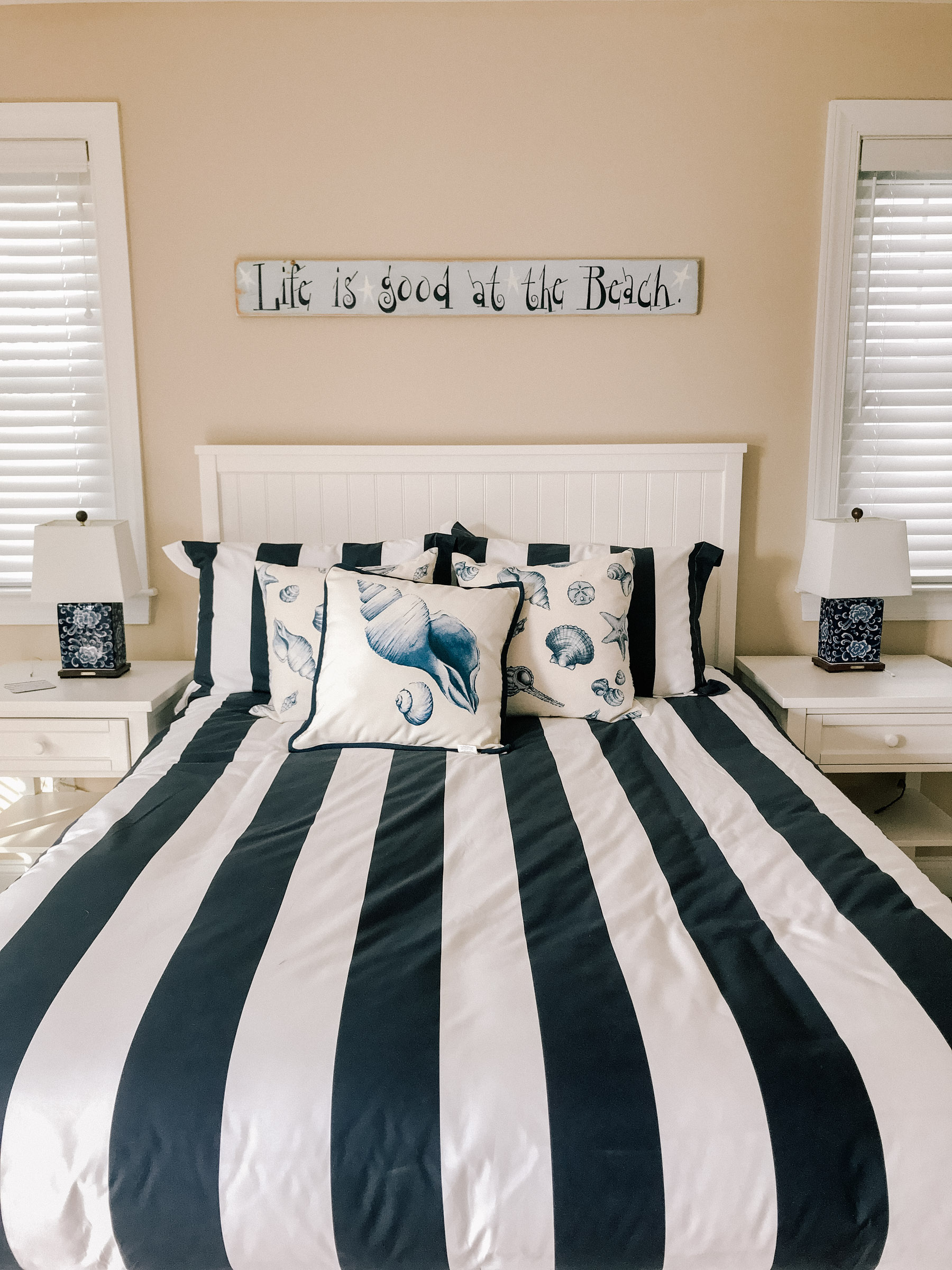 Navy Stripe Bedding / Bed & Nightstands
Goodbye, OC!
Similar Desk (Considering this for our home office renovation!)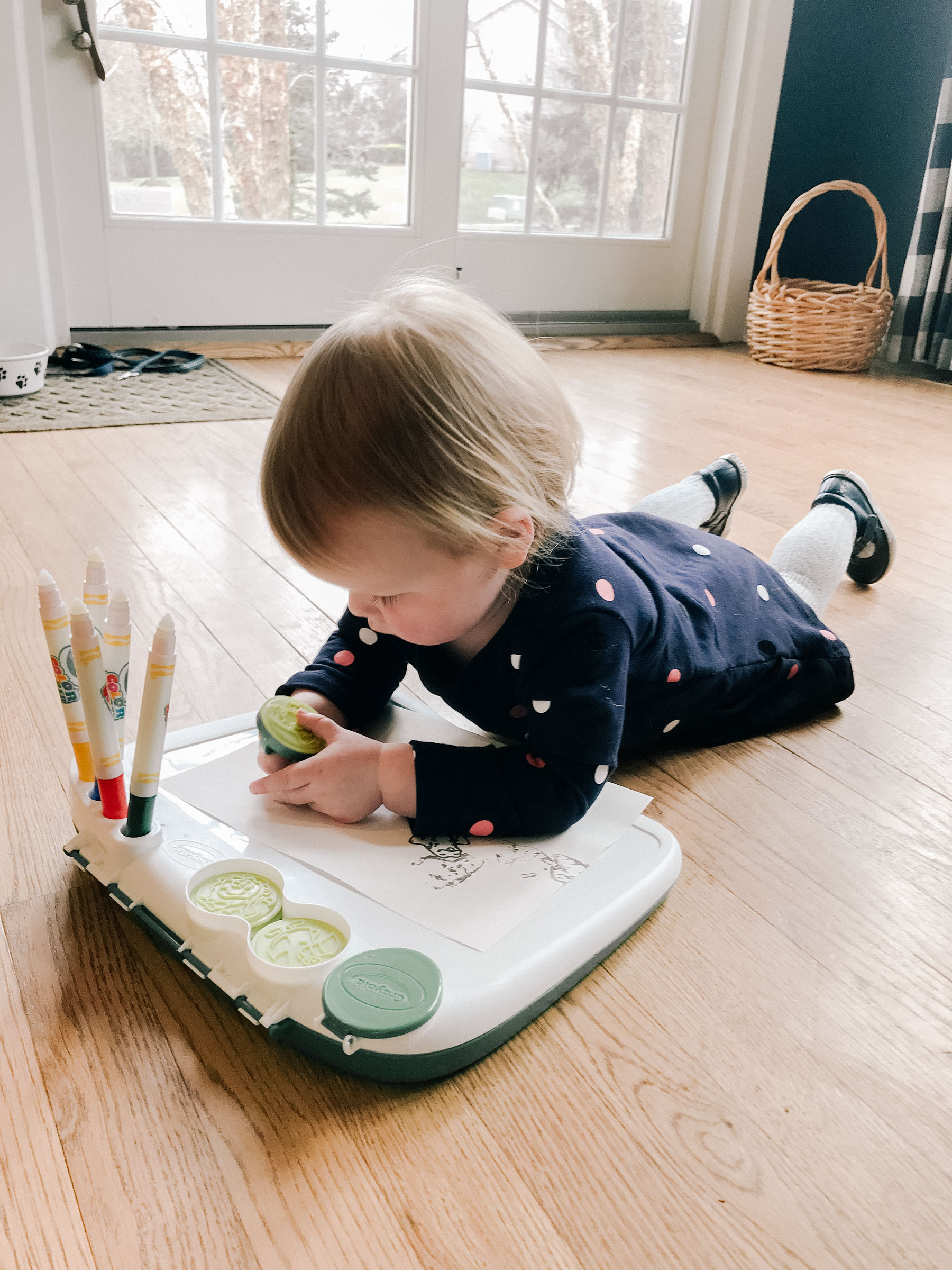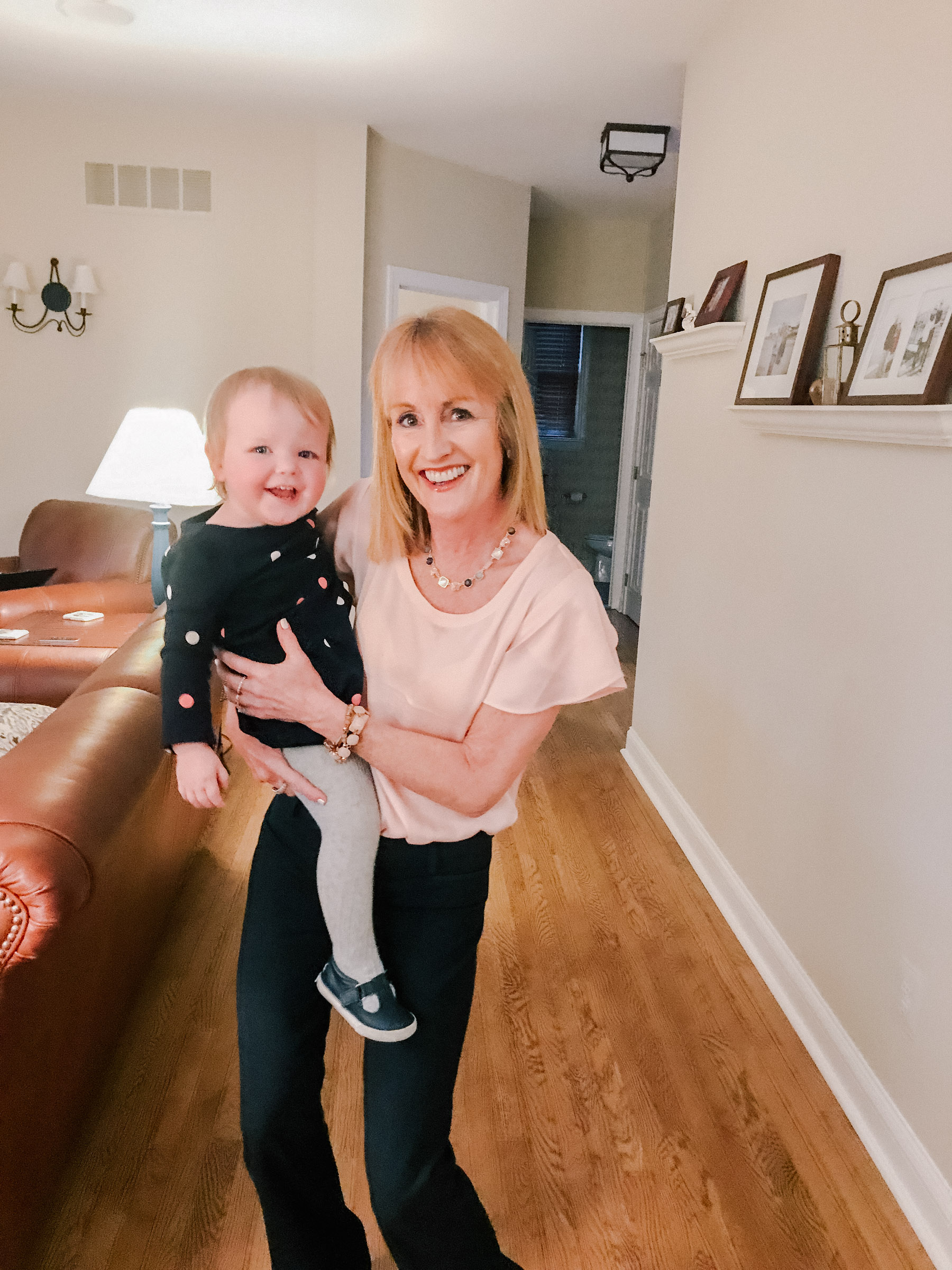 We headed back to my parents' home in Yardley, Pennsylvania that night. The next night, my Aunt Michelle drove from Long Island for dinner–just so she could see Emma! (How amazing is she?!)
Long story short, Emma is infatuated with her grand aunt. Thank goodness she's coming out to visit in a couple of weeks, because the tears were a-flowin' when she left, too. Happy birthday, Aunt Michelle! We love you and can't wait to see you in Chicago. Thank you so, so much for making the trip!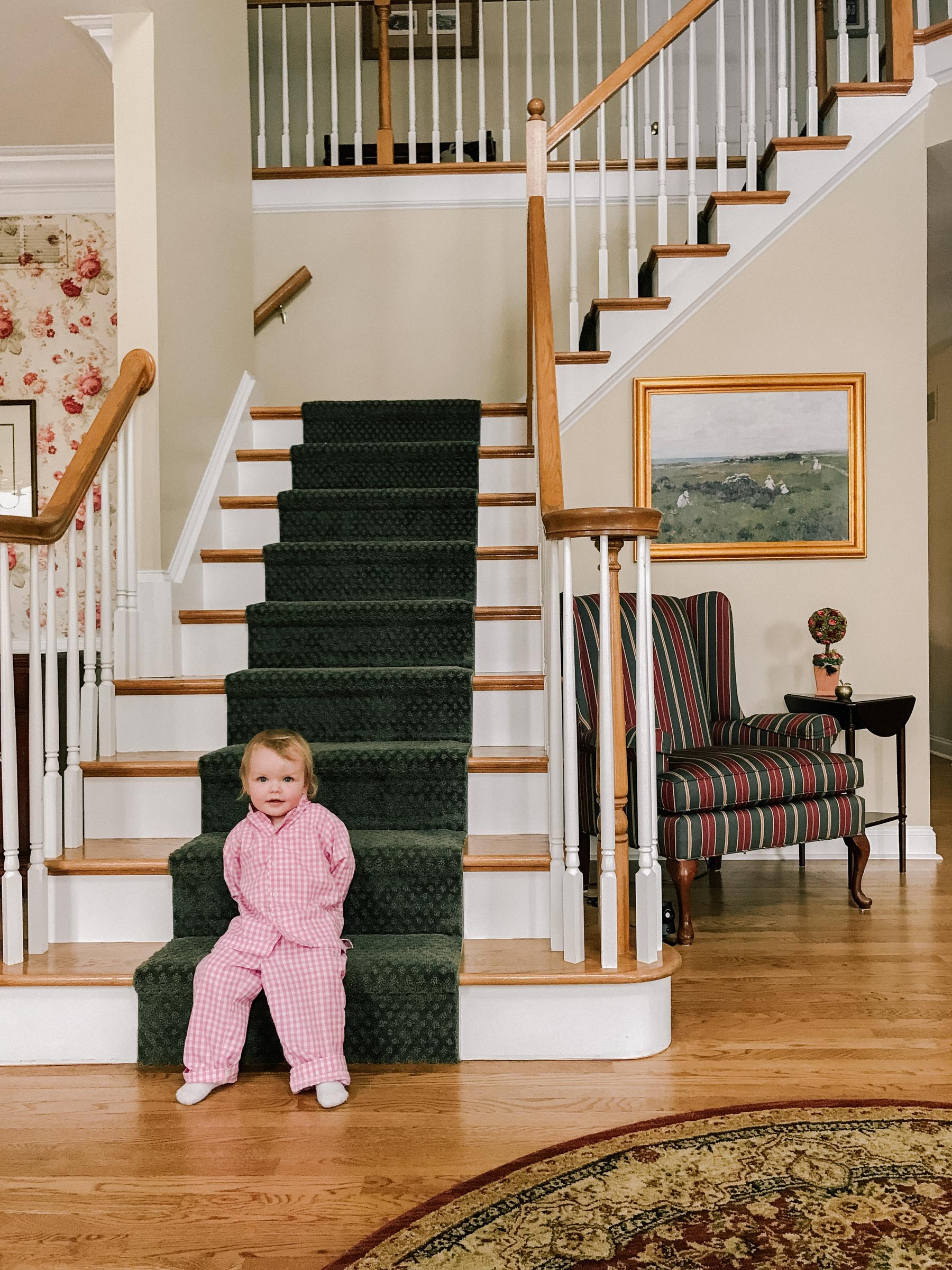 We left Tuesday morning, and made the entire trip in one day! Emma was–once again–the greatest baby in the history of the world, and I can't believe how well she handled it. Granted, she received two Happy Meals that day… but STILL!
And now we're in Chicago, slowly getting back into the swing of things, and catching up on life. Happy to be back, and excited to reinvest myself in this blog. :)
Over and out, Friends!
SaveSave