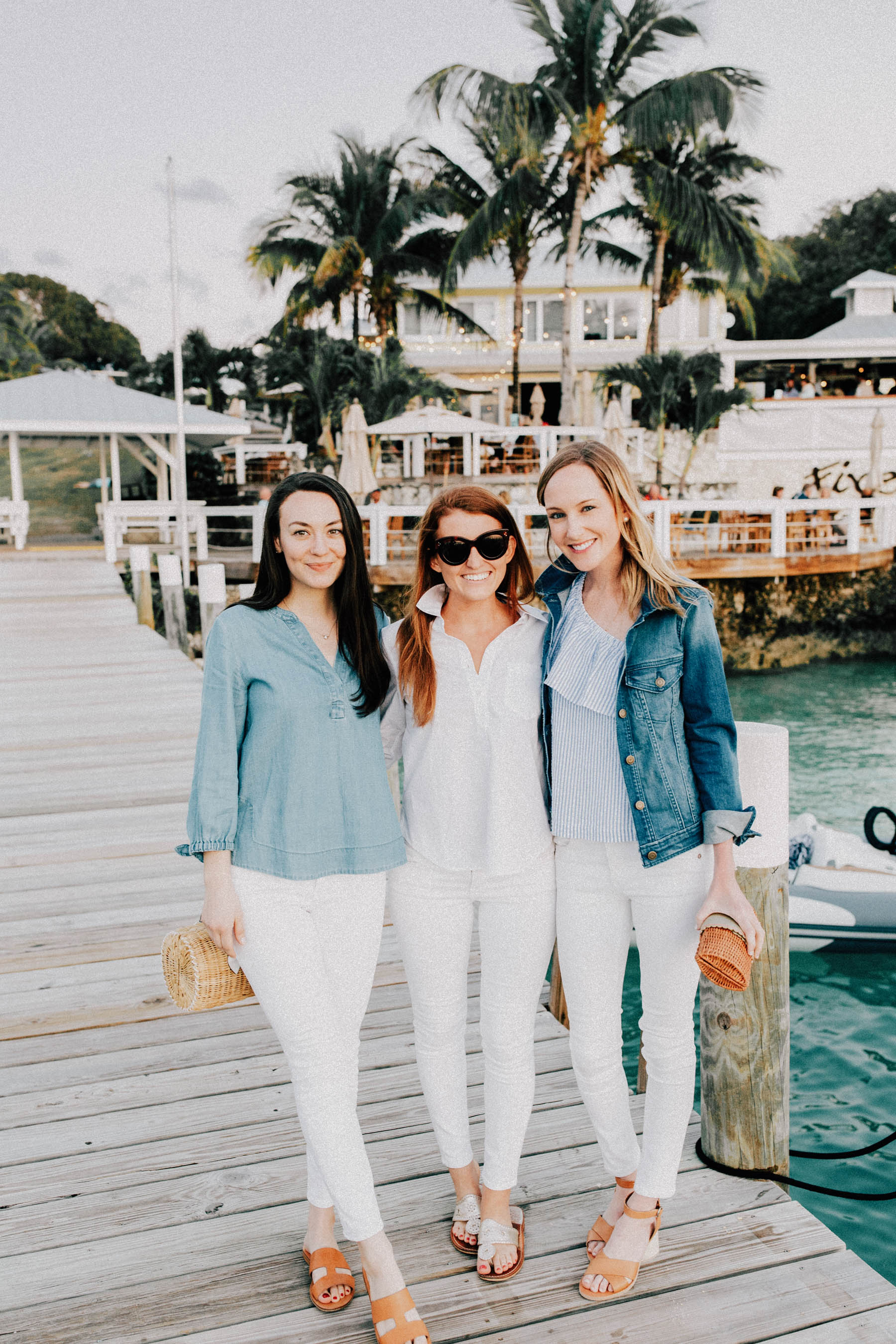 Jeans / Carly's Top / Mackenzie's Top / My Seersucker Top / My Denim Jacket
A couple of weeks ago, I headed down to the Bahamas with my friends Carly, Mackenzie and Sean (our amazing photographer) to tour the Abacos Islands with Vineyard Vines and The Moorings via a chartered yacht. (Pinch me! Win a similar trip here. Entering is so easy!) It was, without a doubt, one of the most amazing experiences I've ever had, and I'm so excited to share it with you today! (Note: Most of the pics you see in this post are iPhone snaps; I'll post Sean's beautiful DSLR photos soon!)
Of course, we did and saw so much on the trip that there's absolutely no way I could ever fit everything into a single post. So consider this the overview, and prepare yourself for a lot of Abacos posts in the coming days and weeks. :)
Anyway.
I'll admit that in the time leading up to the trip, I was pretty nervous. I knew Carly and Mackenzie from New York, but I started my blog just as I was leaving the city, and therefore never got to know them very well. When I first moved to Chicago, though, Mackenzie promoted a big project for Mitch's school and had it funded in what seemed like seconds. (The sweetest. I still tear up thinking about it!).
And last year, Carly and I exchanged phone numbers, and started texting on a near-daily basis. (That sounds creepy, haha… but working from home can be a bit solitary, and it's so nice to have buddies, even if they're far away. I also feel like we clicked right from the get-go, and now I get sad if we go too long without talking!) That said, these girls were my Preppy Internet Friends, for all intents and purposes. What if it wasn't the same in real life?! 😂 And what about Sean?!
Long story short, I had nothing to worry about. So many laughs, great talks, and fun times–and we grew close almost immediately. If you didn't go to Catholic school, Kairos is a three- or four-day retreat that aims to help you get to know and grow closer with your classmates. (There's some religious and personal stuff in there, too, but we'll skip that for the purposes of this analogy. 😜) In that respect, our trip to the Abacos was very Kairos-like. As it turns out, you form a bond pretty quickly with people when you spend a week with 'em on a boat. ;) And as I write this post, I find myself missing my new friends!
I have a lot more to say on this, but I'll pause momentarily so this doesn't become one of those typical rambling posts of mine. Let's get to the trip!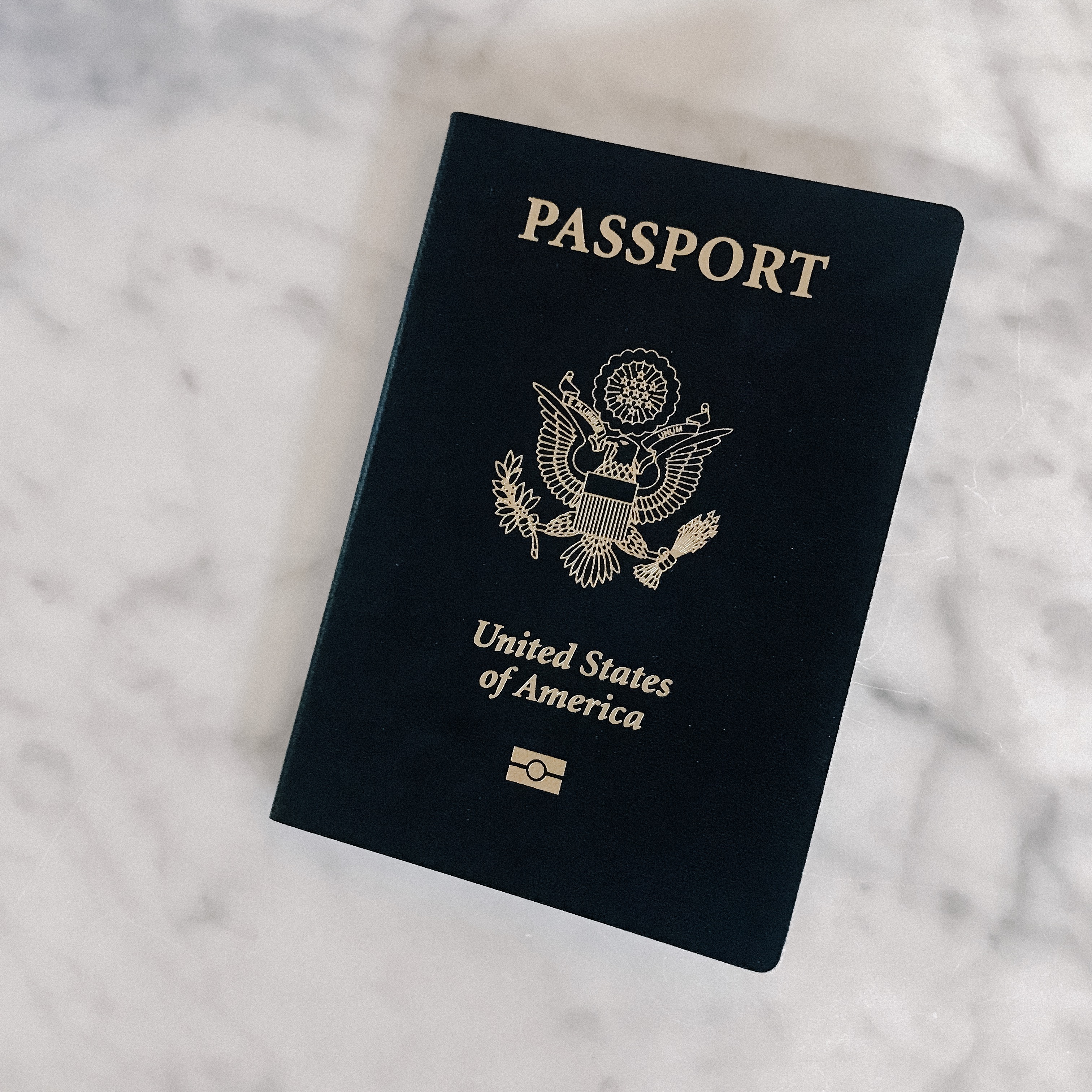 The passport saga
The story starts here, because Kelly Larkin did not have a passport when she received the invitation from Vineyard Vines and The Moorings, and she only had three weeks to get one. To back up, I should probably divulge this little bit of information: Mitch had been kindly reminding me to renew my passport since 2012, the last time we left the country together. The conversation occurred every year:
"Hey, Kelly! Since you changed your last name when we got married, you really need to get a new passport. Your old one also expires in 2017, so probably best to do it sooner rather than later. Actually, wouldn't today be a great day to cross that off your list?"
*Kelly does other, seemingly more pressing things for (literally) years.*
I have no defense for this. It was irresponsible. The best excuse I can come up with is that a small part of me thought I'd never need a passport again. Every year since 2012 had been crazy busy! From getting married and moving to a new city to buying a house and having a baby, when would we ever undertake such a big trip?!
Boom. Coolest blog-related invitation ever lands in my inbox, and my old passport is expired and has my maiden name on it. PANIC. (Husband was right.)
Luckily, I have some pretty great friends–and an amazing husband–who helped me get my documents in time. Chicago is essentially a hub for expedited passports! (Who knew?!) Two days and $175 later, we were in business.
Word to the wise: don't let your passport expire, even if you live in Chicago. You never know when something will come up!
Getting there
Newly acquired passport in hand, I boarded a plane from New York–where I was visiting my family–to Florida with Mackenzie. We killed a couple of hours in the Jacksonville airport together (so nice to chat in person!) and then hopped on a flight to Marsh Harbour, a small town in the Abacos. I love small planes, as my dad was a pilot and I used to fly with him as a kid. This one wasn't quite a two-seater–it held maybe 30 people–but definitely different than the planes we usually board out of Chicago!
We met Carly at Marsh Harbour, and took a 10-minute cab to The Moorings, where we checked in; met our skipper, who was in charge of navigating the yacht during our trip; and saw our yacht–docked right there! Sean's flight was delayed due to weather, so we dropped our luggage off on the boat and had dinner at a restaurant overlooking the marina while we waited for him.
All in all, I would say that getting to The Moorings was incredibly easy. I napped, finished a book for the first time in forever, and even wrote a few blog posts during my travels. And the fact that there was a great restaurant right there when we arrived? So nice!
The yacht
Sure. I'd seen yachts before, and fine: I'd craned my neck to see inside a few while walking the docks on Nantucket. But had I ever been on one before? Heck no! I am yachtless, and my friends are yachtless, too. 😂 Which, btw, is why I love The Moorings so much. You don't have to own or know how to operate a giant boat to go island hopping. Simply book a trip with The Moorings. It's actually reasonable when you do it with friends and family, and again: such a special bonding experience. (Our boat could accomodate 12 people!) Or better yet? Enter to win a trip similar to the one I took with Vineyard Vines! :)
But back to the boat. It was SO nice. Yes, the rooms were small, but they were comfortable. There were four cabins, each with its own bed, shelves, closet, and bathroom–complete with toilet, sink and shower. I should also mention that the outlets were compatible with our electronics, so charging camera batteries and phones wasn't a problem. The boat was air-conditioned as well.
As for the rest of the yacht, there were several areas where we could hang out: an indoor cabin, with a full kitchen and big table that converted into a bed if needed; a place to lay out in front; a "dining table" of sorts in the back; and an upstairs seating area where our skipper spent most of his time. You can actually tour the boat here. This is the exact one we had!
In terms of food and drink, we ordered it ahead of time with The Moorings, and everything was on the yacht when we boarded. (So easy!) We did eat most of our meals at restaurants while we were exploring the islands, but it was really nice to have snacks and whatnot just in case. :)
Oh! I received a few questions about whether it was difficult to fall asleep on the boat every night, considering I don't usually sleep "at sea." ;) Great question, but no! I think because the yacht was so large, and because we docked every night on an island, there was very little movement. And since we were so active during the day, I was asleep as soon as my head hit the pillow!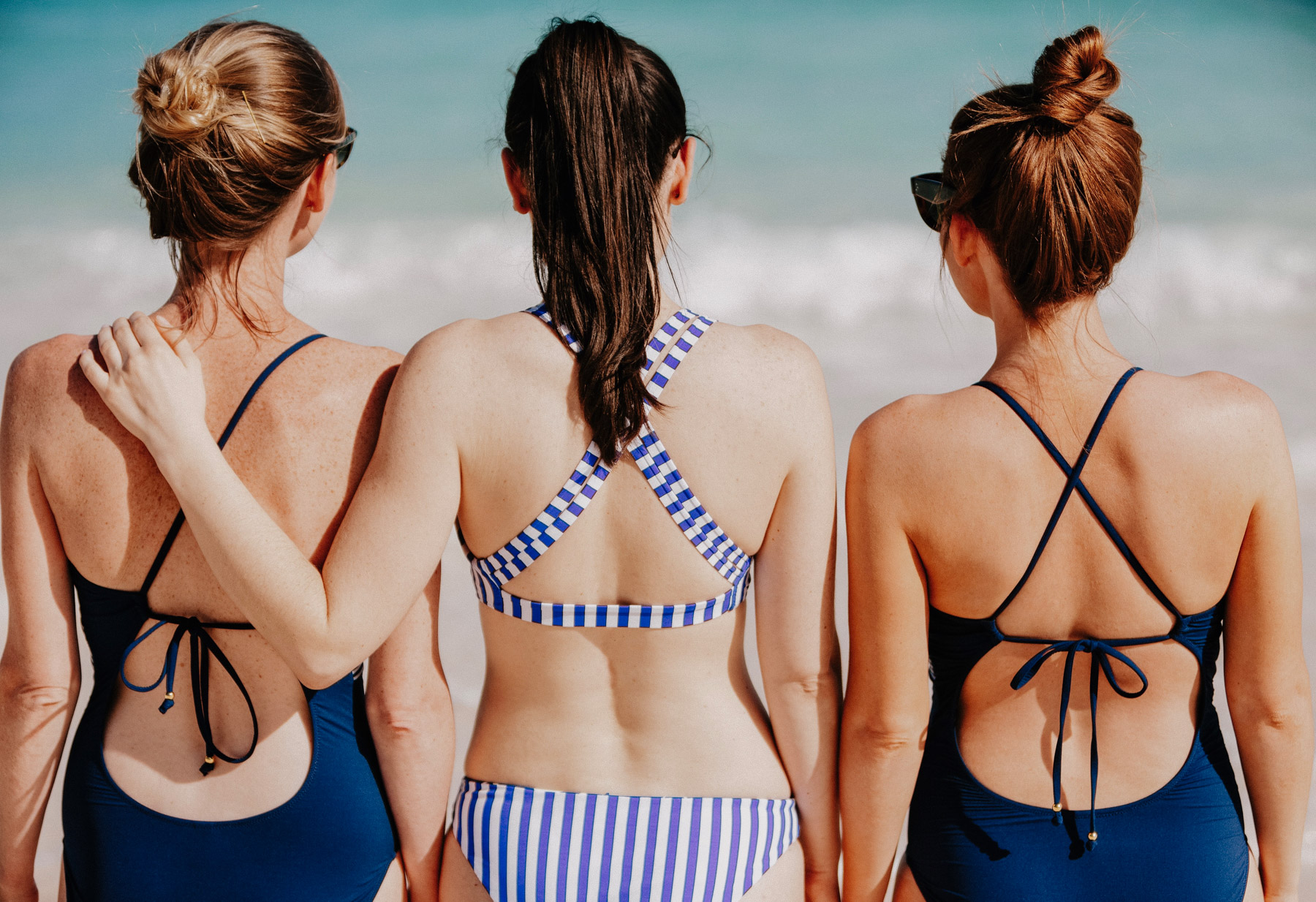 What we wore

Carly, Mackenzie and I (and Sean, actually) wore Vineyard Vines' spring and summer lines the entire time, and it was so fun! I loved this seersucker dress, this striped maxi, this gingham shirt dress, these striped pants, this seersucker coverup, this banana leaf maxi dress, this seersucker top, this gingham swing dress… but you can shop all my favorites above! And again, I'll be doing blog posts for all the outfits. :)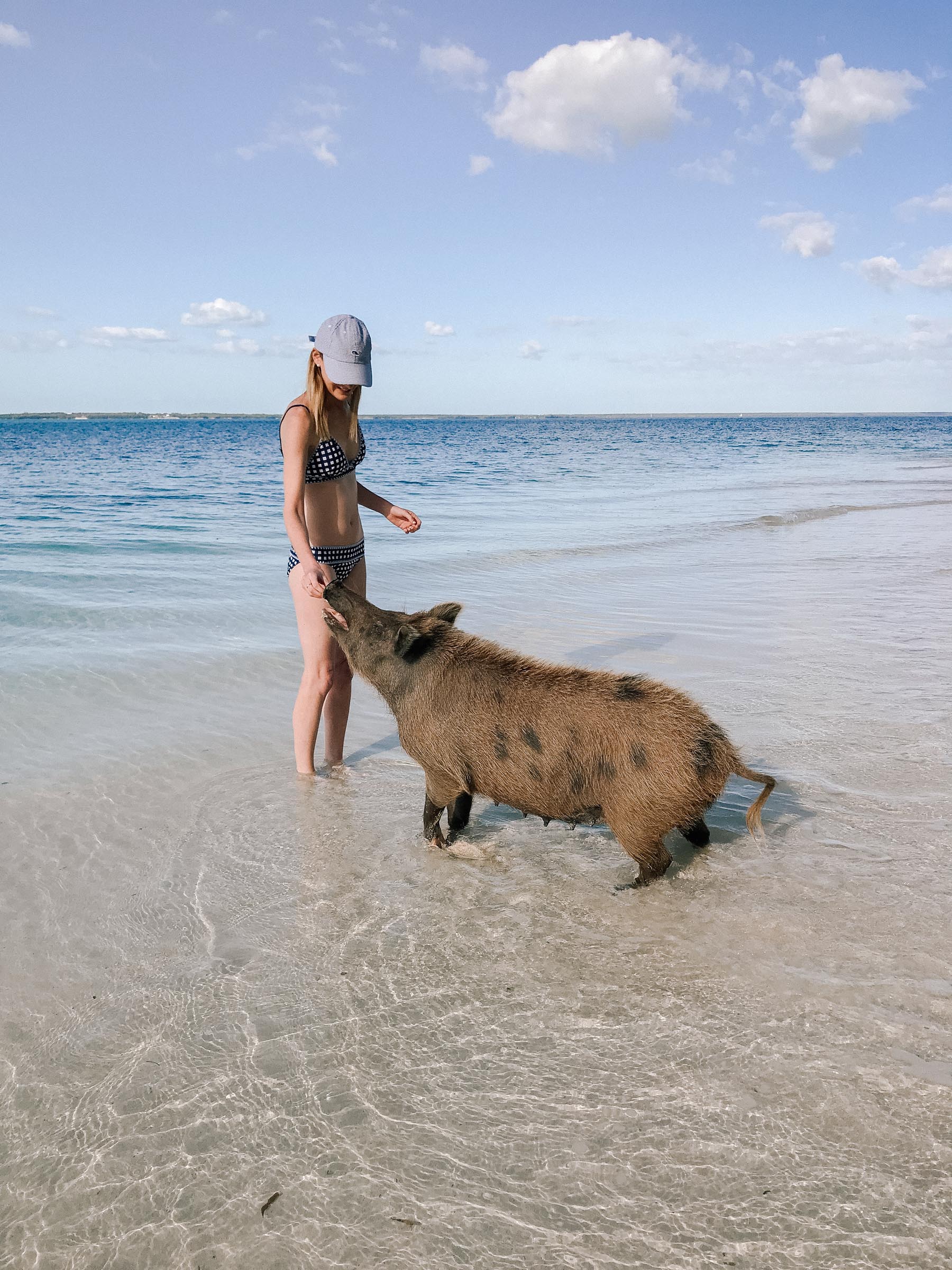 What we did
I can't believe how much we saw and did, but I'll break it down by day:
Monday:
Kind of already covered this, but we traveled to Marsh Harbour; had dinner at Blue Hole which overlooked the docks; and slept on the yacht, which was docked at The Moorings.
Coverup / Tote / Hat / Shep Shirt
Maxi Dress / Gingham Dress / Seersucker Dress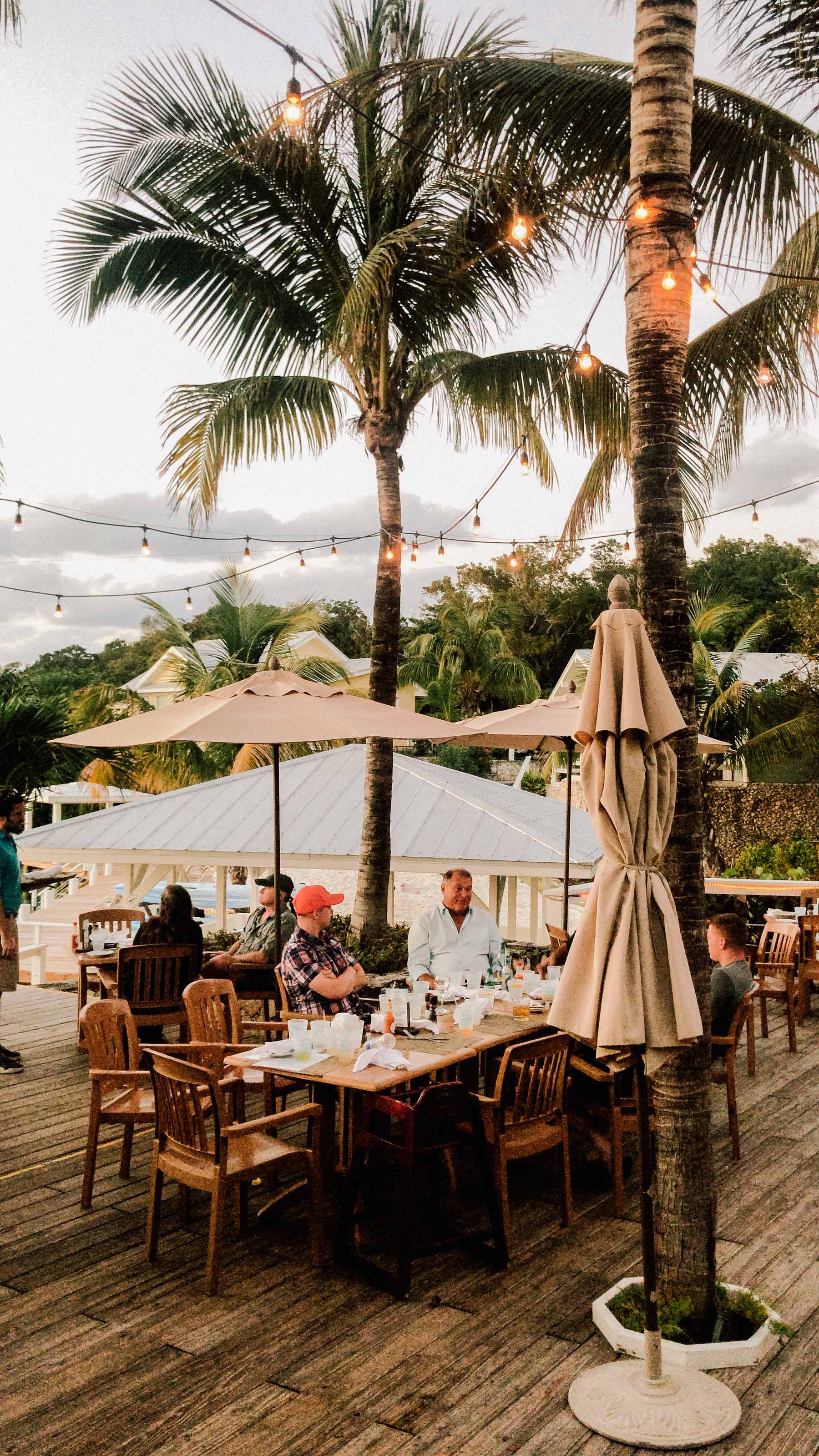 Tuesday:
Tuesday morning, we woke up and traveled to Elbow Cay, which is famous for its Tahiti Beach. We had breakfast at the Hope Town Harbour Lodge (couldn't recommend more!), and then spent a long time walking along the gorgeous beach. Remember Mitch's post on "Place Lag"? I totally had that while there! I couldn't get over how stunningly beautiful everything was. The crystal-clear water?! The unbelievably soft sand?! The palm trees?! I must have sent 200 photos to poor Mitch back in Chicago, haha.
After that, we explored the town, which is home to some of the cutest pastel houses I've ever seen. (Will definitely be doing a whole post on Hope Town soon!) Later, we took the dingy to the Hope Town Light House–one of the last manual light houses in the world–and played corn hole as the sun set. :) And that night, we had dinner at The Firefly, which was SO much fun.
Old clutch, but love this one!
Wednesday:
On Wednesday, we traveled to Green Turtle Cay, which is a three-mile-long barrier island, famous for its turtles. (The stingrays and sharks are located at nearby Nunjack Cay, and the "swimming pigs" can be found at nearby Noname Cay. More on that in Thursday's description!)
We had breakfast at the Turtle Crawl Cafe, which was a highlight of the trip, and then Sean rented us a golf cart, and we drove to see the turtles. Sadly, the water was a little choppy, and they weren't out in their usual abundance. I did, however, see one! And yes, I screamed, haha.
We spent most of the day on the beach, but that night, we docked at the Green Turtle Club. We had drinks at the Club's "Dollar Bar," which was adorable, and then dinner at the restaurant, which was off the charts. I think we may have all ordered the Jumbo Lobster and Artichoke Ravioli, which was out of this world. This was a really fun night; we sat at the table for the longest time, chatting and laughing.
Thursday:
No joke, Thursday was one of the best days of my life. 🙈 In the morning, took the boat to Noname Cay to see the swimming pigs. Because there was no place to dock a yacht, we loaded up my trusty tote bag with apples and loaves of bread, and took the dingy onto the beach. My heart was seriously racing as we approached; the pigs seemed to come and greet us!
I promise that I'll do an entire post on the pigs, but I absolutely LOVED the experience. Honestly, I could have spent an entire day there! I was a little nervous at first, since some of the pigs were massive… but I realized very quickly that they were sweet-natured and just wanted bread and apples. And while there were a few occasions when I dashed away from them, I held my own!
SO. MUCH. FUN. If you're an animal-lover, be sure to add this to your bucket list.
After Noname Cay, the girls and I decided to jump off the yacht. While this is not a Kelly thing to do–always freezing, even in July, and not into extreme anything–I did it, and it was a blast! Yes, Carly and Mackenzie gave me a little pep talk beforehand, and I jumped right into the hot shower afterward. But very, very happy I did it, and it's an experience I'll always remember. :)
Following that, we cruised over to Baker's Bay Golf & Ocean Club to meet Ian, co-founder of Vineyard Vines, at his vacation home. Sean kept telling us how incredible the club was, but I have to admit that I was still trying to wrap my head around the pig experience, and was kind of ignoring the Baker's Bay talk. 😂 But then I arrived, saw just how perfect it was, and found out who its residents were–and I suddenly remembered that my cousin once found herself hanging at the pool with Reese Witherspoon while babysitting for a Baker's Bay family. Let's just say it is by far the most gorgeous place I've ever been, and there is a little house called that's filled with candy for residents' kids. FILLED. I almost died. I chose a candy butterfly and it was the best candy butterfly I've ever tasted.
Anyway, Ian and his family were incredibly gracious and kind hosts, and they gave us a tour of their beautiful home and the rest of Baker's Bay. I've loved Vineyard Vines for many, many years (long before I had this blog) and I think the reason I've always loved the brand so much is because it's such a family-focused company. Hanging out with Ian, his wife, and their sweet children just reaffirmed all of that. They treated us like old friends, and I know we were all truly grateful for everything. :)
Later, we grabbed lunch at Nippers, which had such a fun, lively vibe. Not sure shoes were even a requirement! In all the excitement surrounding the pigs and the candy house, I'd kind of forgotten to eat that day, and so I scarfed down my sandwich in record time. We then climbed on the rocks (photos to come!) for a little while, and went "home" to edit photos and write posts. (While our days were mostly filled with adventure, we made sure to reserve an hour or two every day to get work done.) That night, we met up with Ian and his wife at Grabbers for cocktails and some live music. We also met golfers Justin Thomas and Tom Lovelady, which sent my family into hysterics. (Big golf fans, haha.)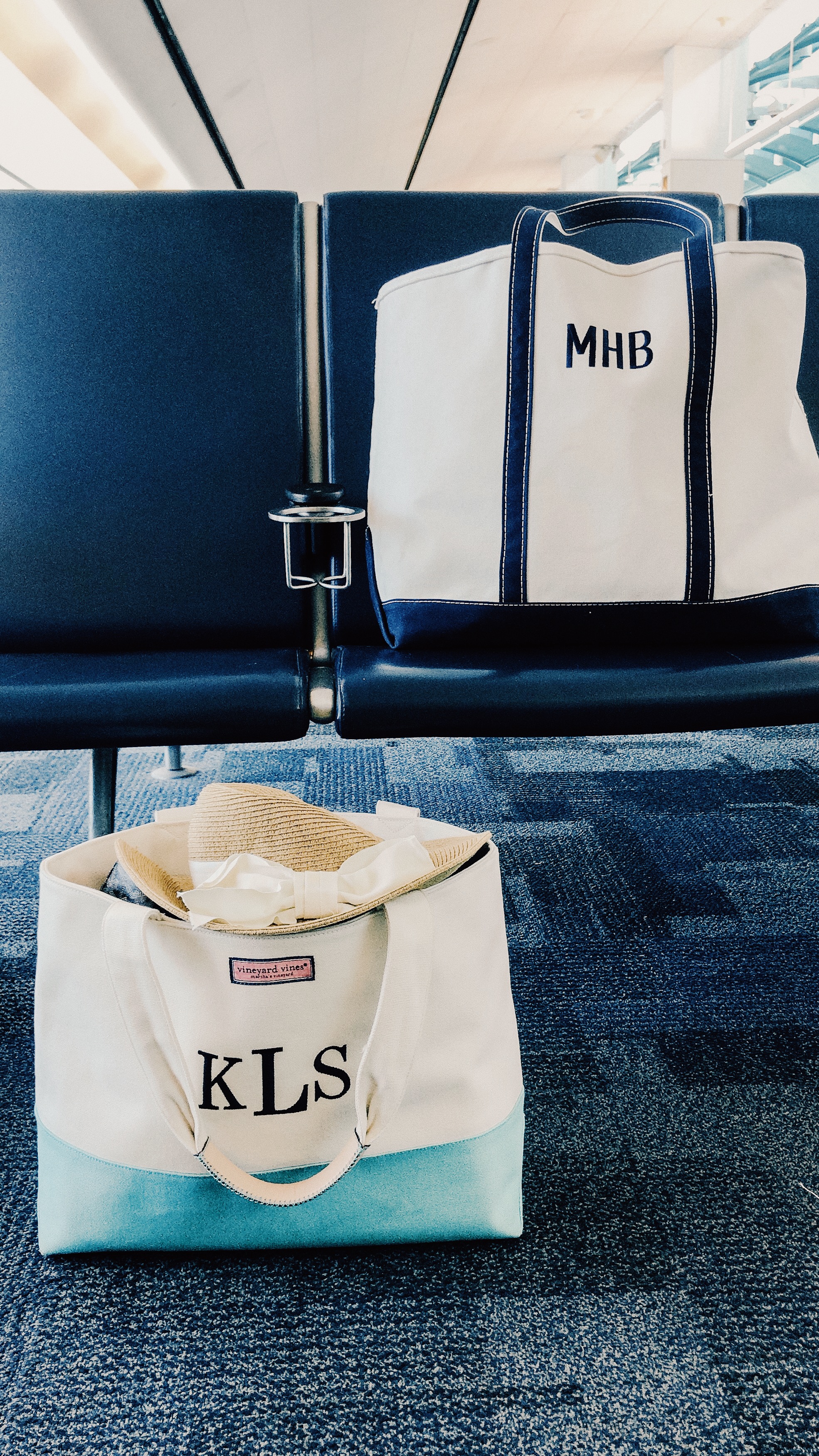 Friday:
We departed early the next morning, as soon as the sun came up, since we all had relatively early flights. Parting was tough, but I couldn't wait to see Mitch and Emma!
Thank you!
Again, I have so many fun blog upcoming blog posts about everything you just read about, and I can't wait to share those! But I also wanted to extend some thanks.
To Vineyard Vines and The Moorings: Thank you for the trip of a lifetime! This was the coolest trip I've ever been on. I am so grateful for everything you did for us, for your kindness, and for your awesome senses of humor. Nicole, Annie, Ashley and Ian P., you guys rock. (And this is for you, Annie.)
To Ian and his family: Again, you have a wonderful family, and I can't thank you enough for your kindness and for such a fun day. If you're ever in Chicago, we'd love to show you around Lincoln Park. ;)
Carly and Mackenzie: Guys, thank you so much for welcoming me with open arms. It meant so much. I know we didn't know each other too well before this trip, but now it feels like we've been friends for years, and I love that! I'm sad we live so far apart, but I guess we just need to schedule a reunion soon. ;) I already called Lloyd and he's down.
To Sean: You. Are. Amazing. I know I mentioned this earlier, but Sean (here's his website!) was our photographer on the trip. This was fantastic, as we really didn't need to worry about shooting; we just had fun. While his photos were unbelievably beautiful and so artistic, I definitely need to mention just how much he did for us throughout the trip.
He did everything.
He handled phone calls. Scheduled rentals. He made sure none of us fell into the water when getting on and off the boat. He carried our stuff. Told us our hair looked great when clearly it did not. He made sure we made it to our flights on time. Protected us from cats. (This is a joke but also kind of true. 😂) He went above and beyond with his role, and if you live in New England and are looking for a photographer (or protection from cats), this is your guy.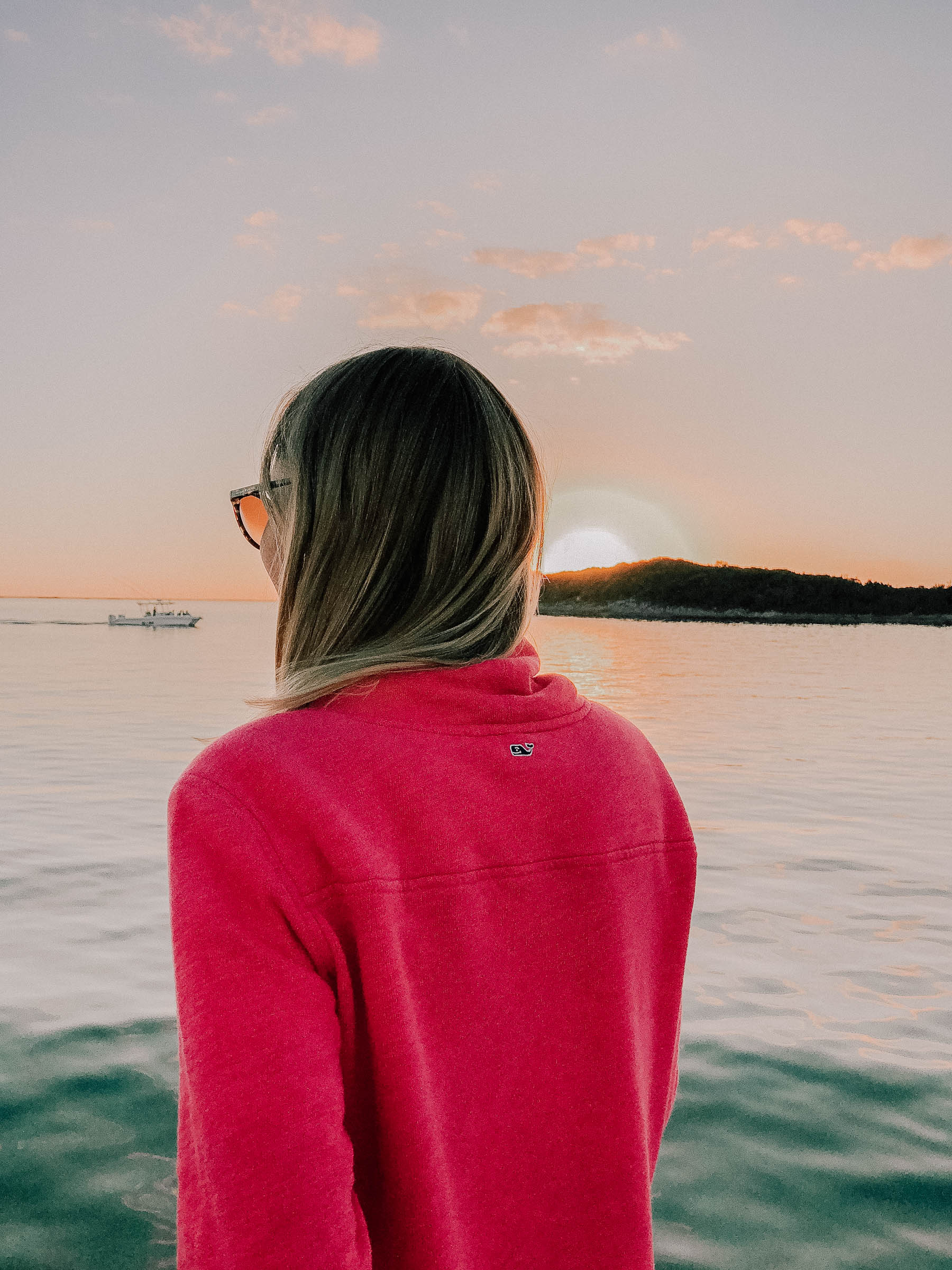 Win this trip!
Now, here's the fun part. Vineyard Vines and The Moorings are giving away a similar trip here! I would absolutely LOVE it if a Kelly in the City reader won. (Eeee! Fingers crossed for you.) It takes about five seconds, so go, go, go!
Good luck!

SaveSave