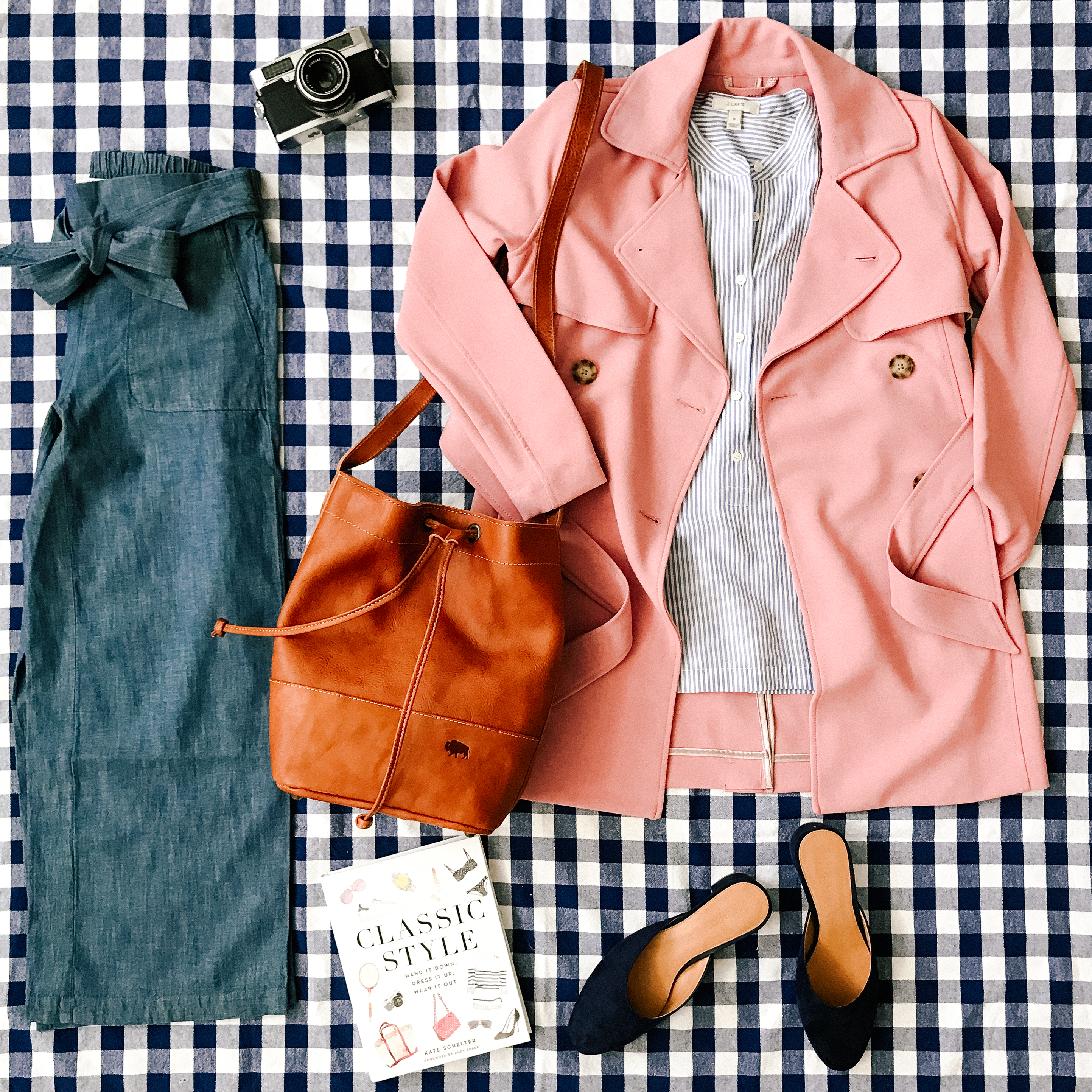 Pink Trench Coat (Also love this one because it comes with a quilted liner, this single-breasted one, and this other pink one.) / J.Crew Factory Mules c/o and Bow Pants (SO flattering!) / Similar Striped Top / Classic Style
I'm trying hard to pair more giveaways with my "Recent Finds" posts, and I'm excited to bring you another one today! (Congrats to Abby M. for winning last week's giveaway, btw.)
To enter to win this gorgeous (real leather!) bucket bag from Buffalo Jackson, simply leave a comment in the comment section below. Remember to leave your e-mail in the following format so the robots don't spam you: name (at) gmail (dot) com. Good luck! Winner will be announced in next week's Recent Finds post. :)
Here's what's going on with the Larkins:
We're furiously cleaning, doing laundry, and decluttering! I've been gone for SO LONG and the house has fallen into disrepair, haha.
I'm trying to catch up with the blog. Likewise, I feel like this site has fallen into disrepair. Blogs need so much care and attention, and I definitely haven't given mine that over the last month. I was a bit disheartened about it a couple of days ago, only because I LOVE blogging and want to spend more time on it. But I'm now feeling excited about putting my heart into it again. Amazing what being home for a couple of days can do for a girl, huh? (SO pumped about tomorrow's post on the Vineyard Vines/Moorings trip I took with Carly, Mackenzie and Sean!)
We're trying to make plans for this weekend. It's our first weekend in Chicago in a long time, but it's going to be cold and windy. Any recommendations on bright, cheerful indoor spots to visit? (Besides the conservatories, since we frequent them a little too much, haha. FOREVER grateful for your recs!)
Noodle is dropping the pounds. Thank goodness. I credit this to her getting boarded for our trip to Seattle, as she runs around all day with her furry little friends. But she's looking trim! Can't wait for things to warm up so we can start taking her to the doggy social hour at our nearby park. It's so cute, and I know Emma will love it now that she can walk.
I'm turning the guest room into an office. Did I already mention this? I probably did. Yes, this is like the sixth time I've redone that room since we bought the house, but I'm going crazy. I need a workspace, and so does Mitch. (And one that is not covered in sticky toddler food at all times.) I'm thinking about painting the room the same color as the rest of the house (Benjamin Moore's "Owl Gray" diluted by 50 percent) and getting this desk whenever it goes on sale. Thoughts? I also need a cute cabinet that will hold tons of stuff and show zero clutter. This one is cute and it would match, but the bill is getting high and I fear clutter. Haaaaalp, haha.
Recent Finds, 3/24
SaveSave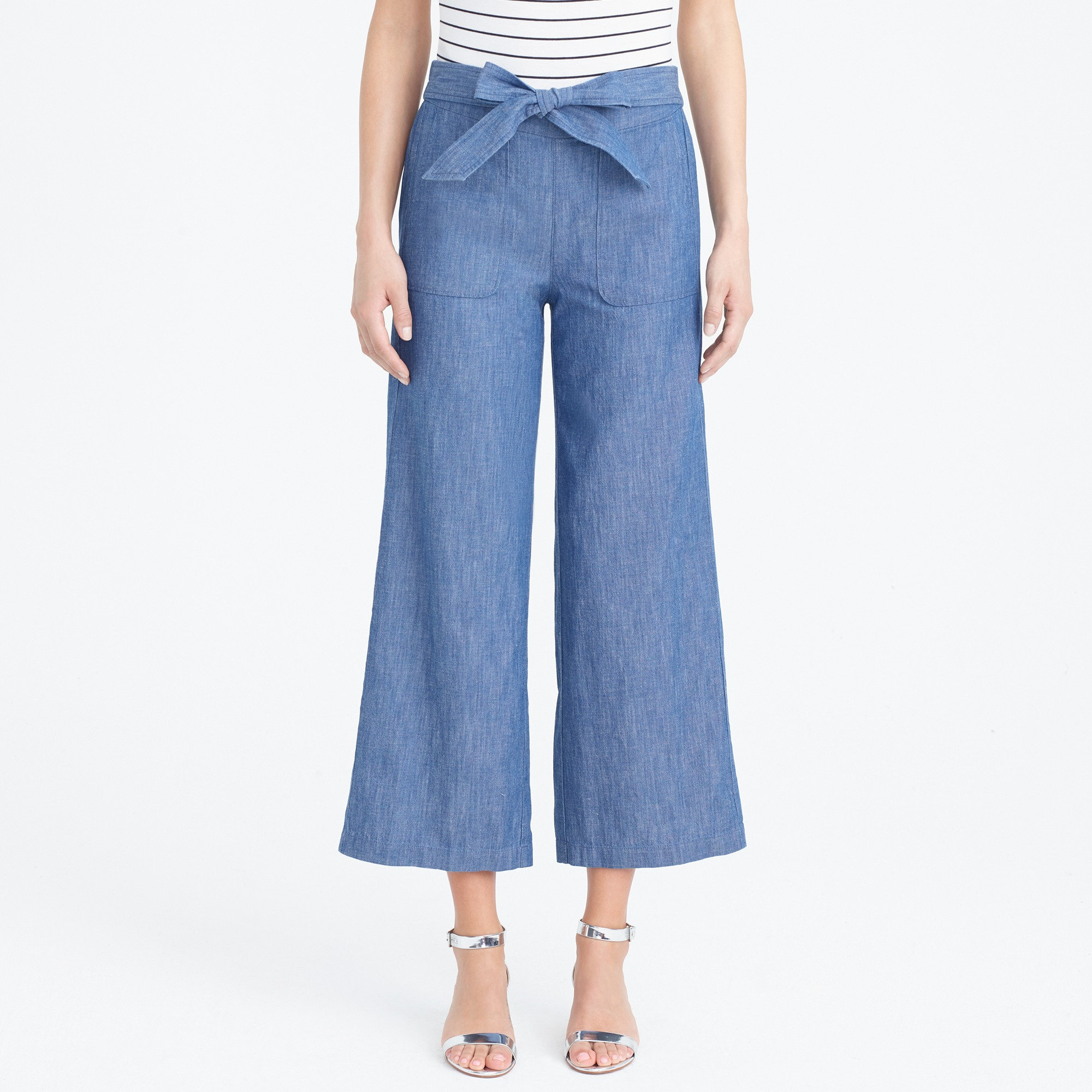 These are the pants you see above! They are SO CUTE ON. Can't wait to show you. Note: They run TTS, and the color is a little off in my photo because I took the pic on a dark and dreary day. J.Crew's pic is more accurate.