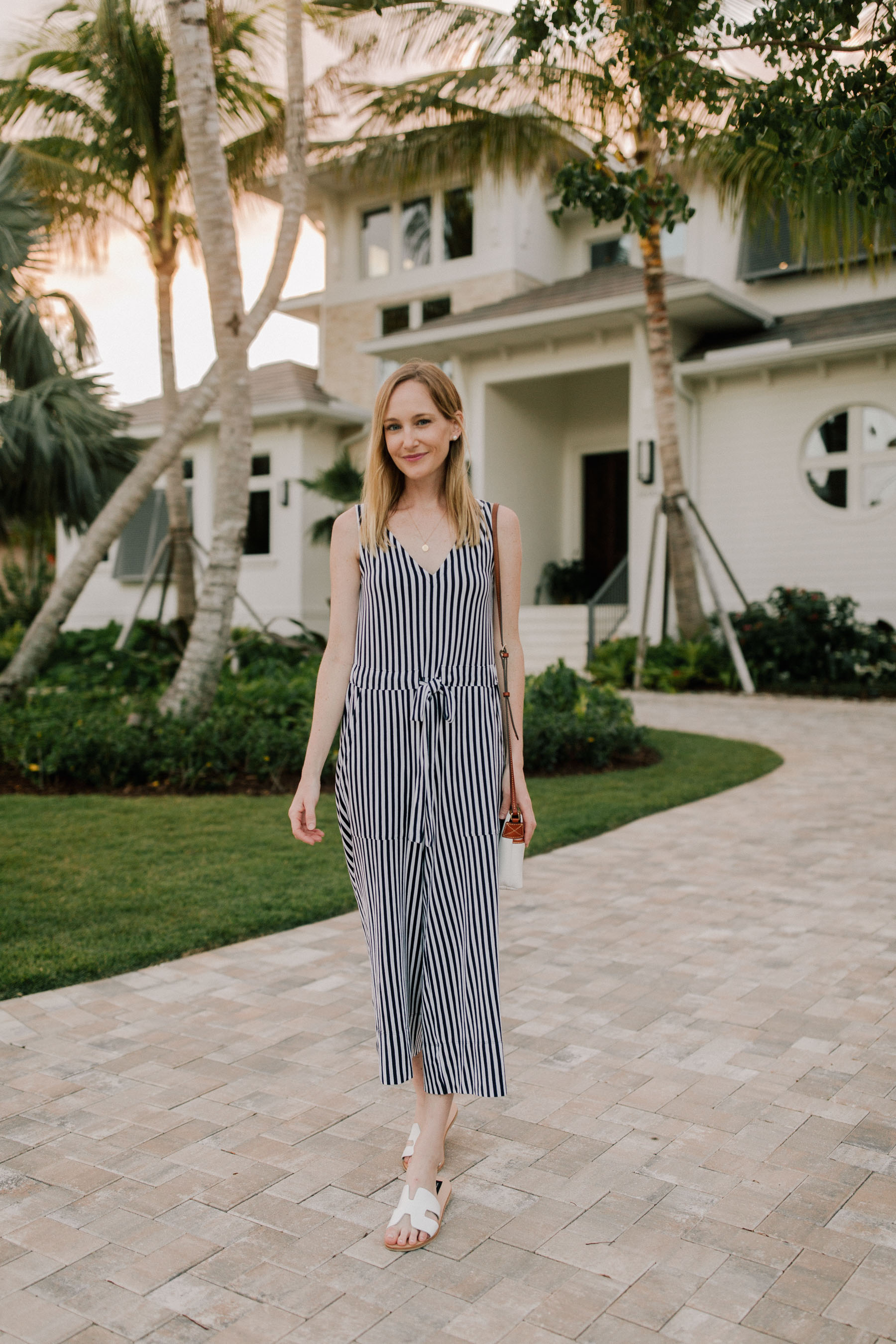 MDS Stripes Jumpsuit (Also available at Revlove, NET-A-PORTER, and Saks. I'm wearing a 2, for reference.) /Steven by Steve Madden Greece Slides (Available at Tuckernuck, Zappos, Amazon and Shopbop. I love Everlane's Bridge Sandals, too!) / Dooney & Bourke Bag (Also love the navy striped version!) / Kate Spade Initial Necklace (Also at Shopbop.) / Kira's Dress (And have you SEEN this one?! So exited about it! Here's a similar one.) and Sandals / Emma's Dress and Sandals / Mom's Dress (Old) and Sandals (Newer version.)
Did you catch yesterday's post?! It went up pretty late, as I apparently forgot to schedule it, haha. But I love the photos, and I hope you'll check it out!
Jumpsuits and overalls are my thing this year. I love that most of 'em make a statement while being relatively modest, and I also appreciate that they keep me a little warmer and provide some added sun protection, depending on where I am. Oh! They're great for chasing around a toddler, too.
I wore this little number (also available at Tuckernuck, Revlove, NET-A-PORTER, and Saks) to dinner at Barbatella with Kira, my parents, Mitch and Emma while we were in Naples. SUCH a fun night! Kira was down visiting her parents in Fort Myers, and the drive to Naples wasn't too bad… so she popped down for an evening, and we had the best time.
Emma was in her element, and she spent the majority of her time "cheersing" us with her sippy cup and wandering from table to table, making new friends. If you scroll down, you can see a snap of my mom with Emma, making rounds together. It was seriously the cutest, and I'm definitely going to treasure that photo forever.

But let's get back to the topic at hand: jumpsuits and overalls. Above are some of my faves. In my cart? This striped one, this blue striped J.Crew jumpsuit, these classic overalls, and this goes-with-anything white jumpsuit that I'm totally in love with. Any other gems I might have missed?!
Shop the post:
MDS Stripes Jumpsuit (Also available at Revlove, NET-A-PORTER, and Saks. I'm wearing a 2, for reference.) /Steven by Steve Madden Greece Slides (Available at Tuckernuck, Zappos, Amazon and Shopbop. I love Everlane's Bridge Sandals, too!) / Dooney & Bourke Bag (Also love the navy striped version!) / Kate Spade Initial Necklace (Also at Shopbop.) / Kira's Dress (And have you SEEN this one?! So exited about it! Here's a similar one.) and Sandals / Emma's Dress and Sandals / Mom's Dress (Old) and Sandals (Newer version.)