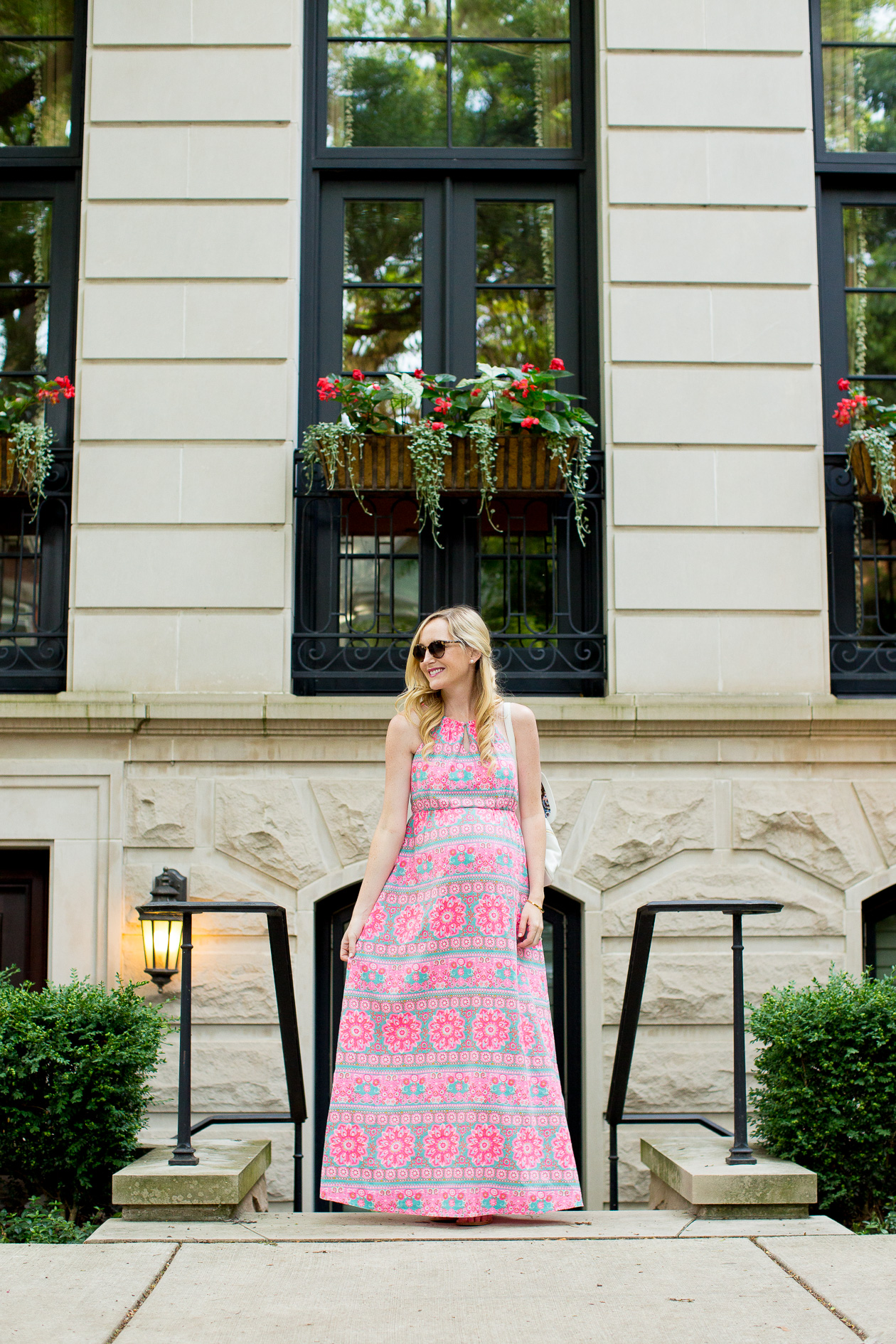 Vineyard Vines Maxi c/o (Other VV maxis here; you can also shop Vineyard Vines at Nordstrom) / Jack Rogers Sandals (Also love these and these!) / Vera Bradley Backpack c/o (Also available at Zappos) / Moon and Lola Pearl Earrings c/o / Similar Sunglasses / Monica Vinader Bracelet c/o
Quick (and late) post today, as Mitch and I are celebrating Father's Day weekend together, chore-free! Because of how much I've been traveling lately, and because of all the house-related drama, Mitch and I haven't had a free weekend in… months? It's been so nice and relaxing that I've been giddy. We've been wandering the city, hanging out on the beach, going out to eat way too much, enjoying the sunshine, and soaking up "twosome time." (Crazy that in only a few short weeks, there will be three of us! And with Noodle, four, haha.)
Anyway, it goes without saying that I'm so, so lucky to have Mitch in my life… and I know he's going to be the most incredible father. (He already is!) Mitch, thank you for being so supportive, loving, selfless, understanding and fun throughout the course of our pregnancy. You are everything, and I can't wait for this next chapter of our lives. <3 Happy Father's Day! I love you!
(And Dad and John, we love you so much! Thank you for being such amazing role models for us. We wish we were with you today!)
Also: this is what I wore yesterday! Can't get enough of Vineyard Vines this season, and really grateful this gorgeous non-maternity maxi works for me! ;)
Shop the post:
Vineyard Vines Maxi c/o (Other VV maxis here; you can also shop Vineyard Vines at Nordstrom) / Jack Rogers Sandals (Also love these and these!) / Vera Bradley Backpack c/o (Also available at Zappos) / Moon and Lola Pearl Earrings c/o / Similar Sunglasses / Monica Vinader Bracelet c/o
Remember to shop Lilly's "You Gotta Regatta" popup shop before it sells out!