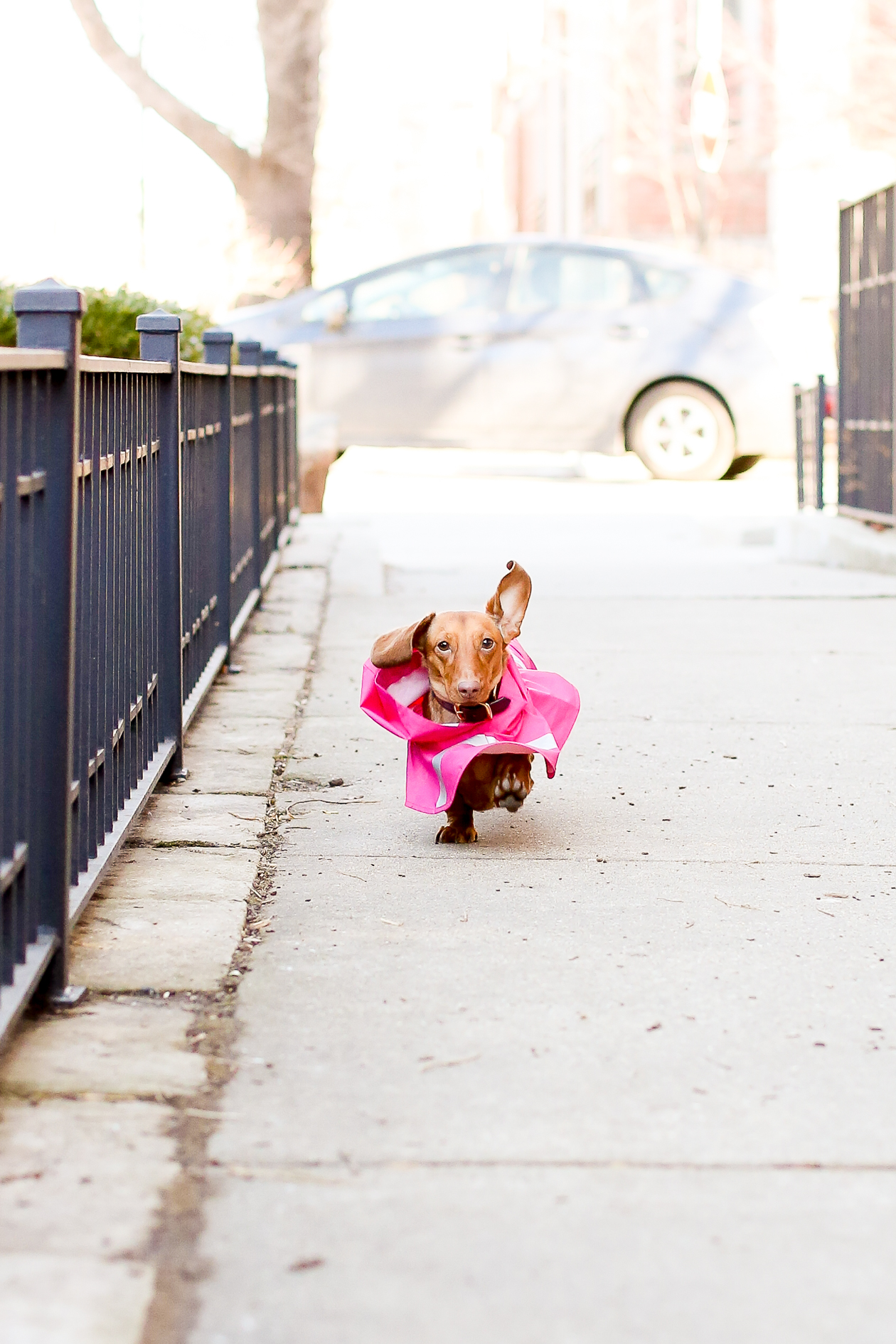 Charles River Apparel Crossover Pullovers (Womens/Mens) and Doggy Raincoat c/o / LuLuLemon Leggings / Nike Sneakers (On sale!) / Vera Bradley Backpack c/o (Also available via Zappos) / Kate Spade Sunglasses (Old, but LOVE this similar pair!)
Two giveaways in two days?! That's how we roll during the last week of February. ;) See yesterday's giveaway here!
These photos were snapped this past weekend during our walk to the park sans jackets. Well, Mitch and I ditched the outerwear, but little Noodle wore her new pink raincoat from Charles River Apparel, which has been a lifesaver recently–even when it's not raining. As we had a snowstorm last week and are now experiencing much warmer temps, Chicago has been one giant muddy puddle as of late. And since Noodle is so low to the ground, she's a complete disaster every time we go outside. I think I've given her three baths over the last week! The raincoat, though, keeps the majority of the muck off her.
The sweetest thing is that Noodle actually likes her (machine-washable) doggy raincoat. Maybe because it's pink, and she's sick and tired of people assuming she's a boy, haha. Or maybe because she's always cold, and it provides a little extra warmth. Whatever the case, I die every time I see her run down the street in it. (And don't worry: Noodle is amazing off-leash, and she's too scared to leave our sides! She's under my feet so much that I often trip over her!) Holy cuteness.
In terms of the adult clothing you see featured here, Mitch and I are both wearing Charles River Apparel Crossover Pullovers, which are the comfiest and most breathable tops we own for our long morning walks around Chicago. We also love that the tops feature thumbholes, as all tops should, in our opinion. ;)
Mitch and I are such big fans of Charles River Apparel athletic gear that today, we're teaming up with the company to give away either a pullover or doggy raincoat to two lucky Kelly in the City readers. :) To enter, simply use the Rafflecopter widget below. (If widgets aren't your thing, you can simply comment below on why you'd like to win, but remember: there are SO many extra entry options within Rafflecopter!)
Outfit Details:
Charles River Apparel Crossover Pullovers (Womens/Mens) and Doggy Raincoat c/o / LuLuLemon Leggings / Nike Sneakers (On sale!) / Vera Bradley Backpack c/o (Also available via Zappos) / Kate Spade Sunglasses (Old, but LOVE this similar pair!)