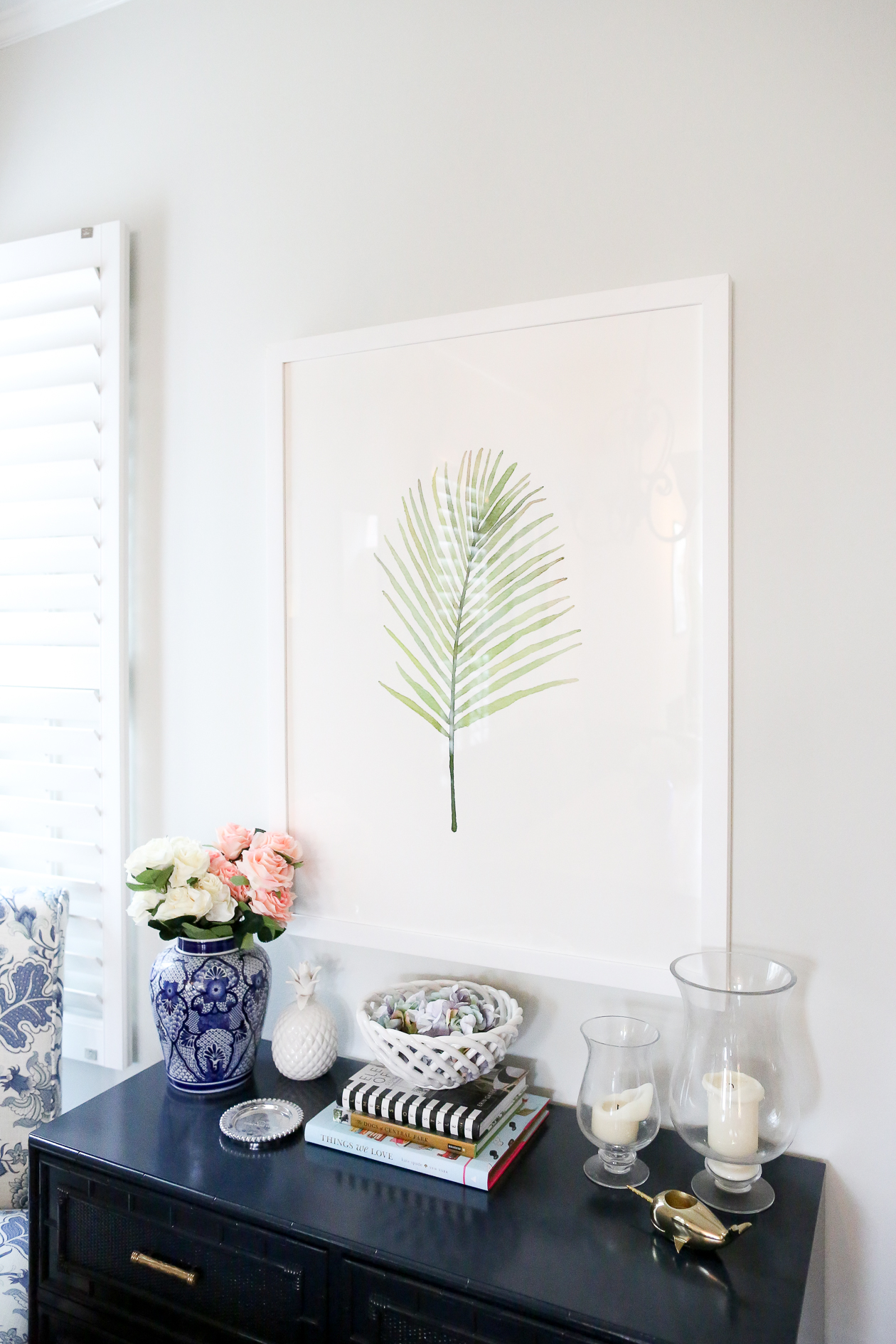 It's hard to believe that we're coming up on seven months since the flood. Truly, life hasn't been that bad. But our first year of homeownership certainly hasn't been what we thought it'd be like. We'd envisioned a lot of decorating projects, a fireplace renovation, and maybe painting the trim on the outside of the house. THIS, though? No. ;)
While living in a state of flux hasn't been my favorite, I'm starting to realize that in many ways, this situation kind of rocks. Of course, it's easy to say that now, as we're finally coming to the end of the madness. But there's no way that Mitch and I would have undertaken renovating the master bedroom and bathroom (which we didn't love) so quickly, as it's expensive, and we'd just put down a scary-to-us amount of money to actually buy the place. We'd talked about it, sure, but had said "maybe in five years." And let's be serious: in five years time, life will likely be a little busier than it is now… and things like renovations probably won't be our focus.
Silver lining!
Again, though, I'm clearly feeling this way because we've been making a lot of progress lately. ;) Last weekend was super productive, and we hit the ball out of the park this past Saturday and Sunday. Mitch's amazing parents came up, and helped us paint; attach a paper towel dispenser under a kitchen cabinet (more challenging than it sounds, haha); install an Elfa closet shelving system; hang bike racks; eat a ton of deep-dish pizza; finalize cabinetry, baseboard, tile, moulding and grout decisions; and hang our Minted.com art. Eeee!
Aren't parents the best?
But let's back up to the whole Minted part for a sec. You might remember that back in the fall, I teamed up with Minted to create my dream gallery wall in our living room, and couldn't stop raving about how amazing the whole experience was. The quality was off the charts, the customer service was outstanding, and the speed of delivery was, well, shocking. This time around was no different. We shopped from the comfort of our home, and everything arrived ridiculously quickly. SO EASY! (And you'd better believe that we're going with Minted for the master bedroom/bathroom project, too!)
Also, Mitch and I owe you guys a HUGE thank you. We've had to make a ton of decisions over the last seven months, and when I wrote this post, we were feeling overwhelmed and indecisive. Your comments and e-mails, though, were beyond helpful, and we took each one of your opinions to heart. We're so, so happy with the final product… and think the room looks a lot more welcoming!
(We ended up going with this framed palm print because it reminds us of adventures together and brings some green into the room. And we got this framed striped vase print, too, because Mitch emailed it to me and said, "LOOK! YOU WOULD LOVE THIS! NAVY STRIPES!" — and I thought that was adorable. It makes me smile every time I look at it! We hung it next to a map of Culebra, where we took our honeymoon, and an old Chagall print, which holds happy memories from our early years together.)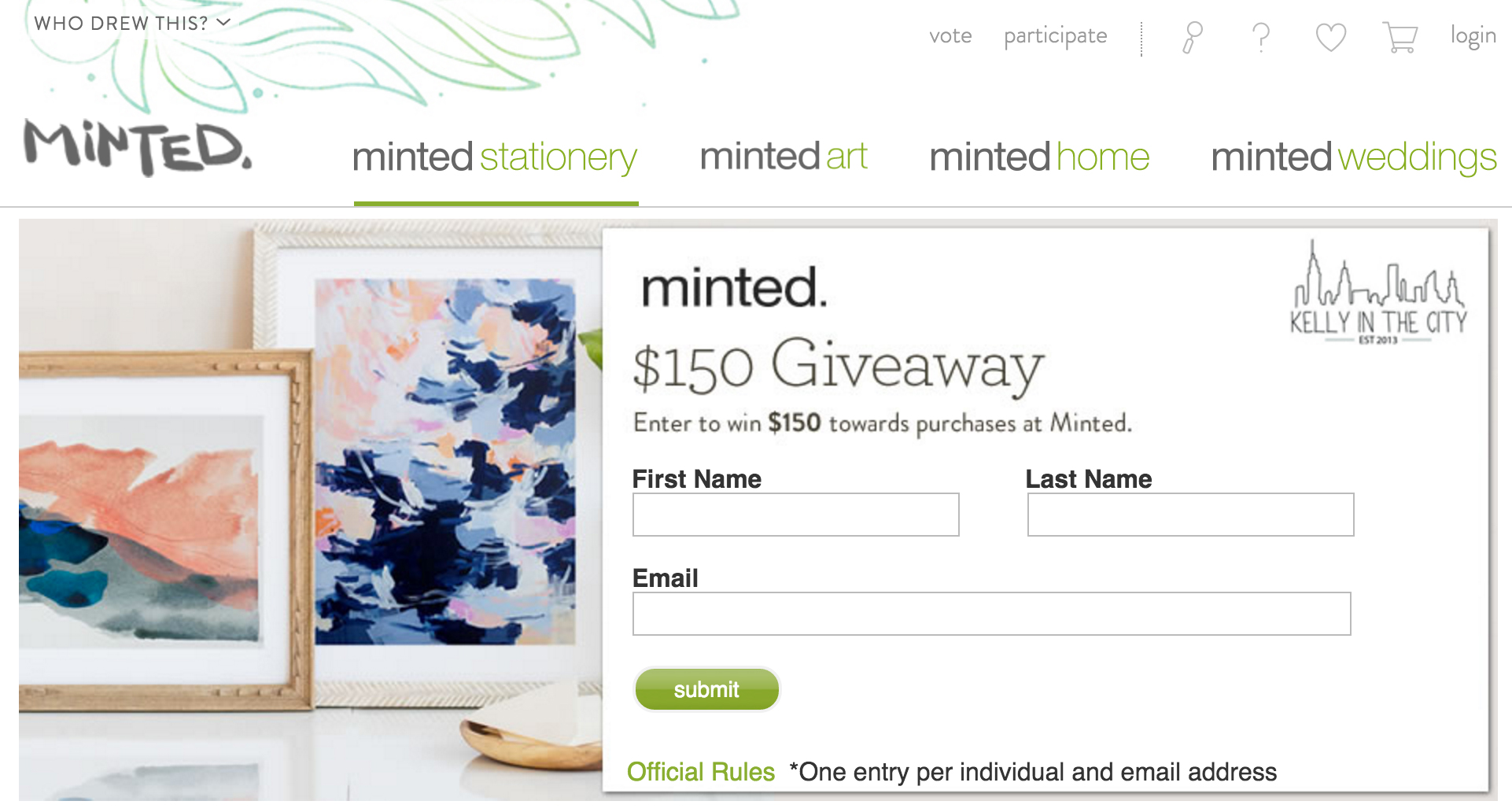 SO, to really thank you, I'm teaming up with Minted today to give away a $150 gift card! And entering is super simple. The contest will run from 2/22 to 2/28, and Minted will randomly draw and email the winner her prize promo code on or around Monday, 2/29.
Be sure to check out my current faves from the company at the bottom of this post, and good luck!
Room Details:
Minted Striped Vase Framed Print and Palm Leaf Framed Print c/o / Pier 1 Rug, Garden Stool, Hydrangeas, Topiaries, Dining Chairs and Accent Chairs c/o / DIY Farmhouse Table (Mitch is in the process of writing a how-to post!) / MegMade Buffet / Kate Spade Coffee Table Book and Wedding Frame / CB2 Narwhal / "Dogs of Central Park" /"Elements of Style" c/o Porch / Laura Dro Designs Ginger Jar Painting c/o / Chevron Jar Painting / Birch Lane Couch (which is moving to the other side of the living room once we mount the television above the fireplace) / Pottery Barn Striped Pillow / Tommy Bahama Print Pillow
Minted Favorites: