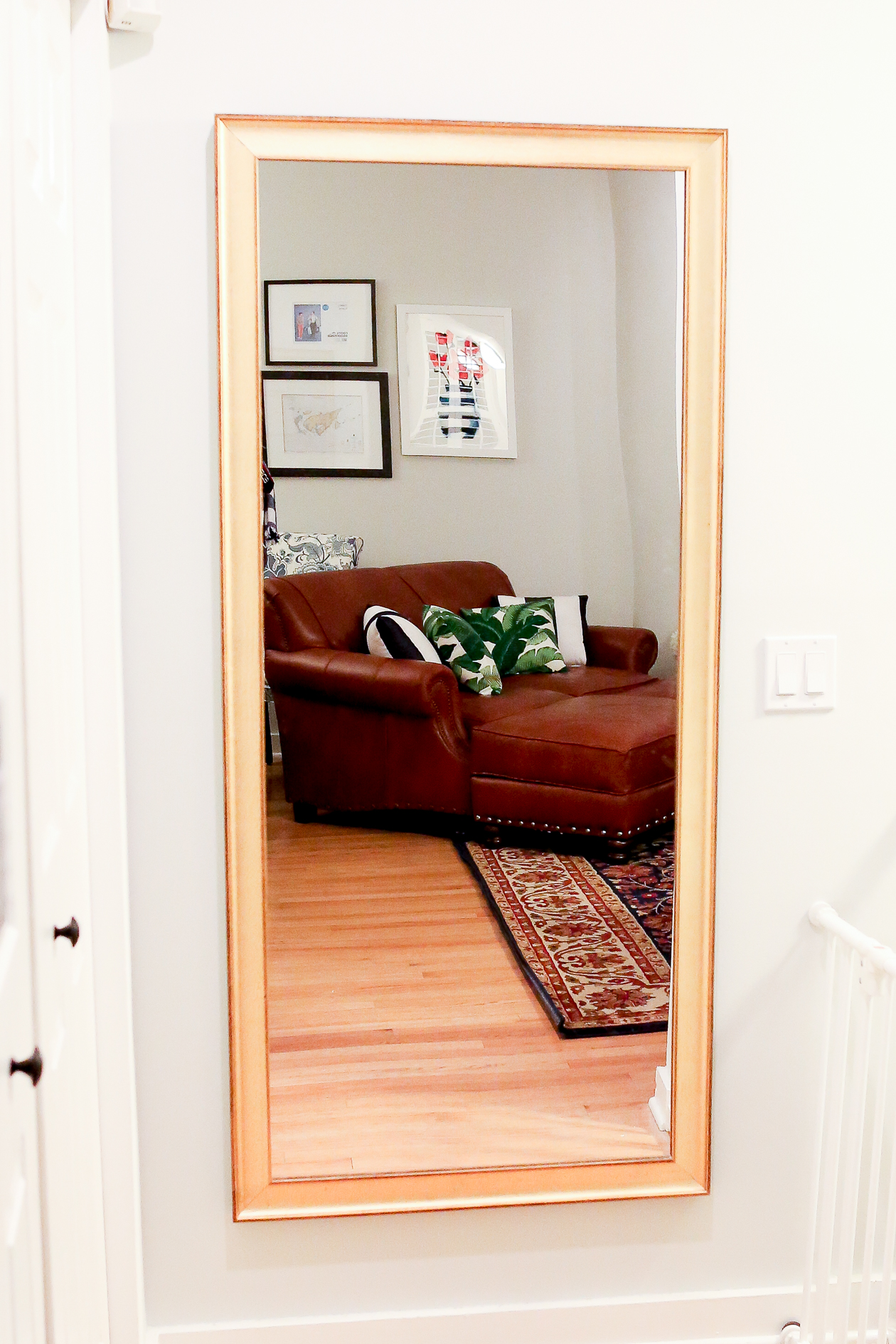 Hanging this gold floor mirror from Wayfair was one of our weekend projects. Paint color is "Gray Owl" by Benjamin Moore, diluted by 50 percent. Also: I've tried everything to get that rug to stay down, including putting something heavy on it for a couple of weeks. Any suggestions?!
Mitch and I may have just had our most productive weekend of all time, even with the breaks we took to play in the snow and celebrate Valentine's Day. It's funny–we stopped ourselves in the middle of projects on several occasions to reflect on how much has changed in only a few short years. No longer is every single weekend spent bar-hopping around the city. I mean, sure: some are, haha. But now, just as many weekends are spent doing stuff like painting wainscoting, anchoring things into walls, hanging shelves, caulking bathrooms and replacing broken toilet paper holders. And you know what? We don't mind the change.
Though I'll admit that over the last few days, we had more than one conversation like this:
"Hey. Pass that drill bit."
"Sure. And let's make sure to level it one more time."
"Good idea. OH MY GOD; WHO ARE WE?"
Is it weird that I still feel like I'm a kid, and only pretending to be an adult? Maybe all my years in New York prolonged that strange transient time between college and adulthood, or maybe I'm simply comparing my current life stage to the one my parents were in when they were my age. Like, they had two or three kids at this point, and definitely had adulthood "down." While here I am calling Dad, asking whether I should caulk the floor tiles while I'm at it, to "spruce 'em up." The answer is no, Kelly: only use grout for tiles, haha.
That's a silly example, but I'm wondering whether you understand what I'm saying, and whether this is a relatively common feeling. Will I ever feel like a "grown-up"? Will everything start to seem normal soon? Or, when I'm in my 50s, for example, will I still find surreality and absurdity behind it all?
And will I always get extraordinarily proud about accomplishing minor homeownership tasks like anchoring a mirror to a wall?
I think I'll just leave you with that for today. ;) I will, however, update you guys this week on what Minted art we ended up deciding on for our dining room, which I last talked about here. (Don't mind the mirror distortion, haha, but if you look closely, you can kind of get a sneak peek of our work in progress in the above photograph.) So excited for the big reveal!
Room details: