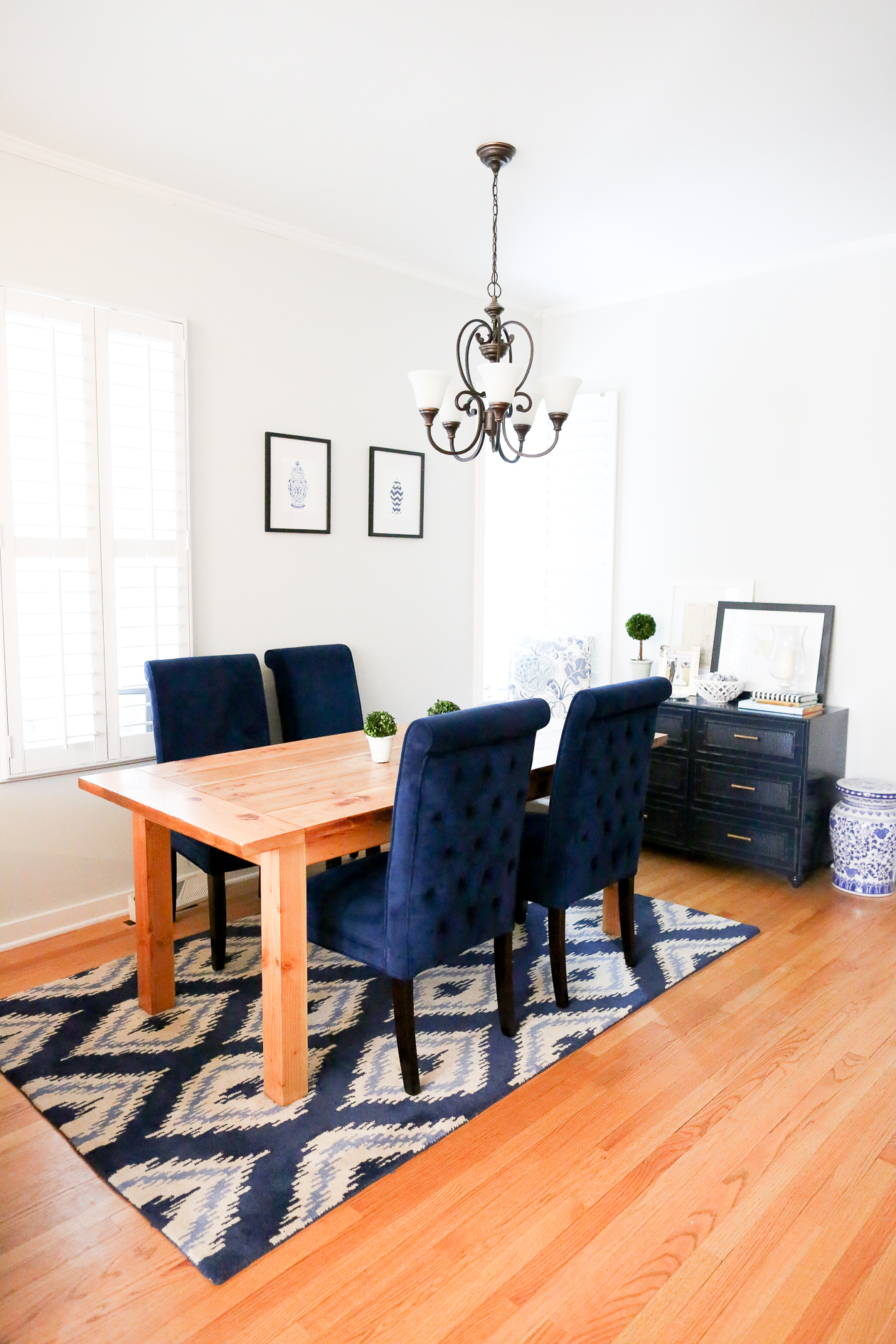 [dropcap]T[/dropcap]hings are a little crazy right now on the Larkin home front. As you know (haha), we're in the middle of a massive construction project, which has temporarily wrecked other parts of the house. The guest room and office, for example, are now storage rooms… and what few closets we still have access to are overflowing with displaced stuff. Keeping up with clutter has never been more difficult!
To keep ourselves sane, we've committed to making sure that the living and dining rooms–which are located in the front of the house–remain nice and orderly. And we're continuing to decorate 'em. Because that's what new homeowners do, right?! Slowly but surely, they make improvements.
As I've already given you a peek of what our living room looks like, this is the current state of the dining room! Interior design isn't exactly my forte (as much as I want it to be), but I'm really happy with it so far. Mitch actually made the farmhouse table from old wood found in his grandfather's barn, and MegMade is responsible for the incredible navy dresser-turned-buffet at the far end of the room. And you can find the other details at the end of this post. ;)
Side note: I wanted to go larger on the rug, but the space to its right actually functions as a hallway (#tinytownhouse), and it looked way too weird when it overflowed into that area. Oh well!
The one thing we think the room is missing? Artwork. Specifically artwork for the wall above the navy buffet.
A few months ago, I teamed up with Minted to create my dream gallery wall in our living room, and the whole experience was amazing. The quality was off the charts, the customer service was outstanding, and the speed of delivery was, well, shocking. (I figured custom work would take at least a couple of weeks!) So now, I'm teaming up with Minted once again, this time to bring a little more life into our dining room!
But here's the thing: I'm kind of struggling with the dining room. Part of me thinks I should go with a single huge frame over the buffet, and another part of me thinks I should do three frames across, or four in a box-like design. And then another part of me thinks I should do the whole gallery wall thing again. I just don't know. And what about the prints?! There are so many from Minted that I love!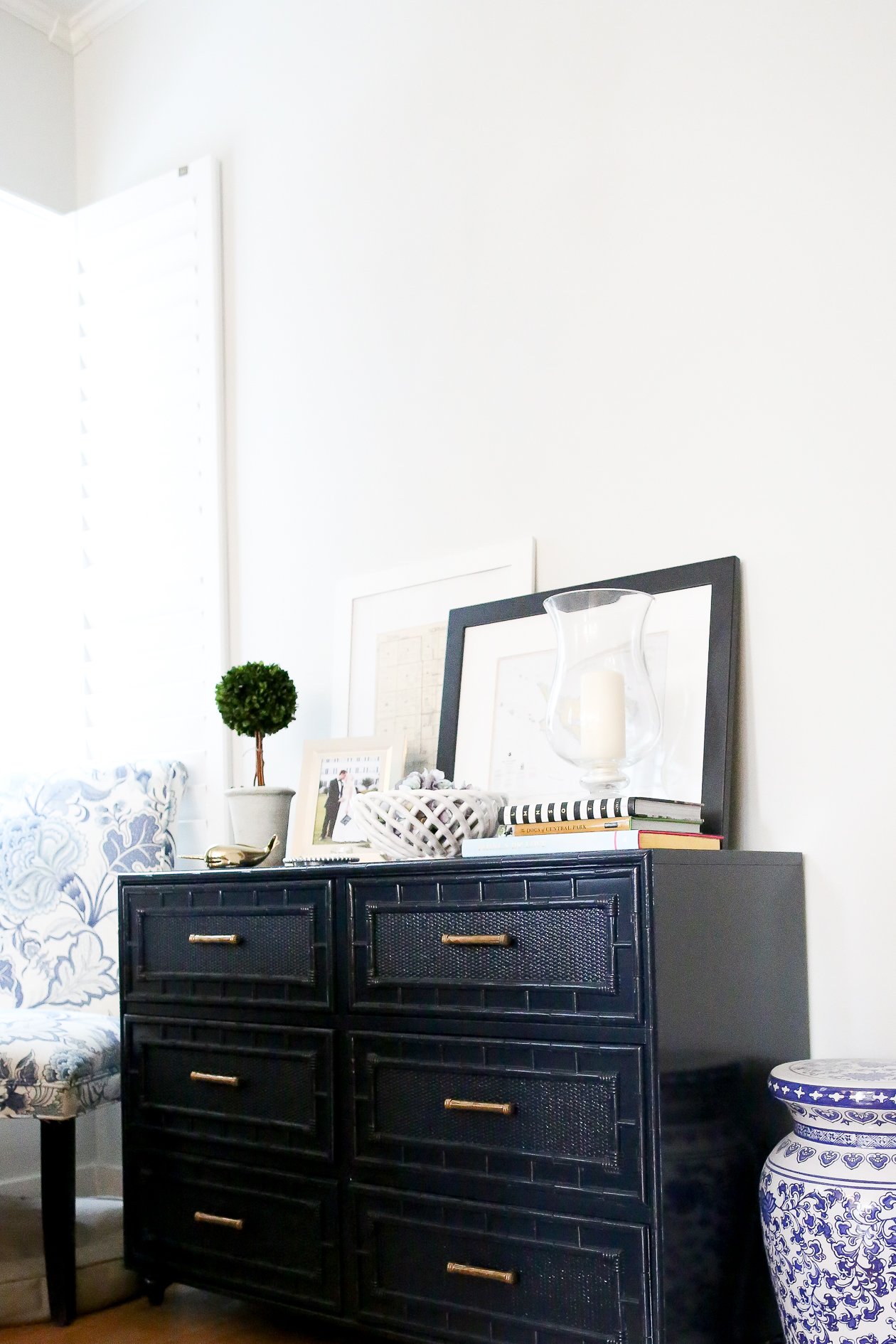 So, a couple of questions:
Would you go with a single (extremely large) frame over the buffet, or would you opt for a multi-frame design? (And if your answer is the latter, please elaborate!)
What print(s) and framing options would you choose? I've included some of my favorites below! (And if you know of some great prints I missed, I'd love to hear about them!)
I'm clearly obsessed with the color blue. Should I try to incorporate other colors, though?

Thank you so much for your insight!
Minted special offers: Use code "VALENTINE16" to take 15 percent off stationary and art gifts now until 1/31; use code "BOUQUET16" to take 10 to 15 percent off wedding orders $150+ now until 2/1; and use code "HEART16" to take 10 to 15 percent off Valentine photo card and postcard orders now until 1/30.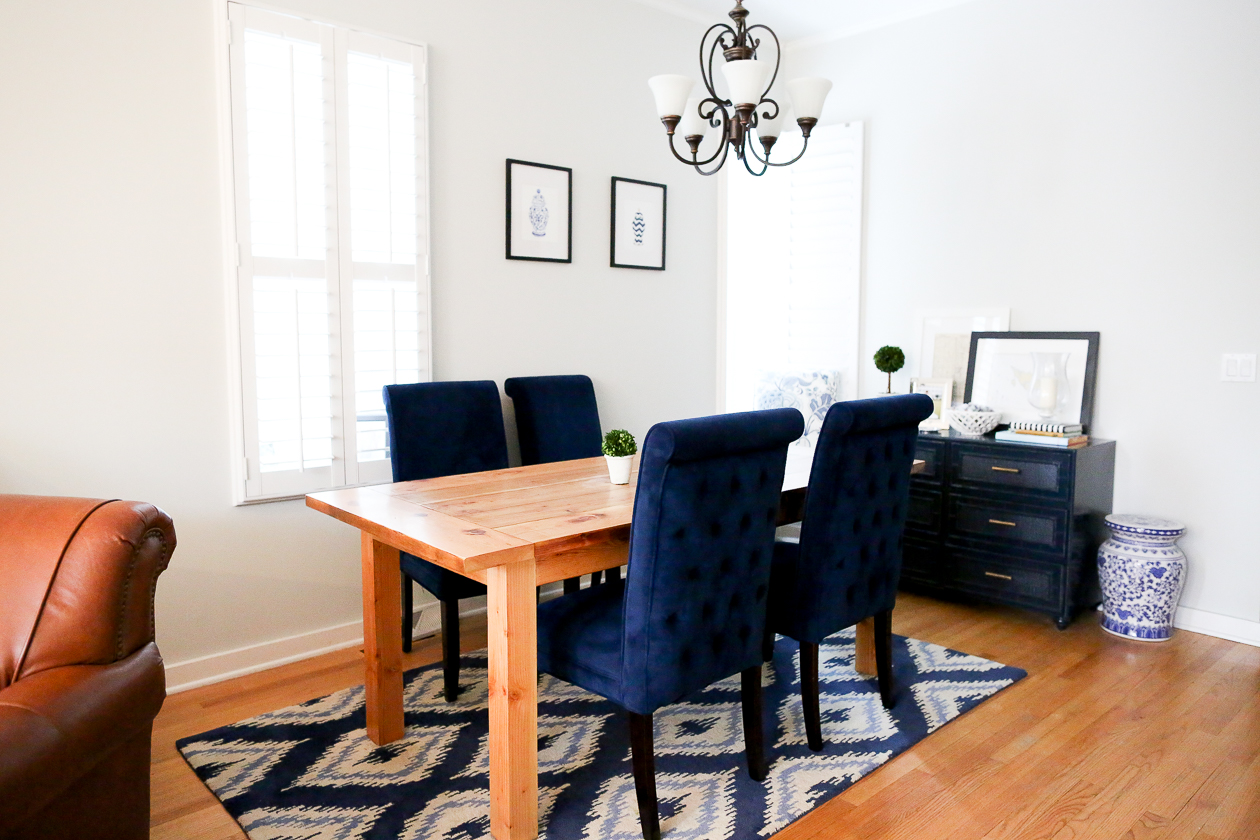 Room Details:
Pier 1 Rug, Garden Stool, Hydrangeas, Topiaries, Dining Chairs and Accent Chairs c/o / DIY Farmhouse Table (Mitch is in the process of writing a how-to post!) / MegMade Buffet / Kate Spade Coffee Table Book and Wedding Frame / CB2 Narwhal / "Dogs of Central Park" / "Elements of Style" c/o Porch / Laura Dro Designs Ginger Jar Painting c/o / Chevron Jar