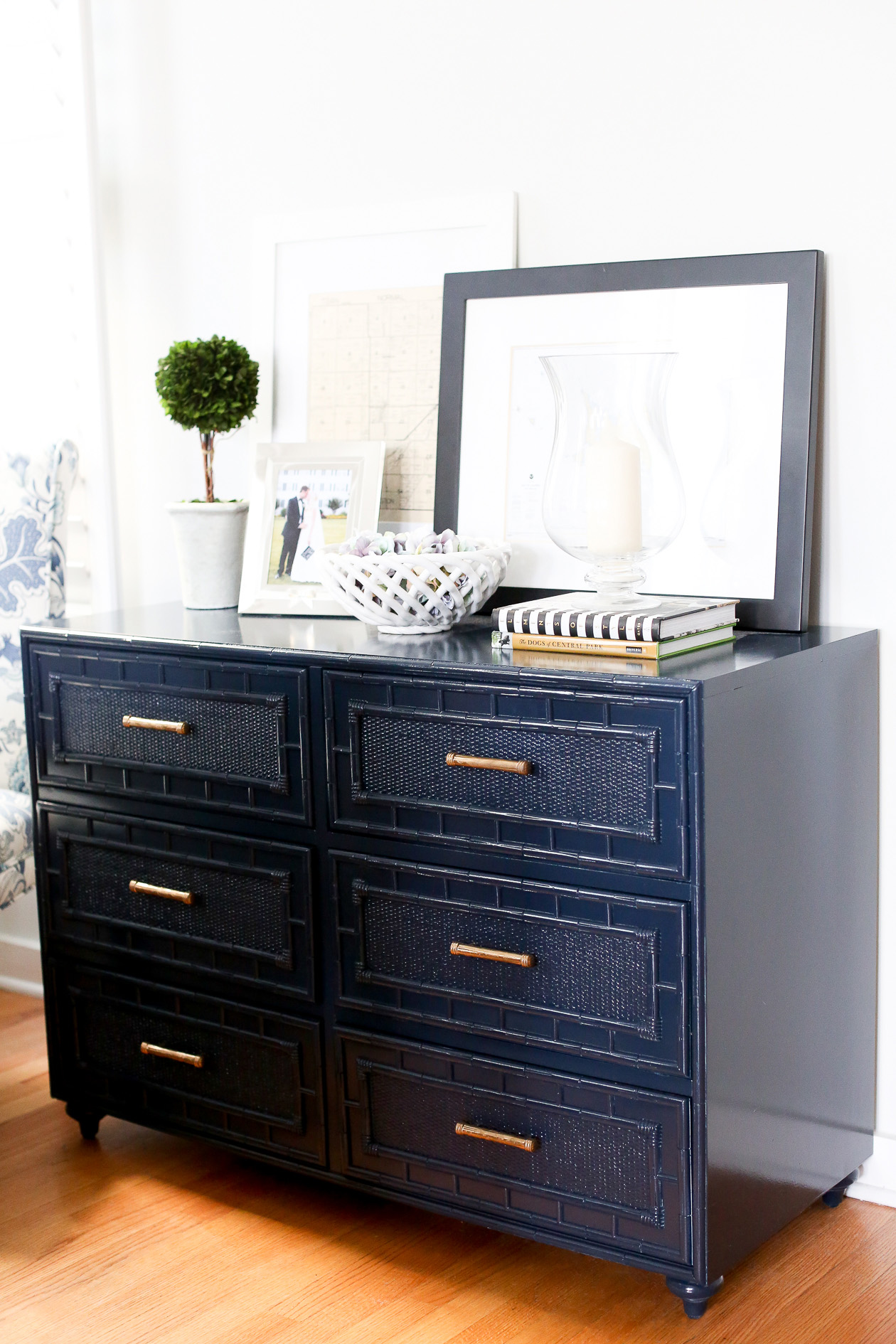 Recently, Mitch and I realized that our furniture game is lacking. We're extremely happy with our recent purchase of the couch and love seat… and the dining room table Mitch built is beyond incredible. (And brings back so many happy memories of family and the lake!) But our bedroom furniture? Sigh. Everything–with the exception of the guest room daybed–is falling apart. I guess five moves in five years will do that to Ikea stuff. ;)
All of this said, we're on a mission to replace our flimsy pieces over the course of the next year. The problem is that I desperately want all of it to have character, but don't (and can't) spend an arm and a leg. And finding good, sturdy, unique furniture that doesn't break the bank is challenging.
Or, at least, it was challenging.
Enter MegMade!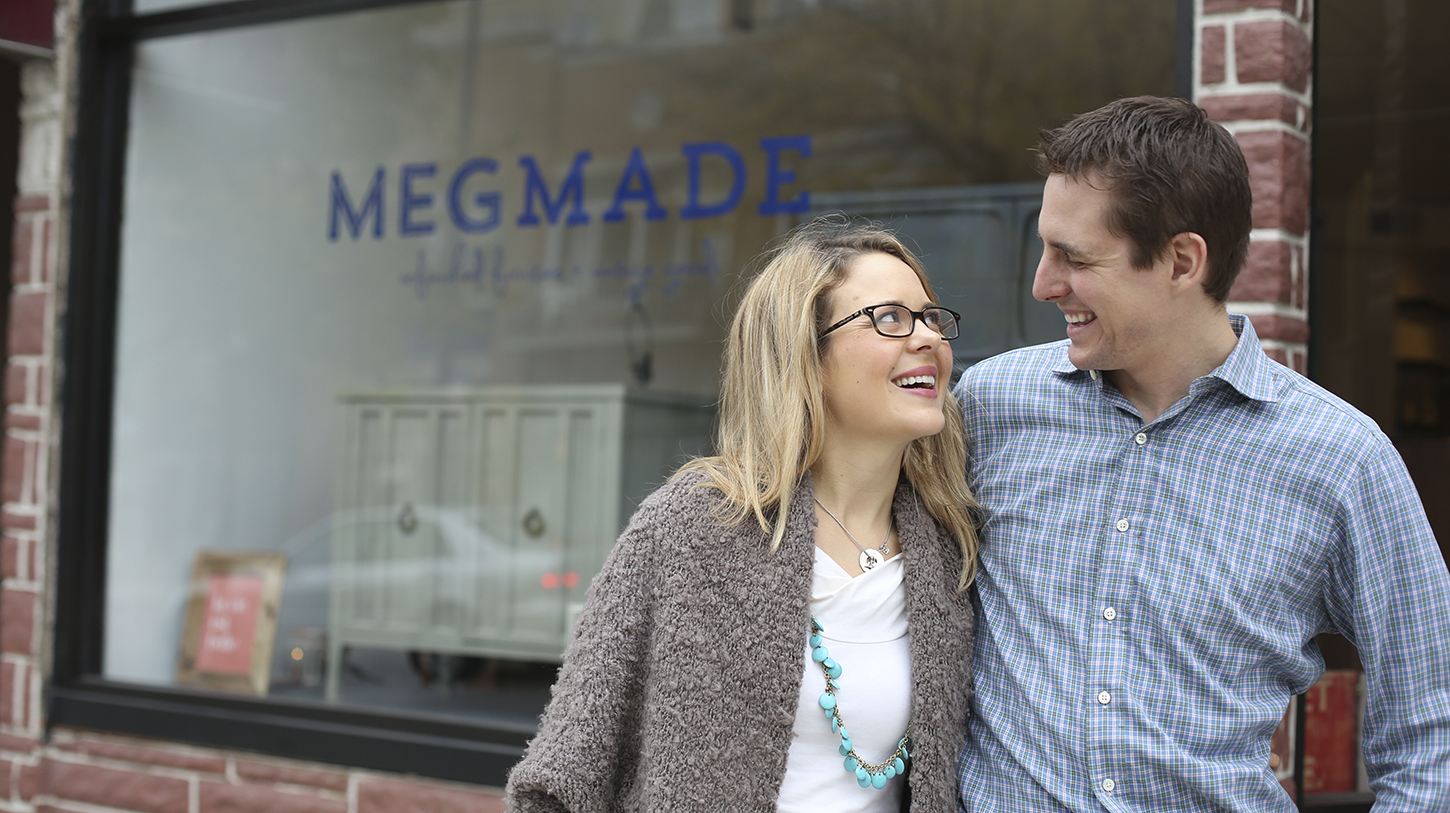 MegMade is the brainchild of Meg Piercy, a Chicago resident, mother and (now) business owner. The story is that when she and her husband bought their first home together, she got very into repurposing and refinishing old furniture to furnish their new place. When friends and family would ask where she bought the (extraordinarily beautiful and different) pieces, her husband would respond, "Oh, Meg made it." Thus the name!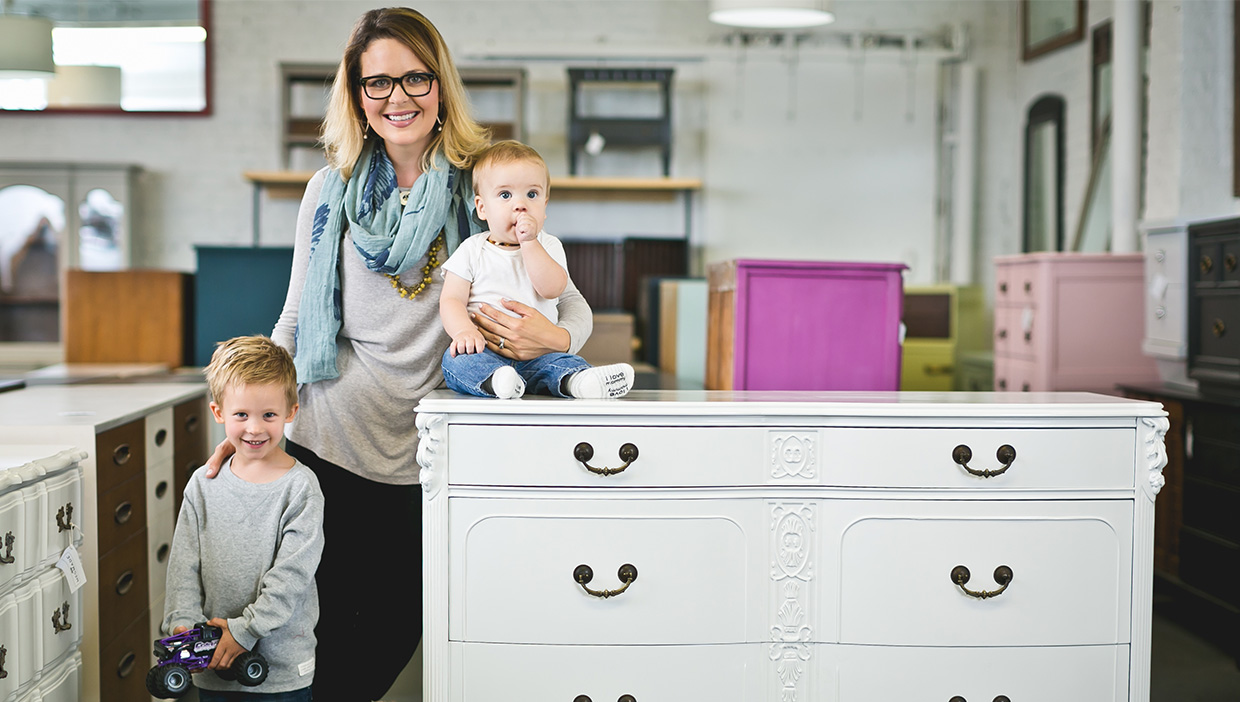 (Source)
MegMade was founded in 2012, but it's since grown into a business that sells nationwide and employs quite a few people in its (HUGE!) Chicago headquarters. The company has sold over 3,000 pieces of furniture, and has shipped to over 30 states. MegMade also now offers a variety of additional services, including refinishing, painting, restoration, upholstery, interior design, and staging and building management.
So incredible.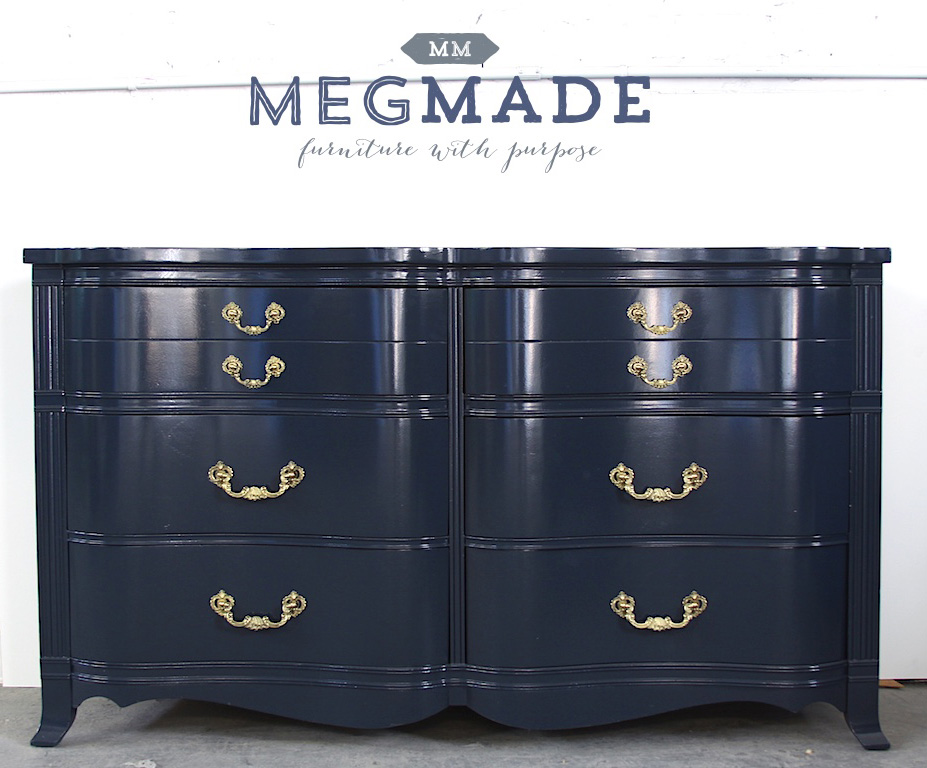 (Source)
Mitch and I had the pleasure of visiting the MegMade headquarters–located at 2415 West Barry Ave–about a month ago, and I can't even tell you how amazed and impressed we were. I seriously think we must have told every single person we know in Chicago about the experience. Which, okay, isn't a TON of people, haha. But the point is that we were floored by… everything. Including Meg. She's the nicest, most down-to-earth person you'll meet, and she's ridiculously inspiring. I mean, I walked out of there kind of wanting to be her. ;)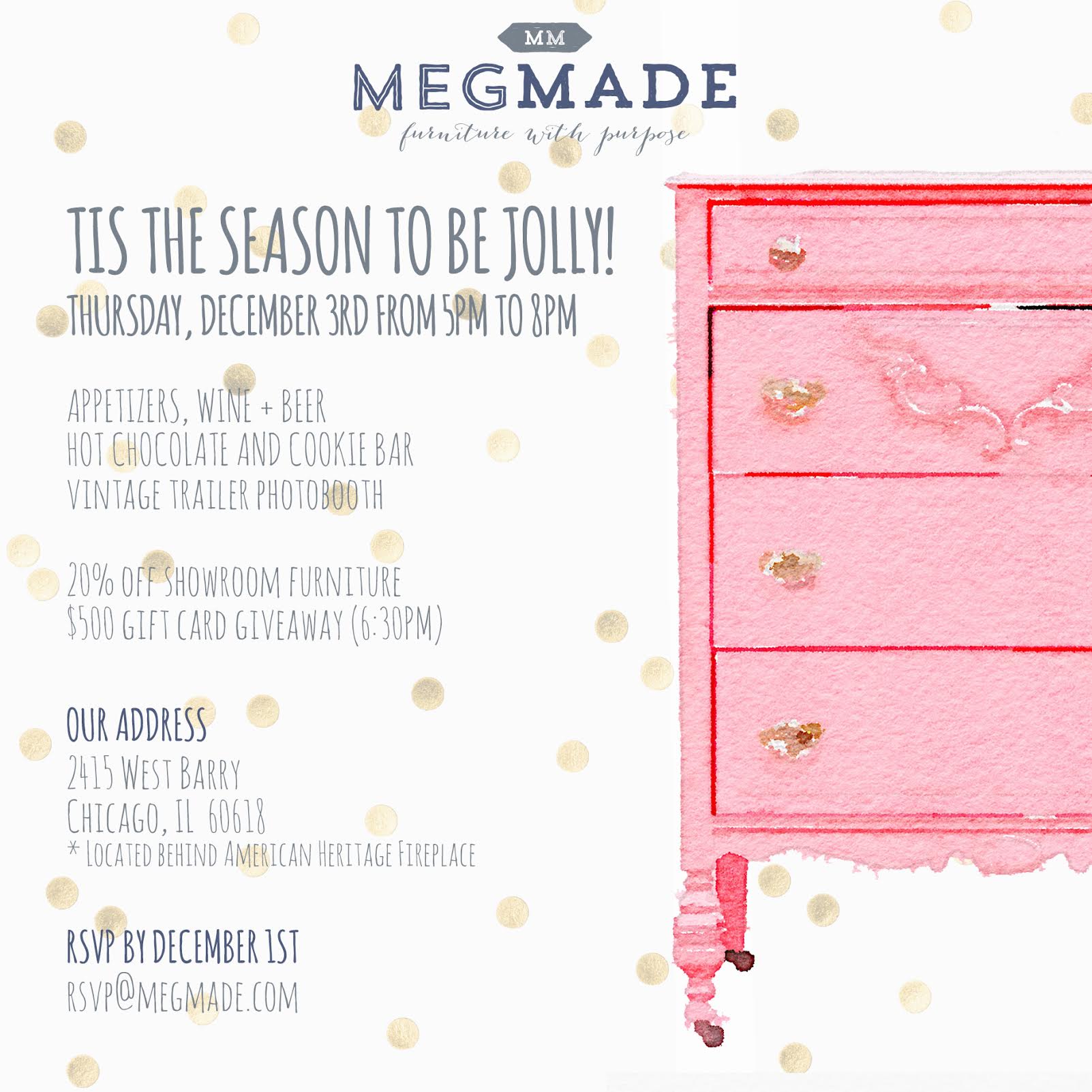 Actually, you totally need to meet her! MegMade is having its holiday open house party this Thursday, December 3rd, from 5 to 8 pm. There will be appetizers, wine and beer, and a $500 gift card giveaway… and, of course, Meg will be there. PLUS, all showroom furniture will be 20 percent off. Huzzah! RSVP to rsvp@megmade.com.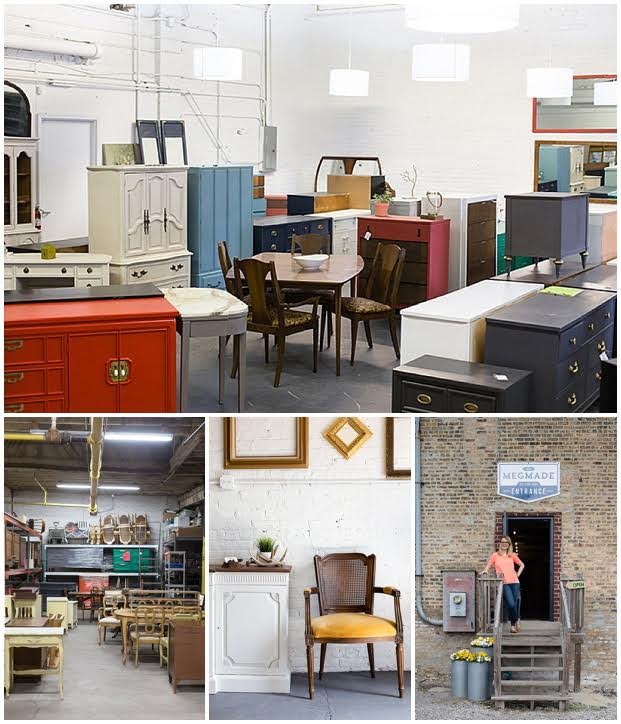 Okay. Back to my story.
When you first walk into the headquarters, you see a beautiful light-filled workspace, complete with paint samples, books of example work, and huge Pinterest-worthy desks for conferencing with customers. Just beyond that, there's a giant room filled with finished products–some already purchased, and some available. (Swoon. Somebody swoop this one up NOW. And this. #omg)
After that, you wander into the studio, where all the restoration and refinishing happens. Guys, there's a vacuum-sealed spray paint booth. Talk about professional!
And finally, the studio leads into an enormous warehouse, where a ton of unfinished pieces–all salvaged from estate and garage sales or sent in from customers–are kept.
Which is wear we found our little navy dresser! At the time, it was pretty banged up and its color was a "smoker's yellow," as Meg called it. But I loved its "Palm Beach meets Chinese Chippendale" feel, and instantly fell in love with it, certain it would be the perfect addition to our dresser-less guest room. I described the feel I was going for, and Meg suggested a navy lacquered paint (in the style of Jonathan Adler) and gold hardware. So easy.
A week or so later, the dresser was delivered by, not surprisingly, the nicest guys ever. Jess was over at the time, and I swear we couldn't stop jumping up and down and oh-my-god-ing. But seriously: is it not the most perfect dresser you've ever seen?! I'm in love. The quality is like nothing I've ever seen, and the attention to detail is out of this world. High five, Meg. (And team.)
Our house is currently under construction, and Mitch and I are living out of the guest room (and suitcases) until our master bedroom and bathroom are rebuilt. So for the time being, the dresser is in our dining room area, and it's serving as a buffet. And I have to say: I'm not sure I want to move it! It's so stunning that I'm just not sure I want to hide it away in a back room, you know?!
But we'll see. Regardless, one thing's for certain: MegMade is going to be my go-to for the next year or so! I suppose I could buy "new," but I've found that the quality and craftsmanship of most new stuff I can afford just doesn't compare to older pieces. And supporting local businesses is very important to me. :)
I have so many ideas:
Refinishing the kitchen cabinets (That yellow color needs to go!)
Reupholstering my grandfather's chair
Bedroom dressers
Bedroom night tables
Some sort of console table next to the kitchen
Construction of the master bedroom and bathroom is slated for completion sometime around February (we hope), and I'd be lying if I said I'm not already poking around on Meg's site, swooning over it all. Can you blame me, though?! The excitement is real.
Anyway, a huge thank you goes out to Meg and her team for the amazing dresser-turned-dining-buffet, and for opening my eyes to the world of reclaimed, refinished and restored one-of-a-kind furniture. SO much cooler than catalogues and cookie-cutter pieces, if you ask me. :)
Note: You don't need to be a Chicago resident to be a MegMade customer! The company ships to tons of states, so be sure to reach out to the team at hello@megmade.com for a quote.
Other products:
Kate Spade Frame / Dogs of Central Park / Elements of Style c/o / Pier 1 Hydrangeas, Chair, Garden Stool and Topiary c/o / Framed map of Culebra (our honeymoon) and Mitch's family's farm (Wikipedia and a fair)