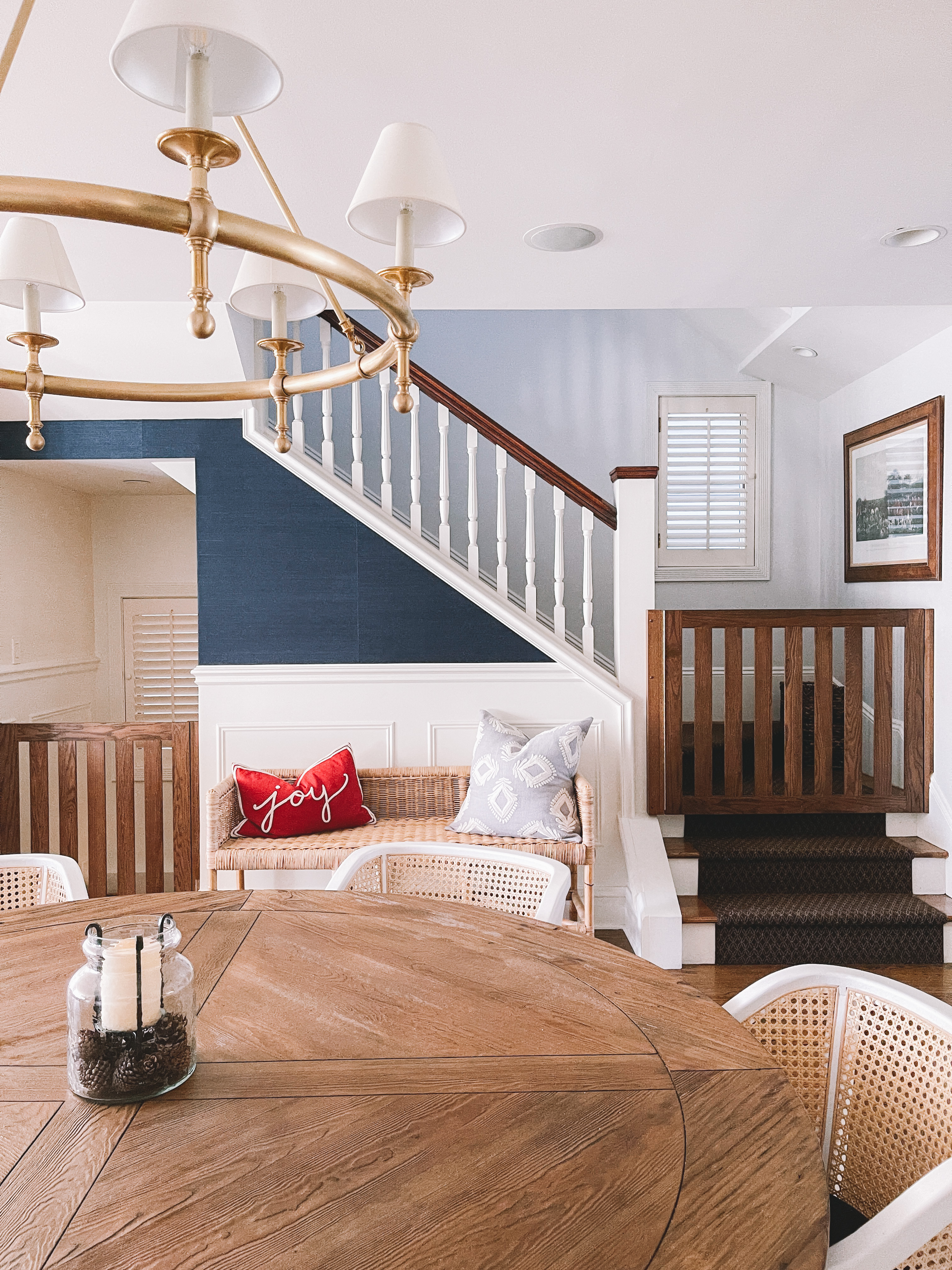 Mitch here!
(Two Mitch posts in a row. Aren't you lucky?!)
What is it with babies and stairs? Kelly I spent the last four years buying toys for our children and all they want to do is play on the stairs. It's infuriating. It's also unbelievably dangerous.
The situation
Our house basically all stairs. We live on a "short lot" here in Chicago, so the house "goes up," and not back like most other homes. It's a great workout (and it'll actually will work very well for our family in the near future), but it's terrifying at the moment with our resident one-year-old daredevil Lucy Larkin around. To top it all off, our stairs are weird, and there are no optimal places to secure store-bought baby gates because the walls simply don't line up.
For the last eight months or so, though, we went through a zillion Amazon gates, determined to find a solution. Of course, none of them really worked. They may have, in fact, actually made the situation more dangerous, as Lucy often leaned on them and they weren't 100-percent stable. Because of this, we resorted to blocking the stairs off with whatever random furniture we could find, which truly felt like the safest option at the time. The routine went like this:
Drag the bench across the living room to block the top of the basement stairs.
Place four dining room chairs around the stairs leading upstairs.
Place imperfect baby gate in front of the back stairs even though it wouldn't attach and reinforce it with a stool in front since we couldn't trust it.
Dive to save baby anytime one of these "solutions" failed.
NO WAY TO LIVE.
Home Safe Home Chicago
This is getting a bit long-winded, but the short of it is that one day, we realized that we were having nightmares and needed a real solution. Kelly found a custom baby gate installer through the NextDoor app on her phone almost immediately after the discussion, and the Home Safe Home Chicago owner Hal Normal was here the following week.
Thank god.
Hal—who will likely only learn about his blog today 🙈—does this whole thing right. First, he's extremely personally and positive; he's been doing this for years and it felt like my grandfather was over for a visit. Such a nice guy! Second, he's whip-smart. His first visit took a little less than an hour, and in the end, he gave us a bunch of different solutions for us to choose from. He also really chatted things through with us and respected our concerns about the gates' functionality (considering we have a four-year-old who would be opening and closing them), their appearance, and their price tags. He was honest about how we could save, too.
In that same first visit, we decided to go with the simplest option: three walnut-stained oak gates with minimal wall build-outs.
Pricing
In terms of pricing, I don't want to scare you if you're in Chicago and considering going this route, because I 100-percent do think the gates are worth it. But I also want to be honest because this would be the part of the post I'd scroll to first. I'll say that there are many more affordable options, including metal gates and wooden gates for standard staircases formats, in the $300 range. Ours, however, did amount to around $600 each (including installation) because of how strange our staircase is.
It was a lot of money, and it truly did pain me at the time. I went to bed sad that night, haha. That said, it's the best money I think we've ever spent on a home. The safety improvement and peace of mind that comes along with having the gates makes them worth every penny, and they're truly flawless.
(Remember: we tried so many other "pre-fab" gates. This was a last resort!)
Anticipated FAQs
Yes, Lucy has access to the first two steps leading upstairs. Unfortunately, there was nowhere to attach the gate in order to block the steps off entirely. I was initially bummed about this, and Hal did offer to build out a structure to handle the steps. He also said, though, that they likely wouldn't be something to worry about with a one-/two-year-old, and Kelly made the point that Lucy's favorite activity was sitting on the bottom step and reading and playing with her toys there. So we made the executive decision to go the easy route and attach the gate two stairs up. Thus far, no reckless behavior or injuries have occurred there. Lucy simply sits and hangs.
The gates work flawlessly, and Emma can open them. There's a "trick knob" on the inside that does nothing but trick the toddler, as the name suggests. And then there's a secret button underneath to unlatch the gate. Emma loves that she's in on the secret, and she handles the thing easily. (Emma's four, btw.)
The wooden gates are made out of oak, and you can leave them natural or have them painted or stained at no extra charge (to the best of my recollection). The company cannot, however, match paint colors… which is why Kelly ended up liking the walnut stain option best. I like it! It matches the frame on the wall and the staircase railing pretty well.
The turnaround time was three weeks. And this is standard for the company. (And quick compared to other custom routes we explored!)
Installation took a couple of hours, and was done so safely. We left the house during this time because of the pandemic, and then opened all the windows to air the place out. We felt very safe leaving Hal unattended because of how many people had recommended him. He's a trustworthy guy! He also wore a mask and respected our safety concerns. The installation was included in the price of the gates.
These gates will likely be up until Lucy turns three. I really, really wish we'd done it sooner. But whatever. Hopefully our story saves someone else from a similar life-without-good-gates experience!
Life is so much calmer now. This goes without saying, but we're not on edge anymore. Because we spent so much more time at home in 2020, the danger predicament in our home was really starting to affect us as a family. We worried all the time. Now, though, we feel so much more secure. An invaluable change, that's for sure!
Lucy loves the gates. We did not anticipate this reaction from her; we thought she'd be pissed. But she thinks it's her "job" to close them, so whenever someone opens one, she comes running to close it herself. (We also clap and sing and dance when she does it, so that may be why.) Hallelujah.
Get in touch with Hal Norman from Home Safe Home Chicago by emailing him at homesafehomechildproofing@gmail.com. We don't have any discounts or codes at the moment, and again, I'm 99-percent sure that Hal does not know what Kelly in the City is. 😆 But thank you, Hal. You're awesome. And thank you to the Chicago Nextdoor app community for recommending him. He's the best!
Other questions? Let me know.
Mitch. OUT!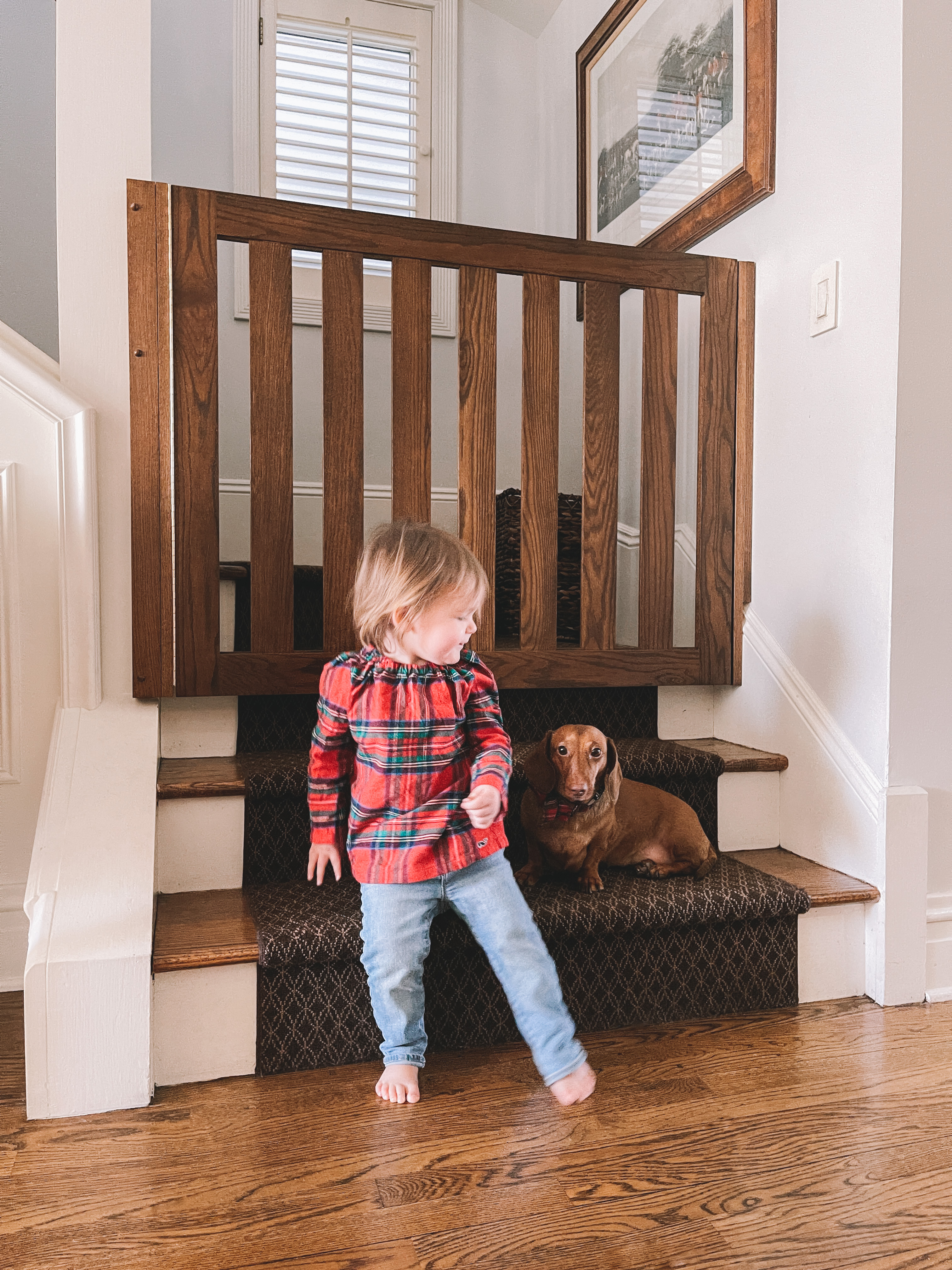 Shop the post:
Custom Baby Gates from Home Safe Home Chicago / Navy Grasscloth Wallpaper (Also available at Lowe's) / Round Dining Room Chandelier / Bench / Similar Picture Light / Gray Pillow / Similar "JOY" Pillow (in "Merry") / Round Dining Room Rug / Dining Room Table / Dining Room Chairs (Adore Pottery Barn's version!) / Trim Paint Color: Benjamin Moore "Ivory White" #925