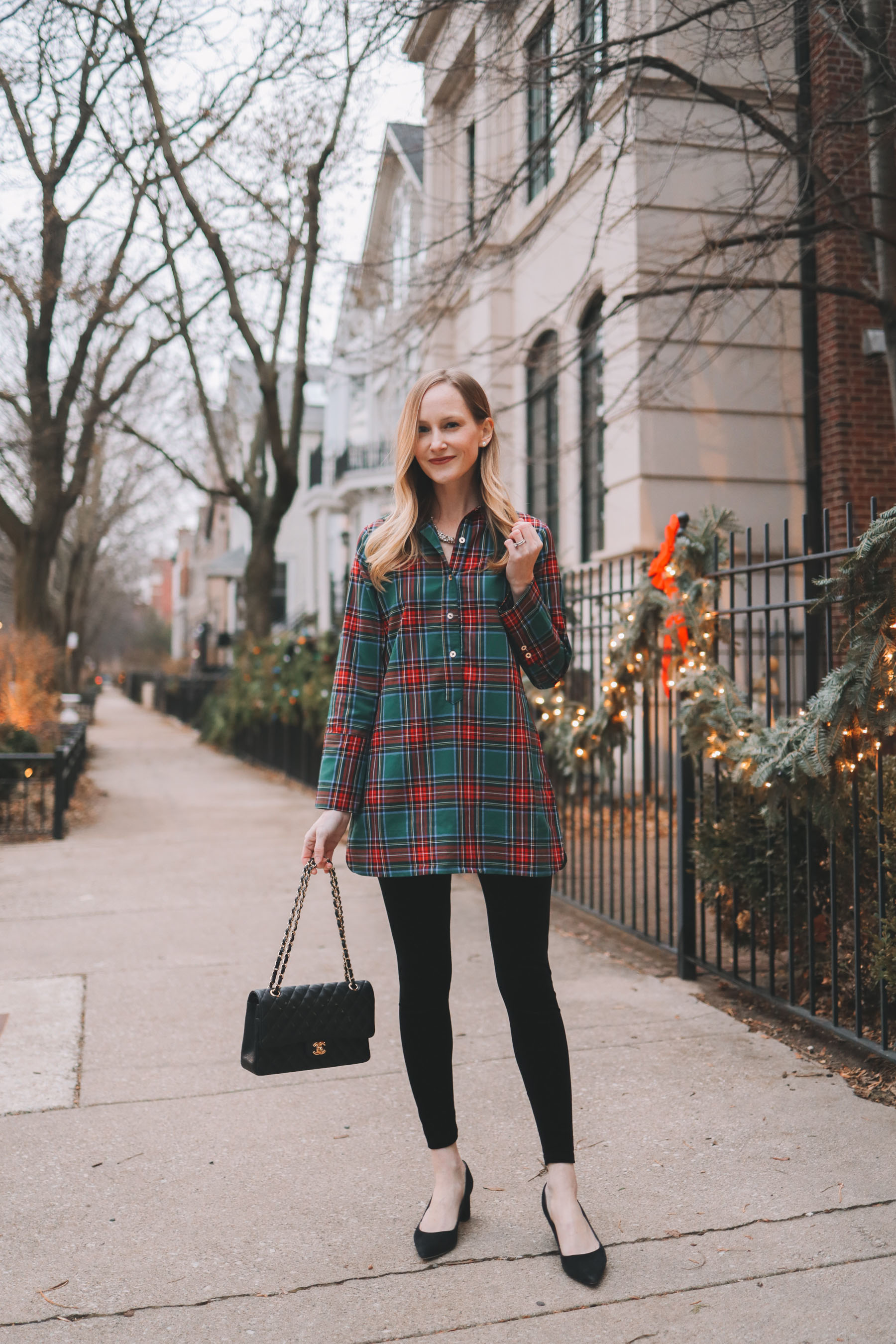 CK Bradley Tartan Tunic c/o (In LOVE with this CK Bradley skirt, too. I need it in my life, haha! And this tartan button-down and this Stewart dress.) / Commando Velvet Leggings (The best! I also really like the Spanx version, but Commando's are warmer and comfier, in my opinion.) / Black Pumps / Sparkly Necklace (SORRY. I told you I wear it with every holiday outfit this time of year. Ha!) / Chanel Bag (Way more affordable versions here, here and here.)
I want to feature far more "small" designers on the blog this year. (Or next year, I should say. 😉)
CK Bradley has long been a favorite… and I just love that the company was started by native New Yorker Camilla Bradley during her senior year of college at Trinity in Hartford, Connecticut. (Fun fact: I wrote for the Hartford Courant for a short period of time, and I went to Fairfield University in Fairfield, Connecticut!)
Today, she has a boutique in Newport, Rhode Island… which is where, as you might remember, Mitch and I took our babymoon before we had Lucy!
When I saw this gorgeous tartan tunic, I knew it needed to make its way onto the blog during the holiday season. :) Running after two little girls is a full-time job, and I need to be able to move during the holidays! This outfit makes me feel put-together and festive yet helps me achieve just that. And if you've ever wondered what to wear with velvet leggings during Christmas THIS IS IT. It covers my butt, even when I bend down… and it's super figure-flattering! I should note that it also looks killer with skinny jeans. ;)
Thank you, CK Bradley! Can't wait to feature more of your gorgeous line in 2020.
Shop the post:
CK Bradley Tartan Tunic c/o (In LOVE with this CK Bradley skirt, too. I need it in my life, haha! And this tartan button-down and this Stewart dress.) / Commando Velvet Leggings (The best! I also really like the Spanx version, but Commando's are warmer and comfier, in my opinion.) / Black Pumps / Sparkly Necklace (SORRY. I told you I wear it with every holiday outfit this time of year. Ha!) / Chanel Bag (Way more affordable versions here, here and here.)