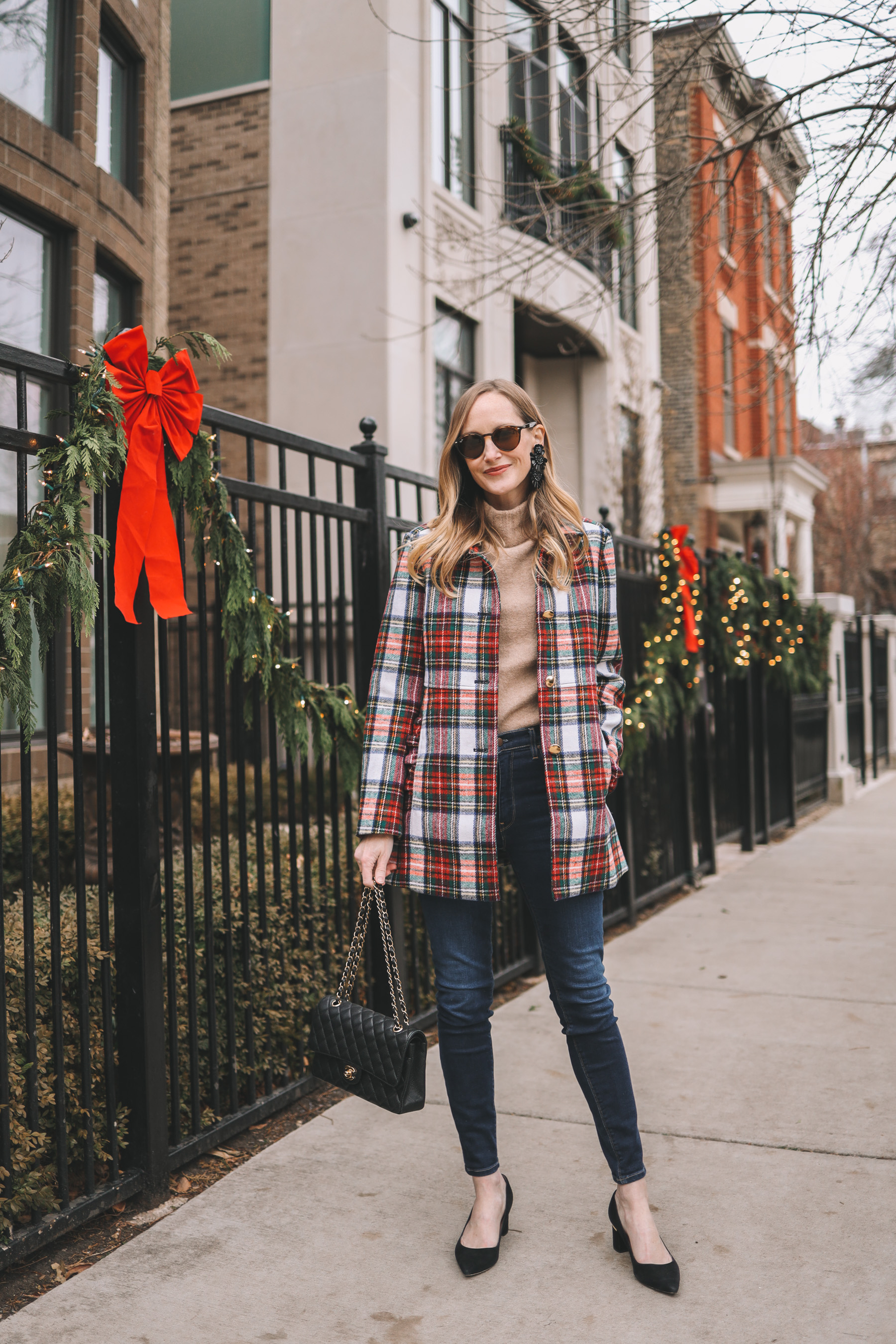 Crewcuts Stewart Tartan Coat (This leopard fur coat is also adorable! And check out this leopard vest. Too cute.) / Newer Black Suede Pumps (Love them in the bows and the leopard as well.) / Hudson Jeans Here, Here and Here / Lisi Lerch Earrings / Super Soft Mock Neck Sweater / Sunglasses / Chanel Bag (Way more affordable versions here, here and here.)
This is a little #crazy, haha, but you can sometimes get away with shopping the Crewcuts girls' coats & jackets section of J.Crew! Benefits include major savings and a super cute selection, while drawbacks include boxy cuts (made for little girls with no hips or chests) and limited sizes that work for adults. BUT… every once in a while, something comes along that I'm like, "OKAY. Going to take a chance here." And this coat was just that! (Hello, #60daysofplaid.)
Again, the cut is boxy and clearly not made for an adult. But I kind of love the swingy look that results?! I'm wearing a size 16 here, which I would say is the equivalent of a size 2. (So I'm assuming that the 14 would be the equivalent of a size 0/XS, and the 12 the equivalent of a size 00/XXS.) It came with a fur collar as well, but I took that off since it felt like a little much. ;) The 14 might have worked, but I hate it when coats are tight in the shoulders, so I played it safe!
And yes, Emma has the matching one… but she was at school when we took these photos so you'll just have to use your imagination! :)

Other Crewcuts girls' outerwear options above!
xoxo
Shop the post:
Crewcuts Stewart Tartan Coat (This leopard fur coat is also adorable! And check out this leopard vest. Too cute.) / Newer Black Suede Pumps (Love them in the bows and the leopard as well.) / Hudson Jeans Here, Here and Here / Lisi Lerch Earrings / Super Soft Mock Neck Sweater / Sunglasses / Chanel Bag (Way more affordable versions here, here and here.)