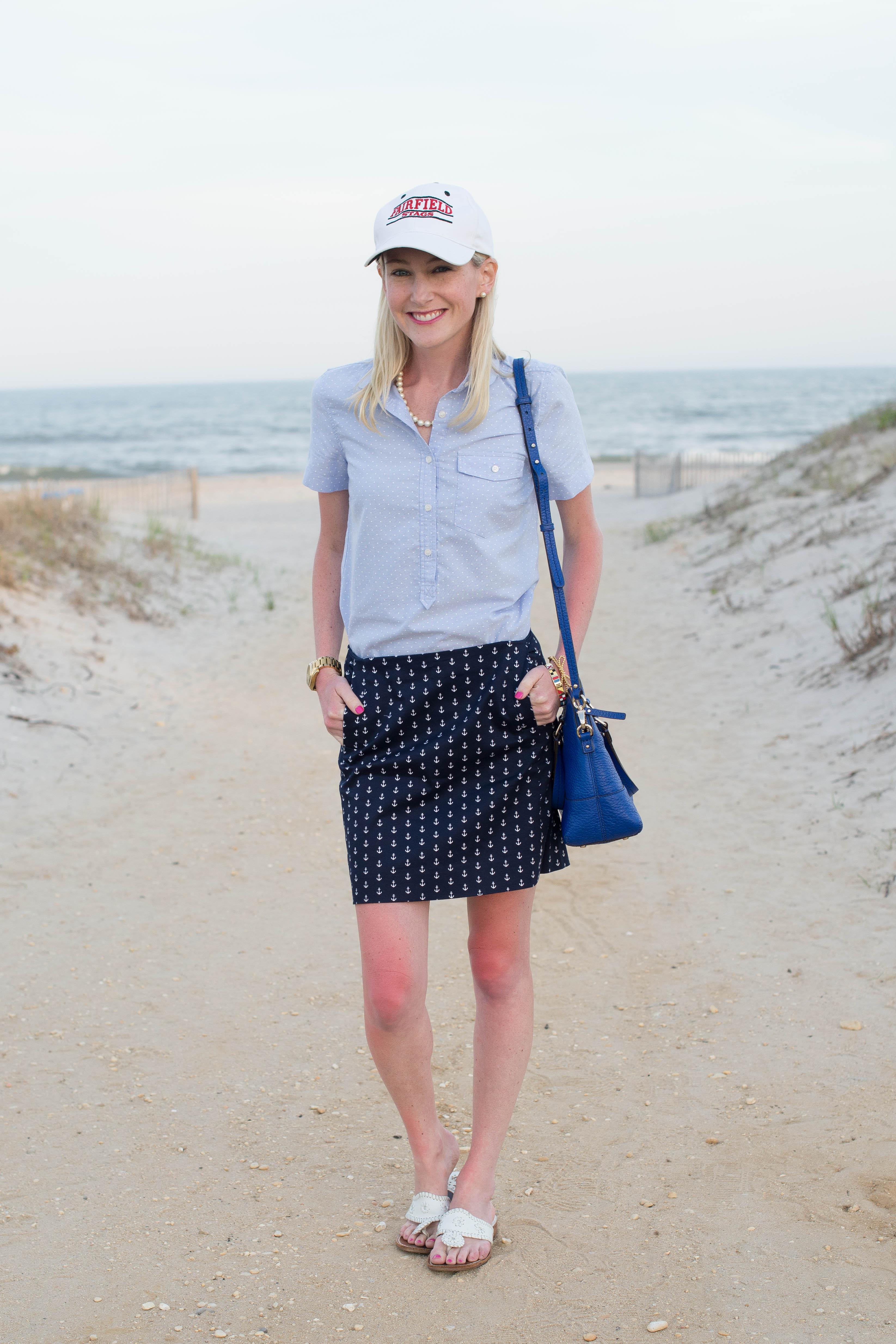 Shirt: J.Crew Factory, available in stripe, white and anchors / Bag: Kate Spade (Old), so in love with the navy and white version! / Skirt: J.Crew Factory (Old), sweater version here, and similar here and here / Hat: Fairfield University (Old. But go Stags!) / Sandals: Jack Rogers / Bangles: C.Wonder and Kate Spade (Sold out), still available here, and similar here / Watch: Marc Jacobs, and love it in brown and black / Necklace: Kate Spade, similar here / Earrings: J.Crew
I was supposed to get this post up earlier today, but I just couldn't bring myself to leave the beach. ;) What a gorgeous day, huh?! I spent it in the sand with Mitch, my parents, my brother, and close friends of the family. Such an amazing kickoff to summer. Leaving was hard (and Jersey Shore traffic nearly killed us), but I'm trying my best to remember that I'll back back in no time.
While down the Shore, I–of course–acquired my first sunburn of the season. Ouch! Actually, it's nothing compared to burns I've had in the past. (I'm a vampire.) I've been pretty good about skin protection over the last few years, but this burn serves as a subtle reminder that I need to continue to take care of my fair, Irish skin this upcoming summer. Skin cancer unfortunately runs in my family, so please–hold me to it! If you see me with burns in my photos this summer, scold me. I belong under floppy hats and umbrellas, and covered in SPF.
More tomorrow on my trip down the Shore. (We played with GoPro!) But for now, this little blogger is off to bed. Hope everyone had a wonderful Memorial Day weekend!