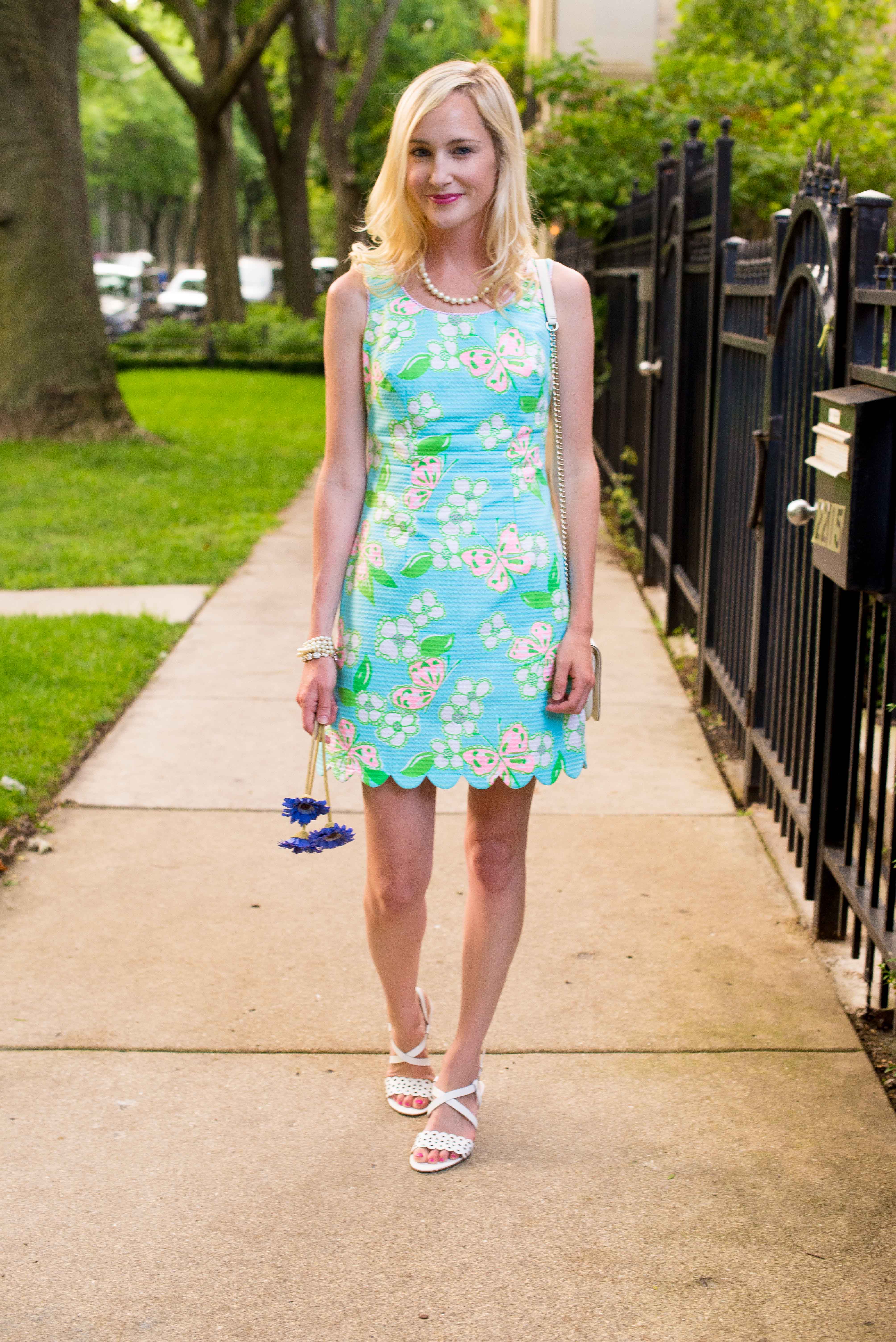 Dress: Lilly Pulitzer (found on eBay) / Necklace: Kate Spade (Surprise Sale going on now!) / Sandals: Franco Sarto (Old), similar here / Bracelets: J.Crew (Old), newer style here; and Armed & Readi (c/o) / Lipstick: Clinique ("Pudgy Peony") / Earrings: J.Crew
I think it's pretty obvious that I'm a huge Lilly Pulitzer fan. It reminds me of all things happy, like carefree days spent with family and friends down the Shore, my wedding, and fabulous weather. That might sound silly, considering that it's just a brand, but colors make me smile. And Lilly does colors well.
The one problem with Lilly is that it's expensive. Once in a while, I'll splurge on full-priced products that likely won't go on sale (like this top or this dress), but I normally try to be savvy about my purchases and wait for incredible sales or go for the older, discounted prints. It's pretty easy, considering I've never met a Lilly Pulitzer print I didn't like. ;)
While I love sites like Rue La La, Re-Lilly, and 6pm.com, and patiently wait for the annual Warehouse Sale and Endless Summer Sale (which usually takes place in August), my go-to place for Lilly Pulitzer bargains is eBay. I've found some ridiculous deals on some beautiful products, like the dress I'm wearing in this post. (Scored for under $50!)
I also use eBay to keep my costs down, and my closet orderly and functional. Whenever I purchase a new Lilly product–or any product, for that matter–on eBay, I sell one of equal (or higher) value that I no longer love, or have worn to one too many events. Recycling is key! It certainly takes some work, but I highly recommend it. Many of the Lilly dresses that I feature on this blog, for example, are no longer with me. But I'm sure they're being loved by someone else.
Tips:
*Be smart. I've never had problems with buying Lilly on eBay, but I always make sure to buy from reputable sellers, read past buyers' reviews, view all photos and read all descriptions, and consider where products are coming from. Besides not wanting to end up with counterfeits, I certainly don't want to support immoral behavior for the sake of a deal.
*Be polite and honest, and treat others will respect. When selling, include a plethora of information about/photos of products. If you purchase a product that isn't what was described in its original listing, contact the buyer first, and ask to return.
*Be patient. Not every listing is going to be a steal. Every once in a while, though, you can get lucky! Look for listings that have inconvenient ending times, and search for off-season clothing. Setting up alerts for particular sellers can also be helpful!
Have your own eBay stories–or secrets for finding Lilly for a deal? Please share!