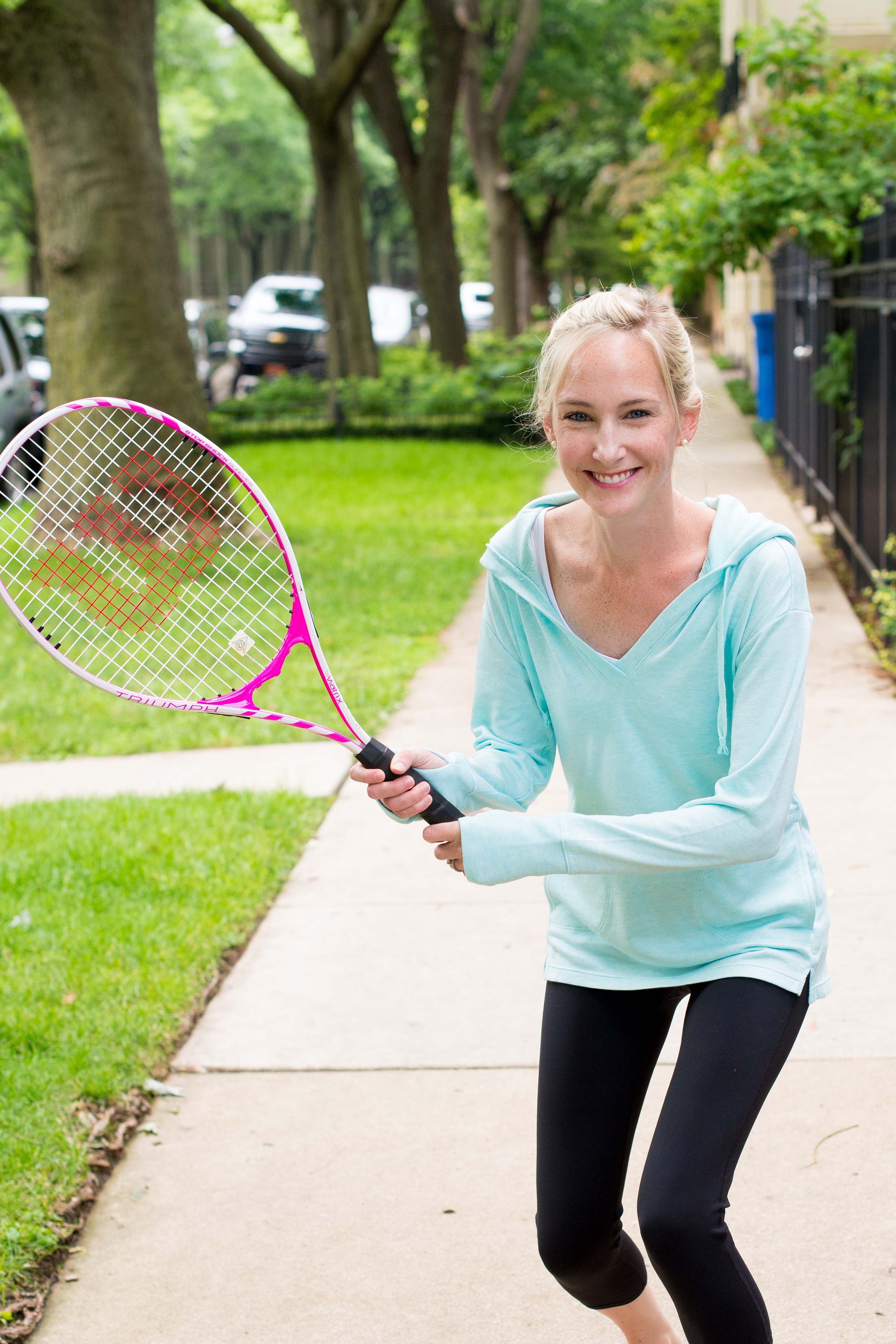 Pullover, Zip-Up and Capri Leggings — Athleta (c/o)  / Tank: Lilly Pulitzer (c/o) / Watch: Timex / Flip flops: Reef (Normally, I wear sneakers, but my current pair is in rough shape!) / Tumbler: Lilly Pulitzer / Tennis Racket: Wilson (Old), similar here
Athleta has long been a favorite for workout apparel, so when the brand recently asked me to team up for its "Athleta Unpacked" campaign, I was so excited. Today, I'm featuring three of my must-have products–the Slub Strength Hoodie, the No Rush Hoodie, and the Chaturanga Capri–all of which are super comfy, well-made, stylish, and versatile. They get me through everything, from exploring my new city and unpacking my apartment to working out and lounging!
(Need sizing help? Athleta runs TTS. However, I did go up one full size, as I like my workout gear on the looser side.)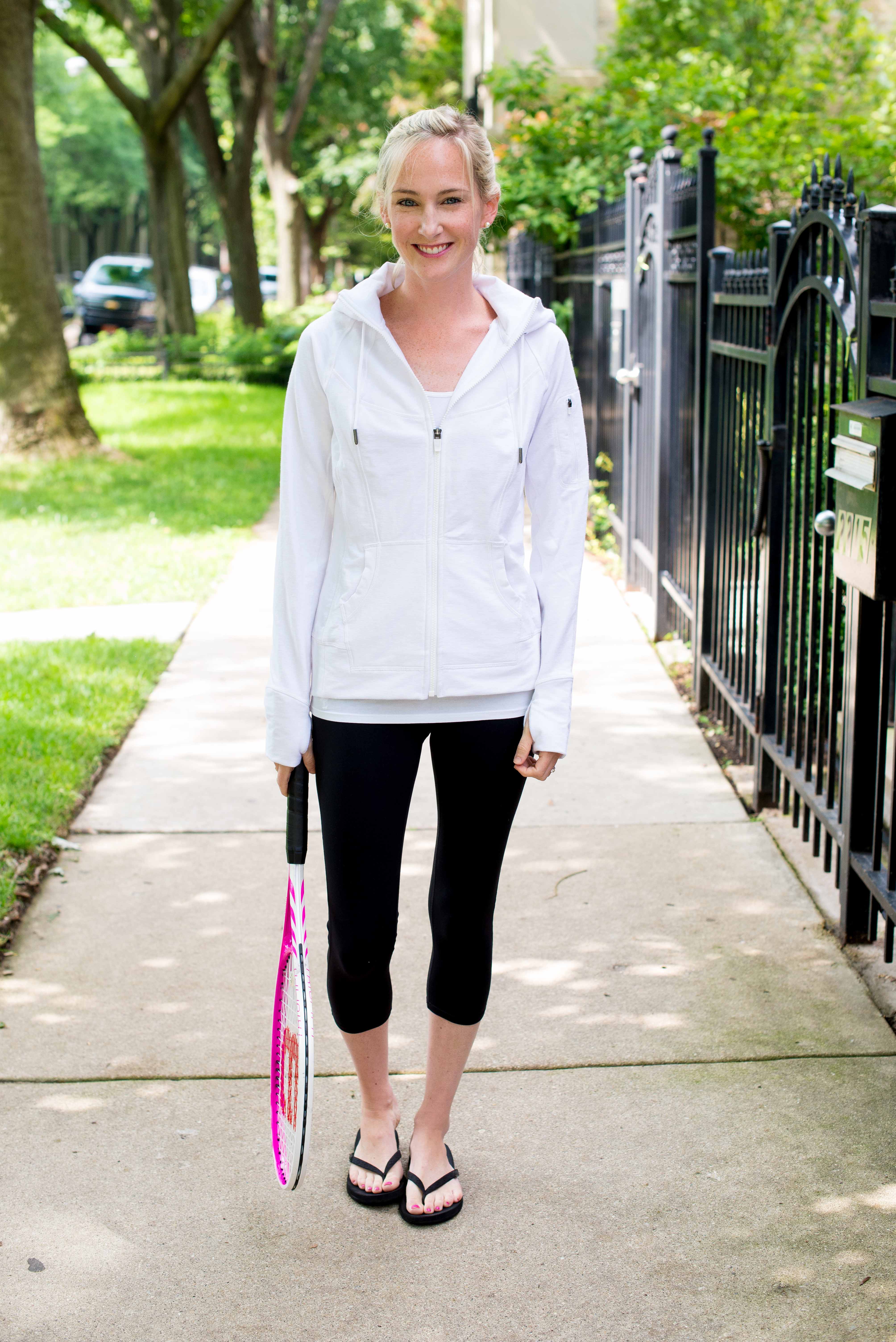 Wasn't fitness so much easier when we were younger? In college, I had a ton of time for things like going on runs, working out at the gym, and participating in intramural sports. I played field hockey and lacrosse while growing up, too, so my workouts were scheduled for me back then. I also had a trampoline at home.
OH MY GOD. I love trampolines so much. I used to be out there all the time, pretending I was Dominique Moceanu. Unfortunately, Mitch jumped through my beloved trampoline a few years back, so it's no longer with us. (My fault. I neglected to tell him about the hole in the middle of the mat, which I'd been jumping around for a while. My parents high-fived him, though, as they'd wanted the massive thing out of the yard for years.) But the minute we buy a house, and have our own backyard, we're totally getting one. My sister-in-law has promised to bring me to a local trampoline park that my niece and nephew love, too. (#imachild)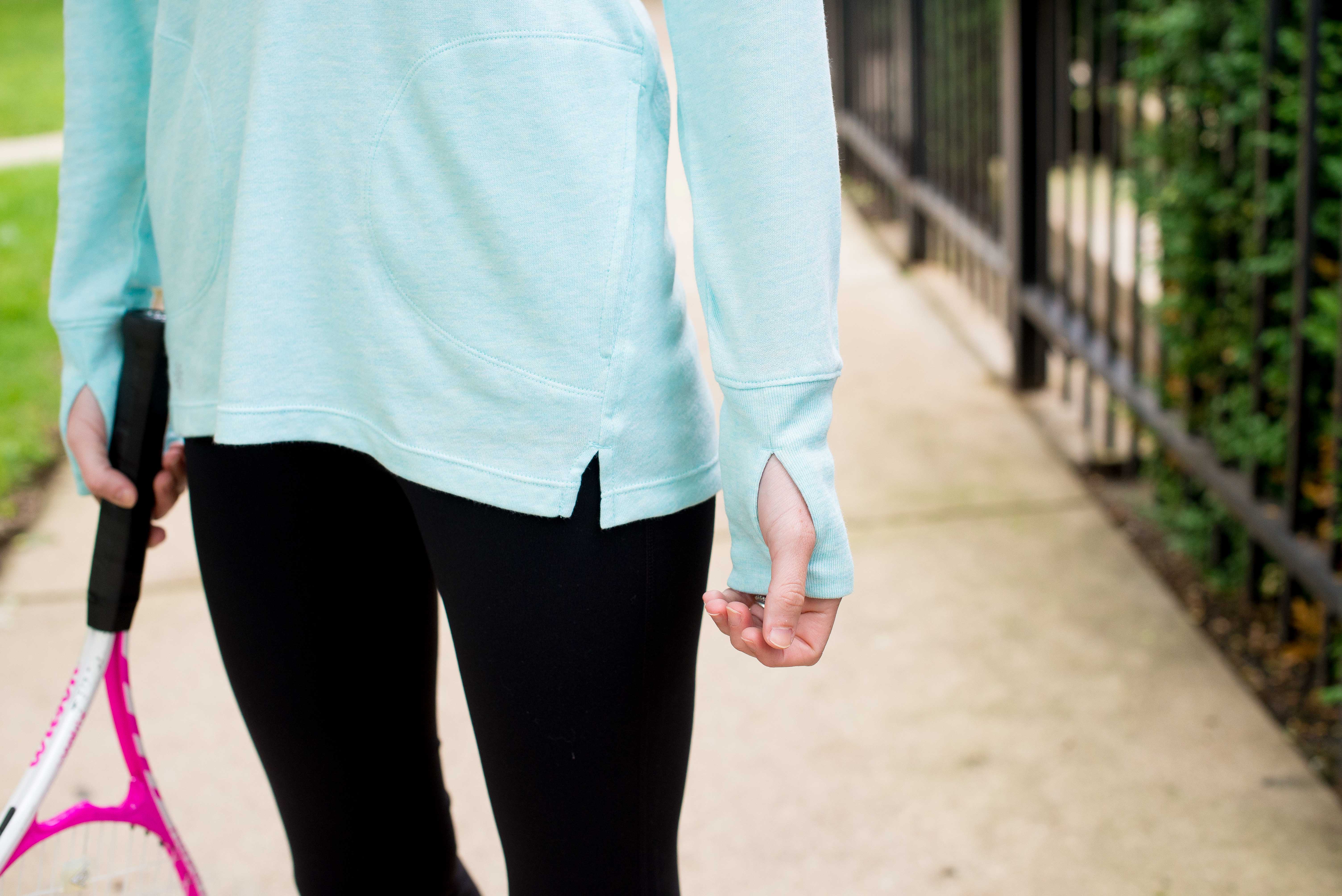 I digress, haha. These days, squeezing fitness into everyday life–and finding the motivation to actually work out–is a bit harder. Truthfully, fitness hasn't been a priority over the last couple of years. There was always something that I allowed to get in the way, whether it was wedding planning, my job, the blog, my social life… or shuteye. This summer, though, I've been putting far more emphasis on staying fit, and I've been laying off the excuses as well. And I have to say: I have way more energy than I usually do, and I'm happier. (Somebody remind me me of this over the winter! ;))
I've found that I'm far more likely to exercise if I find activity fun, and if I do it with someone else. (And, admittedly, if I'm wearing cute, comfy workout clothing! Thanks, Athleta!) Lately, I've been taking long walks around Chicago and playing tennis with Mitch. I've also been going to yoga with a friend.
How do you stay in shape and stay motivated? And what's your go-to athletic wear?