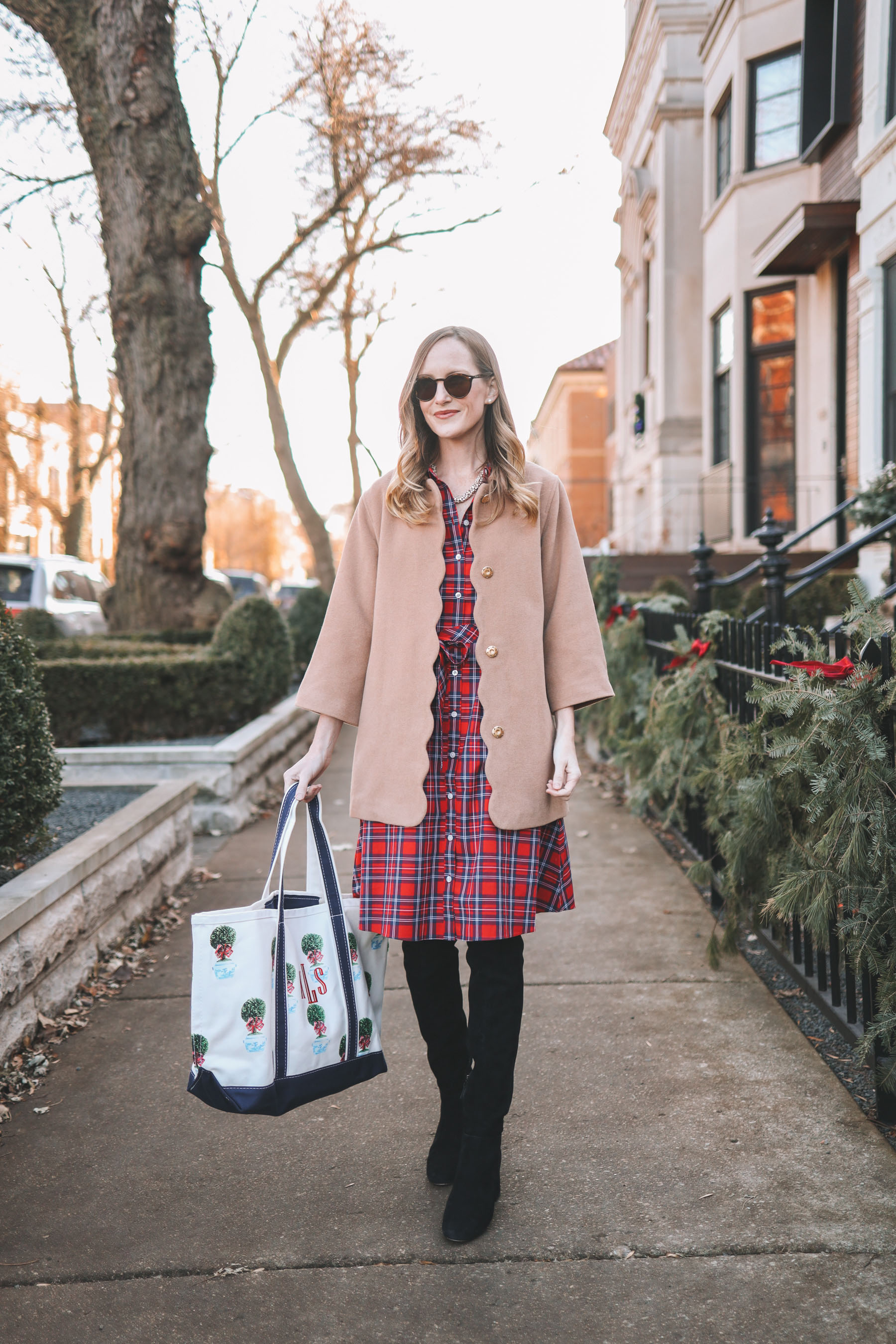 Draper James Plaid Dress (Love this version, too!) and Scalloped Camel Coat c/o / Newer Cole Haan Boots (Also love these, these. and these.) / Crab & Cleek + WH Hostess Tote c/o / Sparkly Necklace / Victoria Emerson Wrap Bracelets (Shown in a few pics!)
We're headed from NYC to my parents' home in Yardley, Pennsylvania today, but wanted to hop on quickly to share this easy holiday look.
I fell head over heels for this Draper James plaid dress the moment I saw it, and I loved that it had sleeves. So often, the best holiday dresses are short-sleeved or sleeveless, and no WAY am I going to suffer for the sake of an outfit. 😂That said, I would be all ABOUT this version if I lived in warmer climate. ;) Note: my dress runs a little small. I went up a couple of sizes!
But the real hero of this look is the scalloped camel coat, which I intend on wearing throughout the winter and into the spring. It's stunning. And I just feel like when you find a great scalloped coat, you hold on to it and love it for… a very, very long time. ;) I have it tied in the back in these photos, but it can also be worn tied in a bow in the front! (Just thought the double bow look would be a bit much, haha.)
Ah! And then there's the Ginger Jar/Topiary Tote, which is a collaboration between Crab & Cleek and WH Hostess. Is it not PERFECT? Crab & Cleek actually has a ton of adorably preppy products, so be sure to check out the site. Even if you're done with your holiday shopping, the company has so many gift options that are suitable for other occasions!
Aaaaand look at that. Another outfit post in the books! Killin' it, guys. Killin' it. Jokes.
Wish us luck as we navigate the Jersey Turnpike today! Boo.
Shop the post:
Draper James Plaid Dress (Love this version, too!) and Scalloped Camel Coat c/o / Newer Cole Haan Boots (Also love these, these. and these.) / Crab & Cleek + WH Hostess Tote c/o / Sparkly Necklace / Victoria Emerson Wrap Bracelets (Shown in a few pics!)