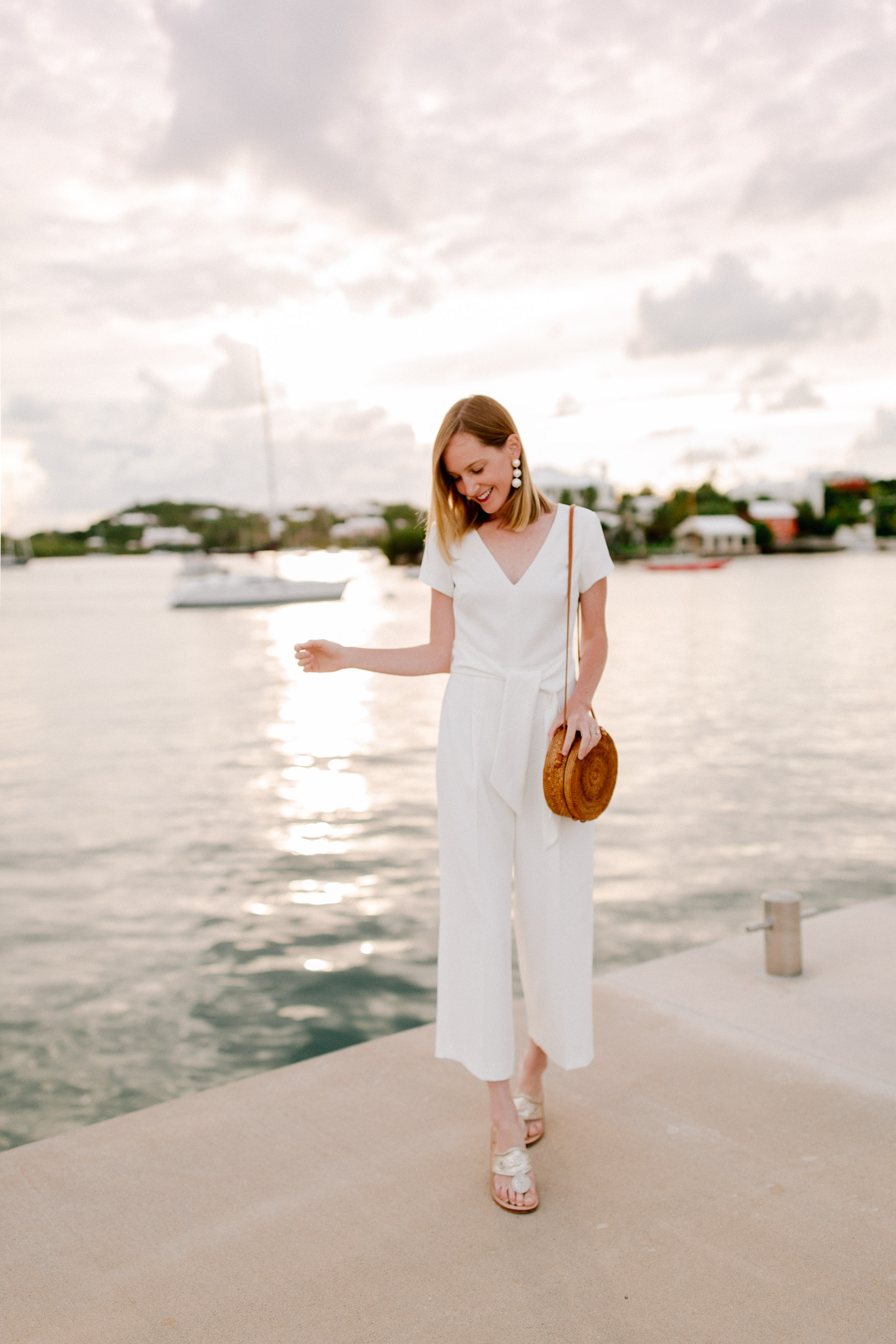 Club Monaco Jumpsuit (Sold out, but this one is nearly identical! This one and this one are super close, and I love this sailboat-print one, this ADORABLE navy and white one, and this navy one. You can see all Club Monaco jumpsuits here.) / Poppy + Sage Bag c/o (Also obsessed with this one! Love how affordable they are.) / Jack Rogers Sandals / Moon and Lola Earrings c/o (Love these, too.) / Emma's Smocked Auctions Dress c/o and Sandals / Mitch's Vineyard Vines Flip Flops / Similar Ralph Lauren Shirt
Hi, Friends! If you follow me on Instagram, you know that we were stuck at Reagan National Airport in D.C. for the last three days because of this. I might write a more extensive post about the experience because it's quite the entertaining story 😂. But for now, I wanted to pop in tonight and A) let you know we're finally home safe. B) thank you for your kind messages during our travel debacle ❤. And C) share a few photos from our favorite night of the BEST family vacation we've ever taken!
We were guests of the Hamilton Princess, which is by far the loveliest hotel known to Kelly Larkin. (Full recap coming on Monday!) These photos were snapped out on the docks right before our Father's Day dinner on our last night there. We went to Marcus, which is Chef Marcus Samuelsson's new restaurant. It was out of this world. (The cauliflower was one of the best things I've ever tasted. GET it if you plan on going!). It was such a special night. Everything was perfect, from the weather and our table overlooking the water to our awesome (hilarious) server and obviously the food.

I wore this jumpsuit from Club Monaco, which is now sadly sold out, BUT this jumpsuit is pretty much an exact copy. I've also rounded up a bunch of my favorite jumpsuits that are available above! This one, this one and this one are super close to the one I'm wearing, and I love this sailboat-print one, this ADORABLE navy and white one, and this navy one. You can see all Club Monaco jumpsuits here!
Also, sorry about the visibility of my bra in some of the photos. I guess that'll happen when you're running around after a toddler!
And let's talk about this bag from Poppy + Sage. There are a ton of similar ones out there right now, but I adore mine. It's so well made, the price is on point, and it's available in the cutest liners. I opted for the palm print since I mostly use it while traveling, but the striped liner gets an A+ as well. Also, I have my eye on this bag, too! Honestly, I think I'm going to be doing a giveaway with Poppy + Sage soon, so stay tuned for that.
Finally, I want to quickly mention Emma's dress. Smocked Auctions, a new-to-me brand, surprised us with a package… and I'm in LOVE. Smocked dresses are normally pretty expensive, but I'm amazed by Smocked Auction's prices and quality. Everything seems to run TTS, in case you're wondering.
See you back here tomorrow for regularly scheduled content!
Shop the post:
Club Monaco Jumpsuit (Sold out, but this one is nearly identical! This one and this one are super close, and I love this sailboat-print one, this ADORABLE navy and white one, and this navy one. You can see all Club Monaco jumpsuits here.) / Poppy + Sage Bag c/o (Also obsessed with this one! Love how affordable they are.) / Jack Rogers Sandals / Moon and Lola Earrings c/o (Love these, too.) / Emma's Smocked Auctions Dress c/o and Sandals / Mitch's Vineyard Vines Flip Flops / Similar Ralph Lauren Shirt