"Summer Fridays" T-shirt (Also available here. Runs a little large; I went down one size.) / White Drawstring Pants (They're SO nice. And they're on sale!) / Poppy + Sage Bag c/o (Also obsessed with this one! Love how affordable they are.) /  Comfiest Leather Block Heel Sandals (Here's the flat version, and here's the slide version. They're all crazy comfortable.) / Similar Sunglasses
I patiently waited until today to feature this t-shirt (also available here) because today is our first official "Summer Friday." ;) Before we get to this week's Musings and "Recent Finds," though, I'd like to highlight how you can help migrant children who have been separated from their families. It only takes a few minutes, and even small donations make a big impact. ❤
Musings
Noodle needs a dog bed. I'm finally working in my new home office, and Noodle has taken to sleeping under my feet on an old pillow. When she first joined our family, I tried three or four dog beds and she hated all of them; she preferred, instead, to snooze between my body and the back of my desk chair, haha. But lo! Girlfriend is finally ready. I'd LOVE a wicker one. Any recommendations?! Noodle's between 12 and 15 pounds depending on how many cookies Emma's fed her on any given day. She's long, but she curls up in a doughnut position.
I'm editing photos like crazy! Whenever I get back from a trip, I feel overwhelmed by the number of photos I've taken and, as a result, a ton of them get lost in the shuffle and never make it to the blog. I'm determined to not let that happen this time! I spent yesterday editing and categorizing Hamilton Princess photos, and I'm going to finish today. The plan is to have everything posted within the next two weeks. Can't wait to share. :)
Speaking of, you see yesterday's late-night blog post? I love shooting at sunset. And Emma's dress gives me all the heart eyes. That didn't even make sense. Also, here's a nearly identical copy of the jumpsuit I'm wearing. SO GOOD!
I can't get over how much having a home office has helped my productivity. It's insane. Actually, I used the room as an office back when we first moved in. But then I turned it into a full-on guest room and essentially closed it off because I was struggling with how dark it was. Recently,  I redid the whole thing (and wallpapered it!) with Serena & Lily, and I added a ton of lights. Frankly,  I. LOVE. IT. Also, I keep it super clean and organized, and Mitch set up a speaker for me in there, too.
I can't get over how much more I get done while I'm working in there, and how easy it is to "turn off work" when I leave the room. :) Waiting on new bedding to arrive, and then I'll post the room reveal! (Btw: Serena & Lily recently came to Lincoln Park on Armitage. The store is amazing. Stop by this weekend if you're in the hood!)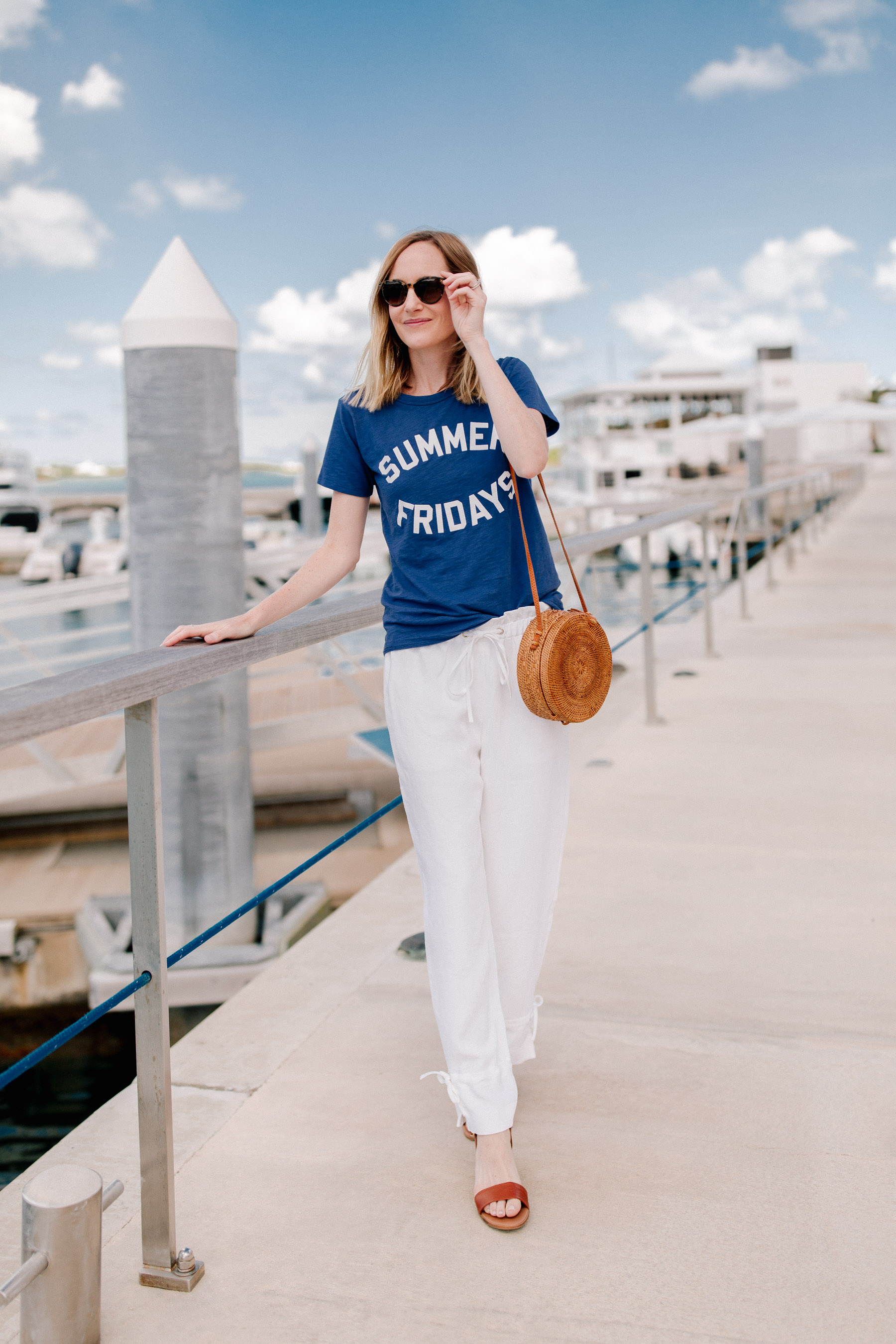 This week's 10 most popular products
Hudson skinny jeans: Two weeks in a row! I LOVE them. I'm actually wearing them as I type this, haha. They're my softest jeans and fit perfectly. They don't stretch out throughout the day, and I didn't need to get them hemmed. (I'm between 5'4 and 5'5, btw.) I couldn't recommend them more! Obsessed.
Sezane silk polka dot dress: It's SO CUTE. It keeps selling out, though, so if you see it in your size, grab it.
Packable straw bow hat: It's a winner every summer, but it goes out of stock quickly. I love the white one! You can literally jam it into your bag and them simply steam it back to life. (I don't own a steamer, so I just use the steam function on my iron. Works great!)
Drapey pullover: I wore it here. It's my favorite "going out" top, as it feels like pajamas yet looks super fancy. It's on crazy sale, too.
Red dress: HEART EYES. (Apparently this is my thing today.) Hoping to get it up on the blog next week if it arrives in time. It's available at Boden as well, in case you're looking for more sizes.
One-size-fits-all swing sweatshirt: I know. I talk about this top all the time. But you need it for summer.
Chicago skyline print: This is the giant print we currently have hanging over our couch in the living room. It makes such a statement!
Striped pencil skirt: I can't with this one. So cute.
Favorite brown leather block heel sandals: Seriously; they're SO soft. They run TTS and you won't regret them!
Blue striped twist-sleeve top: I ordered this one for our upcoming trip to OC. I can't wait to wear it with white skinnies.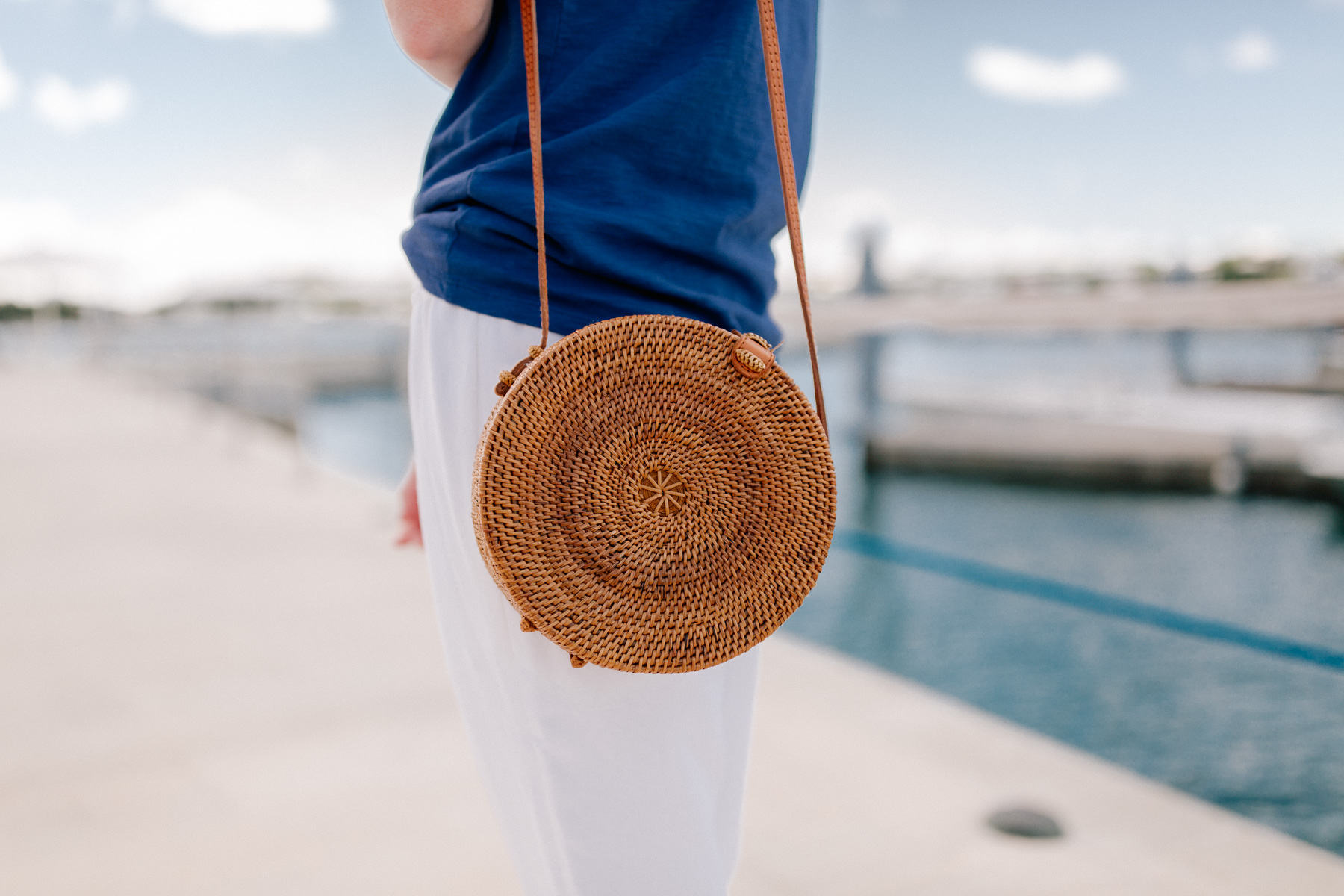 "Summer Fridays" T-shirt (Also available here. Runs a little large; I went down one size.) / White Drawstring Pants (They're SO nice. And they're on sale!) / Poppy + Sage Bag c/o (Also obsessed with this one! Love how affordable they are.) /  Comfiest Leather Block Heel Sandals (Here's the flat version, and here's the slide version. They're all crazy comfortable.) / Similar Sunglasses
What's on tap for the weekend
Gracie's birthday party: You probably saw that two of our best friends here in Chicago–Emily and Doug–are moving, as are Shaheen and Trevor. I can't lie; Mitch and I are pretty heartbroken. We completely understand why, and we're truly happy for our friends. But we're just going to miss everyone so much. I know this is to be expected when you decide to raise your kids in the city; families eventually start to move away. A chapter of our lives is simply coming to a close, and we're just going to have to take trips to see each other! But oy. My heart hurts right now. Anyway, we're celebrating Gracie's birthday this weekend, and I can't wait for that. Emma is so happy teetering around with the Charon girls!
Getting ready for Ocean City: My WHOLE family is going to be in Ocean City for the Fourth, which is my favorite holiday. This almost never happens, as my brother, Patrick, is an emergency room doctor and rarely gets a good chunk of time off. But it happened this year, and we're celebrating the Fourth and my parents' 60th birthdays together, as a complete family. Because of this, I want to have a week's worth of work completed ahead of time so I can be fully present while I'm with everyone. This upcoming week is going to be challenging but worth it! :)
On to this week's Recent Finds: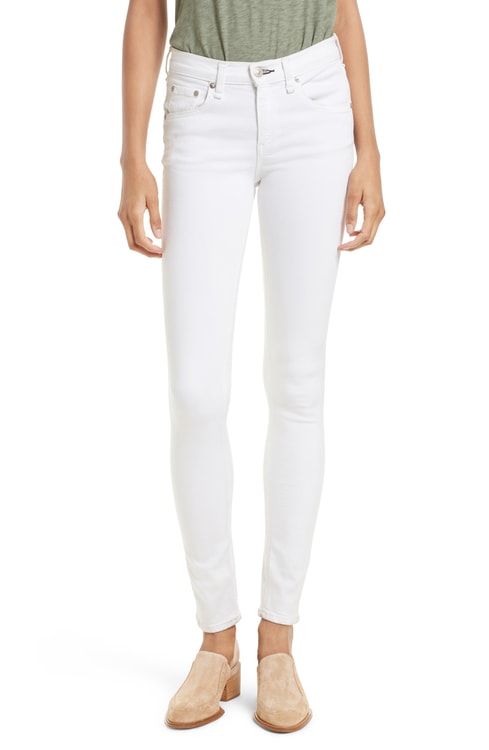 Remember when I dyed all my white jeans pink? Yeah, that was fun. I finally reordered my absolute favorite pair, and I thought I should re-mention how awesome they are. Crazy soft and don't stretch out. Pricey, yes, but I had my pair for three years and they held UP.