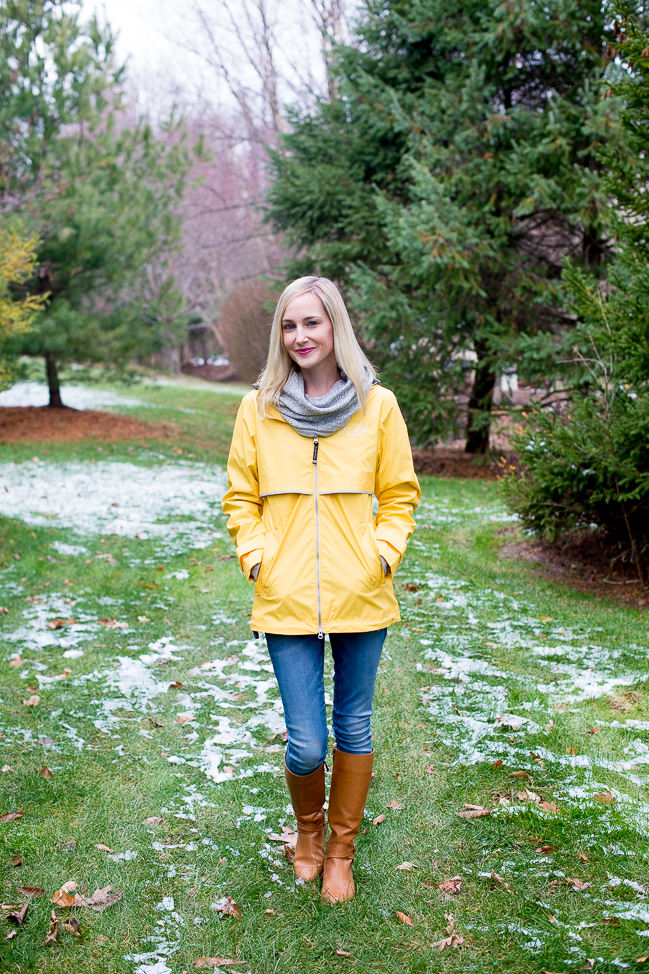 Charles River Apparel New Englander Rain Jacket (c/o) / Blank NYC Jeans (Take up to 25 percent off your Shopbop order with code "GOBIG14"! Love the darker version of the jeans, too!) / DUO Boots (c/o) / J.Crew Factory Sweatshirt (50 percent off everything and free shipping on orders of $50+) / J.Crew Earrings (30 percent off full-priced products and 40 percent off sale items with code "HOLIDAY") / Daniel Wellington Watch (c/o — Take 25 percent off your order with code "DWCYBERMONDAY")
I get caught in the rain all the time. I don't know what's wrong with me… I mean, how difficult is it to check my phone's the weather app in the morning? (Apparently, very.) Goodness. In New York, I swear I bought at least three of those $5 street umbrellas–you know, the ones that break within the first couple of hours–every month. And now that I'm in Chicago, it's a much colder rain I'm dealing with. Often it's that lovely "wintery mix" nonsense, which makes getting wet even worse. It's especially "ruff" during my early morning walks with little Noodle!
Thankfully, Charles River Apparel recently sent me this beautiful New Englander Rain Jacket, and it's been a lifesaver. How did I ever survive without a quality waterproof jacket? I throw it on every morning–sometimes over a heavy fleece when it's extra chilly–and I'm good to go. I love that it's lightweight, bright and cheerful, and monogrammed. (In typical Kelly fashion, haha.) And that it looks cute even when it isn't raining!
Now for the fun part! Stay dry this season with your own Charles River Apparel New Englander Rain Jacket. :) Enter below to win one in any color! (There are 10 colors in total!) Good luck!