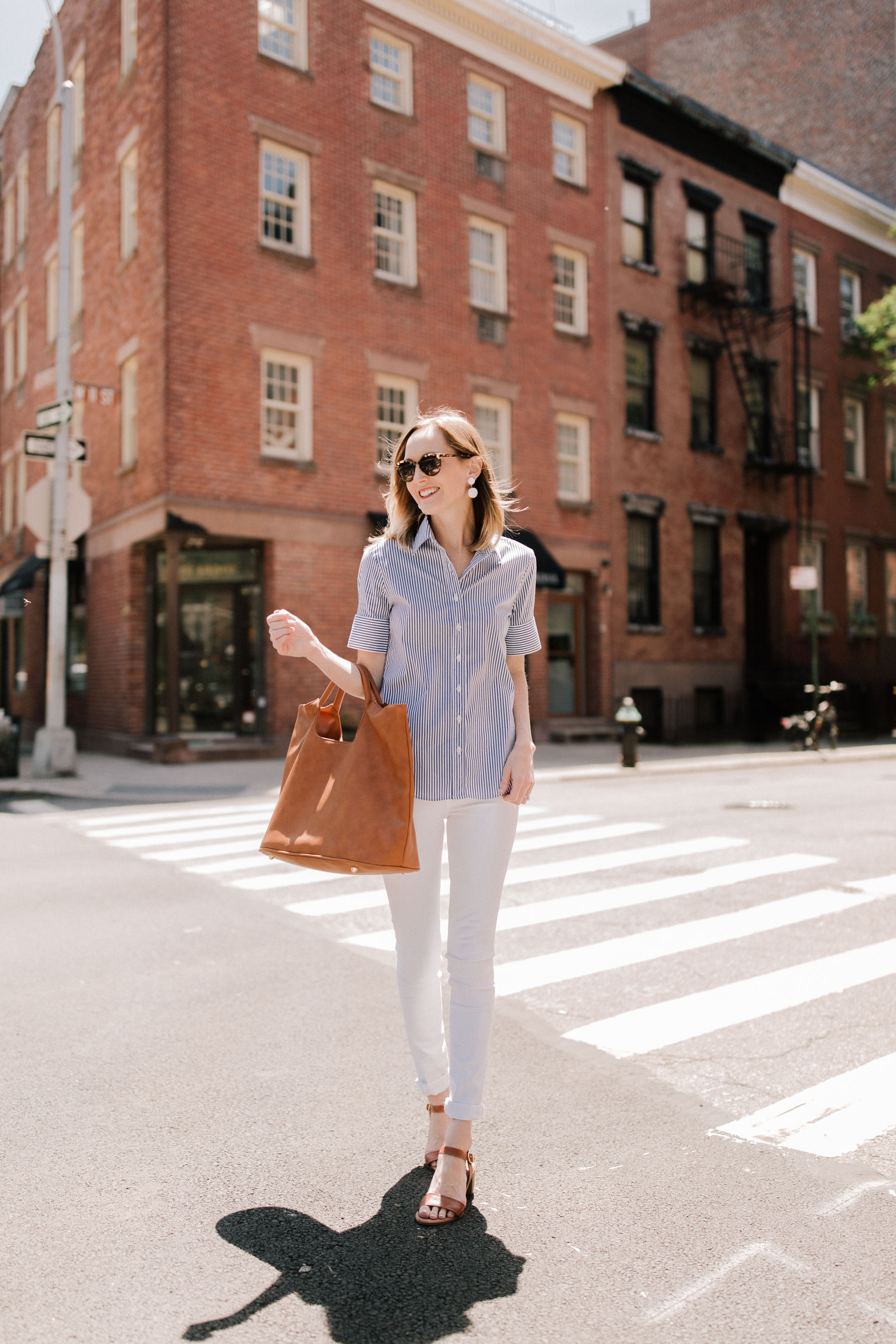 Tuckernuck "Icon Shirt" (c/o Runs TTS. Here's the white version, and here are the long-sleeved striped and the long-sleeved gingham versions.) / Denim Jacket (Love the white one, too.) / White Skinny Jeans / Comfiest Leather Block Heel Sandals (Here's the flat version, and here's the slide version. They're all crazy comfortable.) / Brown Leather Tote / Emma's Dress / Emma's Huarache Sandals (Adult version here!)
These photos definitely make me emotional. 🙈
They were taken right outside my very first New York apartment, located on the corner of Jane and Hudson in the West Village. I didn't live there for very long. And sure, we had a bit of a cockroach problem. But the little green three-flat will always hold a special place in my heart. Also, represent adventure for me.
Every time I walk past it, I'm brought back to a time when I was so ridiculously excited to be "making it" in the city on my own; to a time when I was so in love with New York and every bit of its glitz and grime and unpredictability; to a time when–let's be honest here–I solely ate mac & cheese so I could afford to go to dive bars on the weekend. 😂 And just looking at the building, I can almost smell the Italian food from the bottom-floor restaurant wafting through my open window (top left-hand one). And hear the bustling street traffic and never-ending horns below.
On one of our strolls through the city last week, Mitch suggested we stop by and take some photos of Emma there. At first, I was like, "No, no. It's okay. I realize I'm a lunatic." But then, as we neared Jane Street, I caved and started snapping. And I don't know. It seems like such a silly thing. But now I have these photographs of my daughter on Jane Street where my adult life began. Honestly, they just mean so much.
I guess I'm having a hard time verbalizing all of this. Or maybe I'm verbalizing it ad nauseam, haha! Either way, I'd love to hear if you have a place like this–some place that engulfs you with feeling and brings you back. Way back. :)
xx
Shop the post:
Tuckernuck Icon Shirt (c/o Runs TTS. Here's the white version, and here are the long-sleeved striped and the long-sleeved gingham versions.) / Denim Jacket (Love the white one, too.) / White Skinny Jeans / Comfiest Leather Block Heel Sandals (Here's the flat version, and here's the slide version. They're all crazy comfortable.) / Brown Leather Tote / Emma's Dress / Emma's Huarache Sandals (Adult version here!)