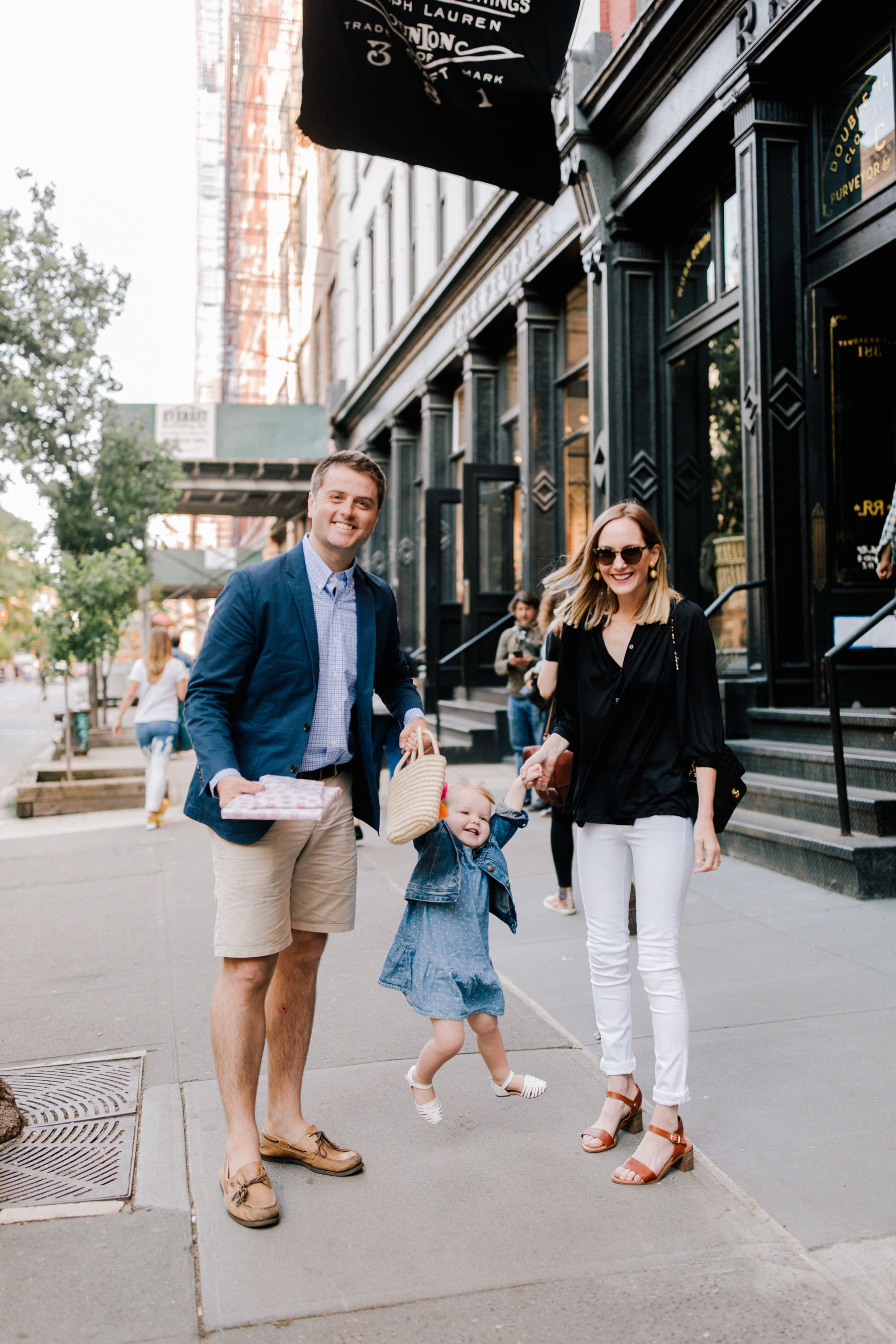 Drapey Top (On MAJOR sale! Runs TTS. I also have my eye on this top.) / Lantern Earrings (Lightest earrings ever!) / Favorite White Skinny Jeans (TTS.) / Comfiest Leather Block Heel Sandals (Here's the flat version, and here's the slide version. They're all crazy comfortable.) / J.Crew Denim Jacket (Love the white one, too.) / Emma's Denim Dress and Jacket / Emma's Huarache Sandals (Adult version here!) / Mitch's Blazer and Sperrys
On Monday, we flew to New York. :) I'll admit that travel is no longer as easy as it used to be now that Emma's a toddler, and yes… we might have found ourselves Home Alone-style sprinting through O'Hare International Airport in an effort to make our flight. (For a variety of reasons. I can't put that all on Emma. 😂) We made it, though!
The trip was a fairly last-minute one. (We came to cover a fun Marshalls event in the Flatiron District.) But my parents are absolutely awesome and dropped everything to see us. We met at our hotel so we could get Emma to bed at a somewhat reasonable time, and then wandered over to the Village for dinner at Villa Mosconi–a family favorite.
My mom is the cutest, and every time she sees Emma, she has WRAPPED presents in her purse for her. We literally called my parents late Sunday night and told them we were coming, and Mom ran to HomeGoods on Monday morning to get Emma "dinner activities" for that night. (Thank you, thank you, thank you, Mom.) I'm not the most seasoned parent, but I'll tell you this: going out to dinner with a toddler is FAR less stressful when you have new activities to amuse them with. ;)
She let Emma carry the presents to dinner, too… which made for an incredibly fun walk. Honestly, I've never seen the child so joyous, haha. (I also brought along the purse that Aunt Michelle and Aunt Alicia gave her, so that added to it. She definitely felt like a big girl.) Anyway, everyone was having such a ball that I couldn't help but break the camera out for a few pics!
It was such a great night. Tons of laughs at dinner… and before heading home, we ran around with Emma at the paved ball field next door. (Which weirdly has played a big role in my life. A lot of big events occurred at or around it!) My heart is full today, and I'm already counting down the days until the Fourth of July on the Shore with the fam. <3
Style notes: This drapey shirt is a go-to "going out" top for me! It's on crazy sale. I also adore these sandals, which are super soft and require zero break-in time. (Here's the flat version, and here's the slide version. They're all crazy comfortable.) Finally, best statement earrings for ladies who, like me, can't handle heavy earrings. Weightless!
Shop the post:
Drapey Top (On MAJOR sale! Runs TTS. I also have my eye on this top.) / Lantern Earrings (Lightest earrings ever!) / Favorite White Skinny Jeans (TTS.) / Comfiest Leather Block Heel Sandals (Here's the flat version, and here's the slide version. They're all crazy comfortable.) / J.Crew Denim Jacket (Love the white one, too.) / Emma's Denim Dress and Jacket / Emma's Huarache Sandals (Adult version here!) / Mitch's Blazer and Sperrys