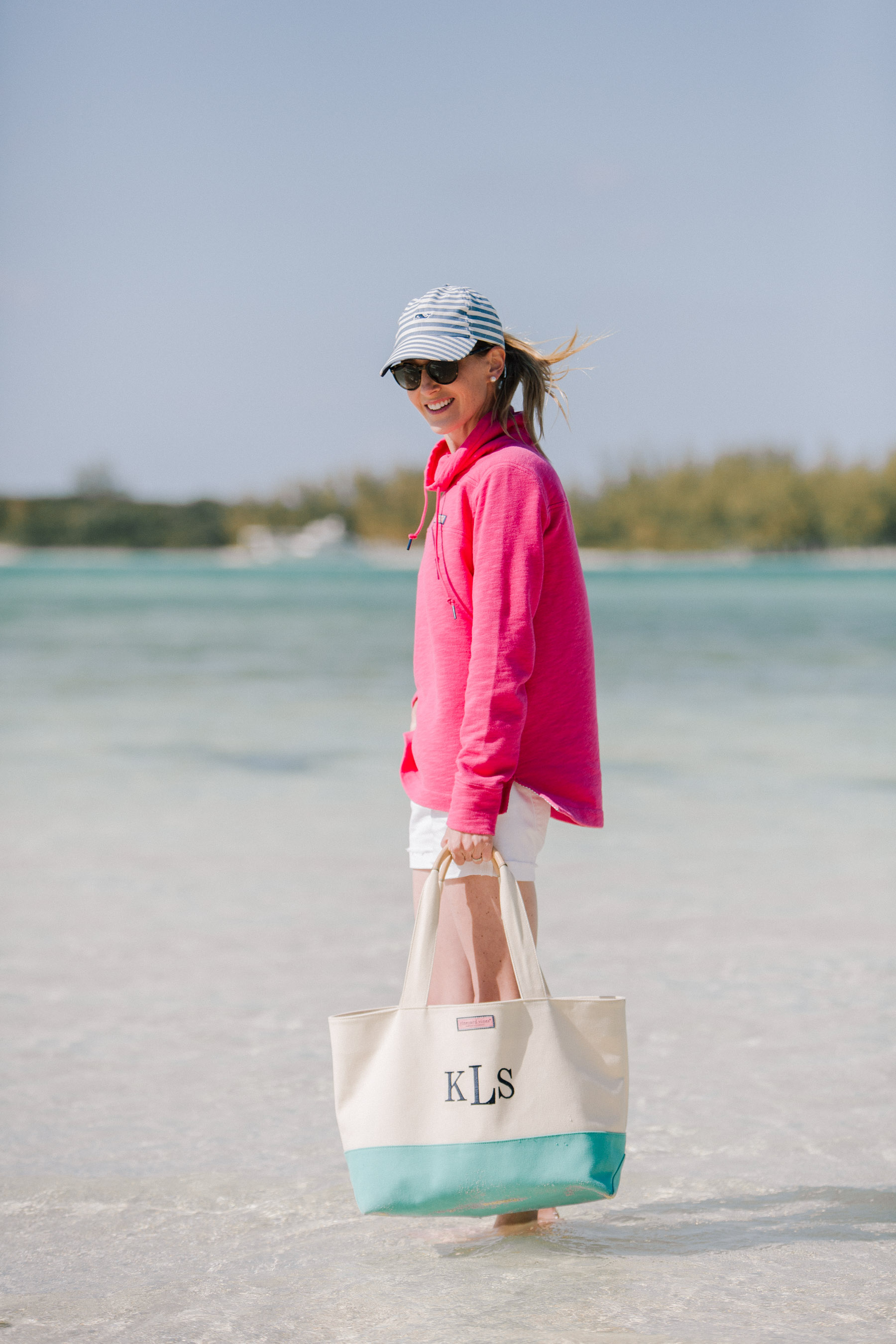 Vineyard Vines Shep Shirts, Hats, Shorts, Tote Bag (Though obsessed with this one and this one!), Jean Shorts, Pineapple Bathing Suit, Gingham Bikini Top and Bottom c/o / Jack Rogers (Price matched! This version is on sale, too!)
I told Carly and Mackenzie the other day that I'll likely be posting photos from our trip to the Abacos with Vineyard Vines well into August. 😂 I'm sure you've felt like this before, but whenever I get home from a trip, I feel a bit daunted by the number of snaps I need to cull through. I know I've said that photo editing is relaxing for me, and it is. But I also find that while I'm on vacation, I tend to take a zillion photos of essentially the same subject.
Omg, a palm tree!
[Proceeds to take 26 photos of said palm tree from slightly different angles.]
Luckily, we had Sean, our trusty photographer, who really didn't do the whole zillion-photos-of-the-same-subject thing. But he documented things so well–and I took so many photos on my point-and-shoot camera–that I'm still finding awesome stuff on my hard drive that hasn't yet made its way to the blog!
However, the real reason I felt the desire to post these today is because on Friday, we leave for Bermuda, and they remind me of that! Yes. It's kind of a crazy week for the Larkin Family. (We're currently in New York with Marshalls.) But I'm so excited for some warmth, as we've had an unseasonably cold start to summer in Chicago. We'll be guests of the Hamilton Princess, btw. Have you been?!

Anyway, these were taken when Carly, Mackenzie and I visited Green Turtle Cay in the Abacos. :) We had a chilly start to the day, and we therefore all wore our bathing suits under our Shep Shirts and sweatshirts. But by mid-afternoon, things started to warm up. The water, however, was pretty choppy, and we only saw one turtle off the docks. I'd LOVE to go back one day and actually swim with the turtles, though. It's what the area is known for!
Hope you guys are having a great week! While we're away, you can follow along on Instagram & Instagram Stories. ☺
Shop the post:
Vineyard Vines Shep Shirts, Hats, Shorts, Tote Bag (Though obsessed with this one and this one!), Jean Shorts, Pineapple Bathing Suit, Gingham Bikini Top and Bottom c/o / Jack Rogers (Price matched! This version is on sale, too!)

Photos by Sean Gale Burke