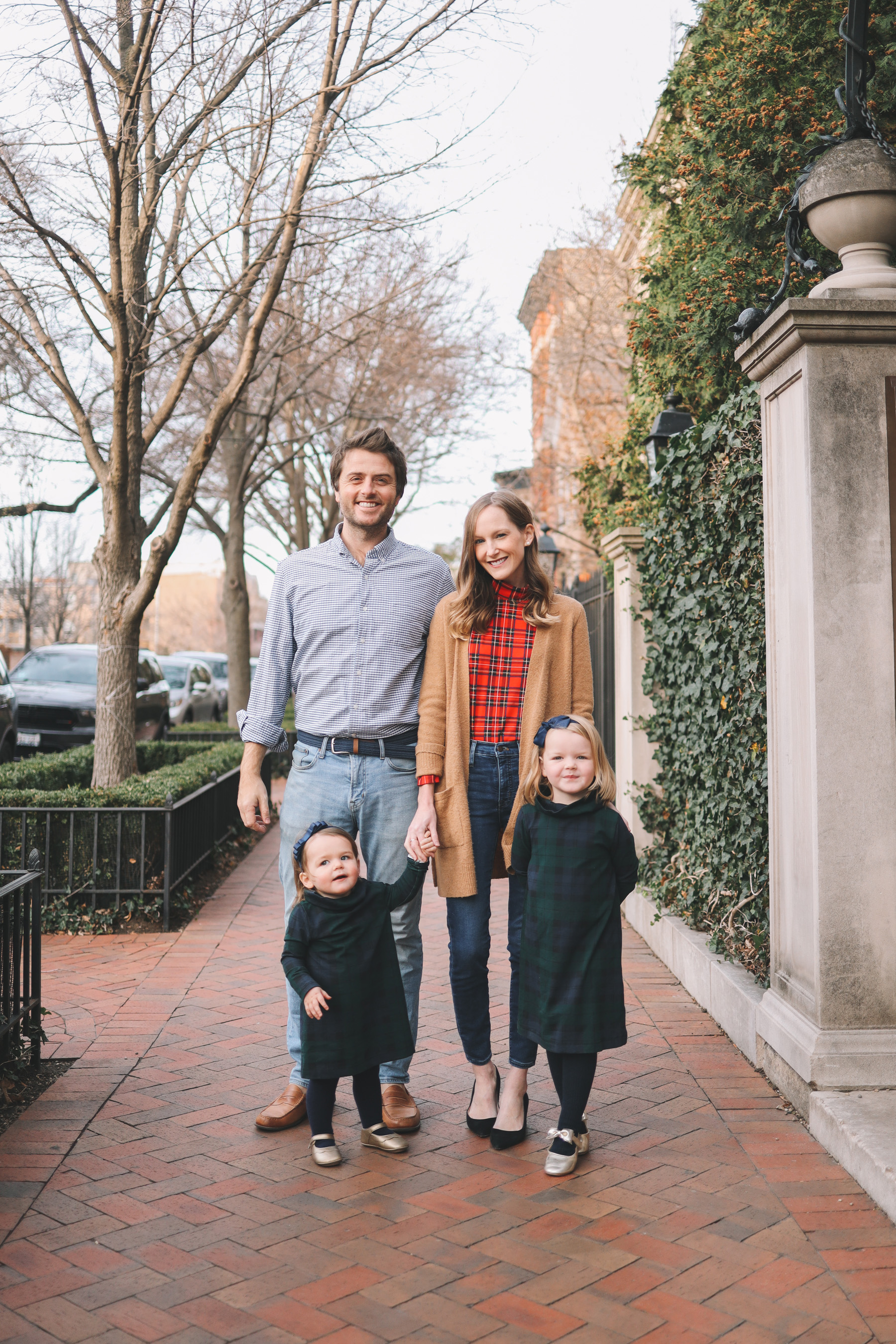 Tartan Tissue Turtleneck / Cozy Jeans (THE BEST. So warm and soft!) / Black Pumps (Ridiculously cheap today. It's unreal. Leopard version here.) / Long Cardigan / Girls' Blackwatch Plaid Dresses / Mitch's Checked Shirt
Guys! I hope you had a happy and safe Thanksgiving. We cancelled our plans and stayed in Chicago—just the four of us—and opted to Zoom with family. And I have to say: It felt very special. Yes, a little sad; hard not to forget what's going on in the world and why, exactly, we can't be together. But it was good. And now we need a little Zoom break. (Though Grandma Sheehan, we're comin' for you tomorrow! You better pick up… or else I'm sending Uncle Alex in. Jokes. 😆)
Anyway, it's Black Friday! As always, I'll be covering it today and all weekend. (I hope this is helpful!) Of course, Black Friday coverage can often be overwhelming. So I've decided to break it up into several posts. I'm starting this morning with the obvious: clothing brands. Specifically J.Crew, J.Crew Factory, Madewell, Tuckernuck, Abercrombie and Anthropologie—in this post, at least!
Here we go: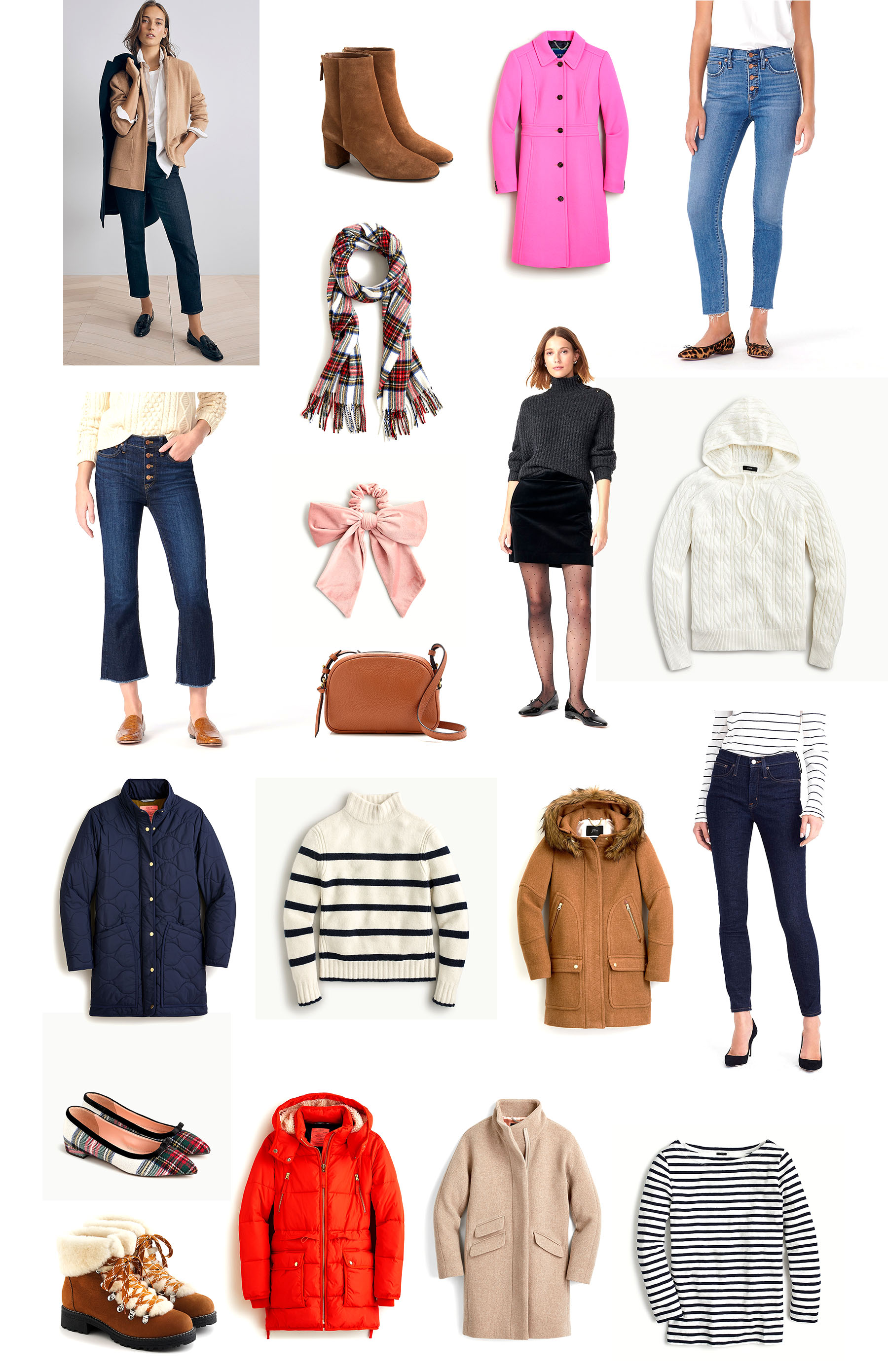 Use code "CYBER" to take 50 percent off and then an EXTRA 10 percent off your purchase.
Willa Boots: The Willa boot comes in so many different versions, and they're all spectacularly comfortable and sharp-looking. I own two pairs! TTS.
Lady Day Coat: Here's my full review! The warmest *dress* coat I've ever owned. Runs slightly small.
Chateau Coat: FANTASTIC. I just love that fur collar! Made out of stadium cloth wool, which is known for its warmth. TTS.
Chateau Puffer Coat: I recently ordered this and I'm in love. It's so cozy. The red is my favorite! Runs big.
Cocoon Coat: I've owned this coat since 2011. It's a classic! Warmest wool coat I've ever owned. (The Lady Day Coat is the warmest *dress* coat, though. Not as warm as the Cocoon, but very good!) The Cocoon runs large but it's meant to look oversized and cocoon-like.
Quilted Cocoon Coat: The quilted version. Runs even bigger. Definitely size down. I walk Noodle in this coat every morning! Those pockets are everything, and overall, it's just such a great preppy-looking jacket haha.
Nordic Boots: YES! I'm thrilled with this purchase. They're normally backordered and not on sale, so this is such a treat. They run TTS and be prepared to get one zillion compliments.
Striped Boatneck T-Shirt: I own three. That's how often I wear it! I wear mine year-round, too.
Supersoft Striped Sweater: How to get your stripes in sweater form! For my Chicago gals.
Camera Bag: Wonderfully soft and such a good deal. Makes for a good gift since you don't have to worry about sizing.
Dark Skinny Jeans: Probably J.Crew's most popular pair of jeans. I'd say that they run a teensy bit large; definitely don't size up.
High-Rise Toothpick Jeans: Received these a couple of weeks ago and I'm OBSESSED. They're so soft! So many of my friends bought them too and at one point there was a text chain going around about the jeans' magic. Don't judge. There's a pandemic, haha.
Velvet Bow Scrunchie: IT'S SO BIG!
Velvet Mini Skirt: So into mini skirts this year. This one is a classic! Btw: I wear my mini skirts in November/December with either sheer or sweater tights underneath. Get tights that aren't super constricting. Much better to have them feel like leggings, otherwise you'll never reach for those beautiful skirts or dresses!
Cable-Knit Cotton-Cashmere Hoodie: Love it in white! Paired with lighter wash jeans, such a cute look.
Demi-Boot Crop Jeans: Ever wonder why your booties look off when you wear them with most skinny jeans? You need this pair of denim. All problems=gone.
Sophie Sweater Blazer: Most-worn blazer. Gives you the look of a blazer but the comfort of your coziest sweater.
Tartan Scarf: They brought back the iconic plaid!
Tartan Flats: I have last year's version or maybe the version from the year before that. Either way, they're adorable. Happy feet!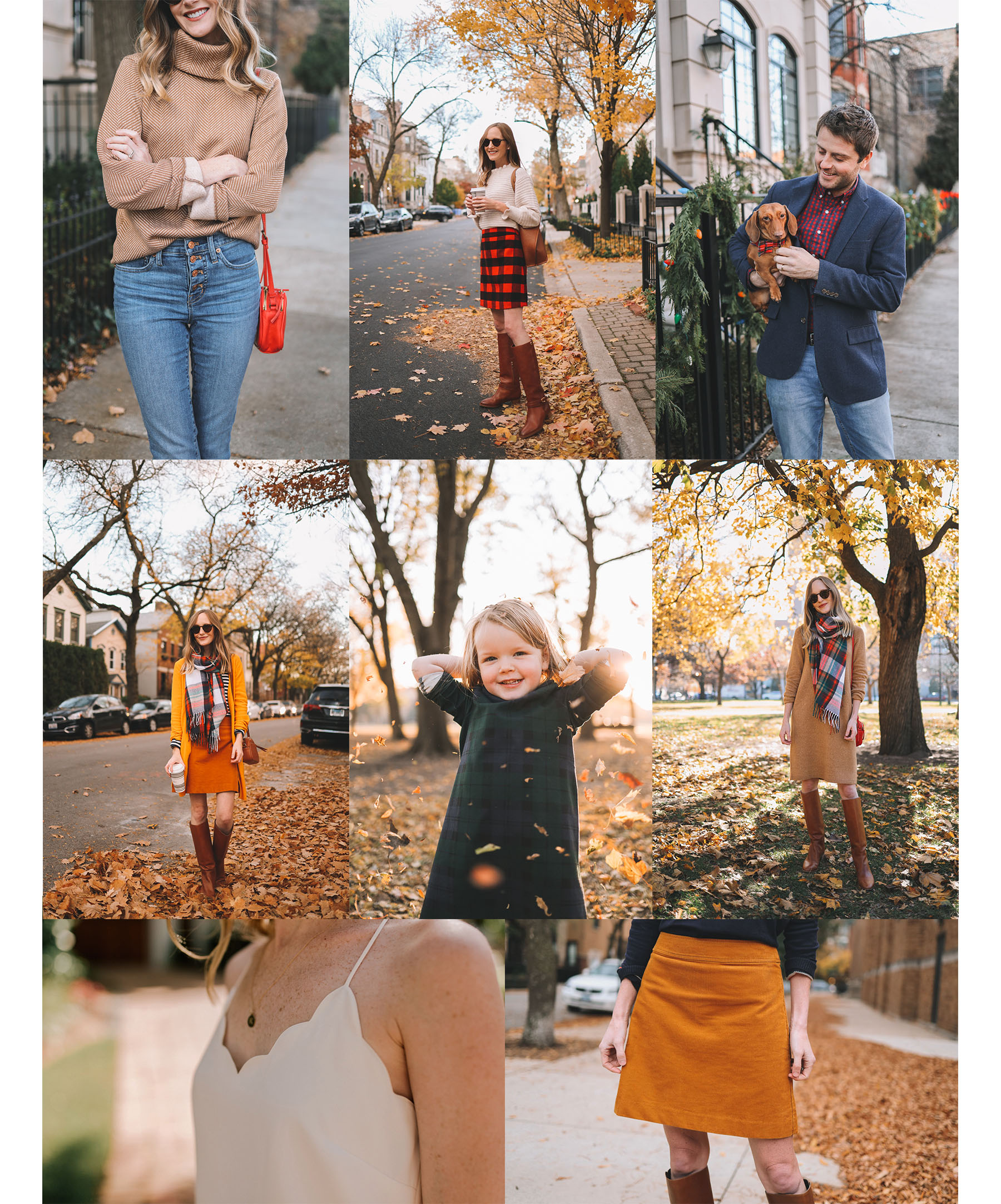 60-70 percent off everything and an extra 15 percent off your purchase with code "POWERUP."
Click here to go to my Complete Guide to Shopping J.Crew Factory!
Cape-Scarf: YAY! J.Crew Factory brings this style back every few years, and I was excited to see it included in this season's collection! Since it's one-size-fits-all, it makes for a fantastic gift. I think it looks incredible paired with simple black leggings and an oversized black sweater.
Flannel Sleep Set: These are my favorite holiday pajamas. I won't lie: I own a lot of Christmas PJs, haha. But these are the best! So soft and cozy, and come on. Stewart Tartan? It's superior to all other tartans. ;) TTS.
Tissue Turtleneck: The Tissue Turtleneck is an everyday staple for me, as it's such a great layering piece. (If you struggle with what to wear under blazers, you need this!) TTS.
Buffalo Skirt: I LOVE THIS! I've worn it so much this season. (Here's a recent outfit post in which it's featured.) TTS, but I did go up one size because I like to tuck chunky sweaters into skirts and I also love Christmas cookies a little too much.
Three-Tier Mini Skirt: This is currently in my cart. Paired with sheer black tights, black bootiesand a black ruffleneck sweater: Awesome holiday look.
Black Watch Bow Top: I mean, it's plaid. And it has a bow.
Black Watch Pants: Every girl needs a good pair of festive black watch plaid pants! Yes, you'll likely only wear them Thanksgiving through Christmas, but Factory's prices are so good that they're a no-brainer! Get read for all the "great pants!" comments. :)
Buffalo Ruffled Button-Down: It's FLANNEL! (In years past, the ruffle tops were cotton.) The color is gorgeous and you'll be warm. Here's the Stewart version!
Plaid Scarf: This is in the "Shoes & Accessories" section, but gotta insert it here, too, since it's my favorite scarf of the year. Wonderfully soft and really keeps the wind and chill off your neck. "White Juniper Plaid" is where it's at, haha. But seriously: It's a versatile plaid, as crazy as that statement makes me sound. I've worn it throughout the entirety of fall, and I plan on wearing though the winter, too. If you're looking for something more Christmassy, though, the black watch is perfect. The pink and buffalo plaid are awesome, too. Honestly, just add all of them to your cart.
They're so affordable!
Solid Sweater Dress: YOU NEED IT! It's no-itch, and it looks awesome with riding or over-the-knee boots. Such a huge fan. You can see me wearing it in this post. For sizing, I would likely recommend ordering your normal size or one size down. Mine is a tad big and wish I'd gone down a size!
Long Cardigan in Extra-Soft Yarn: This is a must. I can't tell you how often I wear it! As I type this, it's actually hanging off the back of my chair. It's great for sweater over Tissue Turtlenecks (especially black!) and striped tops. Sizing: I usually order a small in tops and sweaters, but I went with an XS in this cardigan.
Ruffleneck Sweater: I somehow missed this while originally putting together this post, but had to go back in and add it. The ruffleneck sweater is so popular this season, and this one is a real steal!
Button Sweater in Extra-Soft Yarn: I adore the exact outfit that the model is wearing in this photo. So simple but A+.
Tartan Pullover Sweater: For all my girls who get far to cold for silky tops this time of the year. You can still sport that plaid and be toasty!
Classic Turtleneck Sweater: Another solid staple.
Patterned Funnelneck Pullover: This is probably my #1 recommendation in this entire post! It comes in three patterns—each one better than the next—and it's lined with this wonderfully soft and cuddly fleece-like material. (Yes, that's the technical term for it, ha.) Sizing: I went up one size for a looser look. It's fitted!
Cozy Turtleneck: I love J.Crew Factory's "Cozy" line! The material is out of this world considering the price, and this new turtleneck is at the top of my list. I admittedly have a very serious turtleneck problem, but this one is different. (Be sure to check out the Black Jeggings and Denim Jeggings, too. They're both from the Cozy line and such dreams.)
Cozy Jogger Sweatpants: They look stellar paired with white sneakers and a chambray button down. Fair warning, though: You'll never want to take them off. Size down.
Cozy socks: Haven't tried this yet but I'm just going to go ahead and say they're consistent with the rest of the Cozy line!
Solid Cozy Funnelneck Pullover: This was unavailable for a long time, but since it was just re-stocked, I wanted to go back and add it in to this post. All the colors are great, but the gray is next level 2020.
Noodle Pajama Pants: Obviously worn with this Noodle t-shirt, haha.
Full-Length Black Leggings and Cropped Black Leggings: If you can find these in your size, they're a ridiculous deal right now.
Printed Cropped Leggings: YES! I'm such a big fan of these in the both the leopard and the houndstooth. I go up one size so they feel like pajamas yet look like pants. (I'm a genius. I know.)
Striped Artist Tee: It goes with everything. (Especially that camel cardigan!) I go up one size since it's fitted. Short-sleeved version here.
Soft Chambray Shirt: It's really soft! Probably my favorite chambray shirt in my closet. Definitely the one I reach for the most. Size down. Runs large. 
Black Jeggings: These are from the "Cozy" line, and they keep.you.warm. without adding bulk. Leggings meet jeans meet thermal, if you please. I order my normal size.
Denim Jeggings: Here they are in the denim wash!
City Coat: It's a classic! Here's the coat in herringbone, and here's the more tailored Lady Coat version.
Tissue Turtleneck: I keep referencing this piece, but it has to be part of the "Everyday Basics" part of this post! Again, it's just the perfect top to wear under cardigans and blazers. Tuck it into jeans, skirts or statement pants, too. You at least need it in black and white!
Corduroy Skirt: I can't tell you how often I wear this! It was starting to get embarrassing, which is why I ended up buying the buffalo version, too. It's the preppiest skirt in all the land, and I love pairing it with long-sleeved striped tees or chunky sweaters. TTS, but I went up one size so I could tuck those chunky sweaters in.
Gingham Button-Down: Mitch and I joke that we almost always wore these shirts to Summer House, a local restaurant whose wait staff wears them as uniforms. It's so embarrassing. But that's how often I wear a gingham button-down.
Plaid Bow Top: Well, this is the second time I'm including it in this post so you know I love it. ;)
Tulle Skirt: To pair all those plaid tops with! I've actually never owned a tulle skirt before, but this one looks great, especially with that elastic waistband!
Foil Bow Top: Now THIS is a holiday top. Would also work so well for a (very tiny and socially distant) New Year's Eve celebration!
Scalloped Camisole:  I've owned this for years, and it's a piece that I personally get year-round use out of. Even with a simple pair of dark jeans, it stands out! I own it in white and black.
Drapey Velvet Jamie Pants: These are FABULOUS! They're pull-on, so they feel like sweatpants but look like fancy pants. I love them. TTS.
Plaid Scarf: GUYS. You need this! This is definitely my favorite scarf of the year. Wonderfully soft and really keeps the wind and chill off your neck. "White Juniper Plaid" is where it's at, haha. But seriously: It's a versatile plaid, as crazy as that statement makes me sound. I've worn it throughout the entirety of fall, and I plan on wearing though the winter, too. If you're looking for something more Christmassy, though, the black watch is perfect. The pink and buffalo plaid are awesome, too. Honestly, just add all of them to your cart, haha. They're so affordable!
Pearl Bow Earrings: By far the best piece of jewelry I've seen this season. And the PRICE! The perefect stocking-stuffer.
Chunky Heel Leopard Pumps and Chunky Heel Black Pumps: These are pumps that'll be in your closet for a decade. And frankly, if I could only choose one pair of heels to keep—not sure why I'd ever be faced with this type of a situation, but suspend disbelief for a second here—the black pair would stay and all others would be packin'.
Pom Hat: Mitch and I recently went through the coat closet and decided to keep only two winter hats per family member, for the sake of organization. This was one of mine!
Booties: I wear my black booties with kickoff jeans, leggings and skirts. I tend to go up a half size in all booties just so I have the option of wearing thicker socks with them.
White Sneakers: They go with nearly everything these days!
Cap Toe Pumps: CAN'T RECOMMEND THESE MORE. They look so much like designer styles but are a fraction of the cost. I found that they run TTS.
Leopard Headband: This makes the simplest of outfits—think jeans and a black t-shirt—look polished, and make you seem super stylish. ;)
Multistrand Pearl Necklace: It's a timeless J.Crew look!
Leopard Loafers: Much like the headband, these can level up the basic look.
Click here to go to my Complete Guide to Shopping J.Crew Factory, including men's and kids'!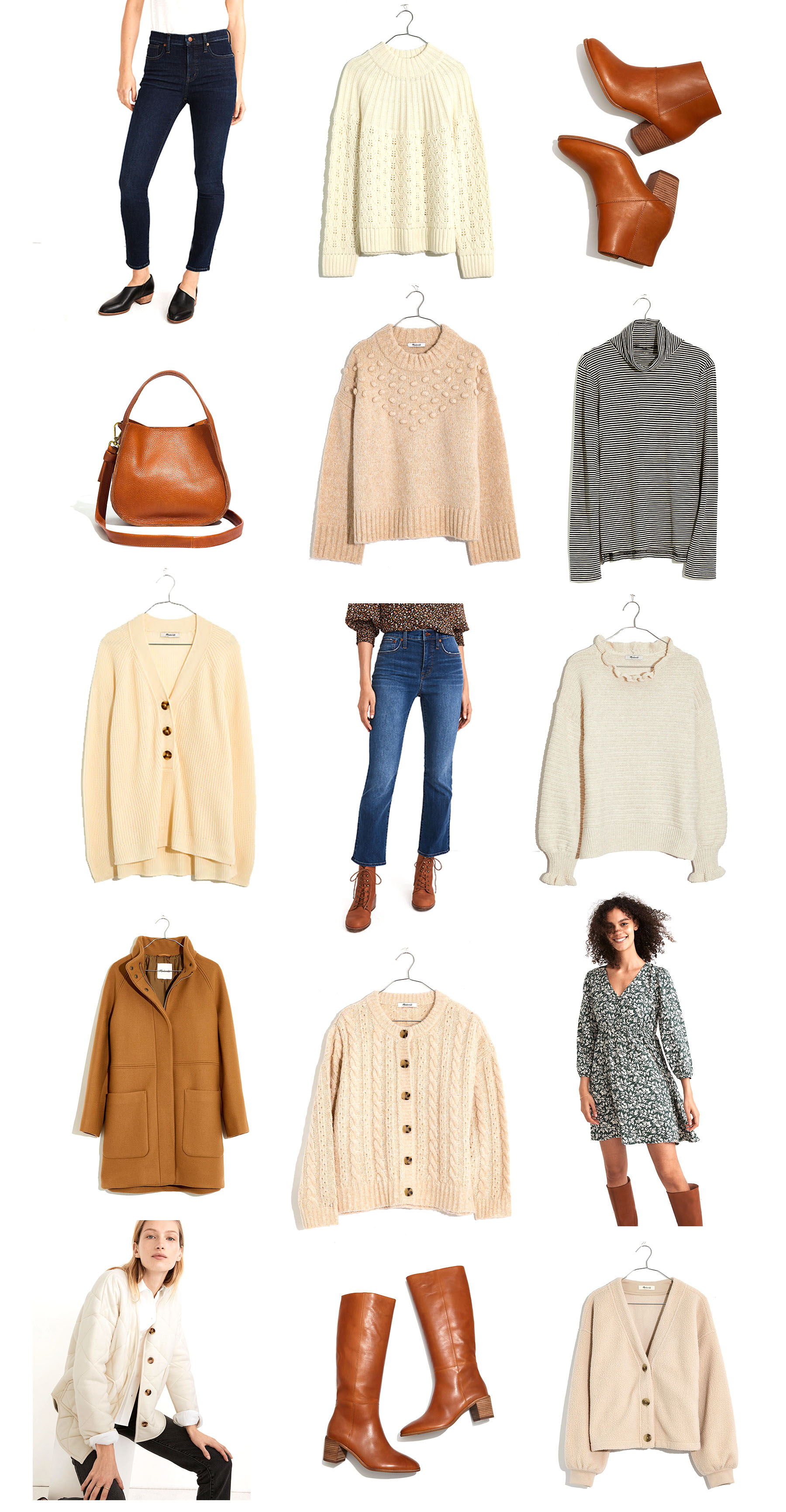 40 percent off with code "THXINTERNET." (It's crazy!)
Pointelle Cable Cardigan Sweater: STUNNING! It's amazingly cozy and perfectly oversized. The tortoise buttons are such a cute touch, too! (Runs large. Size down 1-2 sizes. I'm wearing the XS here, which is still nice and roomy!)
Button-Front Leaves Dress: (Longer version here.) Made out of my favorite wrinkle-resistant Madewell material! Crazy flattering on everyone. Runs large; I would go down one size. Also, pro tip: Wear biker shorts underneath it when the weather cools. Adds a TON of warmth and if the wind blows up your dress, no big deal. ;)
Carlotta Boots: The best pair of riding boots I've ever owned. I can't stress how incredible they are. I have ridiculously sensitive feet, but these required zero break-in time. And the low chunky heel gives me some height without compromising comfort. I went up a half size like I always do in boots so I can wear thick socks with them!
Sydney Crossbody Bag: So soft, lets you be hands-free, and holds a ton despite its small appearance. Favorite Madewell bag ever!
Estate Cocoon Coat: HOLY. (Scroll all the way to the bottom of this post to see me wearing it.) First, let me say that you shouldn't read too much into any negative reviews. You simply need to size DOWN. I normally order a size 2 in J.Crew coats, and because of the reviews, I went with the XXS in the Estate Coat. It's perfect. And I totally have enough room in the shoulders, which is usually a problem area for me!
Rosie Ankle Boot: Such a classic. These look fabulous with the below jeans. (Also, no break-in time. Scroll all the way to the bottom of this post to see me wearing them.)
Cali Demi-Boot Jeans: You HAVE to get these. They're so soft and comfortable, and they're the only jeans I own that actually look good with booties. I feel super chic when I wear them, too! Highly recommend. (Scroll all the way to the bottom of this post to see me wearing them.)
Whisper Cotton Turtleneck: A wardrobe staple I couldn't live without. Love that it's a little more drapey than other brands' versions! The stripe is awesome. (Scroll all the way to the bottom of this post to see me wearing one.)
Ribbed Lyle Henley Sweater: I own this and it's one of my favorites! It's generous.
Tencel Skinny Jeans:  SO GOOD. And very warm!
Bobble Sweater: Too cute!
Quilted Sweater Jacket: Just saw this, and I'm in love. Zoom in on the material!
Fleece Crop Cardigan: Coming to a blog post near you! It's so cozy. Yet also kind of dressy in a very 2020 kind of way? Ha. TTS. Looks very nice with high-waisted jeans; my belly doesn't show at all.
Pointelle Mockneck Sweater: Really beautiful.
Ruffleneck Sweater: YOU KNOW HOW MUCH I LOVE THIS. It was just restocked again, and it's a steal. Size up! Definitely runs small. (Here I am wearing it.)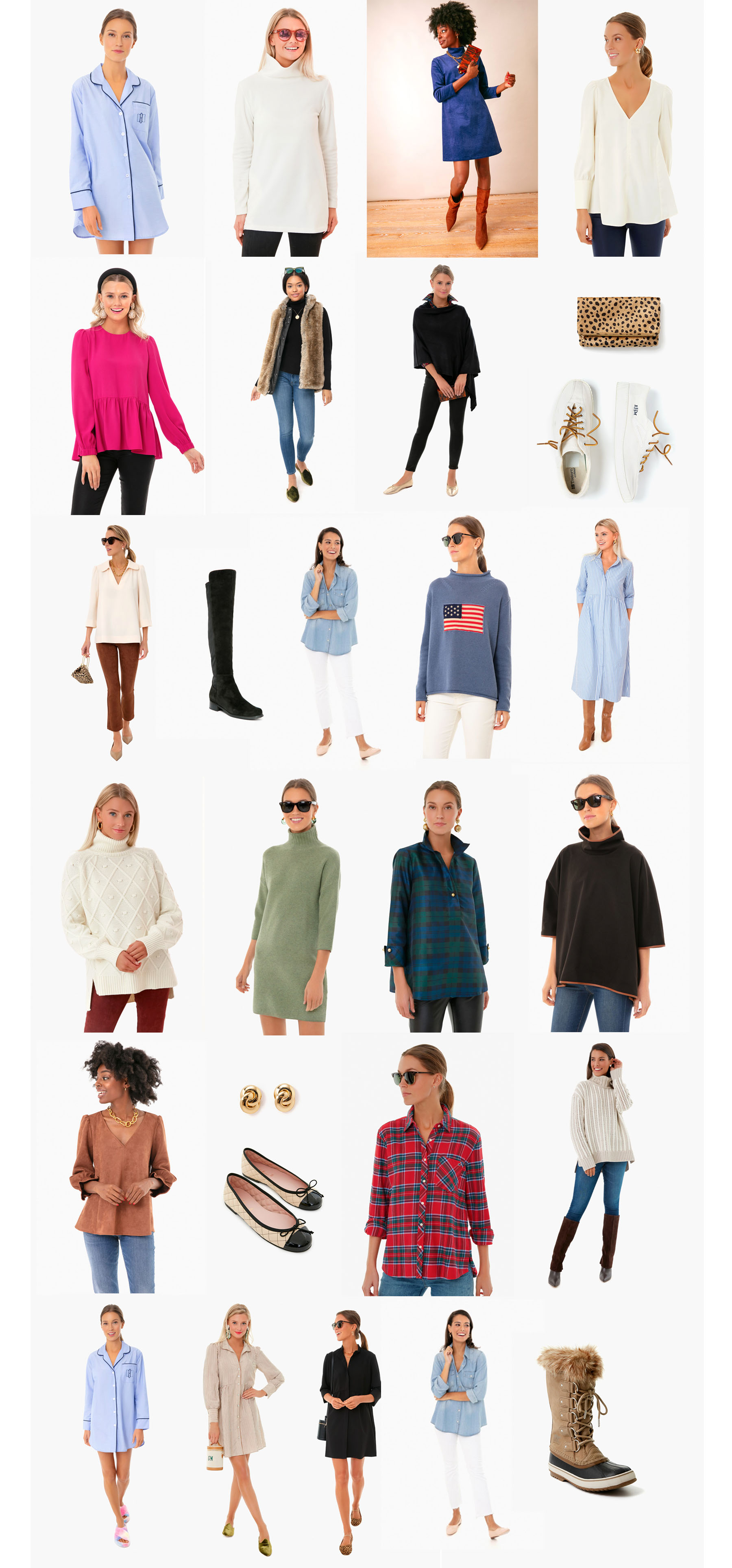 20 to 30 percent off with code "BIGSALE."
Monogrammed Tretorn Sneakers: These are my favorite white sneakers and now Tuckernuck MONOGRAMS THEM FOR YOU.
Dudley Stephens Turtleneck: Dudley rarely goes on sale. This is huge!
Leather-Trimmed Poncho: Such a classy look!
Suede Easton Blouse: This is the BEST blouse. It's flattering on everyone. I own several! (Flowy, so don't size up.)
Silk Easton Blouse: The silk version is beautiful, too!
Peplum Blouse: I love it in the hoot pink.
Suede Waterproof Boots: You KNOW how much I love Blondo's waterproof footwear. These boots are classics! They come back every year and for good reason.
The Best Dress in the History of the World: I own so many of these! But for fall and winter, my favorite is the simple black. Or the green. Or the blue stripes. Bah. Runs large.
Midi Version of the Best Dress in the History of the World: It's the same as the Best Dress in the History of the World, only longer!
Faux Fur Vest: Not as good as the one from a few years ago, but pretty close!
Stripe Shirt Dress: Solid autumnal tones.
Turtleneck Dress: Slip into those over-the-knee or riding boots and you're good to go! Classy.
American Flag Sweater: THIS IS IN MY CART. Well done, Tuckernuck.
Popcorn Sweater: Another customer favorite I was so excited to see return! Mine's a little different, but I just love this so much.
Solid Black Poncho: Gift idea! One-size-fits all products are clutch this time of year.
Blue Corduroy Dress: VENITA! Lookin' sharp.
Suede Kickout Pants: Again, to go with booties! These are adorable.
Quilted Flats: Such a better deal than Chanel flats. ;) Which, by the way, aren't the comfiest.
Leopard Clutch: Another gift.
Sorel Boots: If you live in Chicago, you probably own these. If you're moving to Chicago, you need them. ;) Shiver no more!
PJ Sleepshirt: The monogram makes it.
Plaid Vineyard Vines Flannel Shirt: It's flannel. Enough said! Festive yet warm.
Knot Earrings: Gift alert.
Brown Suede/Leather Boots: Way to high of a heel for me, but I adore the look. Maybe I can live vicariously through you guys?!
Chambray Shirt: Love the flowiness of it! Is that a word? I do not think so.
Blackwatch Plaid Top: Very holiday. Much spirit. I'm tired. I need to go to bed.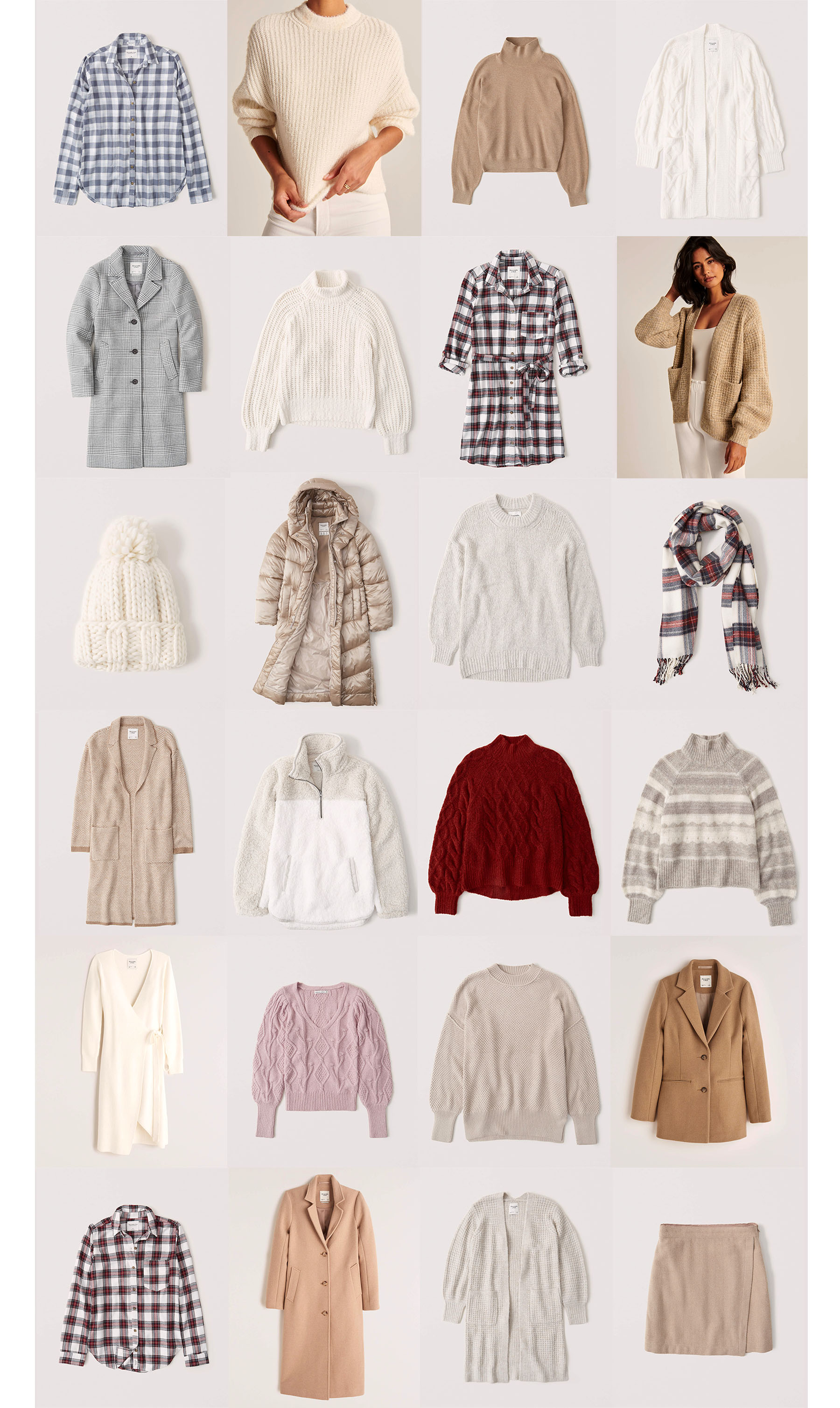 40 percent off the entire site plus an extra 15 percent off select styles.
Flannel Shirt Dress: I own this! If you can grab it in your size, do it. Such good patterns! I went with one in a size XS and one in a small. Both work. It cinches at the waist so you don't have to worry to much. Also, POCKETS!
Flannel Shirt in Tartan/Flannel Shirt in Check: Shirt form. SO many good patterns. (I'm impressed.)
Blazer Coat: LOVE. IT.
Dad Coat: I have this in the plaid!
Long Dad Coat: Longer version.
Puffer Coat: It comes in a bunch of colors, BUT THE GOLD. Holy moly; put a little sparkle into your everyday tundra life.
Plaid Scarf: A great plaid.
Chunky Knit Beanie: Your ears will rejoice. I'm not even making sense anymore.
Wrap Dress: I could never hold this up but it's gorgeous and please, someone send me a picture of themselves in it.
Supersoft Chenille Sweater: GET THIS! Runs small, but it's probably the softest sweater I own. I wish it came in black.
Eyelash Sweater: A runner up. Don't own, but eyelash sweaters are notoriously soft.
Wrap Mini Skirt: Isn't this darling? Paired with one of the above sweaters. I can't believe I'm into mini skirts right now. 2020 has been… weird.
Sherpa Sweatshirt: "Sherpa" should be part of your vocabulary at this point in the game. These things are a must.
Oversized Crewneck Sweater: Abercrombie's sweater game is strong this year.
Boyfriend Crewneck Sweater: RIGHT?
Herringbone Coatigan: Oh, wow. Love it.
Waffle Cardigan: Too many cute sweaters. Head exploding.
Cable-Knit Duster Cardigan: The cable-knit!
Red Cozy Sweater: Tons of other colors, too. Very soft.
Bobble V-Neck Sweater: I love how cropped it is; would look great with super high-rise jeans!
Taupe Stripe Sweater: I put this in my cart. COME ON. Maybe it'll come in time for me to show you?!
Tan Turtleneck Lounge Sweater: Everyday staple.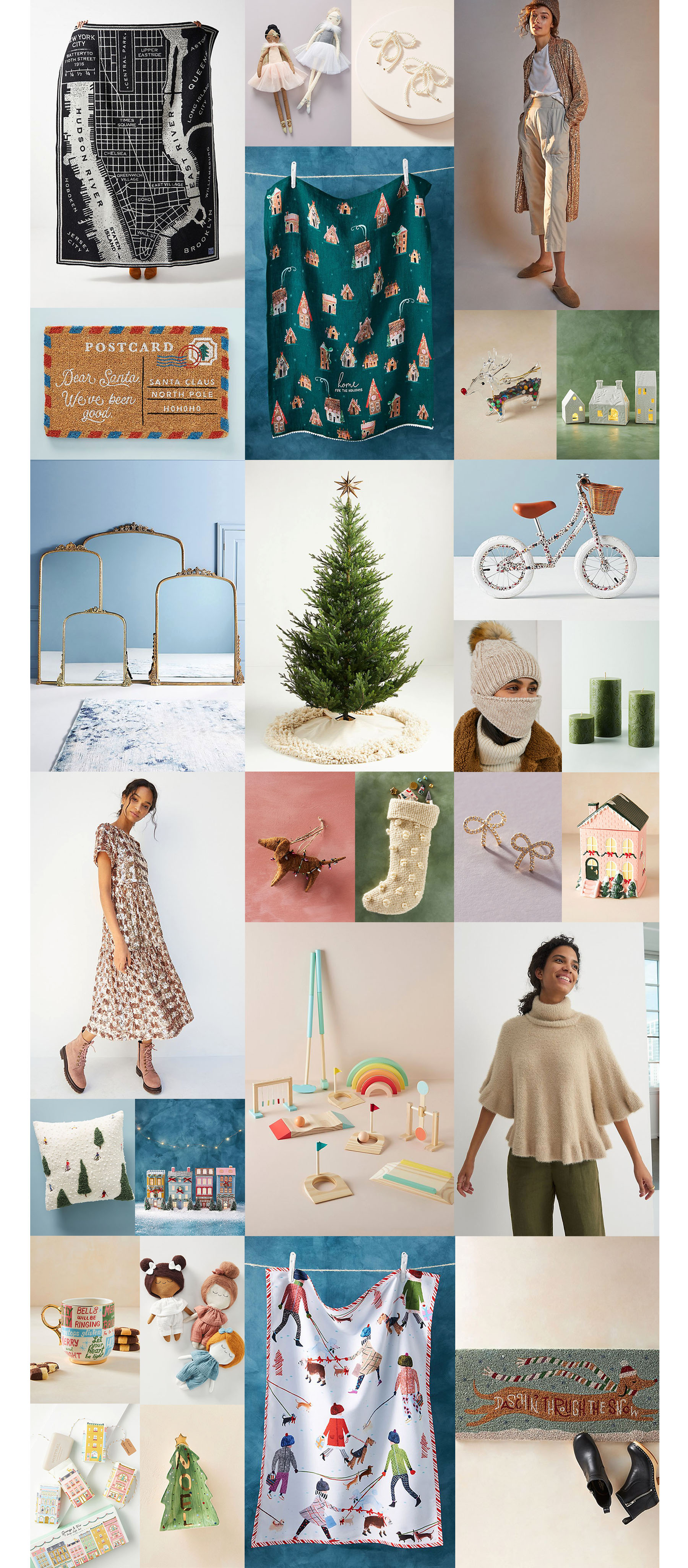 30 percent off everything and 50 percent off sale styles.
Holiday Village: Okay, I set out to select clothing but I got wrapped up in the cuteness of the home decor. This is therefore mainly comprised of home stuff, but I DO HAVE SOME CLOTHING IN THERE which means it totally counts. Moving on. Holiday village=A+.
Ceramic Houses: We have similar ones on our mantle!
Ski Pillow: I grew up spending Christmas in Vermont, so this takes me back to those very happy times.
Dachshund Doormat and "Dear Santa" Doormat: We of course own the Noodle one.
Ruffled Sweater Poncho: LOVE IT.
Pink Townhouse: It's actually a candle but would look so sweet in Emma or Lucy's room!
Holiday Sayings Mug: It'll be impossible not to be cheery while holding/clutching this.
Bobble Stocking: Add some warmth to your home! :)
Balsam and Cedar Candles: I don't know. They looked cute.
Sequin Midi Dress: Wish I had some plans, haha.
Floral Banwood Bike: Reminds me of Liberty!
LeleLerele Dolls and Ballerina Dolls: I got these for the girls! I'd been waiting for them to come back in stock for the longest time. I think they'll love them.
Noel Christmas Tree Spoon Rest: Why not?
New York City Blanket: I need zero new blankets, but this one is so sentimental! Really looks like a map we used to have framed.
Kids' Mini Golf Playset: Could set it up in the basement. Should probably get it since we're going to be down there for at least a few months, haha.
Happy "Howlidays" Dish Towel and Gingerbread Dish Towel: I can't have these because my children are obsessed with dish towels and steal them constantly. If you are slightly more fortunate in the dish towel department, though, go for it.
Gleaming Primrose Mirror: IT'S INCLUDED IN THE SALE?!?!?!
Felt Dachshund Ornament and Glass Dachshund Ornament: Everyone needs a Noodle ornament.
Tree Skirt: I love looking at tree skirts, even though we already own one. It's a weird hobby.
Holiday Bar Soap: Would look beautiful in a guest bathroom!
Sequin Duster Cardigan: I wish the silver one was in stock but I guess the blush will just have to do!
Sweater Face Mask: I NEED THIS.
Crystal Bow Earrings and Pearl Bow Earrings: Prettiest earrings of 2020.
I'll be back later; hope this gives you a good start! :) xoxo