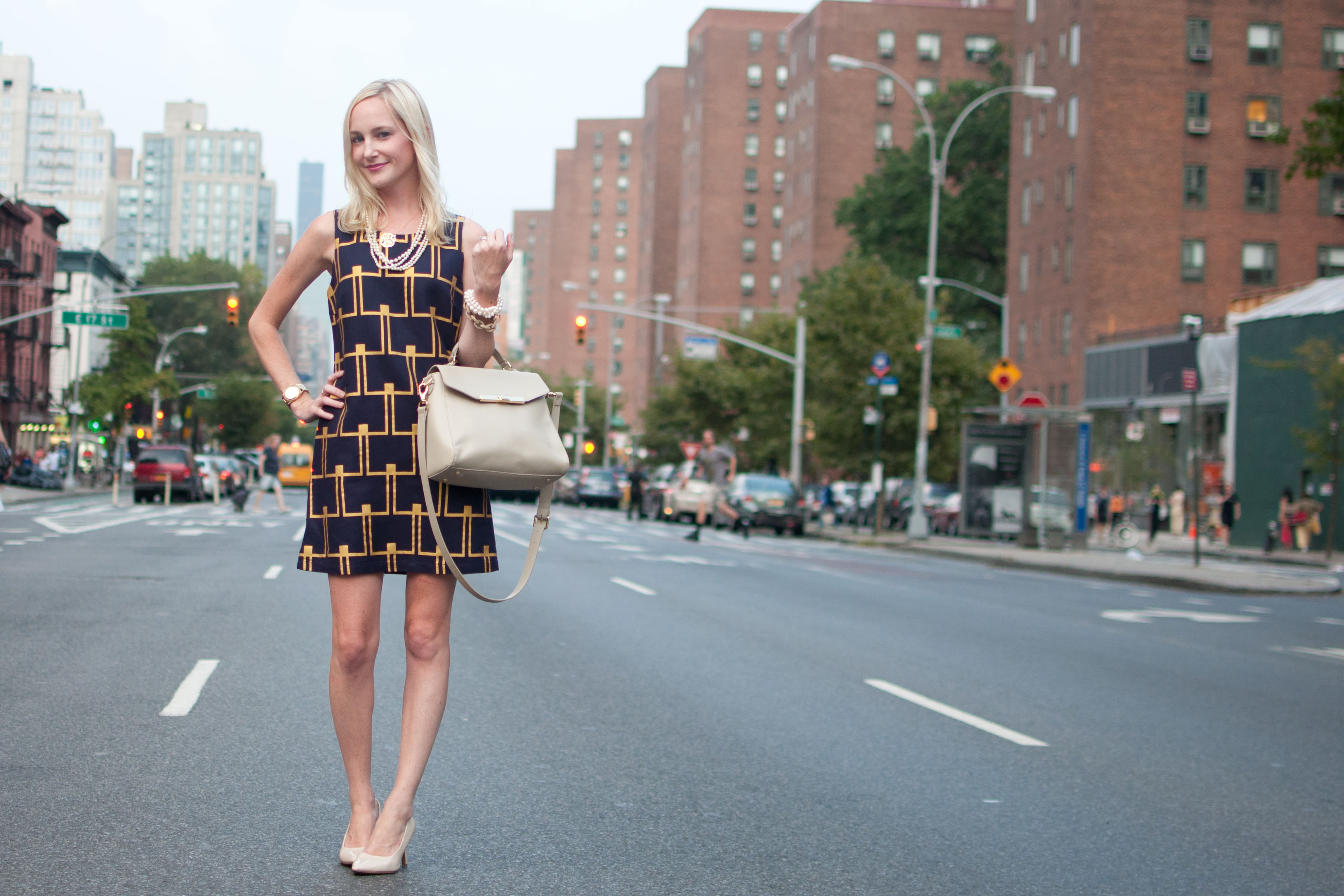 New York City was pretty toasty today, but I couldn't help but wear this gorgeous dress from Julie Brown's fall 2013 collection! Luckily, its material is the perfect weight: light enough for those warmer fall days, but heavy enough for the colder ones, too. (Can't you just imagine it paired with a blazer and some cute tights?) Keep on the lookout for this beauty, as it'll be available soon!
Dress: c/o Julie Brown / Bracelets: J.Crew (also available in the color version) and c/o Hazel and Marie / Bag: C.Wonder (Sold out), but loving the new C.Wonder leather tab-lock bag in black / Necklaces: Paradise (monogram), similar here (And check out the monogrammed earrings and ring!); and J.Crew (Old), same necklace in J.Crew Factory here / Pumps: Kenneth Cole (On crazy sale!) / Watch: Michael Kors / Lipstick: Clinique / Earrings: J.Crew, less expensive version here
Earlier this evening, Mitch, Shawn and I headed to Croxley's Ale House, one of our absolute favorite restaurants in the East Village. (Crazy good wings specials. On Fridays, they're even free!) We then grabbed slices at Artichoke Pizza on 14th Street. (Best slice in town, if you ask me. ;)) Now, I'm snuggled up on the couch watching The Great Gatsby.
Happy Friday, fashionistas! Hope everyone has a fabulous weekend!
Dress: c/o Julie Brown / Bracelets: J.Crew (also available in the color version) and c/o Hazel and Marie / Bag: C.Wonder (Sold out), but loving the new C.Wonder leather tab-lock bag in black / Necklaces: Paradise (monogram), similar here (And check out the monogrammed earrings and ring!); and J.Crew (Old), same necklace in J.Crew Factory here / Pumps: Kenneth Cole (On crazy sale!) / Watch: Michael Kors / Lipstick: Clinique / Earrings: J.Crew, less expensive version here