Believe me when I tell you, Chicago winters can get pretty brutal. But you don't have to feel trapped inside, even if you have kids. As parents, our first priority is keeping our littles warm and snug through the cold months. But if there's one thing living in Chicago with my girls has taught me, it's that with the right winter jacket, you can still enjoy the season. 
When it comes to keeping kids warm and comfortable, investing in the right winter coat is crucial. I didn't want to buy them just any winter coat and hope for the best. Sooooo… I started considering my options. Canada Goose was already on my radar because it was my own Canada Goose Shelburne Parka that changed everything for me. 
Since my Canada Goose parka allowed me to actually spend time outside during wintertime, I was confident that the brand could do the same for my girls. For years, Canada Goose has been keeping adults and children warm and protected from the elements, but I couldn't help wondering if their kids jackets were really worth the price. 
If you're wondering whether a Canada Goose jacket is right for your child, you've come to the right place. I'm sharing my honest review of the kids coat from Canada Goose and whether I recommend you get one for your child.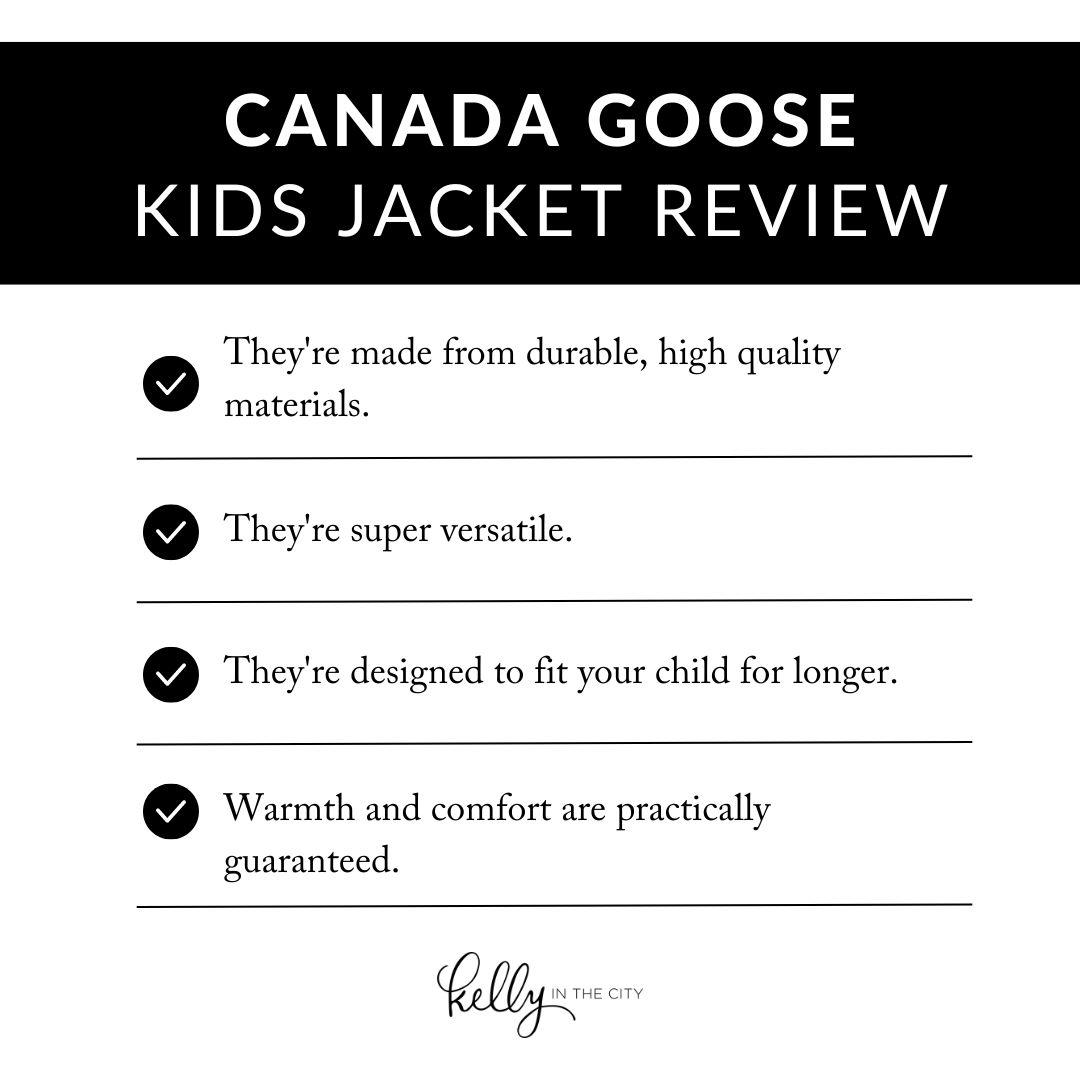 Canada Goose Kids Jacket Review
Here's my honest review of Canada Goose Kids Jackets –
They're made from durable, high quality materials.
Canada Goose is known for jackets that use goose down as insulation, hence the brand's name. The goose down used in each Canada Goose jacket is sustainably sourced from Canadian Hutterite farmers. (Love that!)
Goose down is one of the best natural insulators. As explained on the Canada Goose website, "each ounce of down has approximately two million fluffy filaments that interlock and overlap to create insulating pockets of air." Believe when I say, you can truly feel the difference. 
While most Canada Goose kids jackets are fur-free, there are a few styles, like the Youth Eakin Parka, that have a removable coyote fur hood trim. The fur ruff helps block airflow and better protect your child's face from cold weather conditions. 
*In a June 2021 statement, however, Canada Goose announced they are officially going fur-free. They promised to end manufacturing with fur by the end of 2022. So, in line with that promise, I would expect that their fur-trimmed parkas will only be available until their current supply is sold out. 
They're super versatile. 
One of my favorite features of a kids' Canada Goose jacket is its versatility. So many details have been included in these jackets. They have reflective piping, so your child will be more visible in low light. The glove hooks in both sleeves help keep all your little one's winter gear together. And, each kids' coat even has reinforced elbows for optimum durability. 
My favorite feature of all, though, is that each jacket packs into a backpack! I mean, these coats aren't really a hassle to carry around given how lightweight they are. But, being able to pack them into a backpack makes them that much easier. Plus, they take up less space that way which is GREAT for traveling.
They're designed to fit your child for longer.
Kids really do grow like weeds, don't they? One day they are in one size, then they wake up the next morning and nothing fits! Well, Canada Goose recognized the need for kids' coats that can be worn for longer. 
The Gosling Graduate System adds fabric to each sleeve that allows for another 1 ½-inch of material. This way, the jacket will literally grow with your child. How awesome is that!?!?!
Warmth and comfort are practically guaranteed.
Thanks to their goose down insulation, Canada Goose jackets are both incredibly warm and surprisingly lightweight. It's especially important for kids to be warm, but you don't want them to feel weighed down by their winter coats. 
So, you can rest assured that your kiddo can frolic in the snow without giving their winter gear a second thought.
How Do Canada Goose Jackets Fit?
Canada Goose jackets run true to size. They follow a pretty standard sizing model, as reflected in their size charts. Their kids jackets fit similar to most other parkas. When buying a Canada Goose jacket, go with your normal size for a regular fit. Choosing a size too small or too large will leave you with sleeves that are too short or too long. 
Speaking of sleeves, the kids jackets from Canada Goose feature the Gosling Graduate System. ( Mentioned above, but I'll mention it again for good measure ;) ) With this system, additional fabric is used in the sleeve to allow for a 1 ½-inch extension, so that the jacket will fit your growing child for longer. LOVE IT!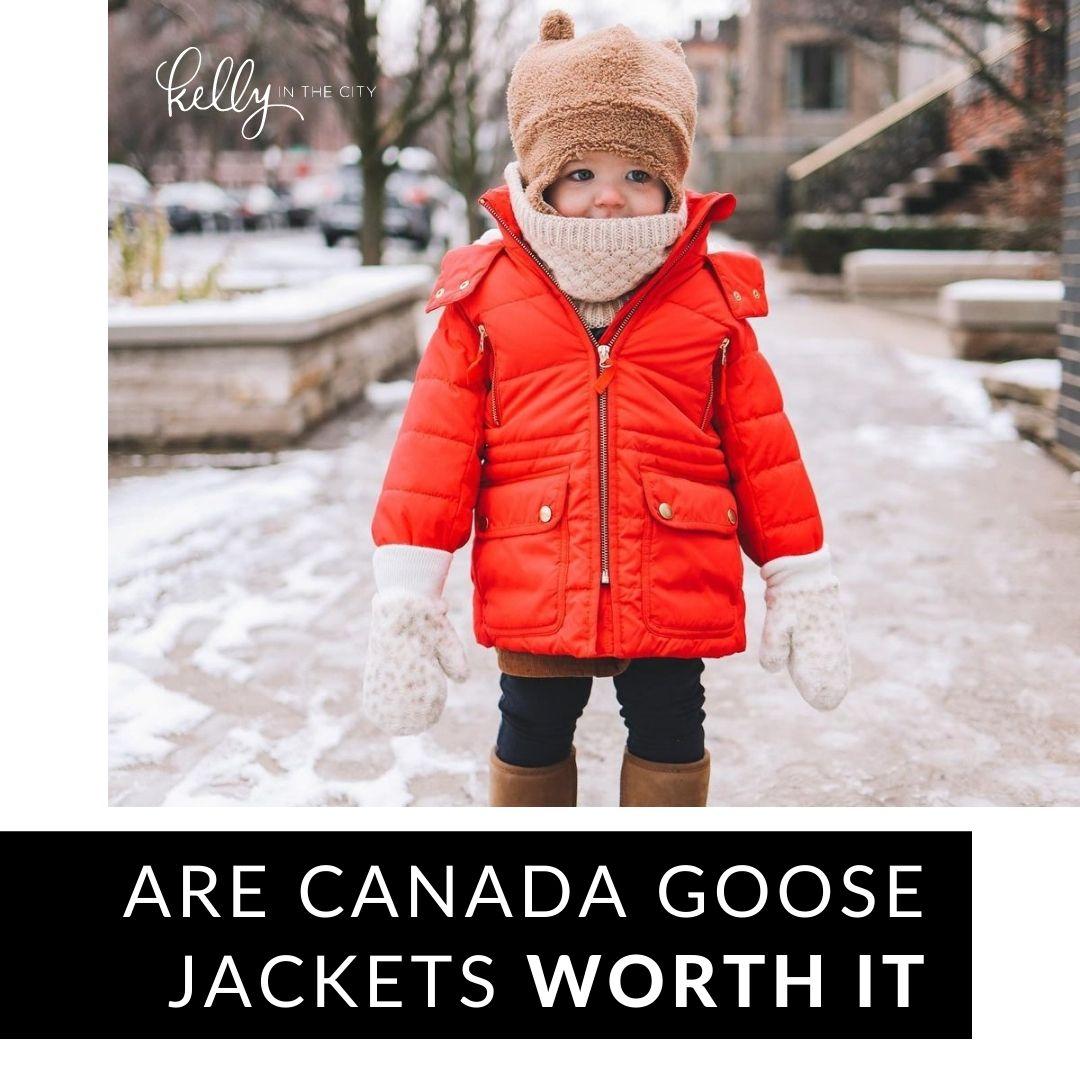 Are Canada Goose Jackets Worth It?
Yes, Canada Goose jackets are absolutely worth it… within reason. 
What I mean by that is that if you have the money to invest in a Canada Goose jacket, and you need a good-quality parka to keep your kids warm and comfortable, go with Canada Goose. Especially if you live in a harsher climate like us. In my opinion, it is by far the best coat for Chicago winter. These coats are made to last, and they will last. This is the kind of hand-me-down anyone would be thrilled to receive. 
However, I know that not everyone can afford the Canada Goose price tag. After all, kids coats are $375 to $975 – so I totally get it. Fortunately, there are a lot of great boys and girls winter clothes at more affordable prices. Click the link to see my favorite girls alternatives!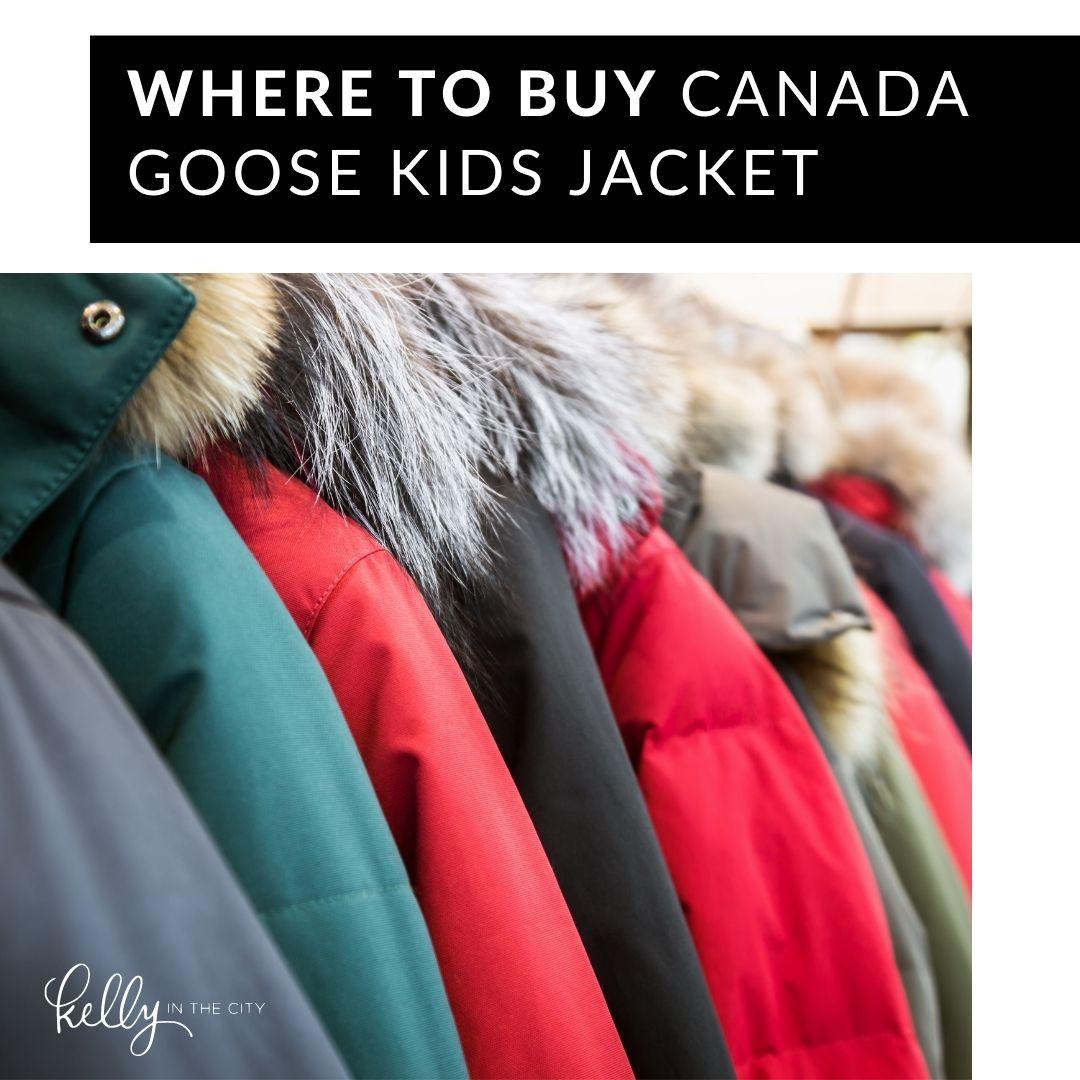 Where To Buy Canada Goose Kids Jackets
You can purchase a Canada Goose kids jacket directly from their website or through one of the following retailers:
You can also simply shop the post below! :)
Canada Goose coats come with a hefty price tag, but even the kids jackets are worth every cent.
I completely understand having a hard time justifying spending hundreds of dollars on a kids jacket. But after experiencing for myself just how much of a difference these high-quality coats can make, I consider them entirely worth it. Whether you live in one of the coldest places on earth or somewhere that certainly feels like it, a Canada Goose coat is a worthy investment that makes all the difference.
If you're interested in reading more of my clothing reviews, check out my J.Crew Quilted Cocoon Puffer Coat Review or my Gucci Brixton Loafer Review. Or head over to the blog to read more fashion and family related content.
Shop the Post: