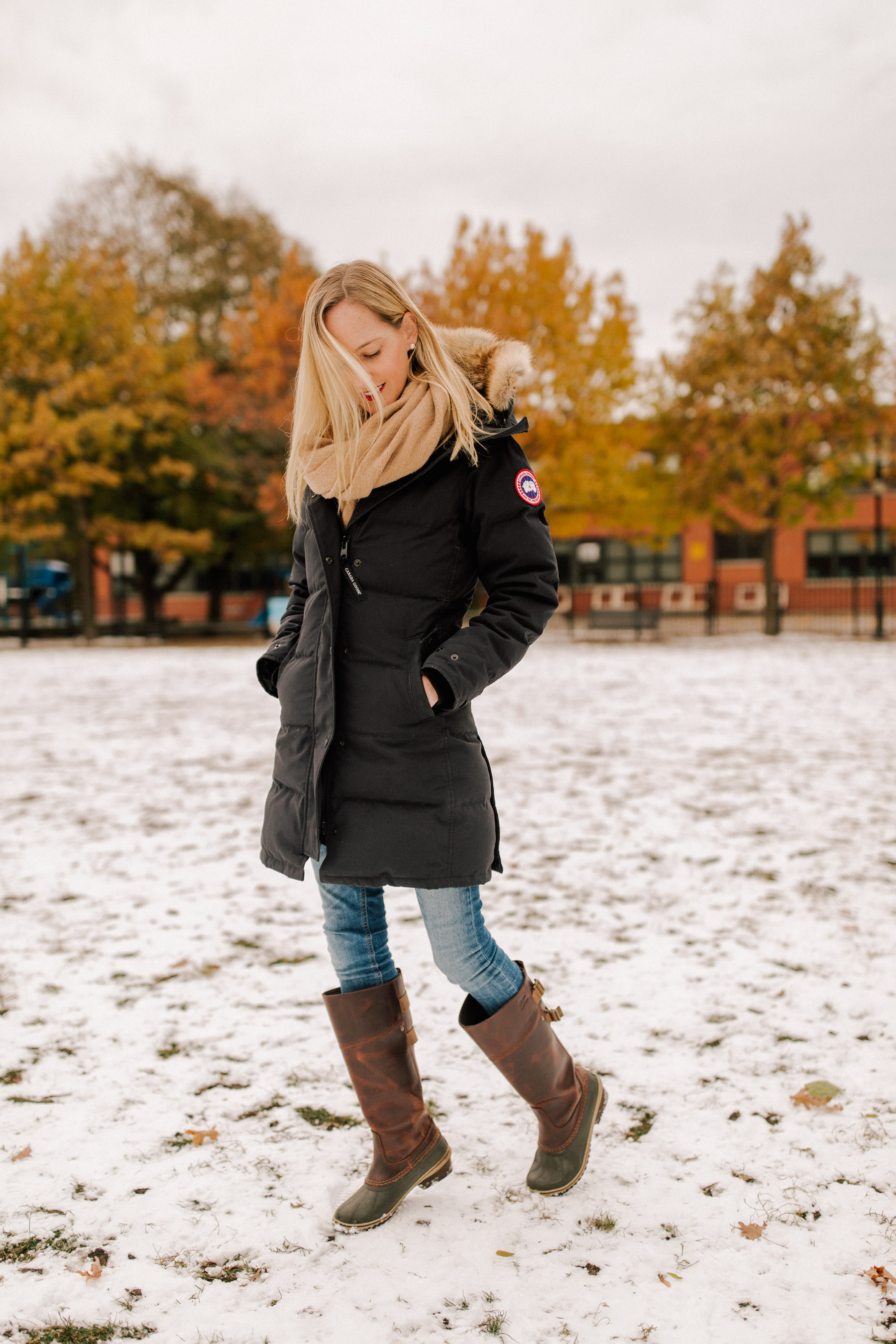 Canada Goose Shelburne Puffer Jacket / Sorel Boots (Sold out but similar HERE) / Rag & Bone Jeans (sold out but similar HERE) / Free People Scarf  (sold out but similar HERE)/ BP. Sweater (Sold out but similar HERE)
Orange and red leaves on trees; snow on the ground. Such a weird sight, but it's our reality at the moment. ;) Which you know if you saw this post. Magical… but somewhat shocking to the system!
Canada Goose Shelburne Review
Anyway, I'm popping in today to talk about the Shelburne puffer coat by Canada Goose. I talked about it on Insta Stories last week, but it's been a godsend for Chicago winters and I thought I'd write a full post about it. Let me explain:
I have Raynaud's, which is a circulatory disorder that leaves me feeling cold the vast majority of the year. Even in July and August, I don't dare leave the house without a sweater or light jacket. 🙈 And during Chicago winters, I'm so cold that my bones feel cold, haha.
When I moved here a few years ago, I really struggled during the winter months. My cousins told me about something called Canada Goose, though, and they swore up and down that I'd be sweating in this puffer jacket. The price tag was steep, but they promised it was worth it. So for my birthday, my parents gave me half of the navy Canada Goose jacket you see in these photos. (Such a generous gift. Thank you, Parents!) And it changed everything.
No, I don't sweat in the jacket… but I'm also basically Elsa. ;) It is, however, the warmest jacket I've ever owned, and it's enabled me to actually spend some time outside in the winter without being completely miserable. I'm now able to take walks around the neighborhood with my family, for example, which I honestly couldn't do before. And I can run errands. And get myself to restaurants and shops.
In short, I've gotten my life back during the winter.
Dramatic? Yes. But TRUE!
Okay, so a few notes:
About the brand
Designed to help you withstand extreme weather, Canada Goose jackets go back to the 1950s. They were developed to meet the needs of workers in the Canadian Arctic, and they've served as an unofficial uniform to people with rugged jobs, such as Canadian Arctic Rangers, the ground crew of First Air, and the moms of Chicago. (I'm so funny.)
How long do Canada Goose Jackets Last?
When it comes to durability, Canada Goose jackets are known to stand the test of time. You can expect to get many years of wear and warmth, with a jacket that never goes out of style. And if for some reason your jacket does get damaged, Canada Goose has a lifetime warranty.
How Does The Shelburne Parka by Canada Goose Fit?
I've found that Canada Goose runs very true to size. I have a size XS, which is what I normally wear in jackets. (I'm between 5'4 and 5'5 and between 105 and 110 pounds, for reference.) I will say that my XS is a little on the snug side, and I probably could've gone with the small. Yes, I can still wear big sweaters with the XS, but I think the small would have made that easier, and when I was pregnant with Emma, I sure could have used the extra room. (Who knows, though? Snug jackets are usually warmer for me, so there's that.)
Is The Shelburne Parka Waterproof?
Canada Goose produces a variety of coats and jackets, some that are completely waterproof and some that are only water repellent. The Shelburne Parka specifically is made with a durable water repellent outer shell. While I personally think it does an excellent job at keeping the moisture out, its not completely waterproof.
Comfort & Unique Features
So, what makes this jacket so popular? I'll tell you. First of all, its super cozy and warm, and I can count on it on the very coldest of days. The fleece-lined hand warmer pockets are the best. The down-filled hood is customizable and removable. And, it even has built-in backpack straps so that you can go hands-free when you take it off. What's not to love?
Color
I have the navy Shelburne jacket, which I'll admit doesn't come across in these photos. We snapped these pics on a dark and gloomy day, though, and in real life, you can tell that the jacket is navy. That said, it's a dark navy, and a lot of people often think it's black. Some Canada Goose jackets come in "Admiral Blue" which looks noticeably more like navy. Because of that, I kind of love the green, too, which is unmistakable!

Style
I chose the Shelburne because I like the cut of the jacket the best. I'm usually swimming in puffer coats, but this one is slimmer and more form-fitting. Here are the shorter and longer versions. I also like the Lorette, which wasn't around when I got my jacket. You can see other styles above.
The Canada Goose Lorette vs Shelburne
The Lorette and the Shelburne look really similar, which is why I think I really love both of them. The main difference is that the Lorette is shorter. But other than that, they have all the same unique features and colors. And they're even the same price.
Pricing
As I mentioned, the price tag is steep. My jacket retails for $945. (Although this option is currently sold out.) That said, I used to buy a new puffer coat every year or so, hoping that it would be "the one." (Never was.) Since Canada Goose came into my life, though, I've been a One Puffer Girl, and thus I haven't dropped another cent on puffers. I also think I'll have this jacket for a decade or more, so it'll likely amount to the same amount of money over that period of time. It could even end up saving me money!
Where to buy
Nordstrom. Especially if you're a first-time buyer! Nordstrom has the best customer service I've ever encountered, and the retailer offers free shipping and returns, so you can order a couple of jackets for sizing/style purposes without freaking out. Nordstrom has an amazing selection of Canada Goose products, btw. Unmatched, really! And seriously, check there first – just note that this is a super popular item right now, and Nordstrom is
Boots and mittens
Raynaud's affects my hands and feet most significantly, btw… so I rely on Sorel boots (sold out but similar, HERE)  and ski mittens for those issues. About the boots: My dad was in the Air Force, and his crew used to wear Sorels in unbelievably cold conditions. In my mind, they've always been the warmest boots on the market, and my family swears by 'em! Just got this pair and I love them. About the ski mittens: No, ski mittens aren't cute. But they get the job done. (Note: if you have issues with cold fingers, always go mittens over gloves, as they're far warmer.) I'm very interested in trying Canada Goose's mittens!
Is The Canada Goose Shelburne Park Worth It?
Yes, the jacket is expensive. I've tried so many others, though, and none of 'em have compared. This sounds a little ridiculous, but my jacket has truly changed my life. So if you hate the cold with a passion, I couldn't recommend Canada Goose more. I'm so grateful that my cousins told me about the brand a couple of years back!
Do you have a Canada Goose jacket? What's your experience been like? Do you have any other tips for staying warm in the freezing cold? Would love to hear 'em!
Shop the post:
Canada Goose Shelburne Puffer Jacket / Sorel Boots (Sold out but similar, HERE) / Rag & Bone Jeans (sold out but similar HERE) / Free People Scarf  (sold out but similar HERE) / BP. Sweater (Sold out but similar HERE)

In collaboration with Nordstrom, but all opinions are my own. As always, thank you so much for supporting the partnerships that keep Kelly in the City up and running!
SaveSave