The Sephora Holiday Savings Event opens to VIB members today (don't worry if you're not eligible yet, prepare your cart for 11/3!) It's a great opportunity to restock your favorite products or pick up a few beauty gifts for the holidays. Here are some of my favorites from the Sephora Holiday Savings Event.
Sephora Holiday Savings Event Details:
Rouge – 20% off your purchase 10/28 – 11/7. Use code SAVINGS.
VIB – 15% off your purchase 11/1 – 11/7. Use code SAVINGS.
Insider – 10% off your purchase 11/3 – 11/7. Use code SAVINGS.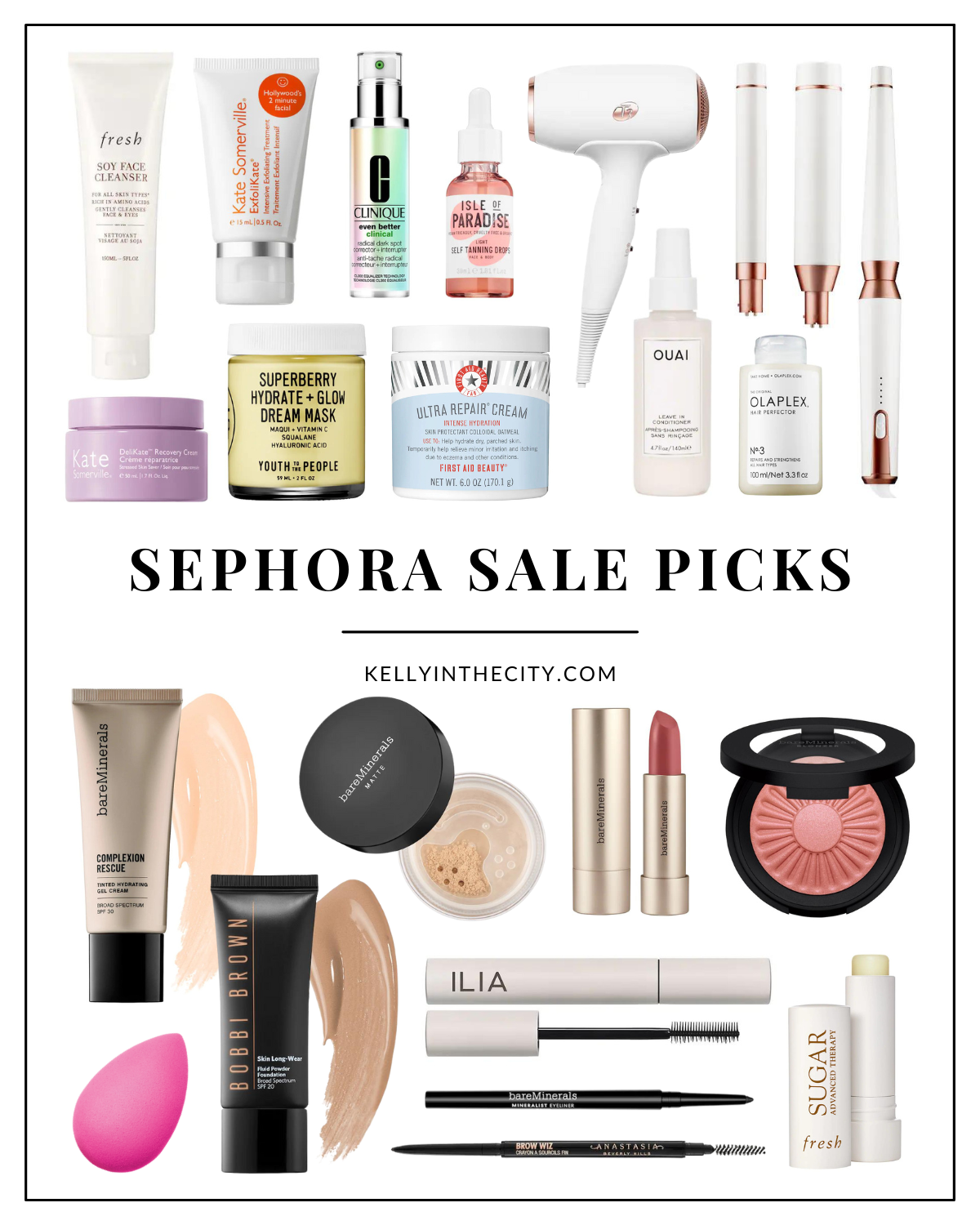 Skincare:
Face Cleanser: I love this gentle face wash! It's great for sensitive skin and smells amazing. I also love this cleanser for the winter when my skin is a little drier.
Exfoliating Treatment: This is my #1 skincare product. It's a chemical and physical exfoliator you can use weekly or more if your skin can tolerate it (my sensitive skin can.) Every time I use it, I'm in awe of how soft my skin feels and the improvement in my skin tone.
Recovery Cream: This is my holy grail. It does wonders at soothing any irritation or dryness. If you have extremely sensitive skin, give it a try!
Superberry Hydrate + Glow Dream Mask: This overnight face mask is incredible! My skin always feels so moisturized when I wake up in the morning, and it has a healthy glow!
Clinique Clinical Dark Spot Corrector: This serum works wonders at fading dark spots and acne scars.
Self-Tanning Glow Drops: This is my favorite self-tanner out there. It comes in light, medium, and dark shades; I like the light shade best. Just make sure to use an applicator mitt.
Ultra Repair Cream: I use this as a body moisturizer in the winter, which significantly improves dry skin.
Haircare:
Hair Dryer: If you're in the market for a new hair dryer, this one is incredible.
Curling Wands: T3 curling wands and curling irons are amazing! I use it on days when I don't wash my hair, and it totally extends the appearance of my hair in between washes.
Leave-in Conditioner: I use it as a detangler, heat protectant, and frizz fighter. It's a great all-in-one hair product.
Olaplex No.3: This is my #1 pick for haircare! You can read my full review on it here; I cannot recommend this stuff more if you have thin or damaged hair.
Makeup:
bareMinerals Complexion Rescue Tinted Moisturizer with SPF 30:
Bobbi Brown Long-Wear Fluid Powder Foundation SPF 20: This is a great long-wear foundation with buildable coverage. It does not come off, flake, or become patchy. I wear the "Warm Porcelain" shade in the winter.
bareMinerals Matte Loose Powder Mineral Foundation SPF 15: This is magic; it's ridiculously easy to apply and will leave your skin looking flawless all day without getting oily. I wear the lightest shade in the winter.
bareMinerals Lipstick: I got rid of all the lipsticks I owned and literally only kept this one in the shade "Memory."
ILIA Mascara: I highly recommend this clean beauty lash-lengthening mascara.
bareMinerals Eye Liner: It's the best eyeliner I've ever used. It goes on easily, doesn't smudge, and doesn't mess with my contacts.
Brow Wiz Brow Pencil: It's easy to apply and helps fill in your brows for a more pronounced appearance. I use the shade soft brown.
bareMinerals Blush and Bronzer Combo: I switched to this blush and bronzer combo and will never go back.
Sugar Advanced Therapy Treatment Lip Balm: My go-to chapstick for soft and hydrated lips.