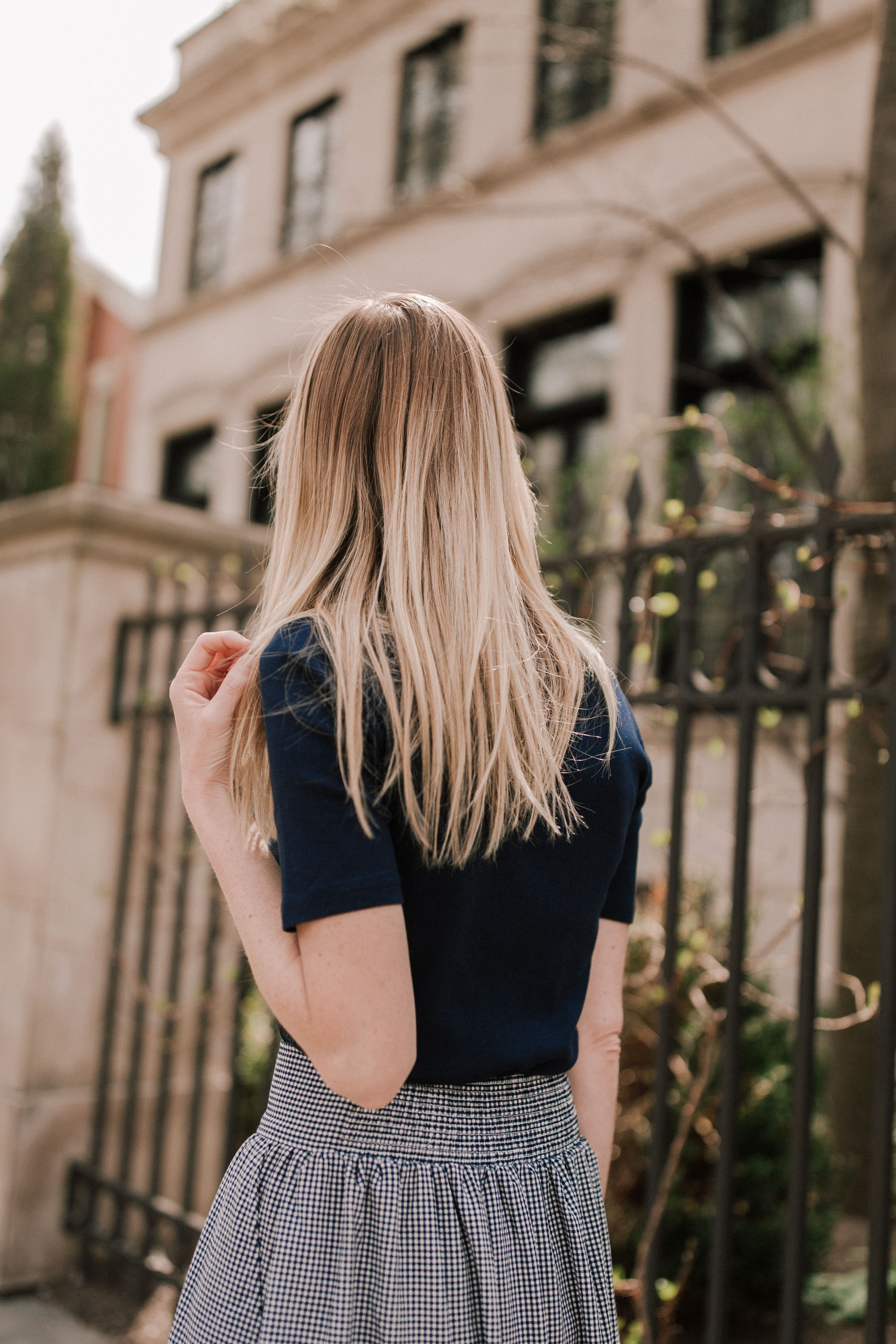 "Perfect Tee" (Went up one size. Also available here.) / Gingham Midi Skirt (Obsessed. Size down.) / Olaplex
It's probably pretty evident that I don't know much about beauty products, but I HAD to write this post because it truly changed everything for me in the hair department. I kind of can't believe that this product real, and I'm hoping that this post will help others who are in a similar predicament. :)
The background
All I dream about is long, thick hair that looks awesome when air dried and doesn't frizz. Unfortunately, though, I have dry, frizzy, baby-fine locks… and since college, I've been on a mission to destroy every last hair on my head with the help of bleach and a trusty flat iron. (Would you believe that before this obsession started, I had long, silky brown hair down that fell to my waist?! It's true.)
Because of all this, my hair has felt like straw for the last few years. To boot, I had a baby about a year an a half ago, and roughly half of it fell out. The STRUGGLE. (In case you're wondering, this is common! It's slowly growing back, but it's been rough.)
After I had Emma, I realized just how much I wanted healthier hair, and I decided it was time to make some major changes in order to achieve that. So:
I threw away my straightener. Legitimately did this so I wouldn't be tempted. I now either air dry or blow dry on "low" on cold days. (I use

this curling iron

or

this straightening brush

—

both far less damaging than a flat iron–when I go out. But I make sure to only do this a couple of times per week.)
I stopped highlighting my hair. All together. After I finally convinced myself that I could live without blonde hair 😂, my hair stylist and I decided to lowlight my hair and go with a balayage treatment, which helped to blend my roots with the lighter hair that was growing out. It worked! (I will say, however, that the lowlights have since faded. I could go back and have additional lowlights put in, but I honestly don't mind it that much since it's mostly visible from the back… and I just want to stop messing with it. It's also far less noticeable when I wear my hair wavy or curly, which is nice.)
I started using Olaplex.
Olaplex
When I went in for the balayage treatment, my stylist told me about Olaplex. Widely used by actors and actresses who regularly go from dark to light and vice versa for different roles, it's known as a miracle product for actually restoring and repairing lifeless, dry and damaged hair. (It glues back together the broken bonds that result from over processing or thermal styling.) For a while, it was only a three-step salon process, but it's now available to purchase (find it here on Amazon!) in one- or three-step treatments, and you can use it at home whenever you want.
Note: The one-step retails for around $28, and the three-step goes for $250, but the bottles are much larger. The one-step is SUPER easy, while the three-step is a bit more complicated. It's typically administered in a salon during color treatments, but again, you can do it at home as well, even if you aren't dyeing your hair. Just be sure to follow the directions.
Since my stylist called it a "magic unicorn," I figured I should give it a try.
Three-step Olaplex salon experience
For my first time, I did it in the salon with my stylist, and we went with the three-step process since I was also getting a color treatment. It took roughly a half hour, which was incredible. I can't remember how much it cost (killin' it with this review 😂), but from the research I've done, it sounds like most places charge between $40 and $100 for it, depending on location and whether you go with the one-step or three-step process.
In short, I was astounded by the results. I walked into the salon with brittle, dry hair and frizzy hair… and when I walked out, my hair felt like it did in middle school. The softness was unreal! It honestly felt like Emma's hair. Stronger than ever, full of life, and so much smoother. My mom was visiting (and babysitting Emma) at the time, and she seriously gasped when I walked in the door.
Ah-mah-zing. 
About a month later, I started feeling like I needed it again, though. I wouldn't say that my hair returned to straw; it just didn't feel like pure silk anymore. So I bought Olaplex 3.
Olaplex 3 at-home experience
My stylist recommended I use Olaplex 3 (the one-step process) between one and three times per week at home. She explained that all I needed to do was simply apply the stuff to damp hair, put it in a bun, and let it sit. I could get great results in only 10 minutes, but she told me the longer, the better.
Of course, I'm a complete psychopath, and decided to use it every single day for 12 hours for a week straight because I really took that "the longer, the better" sentiment to heart. How did I pull that off? I applied it to damp hair around 7 p.m. every night, and washed it out the following morning. And yes. I realize I'm outing myself for having the least interesting social calendar in the world, but… you know. ;)
The result? That same, silky sooth hair I achieved from the three-step process! (Honestly, it felt silky after day 1 of Olaplex 3; I'm just a crazy person and kept going.) Truly incredible.
Frequently asked questions
Are there risks with using Olaplex "too often"? Apparently no. Olaplex cannot damage your hair, no matter how often you use it. Some users have reported that when they use it for long periods, the amount of time it requires to "take effect" will climb and climb. I haven't used it enough yet to say whether I've found validity with this claim, but I'll be sure to report back.
How long does its effects last? I'm now about a month out, and I'm starting to feel like I need it again. I'll probably just use the stuff once or twice a week, now that the weather is warming up and I'm out and about more. But a month is a long time, in my opinion!
Can I use it if I've never dyed my hair? Yes! Even "virgin" hair will benefit from Olaplex, as there are tons of factors–environmental, for example–that can cause damage. Were you born with dry hair? Frizzy hair? Fine hair? Olaplex helps with all of that.
How much is in the bottle? There are 3.3 ounces in the $28 at-home Olaplex 3 bottle. Doesn't seem like a lot, but I've used it only seven times and half the bottle remains. I also really slathered it on. I'd say a single bottle will last several months, especially if you're only doing it one, two or three times per week. It's definitely worth it. :) The three-step kit's bottles are MUCH larger, btw, but the price tag is considerably steeper.
What other products do you use? I love Pantene's "Three Minute" line. It's not as powerful as Olaplex is, but it's good. It's insanely affordable and can be found at any drugstore, too. I'm also still using Purador. They sent me hair loss shampoo and conditioner last year to review, in case you didn't read the post. Truthfully, I'm not sure how to judge whether something like that is working, but I haven't lost any more hair, so I'm just going to continue on with it! And then I use OGX Coconut Oil–whatever version of it that I can find. (I simply put a small amount in my hair after washing when damp.) I ask this below, but I'd LOVE to know about any miracle products out there that you guys use.
What's next for me
My grand plan is to grow out my highlights and be done with them once and for all. I'm getting frequent trims and haircuts, and with any hope, I'll have "untouched" new hair in a few years. That said, I now realize that I'm going gray, haha, and I'll likely have to do something about that eventually. When I color, though, I will lowlight only… and I'll probably do it only once or twice a year.
Go shorter. Again, I long for long hair. (See what I did there?) In reality, though, my hair looks stringy when it's long–at least in its current state. (Back in the day, it was good!) Maybe down the line, I'll be able to have longer locks, but for now, I think I might need to cut it to my shoulder so I have more body. Starting to feel good about that decision; might even do it today, haha!
Try the three-step process. As I mentioned, the three-step process is a bit more complicated to use, but it's also totally doable at home as long as you follow the directions. Once my Olaplex 3 bottle runs out, I might buy the three-step process and give it a try! (It's less expensive on Overstock, btw.)
Start taking vitamins. I did start taking biotin after I had Emma, but I stopped when I learned that in can cause flare ups in people who are prone to cystic acne. (In truth, an excess of or a deficiency in biotin can cause flare ups, but because my skin's been good for a while now, I didn't want to risk it.) That said, I know there are a lot of other vitamins out there–even multi-vitamins, for example!–that will help with hair growth, so I'd like to start taking one. Any recommendations?!
Lean less and less on thermal styling. I'm very proud of myself for giving up my flat iron, but I'd love to give up the rest of my thermal styling tools! That said, air-dried hair really isn't a great look for me when I'm going out. I just ordered this styling treatment by Living Proof (reportedly great for air drying hair), but I'd LOVE to know about any miracle products out there. My dream life entails getting out of the shower, applying something that takes no more than 30 seconds, scrunching my hair, and being done. (Does that exist?!) Again, I have very fine and thin hair, and it dries wavy or curly depending on the humidity. And not in a pretty way, haha. :)
Edit: Be grateful. Hair is so not important; I just need to remind myself of that more often, and focus on what actually matters.
Many thanks, and I hope this review helped!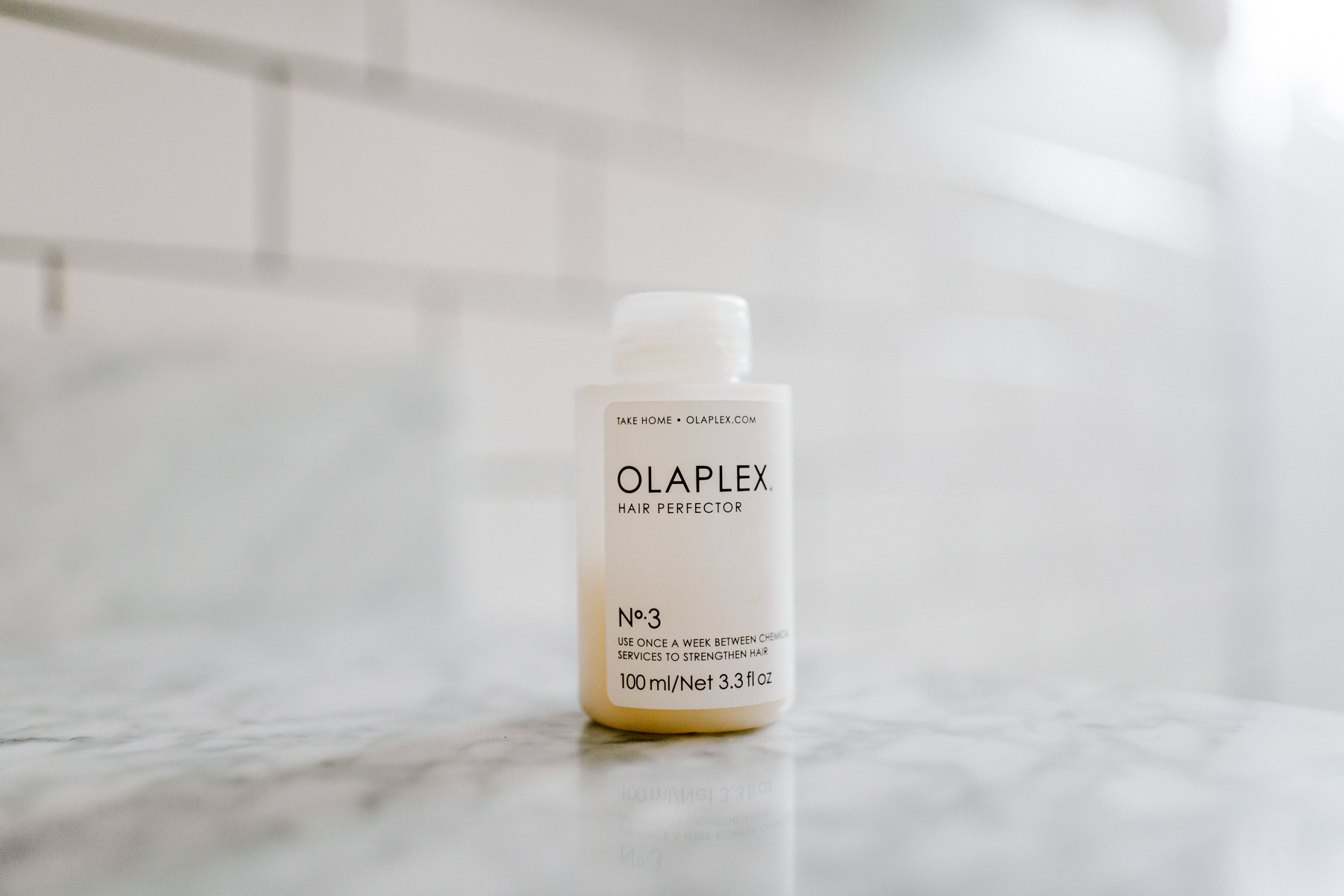 SaveSave